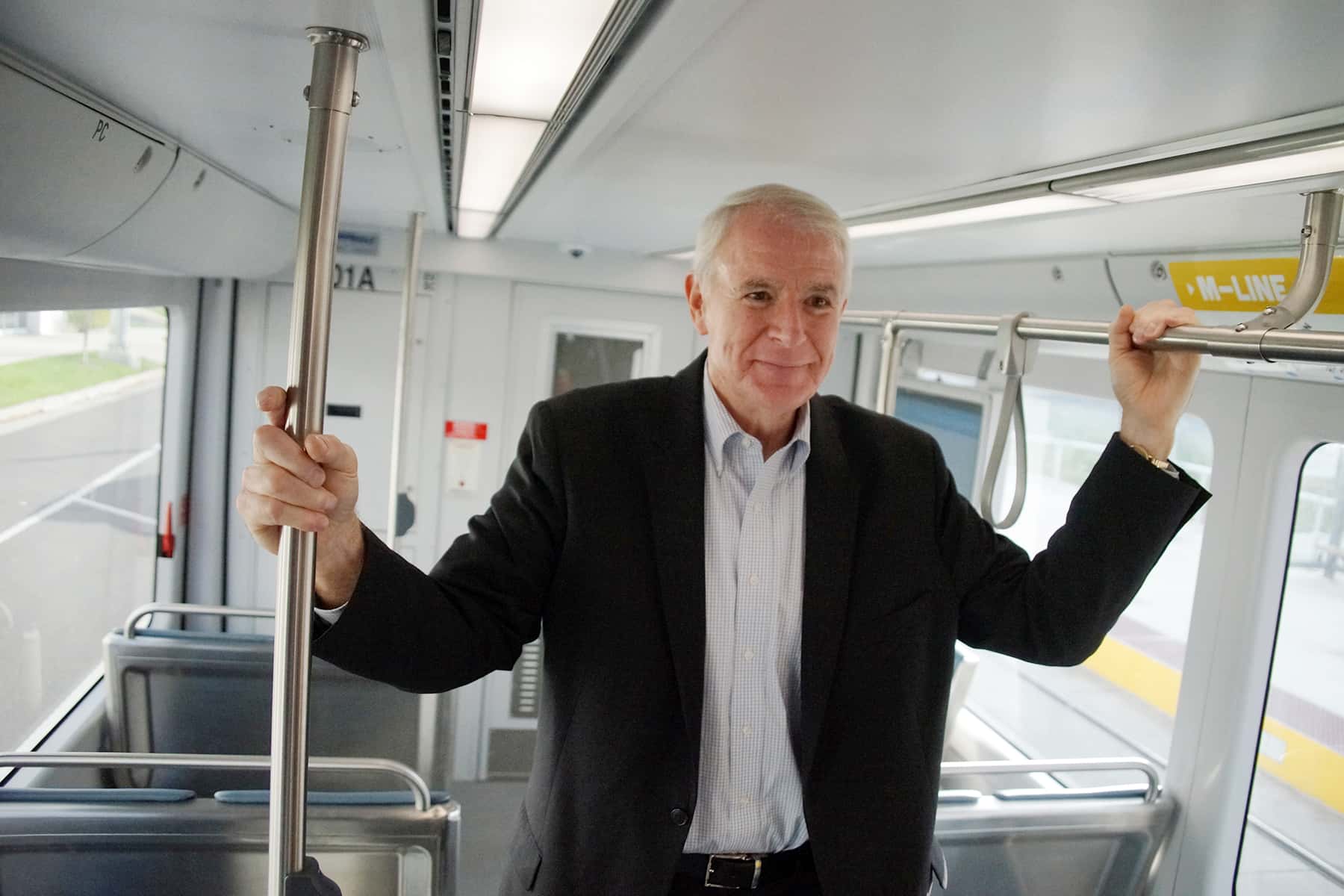 Members of the media and city officials joined Milwaukee Mayor Tom Barrett on October 29 for his first ride onboard the city's new streetcar, The Hop, for a 45-minute loop of the M-Line before it officially beings passenger service on November 2.
While the streetcar vehicles have been testing over the past few months, Federal guidelines have prevented anyone not involved with the driving or maintenance to be ride them. So the special preview ride was the first time that even Mayor Barrett had to experience the city's newest transportation system.
"When the Streetcar starts on Friday, the Mayor is probably going to have the biggest smile in the city of Milwaukee," said Rocky Marcoux, Commissioner for the Department of City Development.
The Hop preview ride offered a pothole-free experience, due to the vehicle using rails. The first phase of the $124 million streetcar project runs on a 2.1-mile loop, from Burns Commons through downtown and the Historic Third Ward to the Milwaukee Intermodal Station.
"To me this is about two things," said Mayor Barrett. "It's about connecting people, and I think you'll see a lot of people will take advantage of this. But it's also about connecting places, so it is an important part of a larger picture. In order for us to continue to grow as a city, I think it's important for us to have transportation that reflects the demands and concerns of people, and the streetcar is part of that."
Passengers can hop on the M-Line at 18 stations every 10 to 15 minutes. Under a $10 million sponsorship by Potawatomi Hotel & Casino for the next 12-years, all rides will be free for the first year. The city's streetcar fleet currently includes five vehicles, each with a capacity to transport 150 people.
The L-Line expansion will connect to destinations along the lakefront, and is expected to open in 2020. Extended lines that run north to Bronzeville and to the City's Southside, in addition to a connection with the new Milwaukee Bucks arena, are also in the budgeting stages.
Mayor Barrett said that the City of Milwaukee was undergoing a dynamic period of growth, and noted the new office buildings that were being developed along the streetcar route.
Passenger service officially launches at noon on November 2. These images were taken during the Mayor's preview ride and document moments from that historic experience.