MPS robotics team advances to world championship after state win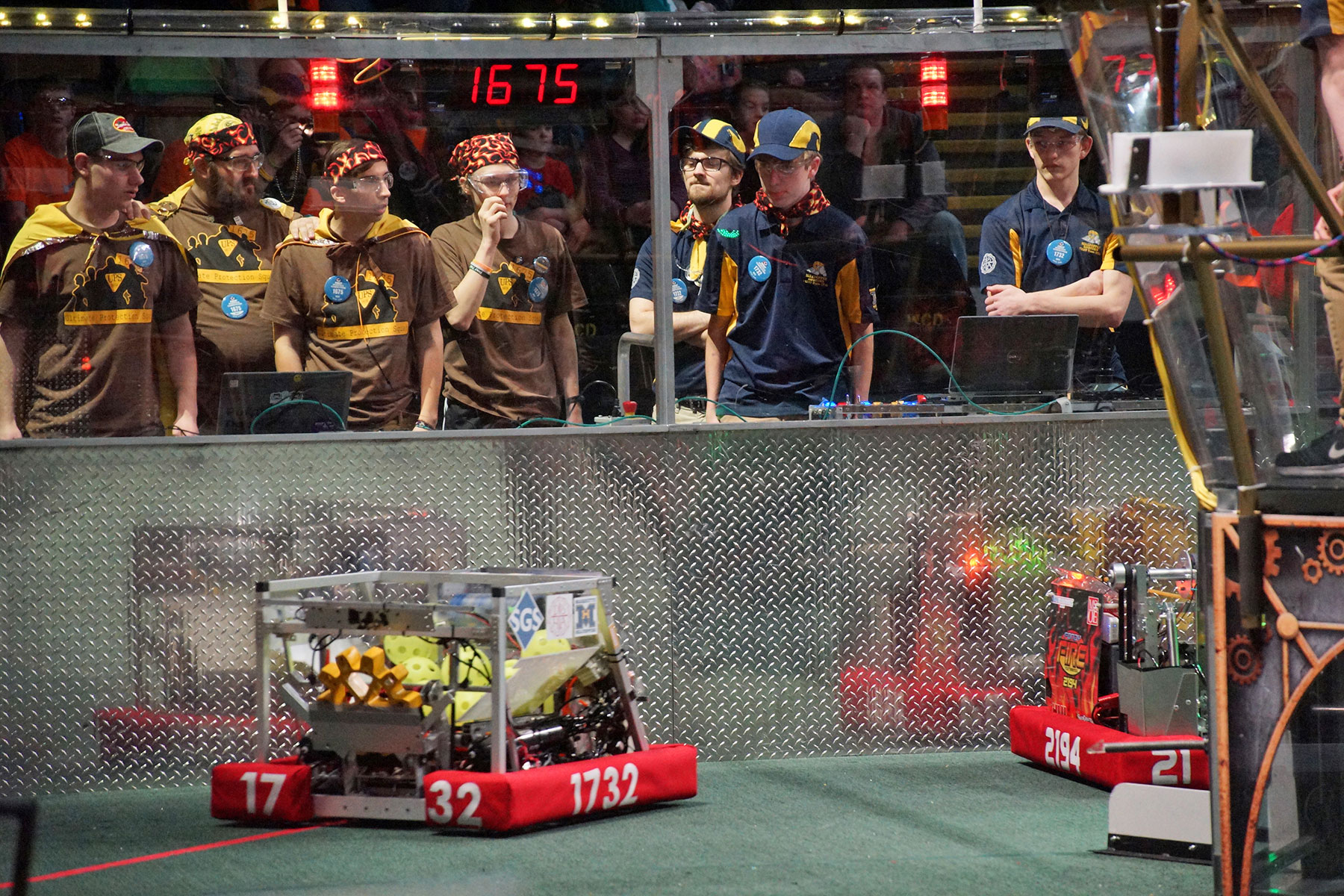 A robotics team of students from four Milwaukee Public Schools has qualified for the second year in a row to attend the prestigious FIRST Robotics World Championship after winning the Wisconsin Regional FIRST Robotics competition, held March 25 in Milwaukee.
Known as the Ultimate Protection Squad, Team 1675 includes students from Lynde and Harry Bradley Technology and Trade School, Milwaukee School of Languages, Ronald Wilson Reagan College Preparatory High School and Rufus King International High School.
The victory was an incredible comeback after a disappointing finish at another competition on March 11, where the team finished in 34th place out of 52 teams. Students evaluated their options to determine their next move.
"Collectively, we made a very hard choice: to essentially start from scratch and rebuild the robot, which originally had taken six weeks to construct and program," said Tim Lund, physics teacher at Rufus King and Team 1675 mentor. "Our victory is the result of a remarkably fast turnaround that included the team substantially rebuilding the robot in 10 days.
Working in the robotics laboratory at Bradley Tech, team members built new devices and tested them on a practice robot. Competition robots are not allowed to be touched between events, so the final changes had to be completed at the March 23 competition during a four-hour window to ensure practice time on the competition field before the Wisconsin regional began.
"We got the job done ahead of schedule and became one of the top gear-scoring robots at the Milwaukee competition," Lund added.
The FIRST Robotics World Championship will take place April 26-29 in St. Louis with 400 teams competing from around the world. The team is working to raise $19,000 to travel to the event, contributions are Tax-deductible.
Team 1675 is sponsored by Rockwell Automation, GE Volunteers of GE Healthcare, George Mosher, HellermannTyton, Milwaukee School of Engineering, Johnson Controls, Aluma-Tec Industries, and the Milwaukee Robotics Coalition.
The Wisconsin regional competition included 54 teams from Wisconsin, Illinois, Minnesota and Missouri. MPS has had regional winners three years in a row – Riverside University High School in 2015, and the Ultimate Protection Squad in 2016 and 2017.
Robotics teams are currently active in three additional MPS schools: Bay View High School, Barack Obama School of Career and Technical Education, and Riverside University High School. Opportunities to explore advanced technology are part of the district's Eight Big Ideas: Redefine the MPS Experience to promote student achievement.