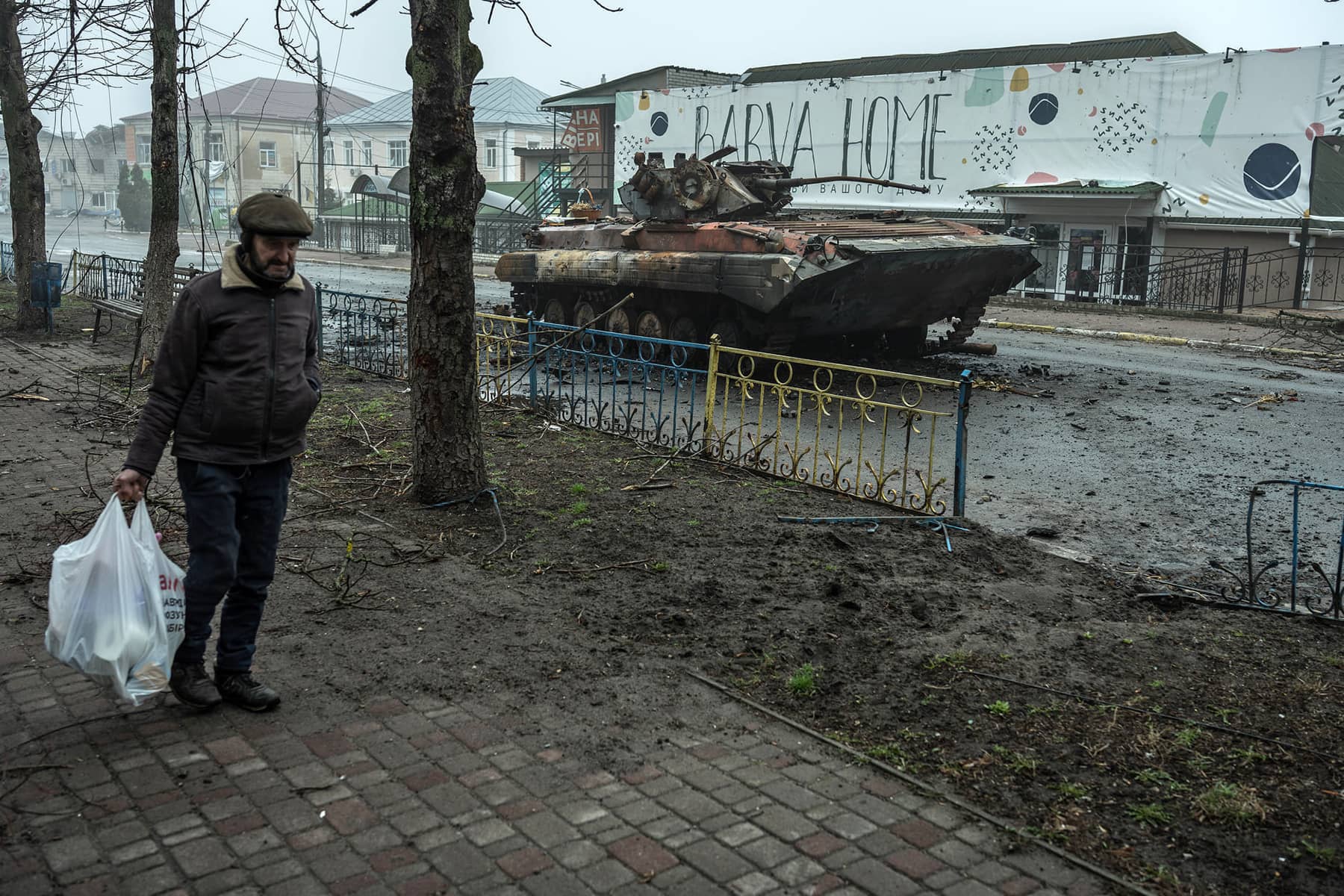 Somewhere in Ukraine, at an undisclosed location along the frontlines, Sergi Mykhalchuk received a Facebook message from Milwaukee that his work documenting Irpin's evacuation and later liberation had won two journalism awards.
On May 12, the Milwaukee Press Club awarded Milwaukee Independent's Mykhalchuk for excellence in visual journalism in two categories, "Best Photo Essay or Series" and "Best Feature Photograph." The images documented the early days of Russia's brutal full-scale invasion of Ukraine, and the aftermath when those forces were driven from the Kyiv region and Milwaukee's sister city.
> READ: Images from the frontlines: Sergi Mykhalchuk photographs the people of Kyiv living daily with war
> READ: Images from the frontlines: Sergi Mykhalchuk gathers haunting visual evidence in aftermath of occupation
The award-winning cinematographer based in Kyiv became a war photojournalist overnight on February 24, 2022, but he was no stranger to documenting historic events in his homeland against Russia. Mykhalchuk's haunting images from the 2014 Revolution of Dignity, also known as Euromaidan, showed demonstrations in the capital city against former President Viktor Yanukovych's closer ties with Putin.
"In the early days of the full-scale invasion, Milwaukee Independent was not yet a member of the Associated Press. So our access to images from Irpin, Bucha, and other cities under attack in Ukraine was very limited," said Lee Matz, Senior Photojournalist for Milwaukee Independent. "Photos are important for telling stories, especially communicating things in war that the public cannot imagine. So we were fortunate to connect with Sergi and have access to his work. He was in Irpin the day it was liberated on March 28, and we were able to publish our sister city's condition almost in realtime."
Matz said that Mykhalchuk risked his life in those early weeks to take photos of Russian autocracies. Some were so horrific that other news services initially refused to publish them, like the Russian missile strike at Kyiv's TV tower that killed five people at the Babyn Yar Holocaust site next to it.
On April 9, Mykhalchuk officially joined the Armed Forces of Ukraine with his film team. While he has picked up a weapon to defend his nation, he has not put down his camera. Every few weeks Mykhalchuk posts images on his social media sites. Without comment, they show conditions along the Eastern Front in places like Kharkiv or Donetsk Oblast.
"Sergi is fighting in some of the harshest battles of the occupied regions, so it is not easy getting text messages to him," said Matz. "But we have heard from him, and his very thankful and honored to be recognized by the Milwaukee Press Club. He has been in combat for a year now, and every day we keep him in our prayers."
Acclaimed combat photojournalist Maksym "Max" Levin, who also supplied Milwaukee Independent with images, was assassinated in early March of 2022 by Russian troops while taking pictures.
Of the eleven journalism awards earned by Milwaukee Independent for its 2022 work, three were for reporting from Ukraine. Two of those were won by Mykhalchuk.
Editor's Note: This collection of previously unpublished images by Mykhalchuk were taken on March 9, 2022, during the later phase of civilian evacuations in Irpin.