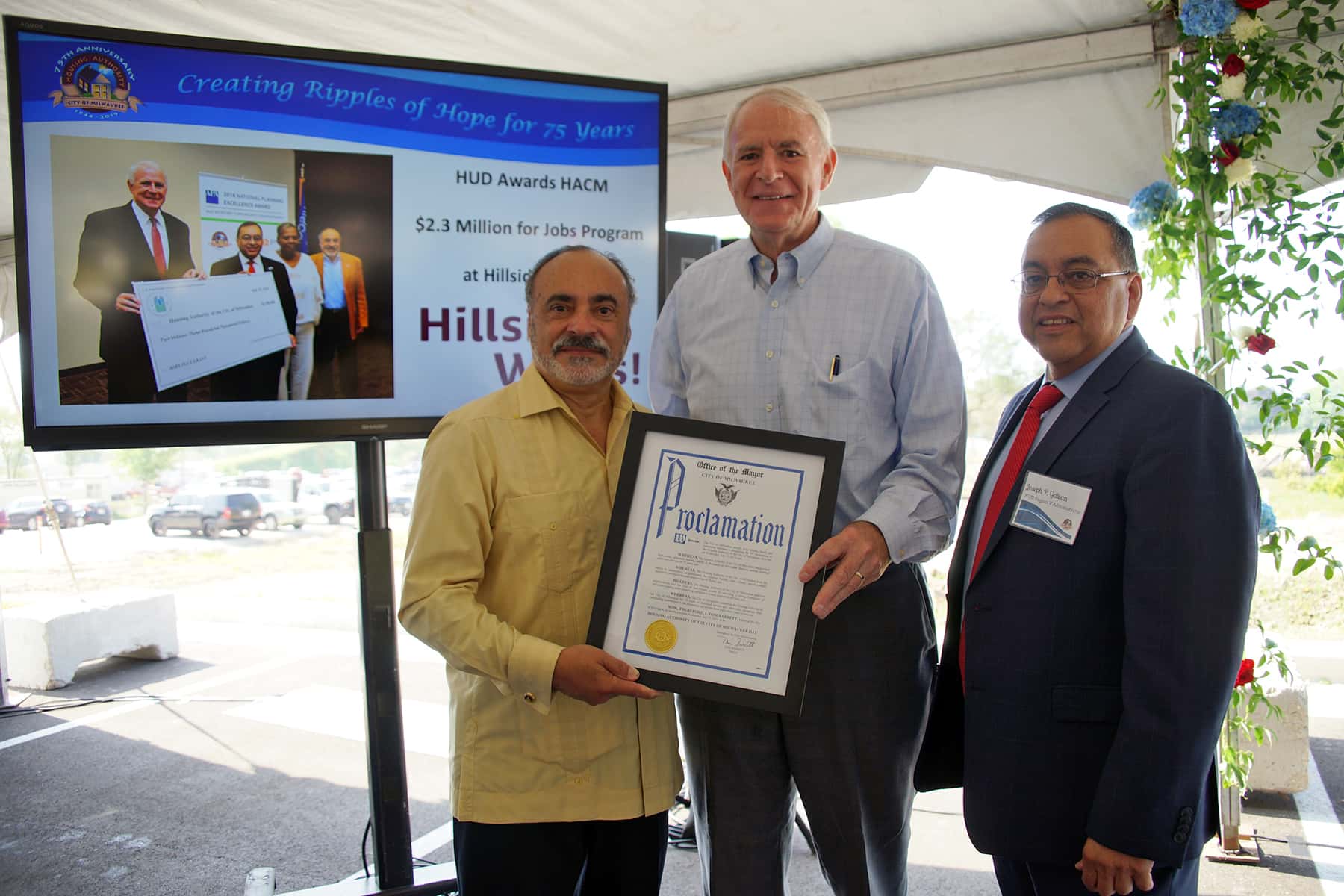 "Each time a man stands up for an ideal, or acts to improve the lot of others, or strikes out against injustice, he sends forth a tiny ripple of hope, and crossing each other from a million different centers of energy and daring, those ripples build a current which can sweep down the mightiest walls of oppression and resistance." – Robert F. Kennedy
The Housing Authority of the City of Milwaukee (HACM) welcomed nearly 300 people to its annual meeting on July 17, to celebrate the "ripples of hope" created throughout its 75 years of providing high quality, affordable housing options, and supportive services to Milwaukee families, seniors, disabled adults, and veterans.
"The Housing Authority's annual meeting once again serves as a collective reflection of how it takes a village to band together to create positive change for the many," said Tony Pérez, HACM's Secretary-Executive Director. "It provides a point of reference, in which we encourage others to join with us, to learn about the collective work, and look for ways to join the village in creating ripples of hope."
The program showcased HACM's long-time commitment to working effectively with different levels of government, numerous community partners, and its diverse population of residents to preserve affordable housing and provide pathways to self-sufficiency. HACM's housing programs and efforts in recent decades have revitalized its original housing stock, and become an economic engine that benefits Milwaukee and Wisconsin.
"HACM is in the business of creating hope and opportunity for its residents," said Mayor Tom Barrett. "What we have seen here is leadership that challenges the city administration, works with the federal government, and leverages these assets."
Mayor Barrett also declared July 17, 2019 as "Housing Authority of the City of Milwaukee" Day. The U.S. Department of Housing and Urban Development's (HUD) Region V Administrator Joseph P. Galvan commended Mayor Barrett, HACM's Board of Commissioners, and attendees for their commitment to improving the quality of life for low-income individuals throughout Milwaukee.
"We all have to work together to lift up those who are at most risk, those who are in most need, because we are one community, we are one people," said Galvan.
Milwaukee's first foray into federally financed affordable housing was Parklawn, a family development built in 1937 under the Works Progress Administration during the Great Depression. Parklawn was eventually turned over to HACM by the federal government in 1950. HACM's original construction endeavor after its founding in 1944 was to partner with the City to build permanent housing for returning veterans and their families after World War II, replacing temporary housing that included trailers and Quonset huts.
In 1949, the Northlawn, Southlawn, and Berryland housing developments were constructed with almost 1,000 apartments that were originally for veterans. Over time they became general unsubsidized, affordable housing.
During the late 1940s and 1950s, Hillside Terrace and Westlawn, two large family housing developments were built, with Lapham Park and Highland Park following in the 1960s. Also during the 1960s and early 1970s, thirteen high-rise developments were constructed around the city to house seniors and persons with disabilities.
In the 1970s, the federal government changed policy away from building public housing and started a new program, providing rent assistance vouchers for residents to use with private market landlords. HACM established its Section 8 Housing Voucher Program to de-concentrate poverty by offering rent assistance.
"Under the leadership of Mayor Barrett and the HACM Board of Commissioners since 2004 alone, HACM has competed for and brought in more than $252 million in financing to sustain and improve the public housing developments that were built in the 1950s and 1960s; including in partnership with WHEDA, $197 million in tax credits for scattered sites, Cherry Court, Convent Hill, Olga Village, Lapham Park, Westlawn, Holton Terrace, Merrill Park, and Becher Court," said Paul Williams, Choice Neighborhood Initiative Coordinator for HACM.
Victory Manor was celebrated during the annual event as HACM's latest project. The newly completed 60-unit veterans preference development had on-site supportive services provided by the Center for Veterans Issues. Victory Manor is the first multi-family building to be completed as part of Phase II of the new Westlawn Gardens neighborhood.
HACM currently provides over 11,000 low-income households with quality affordable housing options. This includes over 3,000 seniors aged 62 and older; over 3,400 non-senior adults and children with disabilities; over 2,100 children less than 5 years old; and over 7,400 school-aged children, which is equivalent to almost 10% of the total enrollment of Milwaukee Public Schools. During its 75 year history, it is estimated that HACM has provided nearly 170,000 people with housing stability.
Several beneficiaries of HACM programs were highlighted during the meeting as "Ripples of Hope," including Troy Burks, a former Westlawn resident who utilized HACM programs to transition from public housing to homeownership; Angelita Ingram, a HACM resident who is participating in HACM's @-Promise Resident Training Program to gain and enhance professional skills while attending post-secondary education, and who recently graduated with an Associate's Degree from MATC; Thomas Green, a former Westlawn resident who utilized a Choice Neighborhood Initiative loan to launch Mr. Greens, a food truck business; and Calvin Ousley, a veteran of the U.S. Navy who has found housing stability and supportive services at Victory Manor through a partnership with the Center for Veterans Issues.
"To paraphrase Matthew Desmond, author of Evicted, without stable housing, everything else falls apart. Since 1944, HACM has worked to ensure that low-income families have the stable housing they need. We recognize that housing is the foundation, the starting point, the launchpad. And the services we partner with housing are the fuel that propels residents to greater stability, independence and a better life," added Williams. "This is what we call Housing with Heart."