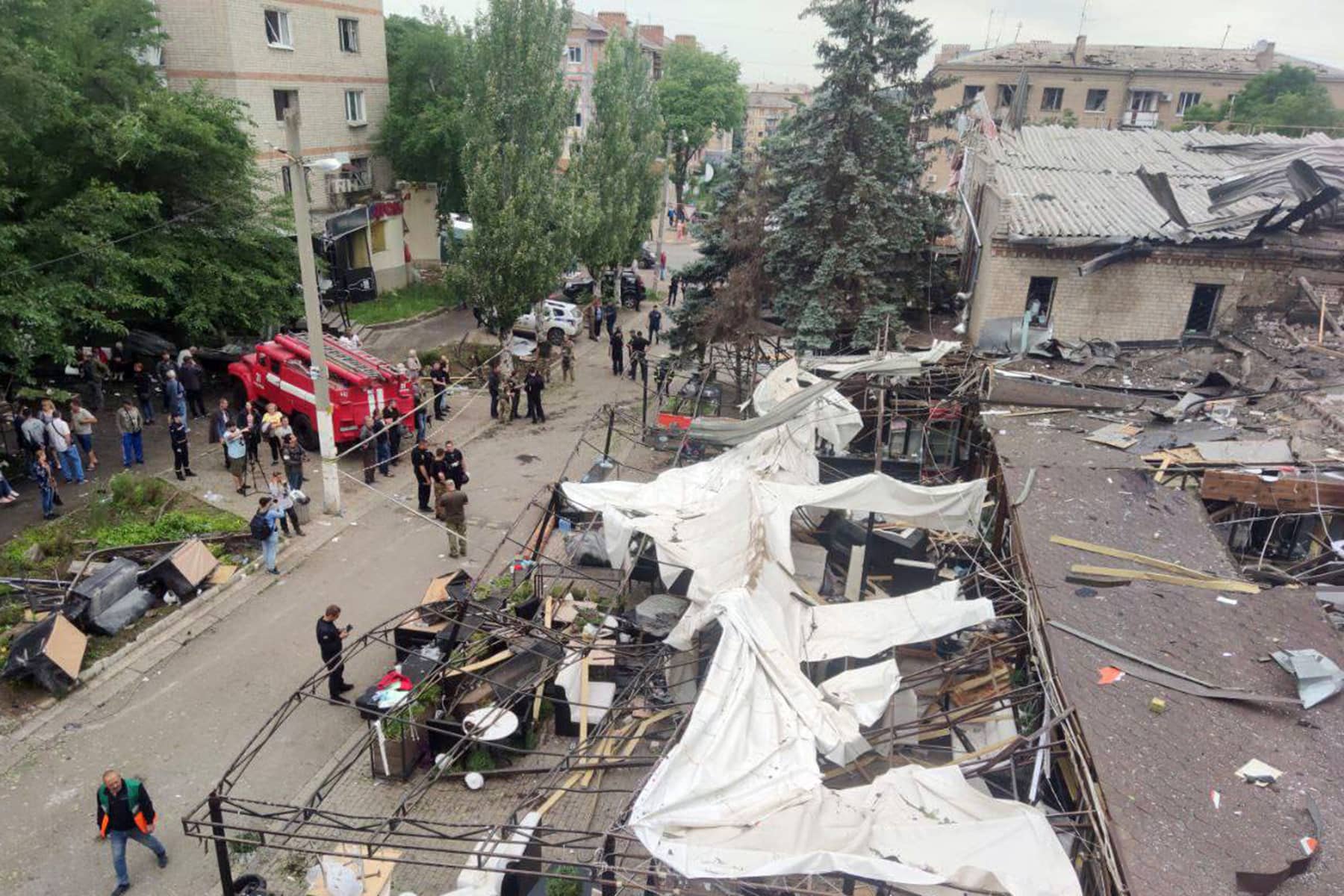 Return to Ukraine:
This feature is part of an original
Milwaukee Independent
editorial series that recorded news from areas across Ukraine, including Milwaukee's sister city of Irpin, from June to July of 2023. It was the second time in the span of a year that the award-winning Wisconsin news organization traveled to the country during the war. The purpose of this journalism project was to document a humanitarian aid mission by the Milwaukee-based nonprofit,
Friends of Be an Angel
, and report about conditions 17 months after Russia's brutal full-scale invasion.
mkeind.com/returntoukraine
Ukrainian authorities on June 28 arrested a man they accused of helping Russia direct a missile strike that killed at least 11 people, including three teenagers, at a popular pizza restaurant in eastern Ukraine.
The evening attack on June 27 in Kramatorsk wounded 61 other people, Ukraine's National Police said. It was the latest bombardment of a Ukrainian city, a tactic Russia has used heavily in the 17-month-old war.
Milwaukee Independent's senior photojournalist Lee Matz was on assignment a few hours away in Irpin, a sister city to Milwaukee, when news of the brutal attack was released to the public. Residents in Irpin had been targeted by Russian forces at the start of the full-scale invasion, along with civilian hospitals and commercial property.
Matz had previously visited Irpin in May 2022, soon after it was liberated from occupation. He noted that Russia had a history of attacking non-military targets as part of its terror campaign, but also because its forces had been unable to defeat the Ukrainian military on the battlefield.
The strike, and others across Ukraine late June 27 and early June 28, indicated that the Kremlin was not easing its aerial onslaught, despite political and military turmoil at home after a short-lived armed uprising in Russia only days before.
There was no apparent military push by Ukraine to exploit that turmoil, though the government has been tight-lipped about recent battlefield developments as it seeks to gain momentum in its recently launched counteroffensive.
At the time, the Kremlin was still reeling from the mutiny led by Yevgeny Prigozhin, owner of the Wagner private army of prison recruits and other mercenaries. Wagner has played a key combat role for Russia in Ukraine. The rebellion posed the most serious threat so far to Russian President Vladimir Putin's grip on power.
Prigozhin went into exile in neighboring Belarus on June 27, according to Belarus President Alexander Lukashenko, after Russia said he would not face charges for the June 24 revolt. Lukashenko has said his country would allow Wagner to set up a temporary camp in Belarus, but it remained unclear how many mercenaries would move there.
Wagner's deployment to Belarus has rattled its neighbors. Jaroslaw Kaczynski, the leader of Poland's ruling party, announced plans to strengthen the country's eastern border, saying about 8,000 Wagner troops were expected to arrive in Belarus.
And Lithuanian Foreign Minister Gabrielius Landsbergis noted that the mutiny "shows how fast detachments from within Russia mobilize and move within its territory," underlining "a more volatile, more unpredictable environment for our region."
Ukrainian President Volodymyr Zelenskyy played down concerns that Wagner would pose a threat from Belarus. He said the group's mercenaries probably would not go there in significant numbers, and added that Ukraine's military believes security along the Belarusian border would remain "unchanged and controllable."
U.S. President Joe Biden said that the unrest had weakened Putin, though he added that was "hard to tell" to what extent.
"He's clearly losing the war in Ukraine," Biden said. "He's losing the war at home and he has become a bit of a pariah around the world."
German Chancellor Olaf Scholz also said Putin has been weakened by the rebellion, which showed "the autocratic structures, the structures of power have cracks." Speaking to German public broadcaster ARD, he acknowledged that Germany's foreign intelligence agency had been surprised by the rebellion.
In Kramatorsk, two sisters, both age 14, died in the attack, the city council's educational department said. "Russian missiles stopped the beating of the hearts of two angels," it said in a Telegram post.
The other dead teenager was 17, according to Prosecutor General Andrii Kostin.
The award-winning Ukrainian writer and war crimes researcher Victoria Amelina was also critically injured by the hypersonic Iskander missile strike on the pizza restaurant. Amelina died from her wounds on July 1 in Dnipro. The Ria Lounge was one of the most popular restaurants in Kramatorsk and was filled with civilians when it was hit.
"There were no military objects that could have been a legal target for the attack around that day," PEN Ukraine said in a statement. "PEN Ukraine has traveled with Victoria many times to frontline territories. Now, she has become a victim of a war crime herself."
The attack also damaged 18 multistory buildings, 65 houses, five schools, two kindergartens, a shopping center, an administrative building and a recreational building, regional Governor Pavlo Kyrylenko said.
About six weeks after the start of war last year, 52 civilians in Kramatorsk were killed in a Russian missile strike on a train station.
Officials initially blamed the strike in Kramatorsk on an S-300 missile, a surface-to-air weapon that Russia's forces have repurposed for loosely targeted strikes on cities, but the National Police later said Iskander short-range ballistic missiles were used.
Kramatorsk is a front-line city that houses the Ukrainian army's regional headquarters. The pizza restaurant was frequented by journalists, aid workers, and soldiers, as well as local residents.
The Security Service of Ukraine said the man it detained, an employee of a gas transportation company, is suspected of filming the restaurant for the Russians and informing them about its popularity.
Kramatorsk is in Donetsk, one of four Ukrainian provinces that Russia annexed last September but does not fully control. In 2014, Russia also annexed Ukraine's Crimea.
U.S. Secretary of State Antony Blinken said that the biggest impediment now to negotiating peace is "Putin's conviction that he can outlast Ukraine and he can outlast all of us."
"The more we are able to disabuse him of that notion, the more likely it is that at some point he'll come to the table," Blinken said at the Council on Foreign Relations. He added that the NATO summit in Lithuania in two weeks will offer "a very robust package for Ukraine, political and practical."
Hanna Arhirova, MI Staff, and AP Staff
Ukrainian Donetsk Regional Administration and National Police of Ukraine (via AP)
Milwaukee Independent has reported on Russia's brutal full-scale invasion of Ukraine since it began on February 24, 2022. In May of 2022, Milwaukee Independent was the first news organization from Wisconsin to report from Milwaukee's Sister City of Irpin after its liberation. That work has since been recognized with several awards for journalistic excellence. Between late June and early July of 2023, Milwaukee Independent staff returned to Ukraine for a second assignment to report on war after almost a year. The editorial team was embedded with a Milwaukee-based nonprofit, Friends of Be an Angel, on a humanitarian aid mission across Ukraine. For several weeks, Milwaukee Independent documented the delivery of medical supplies to military and civilian hospitals, and was a witness to historic events of the war as they unfolded.
Return to Ukraine: Reports about a humanitarian mission from Milwaukee after a year of war