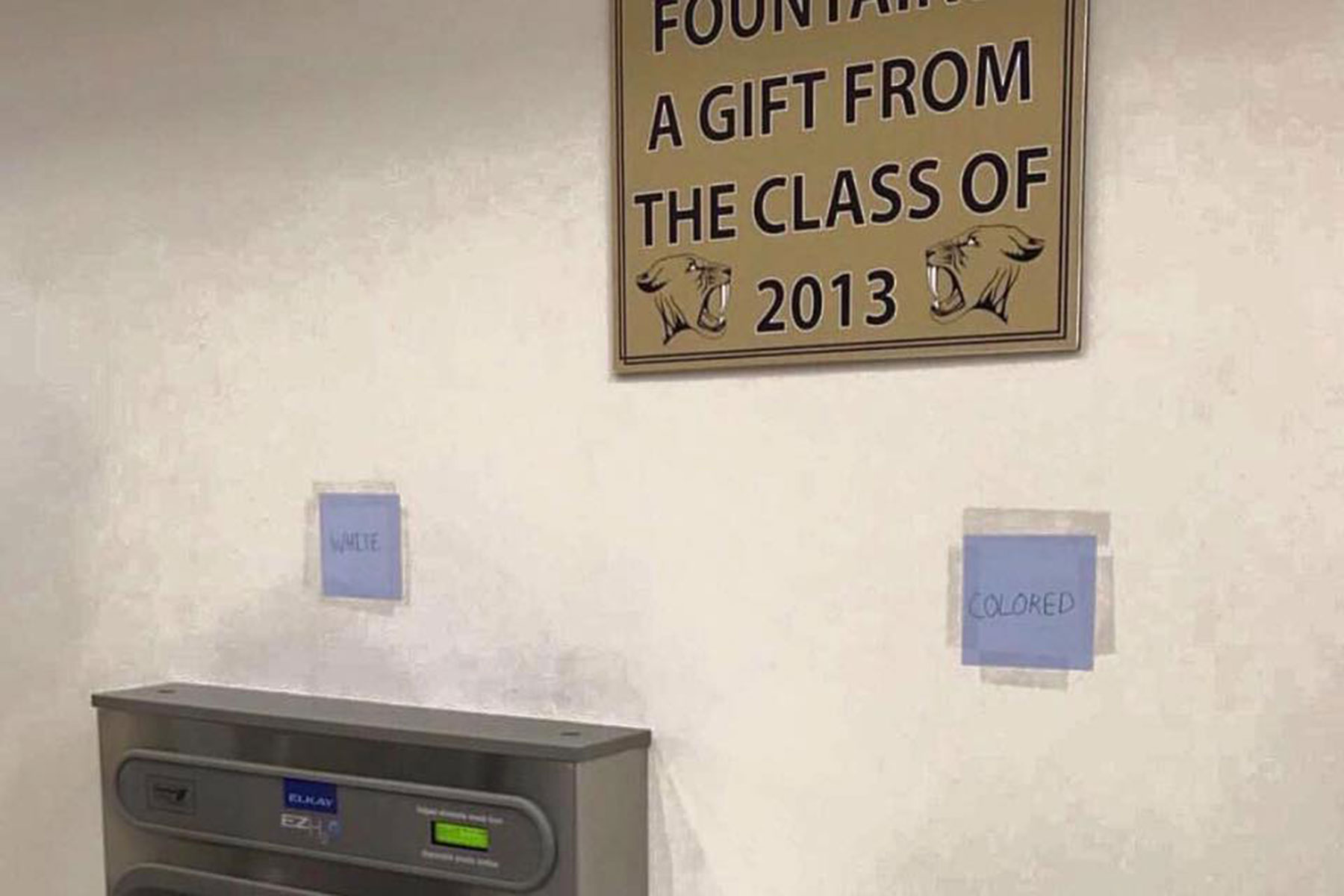 Franklin High School officials took action on January 23 to address an incident that occurred sometime the previous afternoon involving a racist message.
Jacob Romanski, a junior at Franklin High School, posted a photo he took on January 22 to social media where it was widely shared and commented on. The image showed handwritten signs reading "white" and "colored" posted above hallway water fountains, depicting the pre-Civil Rights era conditions of the segregated South. It reflected the often violent discrimination faced by African-Americans at that time.
"I was disgusted to see that in my place of education. To know that someone had written that on a wall to discriminate against other students." Romanski posted on social media. "It's not acceptable by any standards."
Romanski removed the signs after taking the pictures, and reported the incident to school officials. He stated in news reports that he was tired of the expressions of bigotry he had seen happen in the past and wanted to expose what was happening.
The District sent a letter to parents confirming that "an inappropriate and racist message" was displayed at Franklin High School.
"Monday afternoon, an inappropriate and racist message was displayed at Franklin High School. Administration was able to identify the individual responsible and address that student's behavior.

This act was in no way part of any school project, curriculum, or initiative. This was an individual act of student behavior. Franklin High School administration is aware of a photo showing this racist imagery and comments circulating on social media in and outside of our community. Campus safety is a priority. We work closely with the Franklin Police Department to ensure our community is safe.

Franklin High School values each and every one of our students. This act of intolerance by an individual does not represent the values of Franklin High School or the approximately 1700 people who teach and learn here every day. The display was offensive, hurtful, and wrong. As a school community, we have a responsibility to treat one another with kindness, respect, empathy, and compassion.

Our entire staff will continue to work to address student well-being. Student services and administrative staff are available for students and parents to talk with; please contact the high school office at 414-423-4640."
School officials were able to identify the individual responsible for the signage and were addressing the student's behavior. The NAACP, the League of United Latin American Citizens (LULAC) of Wisconsin, and the Jewish Community Relations Council of the Milwaukee Jewish Federation released a joint statement concerning the event that occurred.
"It has been reported and acknowledged that there was a posting of "White" and "Colored" signs over a set of school water fountains. While we appreciate that administrators issued a statement disavowing this despicable action, the incident demonstrates the need for the school and the district to take immediate and ongoing action to make the school more inclusive and respectful of different cultures.

Unfortunately, Franklin High School, like many schools and districts, does not recognize or celebrate the federal holiday recognizing the achievements of Rev. Dr. Martin Luther King, Jr. We ask that the district consider changing that policy. Today's action highlights the urgency of taking actions to ensure that the school celebrates tolerance and inclusion as part of its curriculum and culture."