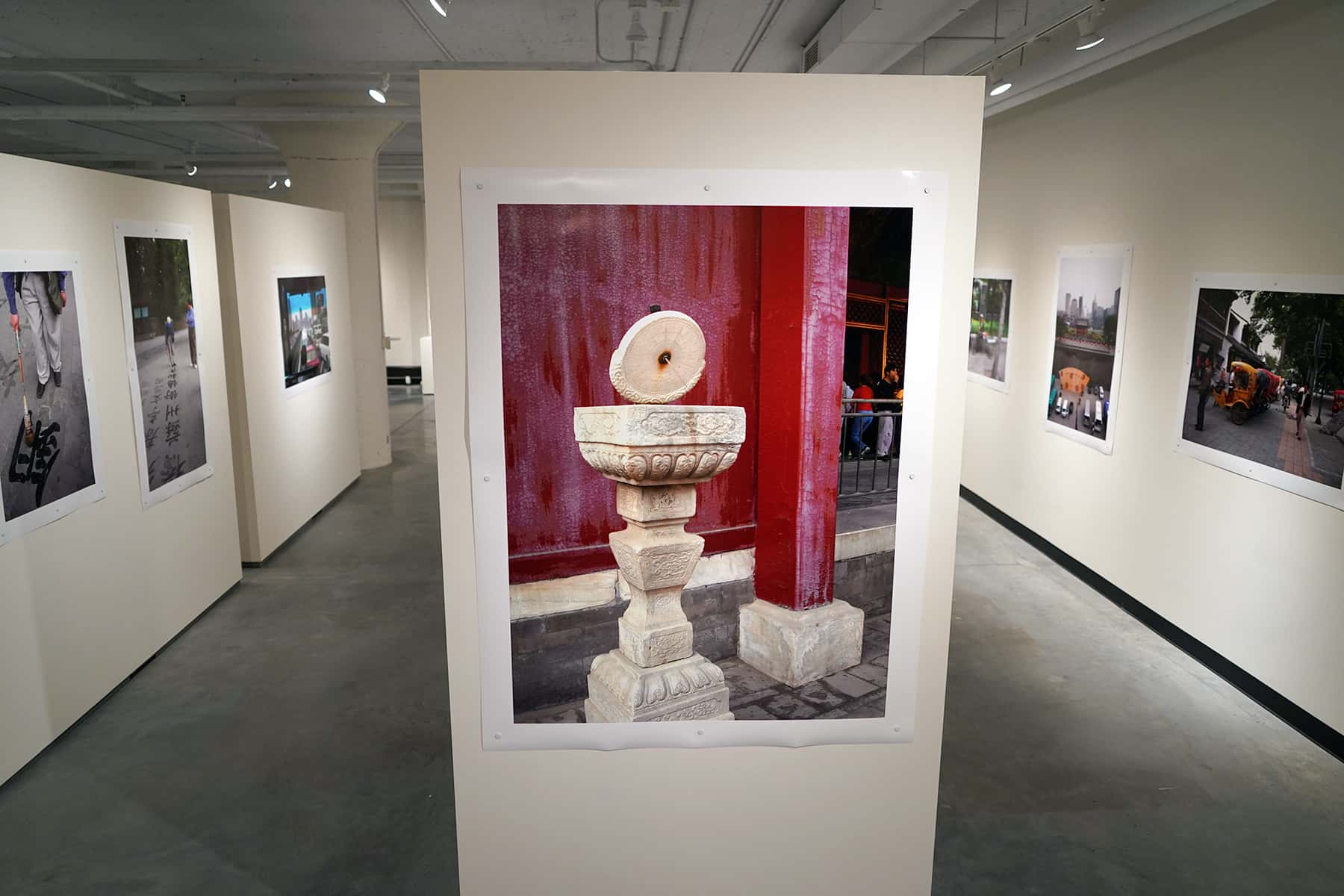 A new immersive exhibition featuring photographic prints by Jan Serr opened on October 15 at The Warehouse, bringing a stunning collection of images to Milwaukee that documented China during its era of modernization.
The sixty-four photographic works in "CHINA: Then & Now – Jan Serr" focus on Asia's ancient Middle Kingdom. They depict the "Old Town" Hutong neighborhood streets, the restful Scholar's Garden, and the ultra-contemporary world of Maglev bullet trains traveling 375 miles per hour. The exhibition is a visual presentation of the passing of time in China.
Mirroring these efforts represented in Serr's subject matter, the collection employs large-scale installations to transport visitors from the modern streets of China to its quaint historic neighborhoods.
Arranging prints of her meticulously curated compositions within the immersive exhibition, Serr's work asks what is remembered and what is forgotten. Co-curated by Kate Hawley and Jan Serr, the time-travel journey of sorts beckons visitors to experience China through her eyes.
"What I saw in China, and how I saw it, is what you see here now. You are standing with me, looking though my camera, looking through my eyes," said Serr.
As visitors walk through a full-sized Moon Gate, they enter a "Humble Administrator's Garden" adorned with meditative scholar's stones and an ever-soothing water feature, designating a space for personal contemplation.
Other works include two large figurative ceramics by Pamela Leung, never before exhibited in the United States, hand-colored brass rubbings, and other Chinese objects. All exhibitions at The Warehouse and their related programing are free and open to the public.
While Serr has worked with many types of image-capturing systems, in China she chose to be a street photographer. Her tool was a digital Nikon camera, and her operating principle was "See it, Shoot it, Be safe, Be gone."
"I compose looking through the camera's viewfinder," added Serr. "I do not crop images. I sometimes wait a long time for a composition to develop, for traffic to move in a certain way, or for someone to look into or away from the camera. I shoot thousands of images, I select just a few."
In addition to Serr's photographs, the exhibition includes a never before displayed painting of the Tiananmen Square massacre, created in 1989. The events in China's capital also coincided with the Berlin Wall coming down in Germany.
"Seeing these images, seeing these events happen, Jan did what she does as a visual artist. She stretched canvases and started painting images of the Berlin Wall and the Chinese students. They were just her private visual diary of the events," said John Shannon, managing director of The Warehouse. "They were taking the wall down and celebrating, and in Tiananmen Square there were demonstrators. Jan wasn't there, she saw the images on TV, but she was very moved."
Shannon said that showing the painting was important, because he did not want the public to think the collection celebrated an "autocratic, corrupt, and merciless political system." It served as a touchstone of civility and protest.
"Right now, China, in Hong Kong, are jailing artists and journalists. Right now, Chinese fighter planes are flying very near Taiwan. This is Chinese expansionism," added Shannon. "And that's the reason why the painting is here early in the show. We've noted as to why it's here and what it means to us. It really pivots everything else that we're doing."
The Warehouse is an art museum and research center located in Milwaukee's Menomonee Valley
neighborhood. Exhibitions, performances, and lectures are based on The Warehouse's permanent collection of over 3,600 modern and contemporary works on paper, paintings, photography and sculpture. "China: Then & Now" runs until December 30.