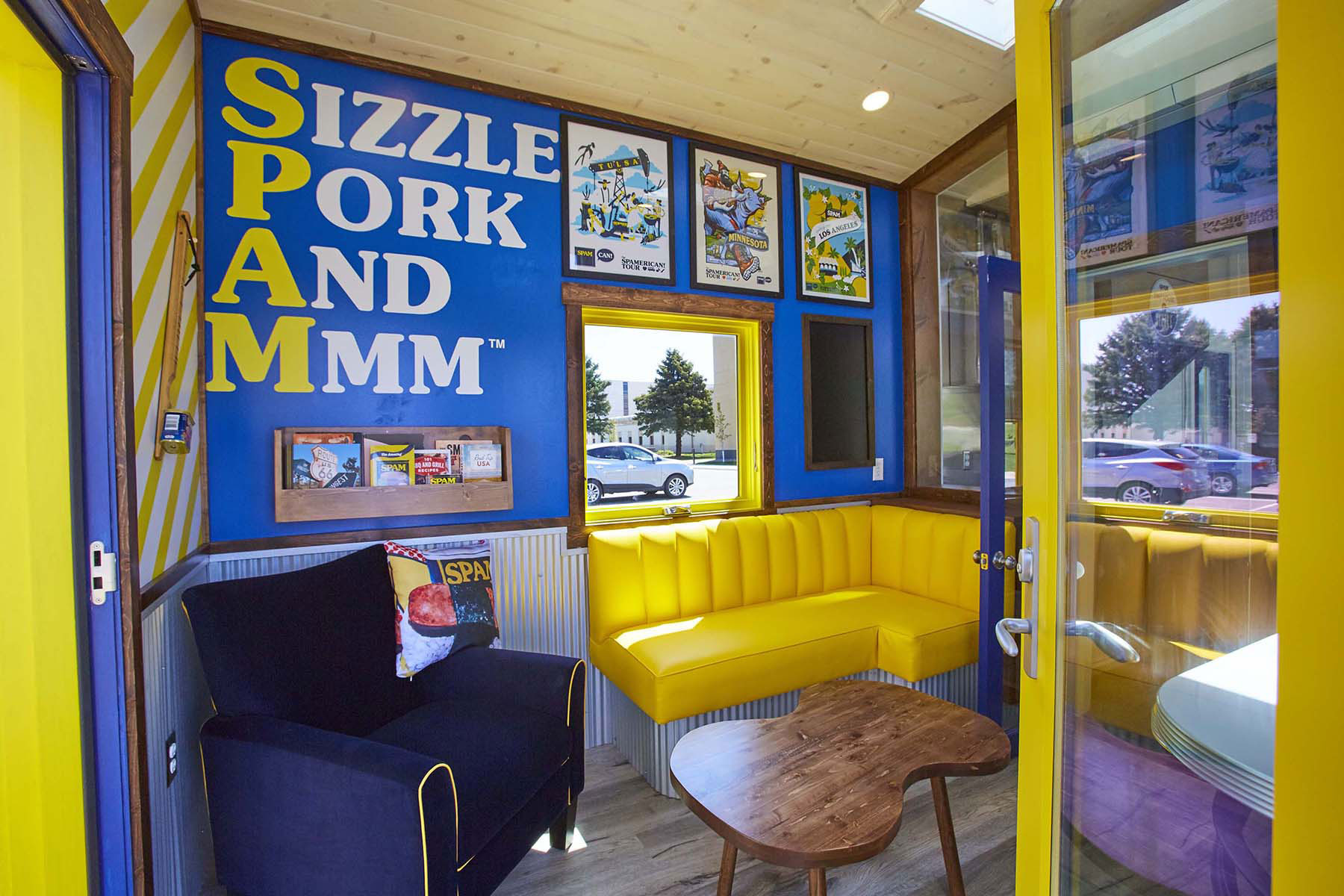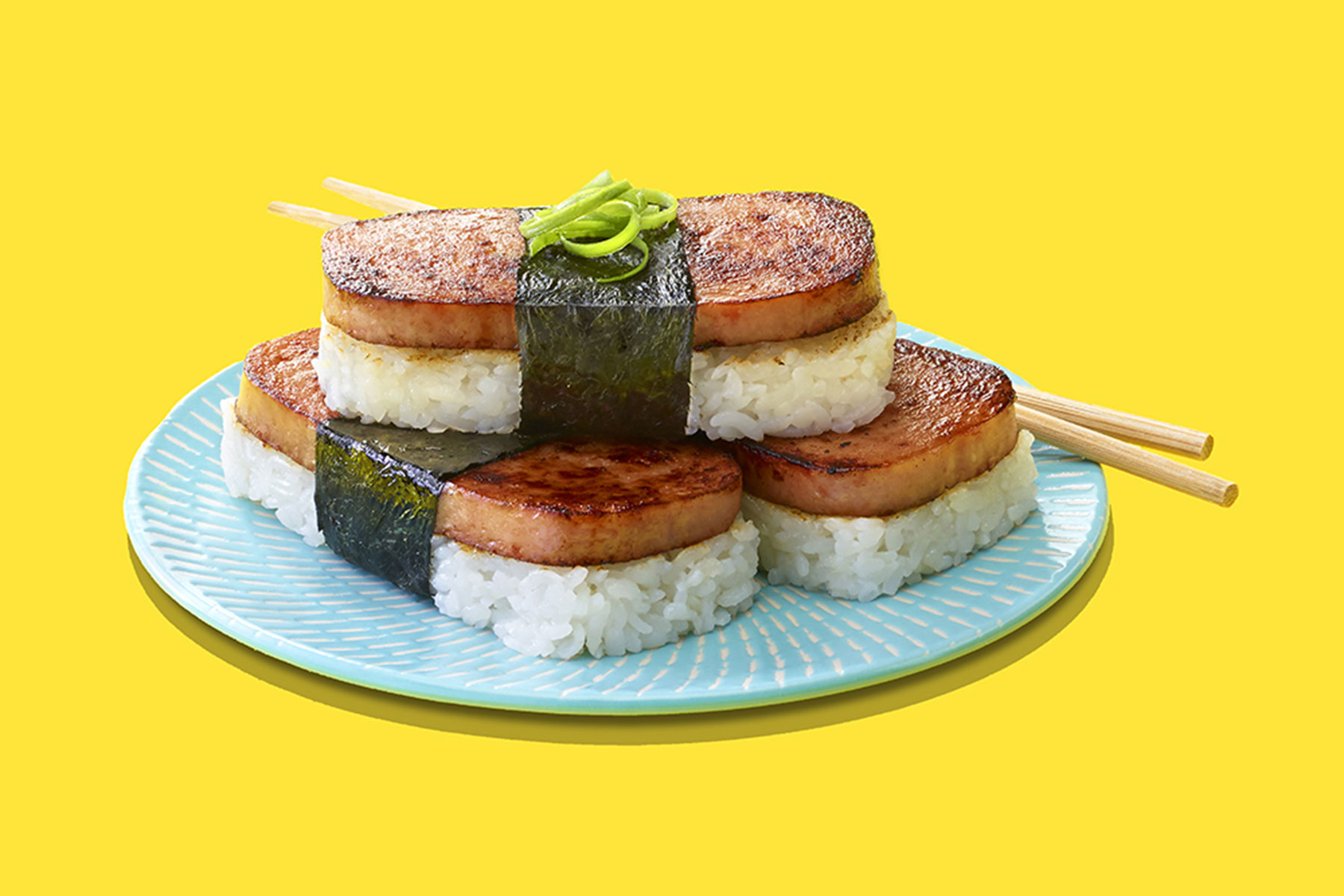 Ingredients
2 slices SPAM Classic – sliced 3/8″ thick
3 ounces cooked white rice, seasoned with furikake and toasted sesame seeds, if desired
1 tablespoon House of Tsang Hibatchi Grill Sweet Ginger Sesame Sauce or House of Tsang General Tso Sauce
1 whole sheet nori
Directions
In large skillet, cook SPAM Classic until lightly browned and crisp. Drizzle cooked SPAM Classic with grill sauce or cooking sauce.
2.Place rice into musubi press or line inside of empty SPAM can with plastic wrap and place rice in can. Press rice down firmly.
Sprinkle with seasoned furikake and toasted sesame seeds, if desired.
Place SPAM Classic on rice in press or in can. Press down firmly.
Optional (not as pictured above): Top with remaining rice; press down.
Remove SPAM and rice from musubi press or can.
On work surface, cut nori to desired width.
Lay nori shiny-side-down; top with pressed SPAM Classic & rice. Wrap nori around pressed SPAM Classic & rice. Serve immediately.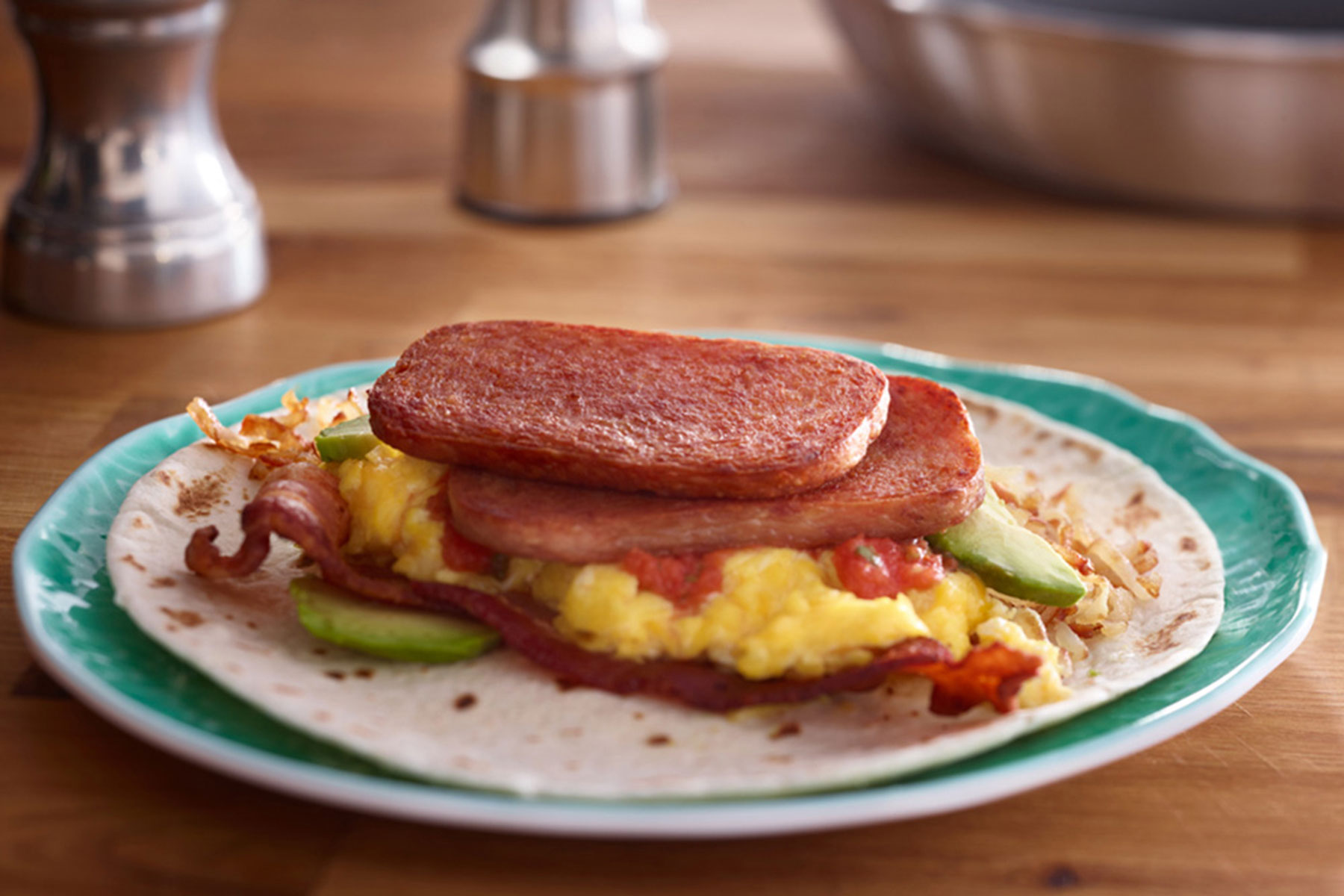 Spicy SPAM Breakfast Burrito
Ingredients
The Burrito
1 pc 12-inch flour tortilla
2 pc crispy bacon
.5 cup shredded cheddar cheese
1 pc egg, whole
2 pc 1/4 inch cut SPAM Classic , pre-seared
.25 pc avocado
3 oz. hash browns, crispy
2 oz. salsa
1 tblsp oil
The Sauce:
2 pc jalapeño pepper, minced
4 pc tomato, fresh
2 oz. lemon juice
1 cup water
2 tbsp salt
3 tbsp cilantro, chopped
1 pc Spanish onion, in 8ths
Directions
In a small stock pot, combine salsa ingredients and boil for 15 min on high.
Remove from heat and blend until fully pureed with no chunks and set it aside.
Get all your ingredients ready to prepare burrito and get a non-stick pan/flattop ready for the egg and cheese first.
Break the egg into the pan that's on high heat with a tblsp of oil and push the yolk with a fork slightly to break.
Without flipping the egg, cook on high heat and top the egg with the shredded cheese so the broken yolk is covered with the cheese. Let it cool and melt for about 2 minutes.
Take the eggs off the heat and now it's ready for assembly.
Place all ingredients, except the egg/cheese, in the center of tortilla.
Place the egg/cheese on top of other ingredients.
Fold burrito by taking the sides and folding towards the center of burrito.
Pinch sides and take bottom half and roll towards talk while keeping all the food inside and in the center.
Roll it tight and condensed and then roll in foil.
Cut burrito in half.
Unable to wait for the SPAM Brand Tiny House of Sizzle Tour to reach Summerfest? Use these featured recipes to prepare the tour's signature dishes at home: a Hawaiian take on surf and turf is sure to be a hit at your next luau, or start your day with Chef Jordan Andino's Tiny House of Sizzle Recipe for a zesty breakfast.
© Photo
Freezelight Photography and Hormel Foods