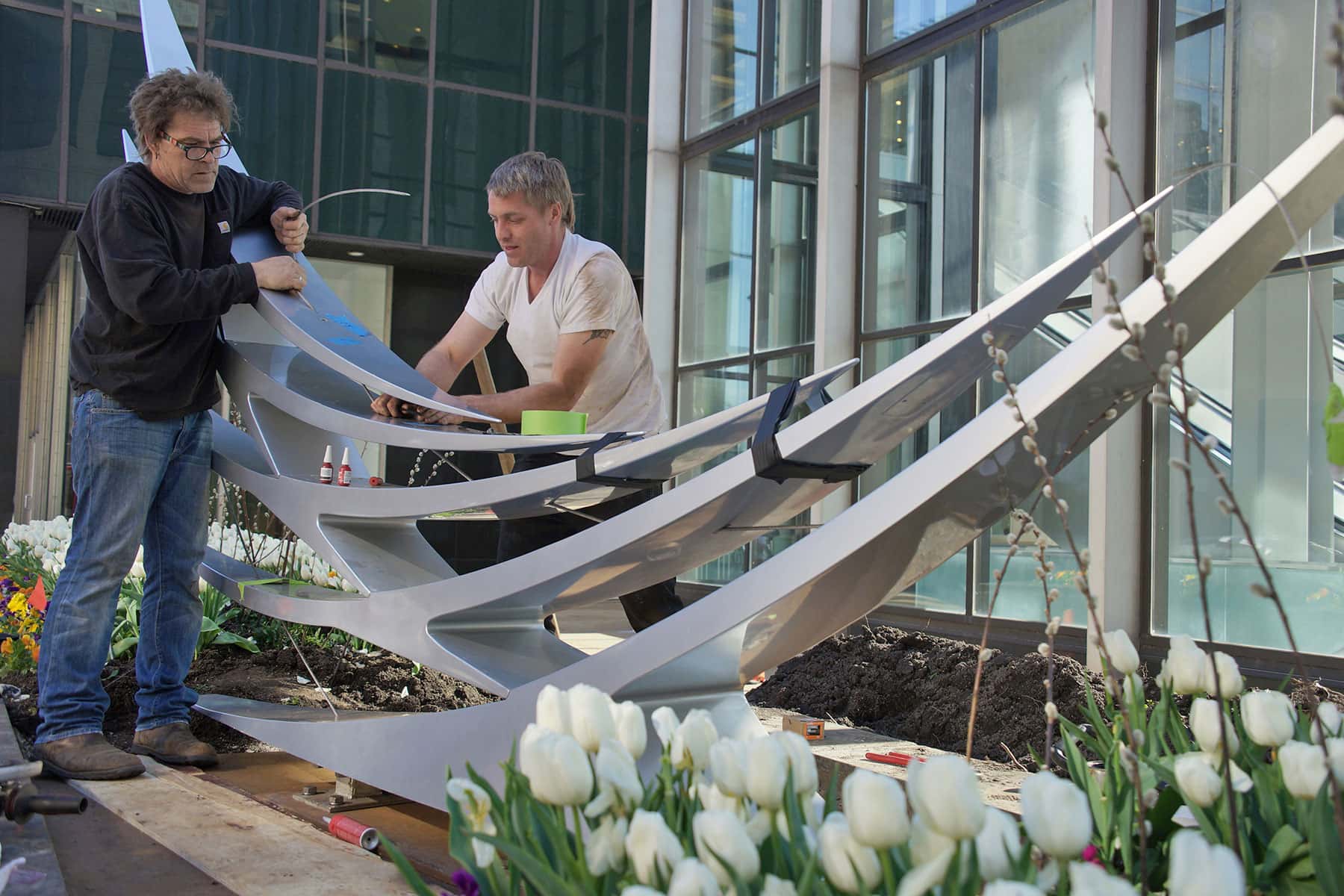 Santiago Calatrava's "S2" sculpture was installed over May 25 and 26 at its display location by the Chase Tower at Water Street and Wisconsin Avenue.
While some of the 22 artworks of Sculpture Milwaukee were placed as single piece objects along Downtown's main road, many required elaborate construction in place. Of all the challenging sculptures, perhaps the Calatrava circle was the most complex to reassemble. "S2" is a complete circle composed of 29 crescent modules that measure 16 feet in diameter. The solid parts were literally sewn together over a slow two day process.
The project was led by Phillip Stewart, president of Pinwheel Corp, who developed and fabricated the modules for Santiago Calatrava, the Spanish architect responsible for the Milwaukee Art Museum. Pinwheel built 2 of the 7 sculptures for Calatrava's 2015 exhibition along Park Avenue in New York City, "S2" being one of them. Stewart began the difficult job of computer modeling the design in 2014, and created the production process to engineer the unique sculpture and its elements.
Sculpture Milwaukee is the vision of Steve Marcus, a local philanthropist and chairman of the board of the Marcus Corporation. The outdoor urban sculpture experience in downtown Milwaukee is located along Wisconsin Avenue from 6th Street to O'Donnell Park and is be free to the public, until the art is removed at the end of October. The initiative is expected to attract global attention, showcasing Milwaukee's revitalization and rich cultural history in the art world.
This photo essay follows Stewart's installation progress over two days, as he weaved the gravity defying sculpture by Calatrava together. Also included is a look at internationally renowned sculptor John Henry's installation on 5th Street and Wisconsin Avenue. "Zach's Tower" is a work from 2007, made primarily of painted steel. Described as a huge welded steel drawing, Henry's sculpture used linear and rectilinear elements that appear to defy gravity.