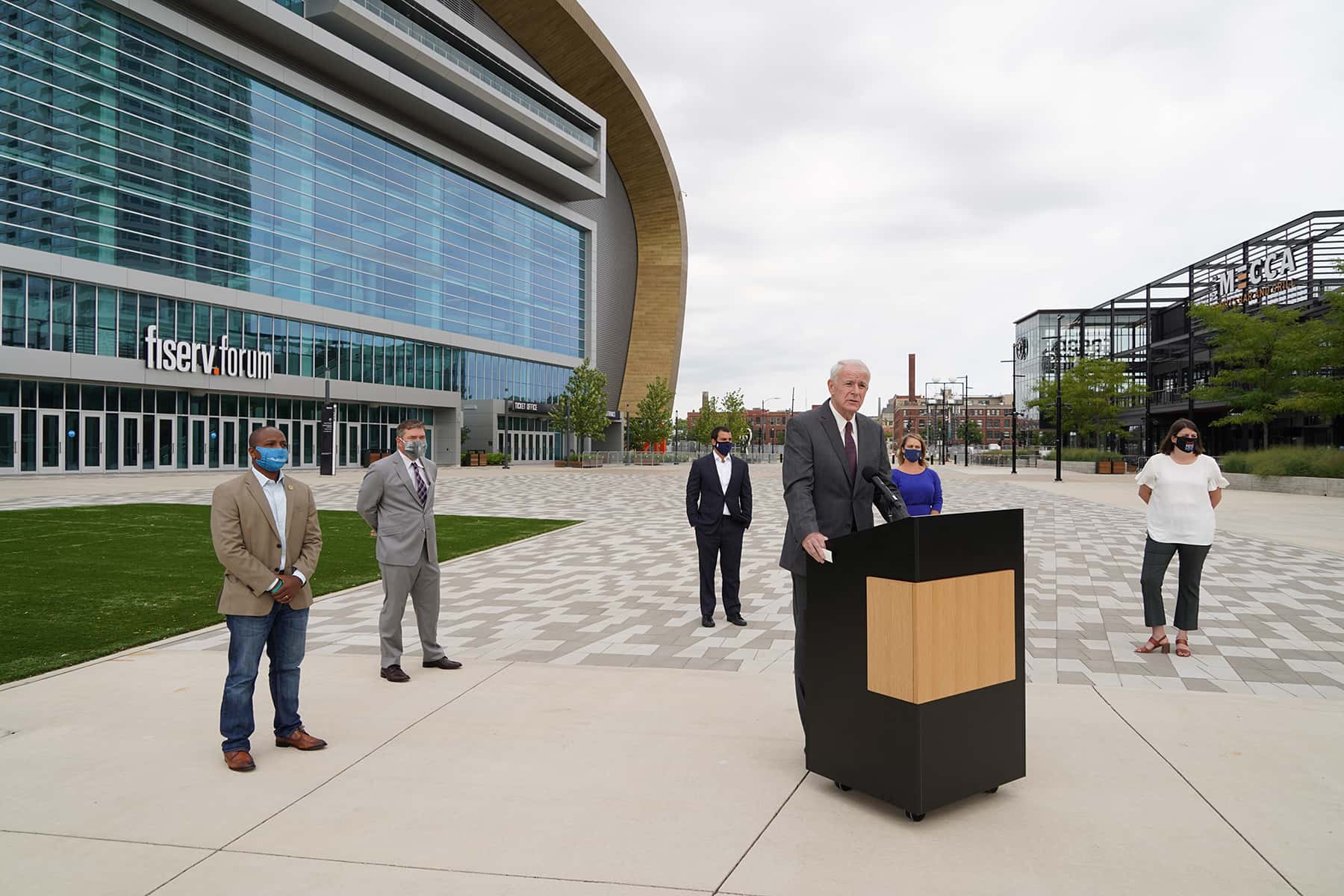 City leaders and community partners announced on August 31 that Fiserv Forum and Miller Park would be added as in-person absentee "early" voting centers for the 2020 presidential election. That decision was reversed on October 6, following a wave of legal challenges by Republican political operatives.
The City of Milwaukee Election Commission had previously added both locations in response to the COVID-19 pandemic, and a desire to meet public demand for early voting by the safest means available. But due to legal challenge concerns the plan was abandoned.
"Unfortunately, the addition of these two sites could be legally challenged due to a recent court ruling, and we don't want to do anything that could risk a City of Milwaukee voter's ballot being counted," said Claire Woodall-Vogg, Milwaukee Election Commission Executive Director. "We want residents of Milwaukee to feel complete and unwavering confidence that their ballot will be counted in the election and this action reflects that commitment."
Woodall-Vogg referenced a memo from the Wisconsin Elections Commission released on October 5. It warned that under state law, all early voting sites had to have been designated by June 12. The plan to host early voting at Fiserv and Miller Park was implemented on September 1.
She also noted that the City is still offering a record 13 in-person absentee "early" voting locations that are geographically spread out across the city. The city had three sites in November 2016 and eight sites in November 2018.
Beginning Tuesday, October 20, three of the sites, the Frank P. Zeidler Municipal Building (841 N. Broadway), Midtown Center (5700 W. Capitol) and Zablocki Library (3501 W. Oklahoma) will be open Monday through Friday, 8:00am until 7:00pm, and Saturdays and Sundays from 10:00am to 4:00pm.
Other location will be open Mondays and Tuesdays 7:00am to 1:00pm, Wednesdays, Thursdays and Fridays 1:00pm to 7:00pm, and Saturdays – Sundays 10:00am to 4:00pm include:
Bay View Library, 2566 S Kinnickinnic Avenue
Cannon Park Pavilion, 303 N 95th Street
Clinton Rose Senior Center, 3045 N Martin Luther King, Jr. Drive
East Library, 2320 N Cramer Street
Good Hope Library, 7717 W Good Hope Road
Mitchell Street Library, 906 W Historic Mitchell Street
Tippecanoe Library, 3912 S Howell Avenue
Villard Square Library, 5190 N 35th Street
Washington Park Library, 2121 N Sherman Boulevard
The University of Wisconsin – Milwaukee will have hours Monday to Friday, 10:00am to 3:00pm in the Student Union.
"Early voting opportunities are critical to reducing any crowding at voting sites on Election Day," said Milwaukee Mayor Tom Barrett. "Milwaukee is dedicated to administering a safe, accessible and transparent Presidential Election. We are doing everything within our ability to make sure every person in this city has a fair chance to cast a ballot and regret we are not able to pursue the unique opportunity of integrating these two well-known locations."
Residents are encouraged to think about how and when they will vote and to consider early voting as a safe in-person option. Further information can be easily found on myvote.wi.gov.
The
Milwaukee Independent
began reporting on what was then referred to as the mysterious "Wuhan Virus" in January 2020. Other local media did not picked-up on the story until many weeks later. Our early features focused on the economic impact, social issues, and health concerns long before other Milwaukee news organizations even mentioned the coronavirus. Over the following year, we have published hundreds of articles about the pandemic and how it has affected the lives of Milwaukee residents. This extensive body of work can be found on our
COVID-19 Special Report
page, a chronological index of links by month. Our editorial voice remains dedicated to informing the public about this health crisis for as long as it persists.
For medical resources, please visit the
CDC's COVID-19 page
or the
Wisconsin Department of Health Services
. All editorial content published by
Milwaukee Independent
can be found at
mkeind.com/COVID19
. With a mission of transformative journalism, our staff is free from commercial bias and are not influenced by corporate interests, political affiliations, or a public preferences that rewards clicks with revenue. As an influential publication that provides Milwaukee with quality journalism, our award-winning photojournalism and features have helped to achieve a range of positive social impact that enriches our community. Please join our effort by entrusting us with your contribution. Your Support Matters -
Donate Now