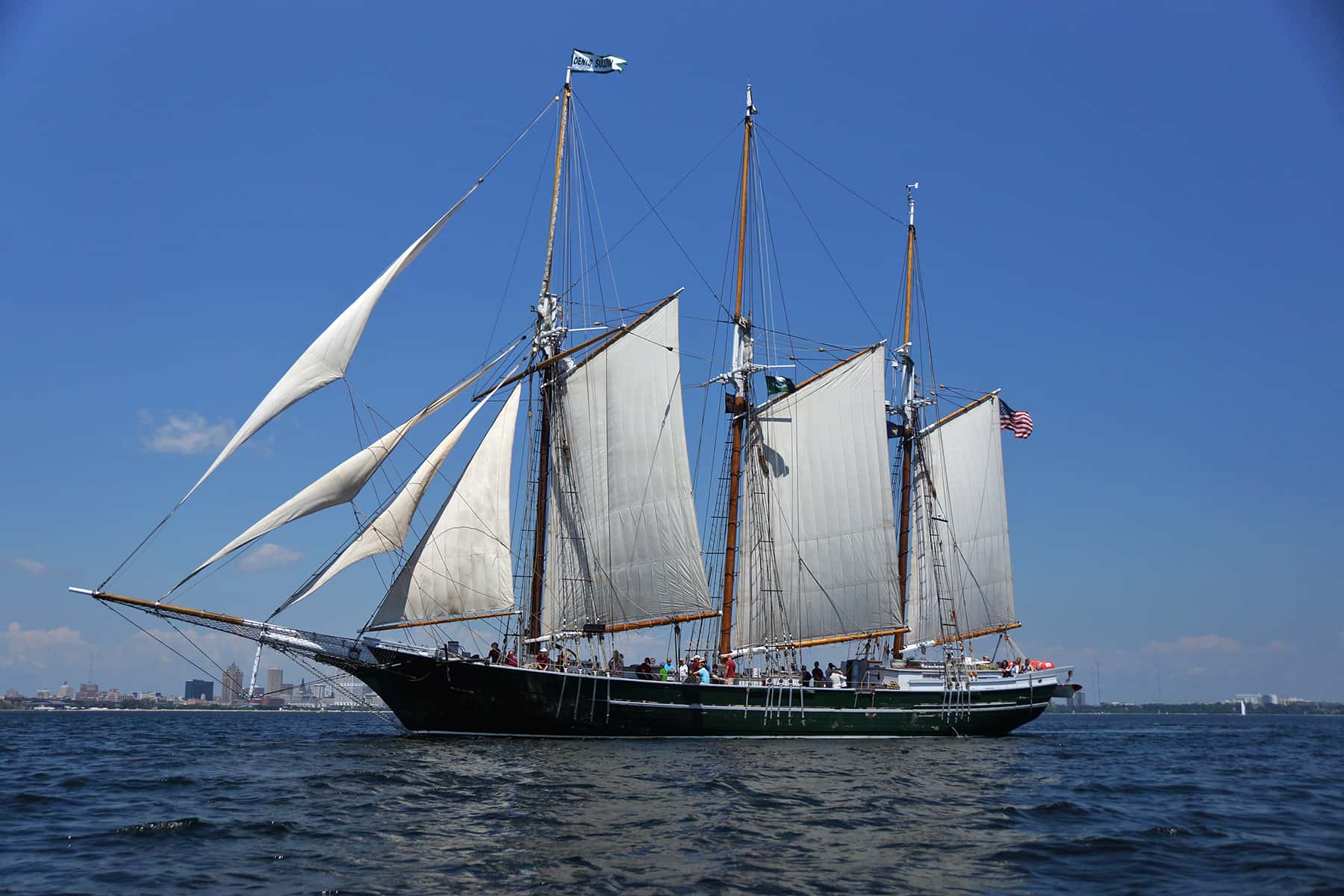 The COVID-19 outbreak shut down the Sailing Vessel Denis Sullivan just weeks before its 20th season was scheduled to begin. With its programming halted, and lacking minimal funds for its maintenance, the sailing days of Wisconsin's flagship and Great Lakes floating classroom could be over.
As Discovery World, the scientific museum that operates the vessel, made cutbacks over 2020, many employees were furloughed. But the financial pressure has continued to mount as the pandemic stretches on and cases of infections continue to skyrocket. As a result, the last two remaining crew to maintain the special freshwater ship – her captain and chief mate – were recently let go.
After 12 years in command of the S/V Denis Sullivan, Captain Tiffany Krihwan will no longer be the Senior Captain, Director of Marine Operations, and caretaker of the ship. The decision follows an unfortunate trend that is currently affecting every other classroom vessel and nonprofit museum in the country.
"The idea of not being the Sullivan's Captain and caretaker saddens me to my core. I have professionally and personally grown up on this vessel. She has taught me so much. I have watched my daughter grow up on her. I have fallen in love with Milwaukee and Wisconsin," said Captain Krihwan. "I am so proud to be the Captain of Wisconsin's Flagship. Especially when I have gotten to take her to my home town of Erie and she is docked next to Pennsylvania's Flagship, the Brig Niagara. The idea of moving on to a different vessel is almost inconceivable to me."
In 1989, the Schooner was simply an idea, but thousands of hands and hearts shaped the S/V Denis Sullivan from the ground up. Wisconsin's history of ingenuity, resourcefulness, and ambition have been highlighted in each sail, educational program, and presentation delivered aboard.
The Sullivan did not sail during the spring, summer, and fall of 2020. Discovery World remains hopeful to lift her sails again in the spring of 2021. But funding support for her operations has been a challenge. With programming at a standstill, she has generated no revenue. The annual maintenance for a boat of its size and age costs Discovery World roughly $500,000.
Even in normal times Discovery World experiences an operating deficit of about $150,000 each year. But while the lost crew could return or be replaced, time will not be so forgiving and take an irreversible toll on the wooden vessel. That is the true tragedy, because without ongoing maintenance the icon of Milwaukee's lakefront might never sail again.
"I am not going to lie, I need a job just like everyone else," added Captain Krihwan. "But the Sullivan needs to be cared for and maintained year round. Not just in the sailing season. The Chief mate is also getting furloughed and, between just Jonny and I taking care of the Sullivan in the winter months, it's already a big job. I can't image how she will be after our absence or for any new crew that may take over when she is to sail again."
Organizations or individuals interested to help Wisconsin's tall ship can make donations on its official GoFundMe Charity page.