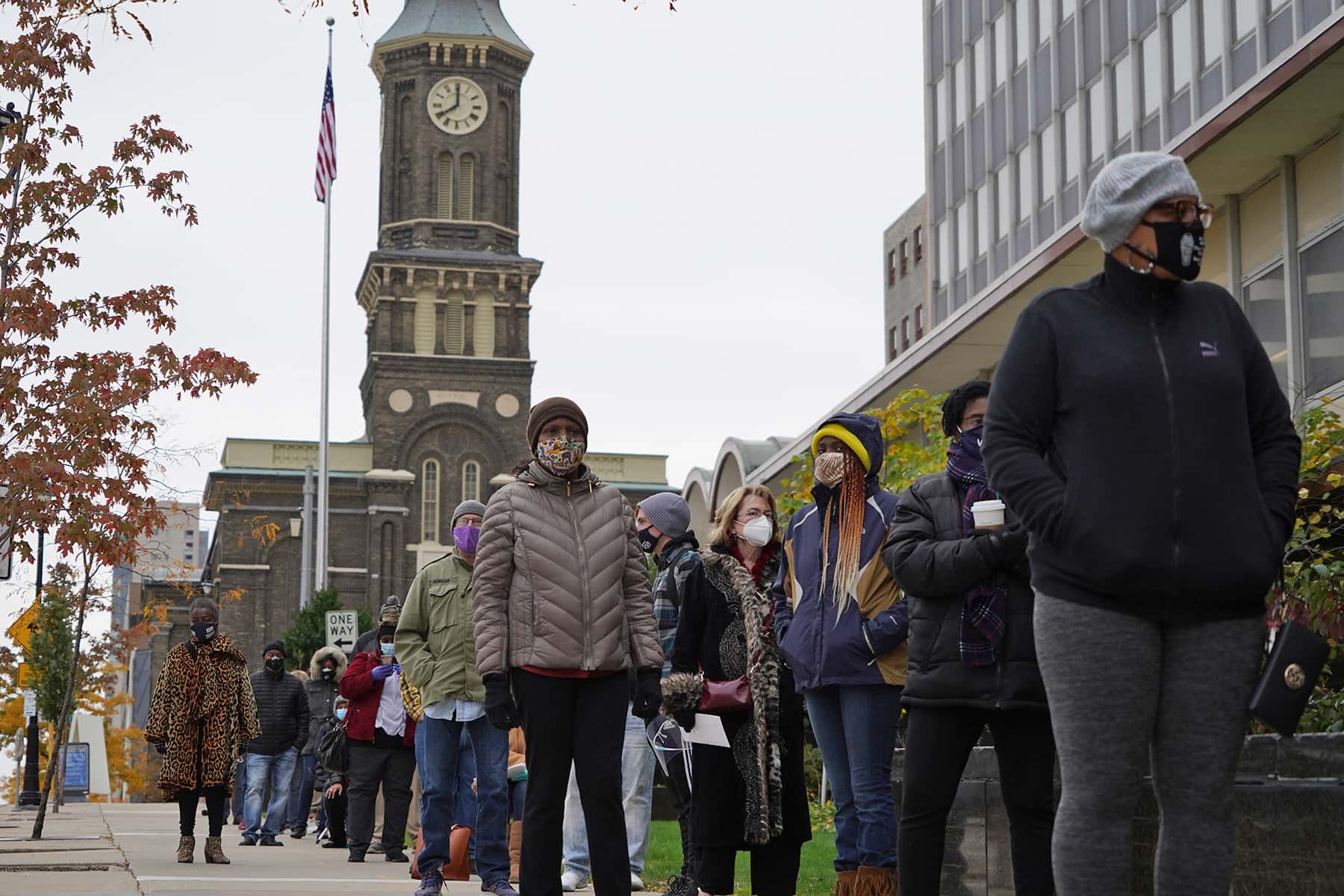 When Adaja Greer-Smith left work in the afternoon to vote in Milwaukee's April 7 primary, she encountered a line at John Marshall High School that was three hours long.
She had not eaten yet and felt a migraine coming on as she sat in her car, waiting for the line to move and feeling sick to her stomach. She ended up calling a friend to bring her snacks from a nearby gas station, because she was determined not to leave before she cast her vote.
"I think about all the blood, sweat, and tears that my ancestors went through for the right to vote. So I knew that there was nothing that would prevent me from casting my vote," Greer-Smith said. "I would have had to pass out, and even then, I would have been telling somebody to hand me a ballot."
That day, thousands of Milwaukeeans stood in line for hours in the frigid rain to exercise their fundamental right to vote. The city had reduced the number of polling sites from 180 to five, after lawmakers in the Republicans-controlled state legislature blocked efforts by Governor Tony Evers to delay the election.
Greer-Smith, 40, owns and runs Confectionately Yours, a bakery in the Sherman Phoenix food hall. After experiencing the unprecedentedly long lines of April, she is now one of over 20 restaurant operators in Milwaukee who are working to get voters easy access to food near their polling sites during early voting.
"I think about that experience and what we're doing now," added Greer-Smith. "That gives me even more drive to say you know what, absolutely. I wish someone would have been doing something like this back in April."
The initiative, Chefs For The Polls, is funded by the nonprofit World Central Kitchen. Caitlin Cullen, 33, owner and operator of The Tandem, coordinated the network of restaurants participating. It has focused on polling locations with "historically long lines, predicted massive turnouts, or limited facilities," according to the Chefs For The Polls website, in an attempt to make waiting in line to vote less inconvenient by providing food nearby. But anyone, regardless of if they voted or waited in line, is welcome to the food near the polls.
"It doesn't get more democratic than that," said Ana Docat, 55, the owner and operator of Cavas, which served food on October 27.
TruMan McGee, 36, said that after he requested an absentee ballot in April and never received it, he decided to vote early and in person this election. McGee is the owner and operator of Funky Fresh, a popular spring roll restaurant located in the Sherman Phoenix building. He said that as a Black man it can sometimes feel like his vote does not matter, but he wanted to encourage people this year that every vote does matter.
"I'm not going to allow anything to come between my vote getting out," McGee said.
Election after election, long lines and wait times at polling places are disproportionately found in areas with mainly Black and Hispanic populations. A study published in August found that for every extra hour a voter waits in line, their likelihood of voting in the next election dropped by one percent. The study also noted that race was "one of the strongest predictors of how long somebody waits in line."
Groups like Black Leaders Organizing Communities (BLOC) and Souls to the Polls have been working relentlessly through the pandemic to mobilize Black voters despite these barriers. BLOC has focused on north Milwaukee and sent hundreds of thousands of text messages and phone calls to get out the vote since April. Their efforts appear to be working. The Midtown Center at 58th St. and Capitol Drive has consistently seen the highest numbers of early voters every day of early voting, accounting for over a third of the roughly 42,000 in-person votes cast as of October 28 in Milwaukee.
"These numbers are going to be record high numbers, because I've never seen this many people voting," McGee said.
On the first day of early voting, the lines at Midtown varied from 40 minutes to two hours on foot. Ben Nerenhausen, 37, a co-owner of Allie Boy's Bagelry & Luncheonette, said that the car line stretched around the shopping center. Nerenhausen handed out around 250 hot bagel sandwiches around lunchtime.
"It was absolutely mobbed," Nerenhausen said.
Flour Girl and Flame, a mobile wood-fired pizza grill serving personal margherita pizzas, took over at Midtown as Allie Boy's packed up. "We were met with nothing but enthusiasm from the people that were waiting so long," said Dana Spandet, 39, the owner and operator.
Spandet returned to Midtown on October 28. She was moved by the small victories she saw that day. An immigrant woman voted in her first presidential election. Poll workers carried a man inside to cast his vote when his wheelchair did not fit through the doors. And a young Black man who said he turned 18 that day voted for the first time, repeating the names of people of color recently killed by police as he walked out.
While a hot bagel sandwich or a cinnamon roll topped with bacon may not have been the deciding factor for a voter stuck in a long line, it certainly offered a moment of relief in a process that has seen the addition of needless obstructions. And for Greer-Smith, it has been more than just about food.
"Being a pastry chef, it gives me an opportunity to spread my love the way that I'm used to doing it," she said. "Our voice is our vote. So it's important that we get out here and rock it."