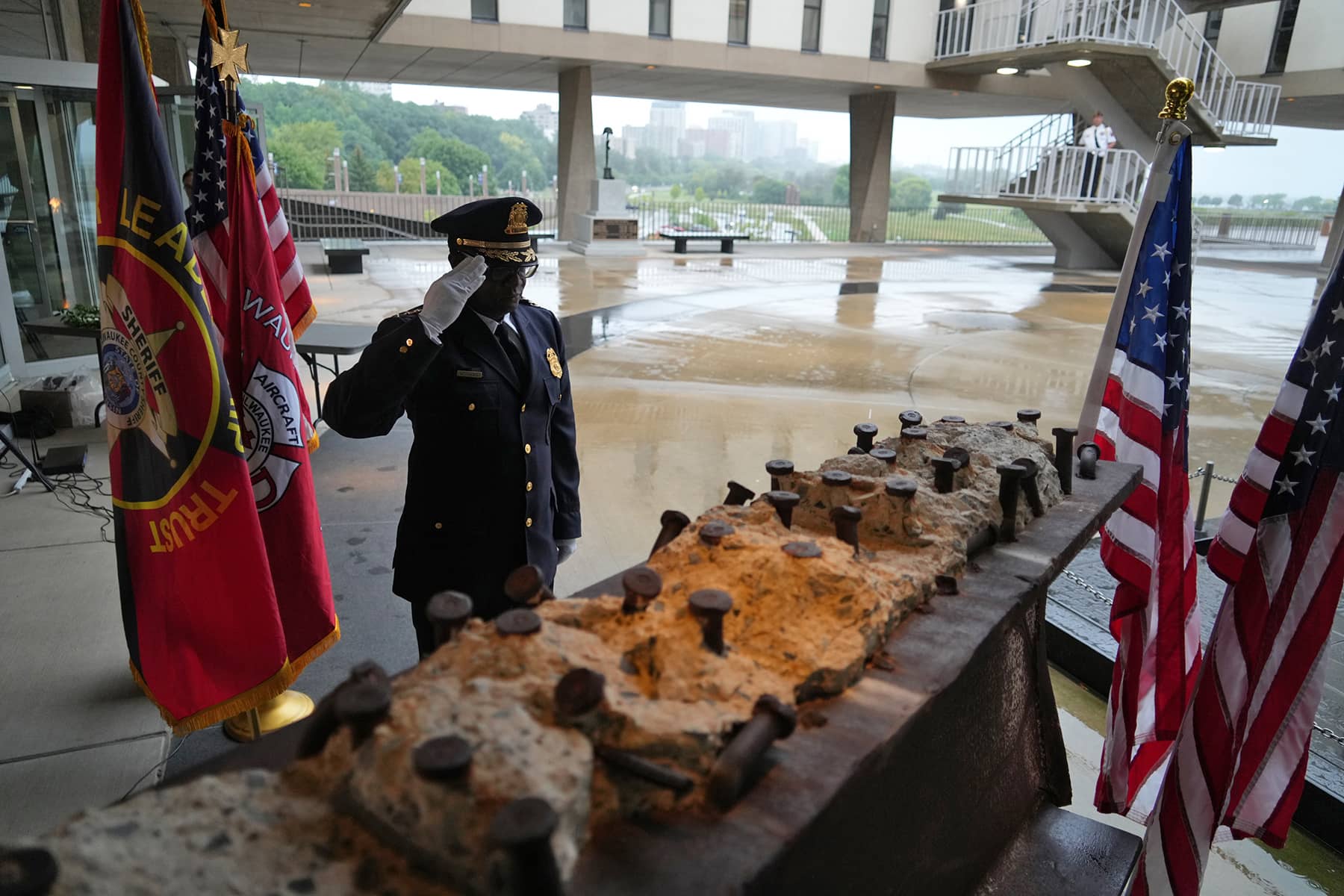 The Milwaukee County War Memorial Center hosted a ceremony of remembrance for the tragic events of September 11, 2001, with city leaders, local veterans, and community members in attendance during a heavy rainstorm on September 11, 2023.
The special observance was co-organized by the city and county, and featured remarks delivered by Mayor Cavalier Johnson and Milwaukee County Executive David Crowley.
With tolling bells, personal tributes and tears, Americans looked back on 9/11 at anniversary observances that stretched from ground zero, across the country, and back to Milwaukee.
People gathered at memorials, firehouses, city halls, campuses and elsewhere to observe the 22nd anniversary of the deadliest terror attack on U.S. soil. About 1,100 victims have yet to have any remains identified.
"For those of us who lost people on that day, that day is still happening. Everybody else moves on. And you find a way to go forward, but that day is always happening for you," Edward Edelman said as he arrived at ground zero to honor his slain brother-in-law, Daniel McGinley.
The impact of 9/11 was felt in every corner of the nation, however remote. Nearly 3,000 people were killed when hijacked planes crashed into New York's World Trade Center, the Pentagon and a Pennsylvania field, in an attack that reshaped American foreign policy and domestic fears.
On that day, "we were one country, one nation, one people, just like it should be. That was the feeling — that everyone came together and did what we could, where we were at, to try to help," said Eddie Ferguson, the fire-rescue chief in Virginia's Goochland County.
It was more than 100 miles from the Pentagon and more than three times as far from New York. But the predominantly rural county of 25,000 people has a local September 11 memorial and holds two anniversary commemorations: a morning service focused on first responders and an evening ceremony honoring all the victims. Other communities across the country pay tribute with moments of silence, candlelight vigils, and other activities.
In Milwaukee, the War Memorial Center displayed a piece of 9/11 history. Part of a steel beam that once supported the Twin Towers was adorned with flags and memorial wreaths. In 2010, a decade after 9/11, retired battalion chief for the Milwaukee Fire Department Mark Fox, and Vietnam Veteran Joe Campbell drove from Milwaukee to New York to bring a beam from the Twin Towers to Milwaukee. It has remained on display at the War Memorial Center since.
"Every year on this day we remember that in the hour of sorrow and mourning, we united as a nation to overcome the evil that was brought upon us. Today, we as Americans reunite in remembrance. We unite to remember the lives that were lost." said Milwaukee County Executive David Crowley said. "We must commit to re-commit ourselves to never forget, and to honor those lives by living our life in service. We also need to make sure and continue to give thanks to the enduring spirit of resilience that defines who we are as the people of America."
A 21-mile march in Iowa set off at 9:11 a.m. Monday from the Des Moines suburb of Waukee to the state Capitol. In Columbus, Indiana, observances include a remembrance message sent to police, fire and EMS radios throughout the 50,000-person city.
Boy Scouts and Girl Scouts raise and lower the flag at a commemoration in Fenton, Missouri, where a "Heroes Memorial" includes steel from the World Trade Center's fallen twin towers and a plaque honoring Jessica Sachs, a 9/11 victim with relatives in the St. Louis suburb of 4,000 residents.
Pepperdine University's campus in Malibu, California, displays nearly 3,000 American flags, one for each victim, plus the flags of every country that lost a citizen on 9/11. New Jersey's Monmouth County, which was home to some 9/11 victims, made September 11 a holiday this year for county employees so they could attend commemorations.
As another way of marking the anniversary, many Americans do volunteer work on what Congress has designated both Patriot Day and a National Day of Service and Remembrance.
At ground zero, dignitaries from across the nation attended the ceremony on the National September 11 Memorial Plaza. The event does not feature remarks from political figures, instead giving the podium to victims' relatives for an hourslong reading of the names of the dead — and brief personal messages.
Some family members made patriotic declarations about American values and thanked the military. One lauded the Navy SEALs who killed al-Qaida leader and 9/11 plotter Osama bin Laden in Pakistan in 2011. Another appealed for peace and justice. One acknowledged the many lives lost in the post-9/11 "War on Terror." And many shared personal reflections on missing loved ones.
"Though we never met, I am honored to carry your name and legacy with me," said Manuel João DaMota Jr., who was born after his father and namesake died. For Gabrielle Gabrielli, reading the names of those lost "is the biggest honor of my life."
"We have to keep the memory of everybody who died alive. This is their legacy," said Gabrielli, who lost her uncle and godfather, Richard Gabrielle. "This is the final resting place. It's sacred."
The Flight 93 National Memorial near Shanksville, Pennsylvania – run by the National Park Service, is offering a new educational video, virtual tour and other materials for teachers to use in classrooms. Educators with a total of more than 10,000 students have registered for access, organizers say.
"We need to get the word out to the next generation," said memorial spokesperson Katherine Hostetler, a National Park Service ranger.
Editor's Note: On September 9, Vietnam veteran and Veterans' advocate Bob Pfeifer passed away after a long illness. Pfeifer, along with his friend Campbell, attended the 9/11 remembrance event at the War Memorial Center each year. 2022 was the first in-person gathering since the beginning of the pandemic, and also came with a heavy rain storm. A photo of Pfeifer from that event has been included in this 2023 collection. It stands as a tribute to his spirit, that many people felt in his absence on this day.
Jennifer Peltz, Karen Matthews, and MI Staff
Lee Matz, Yuki Iwamura (AP), John Klicker (AP), Mariam Zuhaib (AP), Jeff Chiu (AP), John Rucosky (AP), and John Spink (AP)