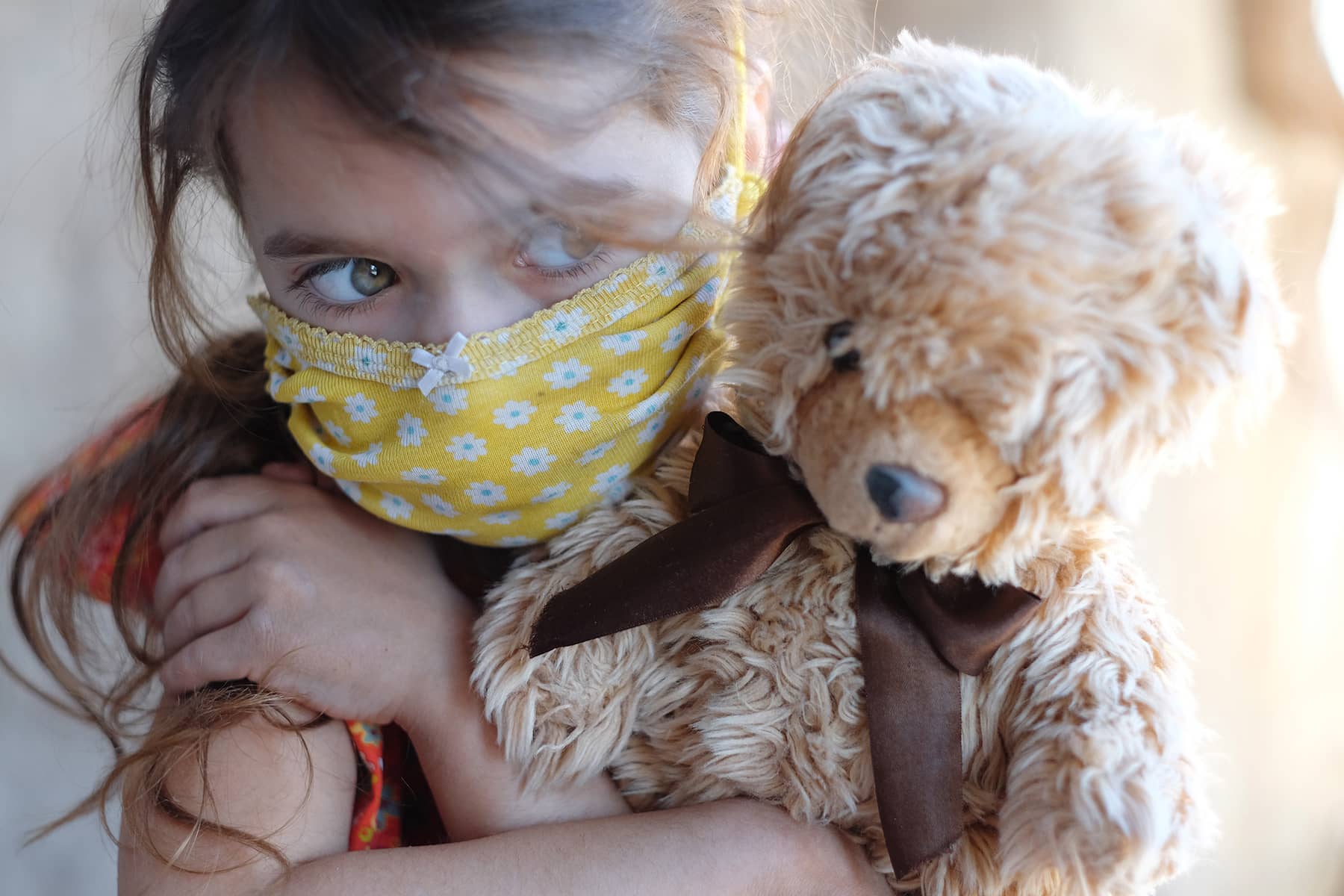 While many Americans are ready to move on from the COVID-19 pandemic, for some people like Corrine Hendrickson, that is not an option.
Hendrickson is the owner and operator of Corrines Little Explorers, a child care center in New Glarus and a former board member of the Wisconsin Early Childhood Association (WECA), an organization that conducts research, professional development, and advocacy on behalf of Wisconsin child care providers.
During the omicron wave alone, Hendrickson had to shut down her business three times, each time for approximately two weeks. One of those closures was because she had contracted omicron; despite being vaccinated and boosted, she still has lingering symptoms, including numbness and tingling in her hands and feet and cluster headaches.
The weather is getting warmer, so she will be able to take the children outside more, reducing the risk of spreading COVID-19, but Hendrickson said she would not be surprised if she has to close again.
"There'll be some kids again that will get exposed again and won't be able to come because I'm not taking the risk of them spreading it to others who have not had it," she said.
Ruth Schmidt, executive director at WECA, said that if there was one silver lining to the pandemic, it's that child care is now on everyone's radar.
"It is recognized as a challenge from both sides of the political aisle right now," Schmidt said. "The solutions that would be suggested are obviously going to be significantly different, but in terms of needing to do something on child care, I think there's a pretty significant universal understanding that this is something that's very needed."
Schmidt and other child care advocates were pinning some of their hopes on President Joe Biden's Build Back Better budget package, which would have created universal preschool for all 3- and 4-year-olds as well as subsidized child care so families would only have to pay 7% of their income.
For now, the Wisconsin Department of Children and Families (DCF) has put federal COVID-19 relief funds toward expanding existing programs and rolling out new ones to encourage more people to enter the industry. But that funding is set to expire at the end of 2023; without longer-term investments, providers and families could find themselves making some tough choices when they run out.
An ongoing problem
In March 2020, 40% of licensed child care providers had to close temporarily according to the DCF. By October 2021 that number had gone down to 2.7% of providers, but that was still in the early days of the omicron wave. DCF Secretary Emilie Amundson said that through programs that gave providers an incentive to expand their hours and hire more staff, the number of available child care slots is almost back to pre-pandemic numbers.
"I believe that that really shows that our programs that we've run with federal dollars have stabilized the industry," Amundson said.
In February, the Joint Finance Committee approved an additional $194 million in expanded and new programming that Amundson said is aimed to address a variety of different issues.
"For us, it's been a strategy about, how are we pulling at different threads in this incredibly complex system to make sure that folks in every kind of situation have either entry points into the system or the ability to grow through the next two years?" Amundson said.
Amundson pointed out that Wisconsin's child care industry was in rough shape before the pandemic, and while the programs that have been rolled out due to the pandemic are a good first step, they are still the first step.
"Were we at the precipice before the pandemic in terms of affordability, access quality? Absolutely. That's a stated fact," Amundson said. "So we have a long way to go to create a program that's truly equitable and accessible for all Wisconsin families."
In a 2020 grant application, the department stated that since 2010, 68% of family child care centers, which are run out of the provider's home, had closed. Just from 2015 to 2020, 2,000 providers closed, of which 75% were family child care providers. In 2018, 38% of Wisconsin zip codes were classified by DCF as child care deserts. But for whatever reason, those issues were bubbling below the surface.
"If any other industry lost two thousands of businesses across the state, that would be a four-alarm fire, but nothing," Hendrickson said. "Then all of a sudden people started noticing they couldn't find care and businesses started noticing that there was no child care for their employees and they were losing employees. Then they started ringing alarm bells."
The central issue is that providers are being squeezed between the high cost of providing child care and the limits of what parents can afford to pay. Even though more than 80% of Wisconsin child care center teachers or family care providers have some higher education, in 2020 their median hourly wage was $12.99 and $7.46, respectively, according to a report from WECA.
Three out of four child care providers said they are trying to hire teachers, but directors are reaching "the end of their rope in terms of how they can support their staff," Schmidt said. That shortage has wider implications for the economy.
"That means that there's programs with closed classrooms, there's programs with huge waiting lists, [and] there's programs with reduced hours of operation," Schmidt said. "Center directors are leaving because they are so stressed out because they can't hire staff effectively, which all is gonna lead to parents not being able to work."
Making investments
One way DCF is addressing this gap is the Child Care Counts program, which sends monthly payments to licensed providers who can use it to keep their rates low or raise staff wages. Amundson cited one provider who used the funds to purchase snow suits and snow gear so children without those things at home could still play outside during the winter.
Hendrickson emailed her clients telling them she would have had to raise her rates by $45 a week due to rising costs, but was instead keeping them flat due to the program.
With the federal funds, DCF also raised the percentage of child care costs the state would cover for low-income families through the Wisconsin Shares program from 35% to 80% through 2023.
Hendrickson said that at 35%, the program didn't cover enough of the cost, so low-income people found alternatives. Now that the subsidy is up to 80%, more people may take advantage of it while it lasts.
Whether that will continue past 2023, and whether the other recently improved expanded aid will as well, will be up to the Legislature. When Gov. Tony Evers released his 2021-23 budget a year ago, he included proposals "for how to braid in state funding to sustain a lot of the programs that we're running off federal funding right now," Amundson said.
Because the Joint Finance Committee removed those, "we're in a pilot program scenario right now for the next two years," she said. "We're going to run these programs off of federal funding, and we are going to demonstrate success." At that point, "it's really, frankly, on the Legislature to ensure that we have viable state funding … to continue these programs."
But not all the funding has reached the people who need it. Brooke Skidmore, the director of The Growing Tree in New Glarus, was one of about 300 providers who was denied during the second round of federal pandemic relief funding in 2020 because one of her staff members did not get her fingerprints updated. It cost the center more than $20,000. That year, Skidmore said the center lost more than $110,000.
"This grant, these federal funds are to help providers, not to use it as a means to penalize them for regulation issues," Skidmore said. "That was definitely a slap in the face to providers across the state."
Amundson counters that the federal government requires all child care providers to have their employees submit fingerprints as part of their background check and then keep them current.
Schmidt has some reservations about a Department of Workforce Development program to develop private partnerships with area businesses to cover some of their employees' child care. Her concern is that businesses' contributions are based on the "true cost of care," which is probably closer to child care rates in Madison, but much higher than what providers charge in rural areas. That means rural employers would be paying Madison rates even if child care is substantially cheaper in their community.
It will be some time before the programs approved in February can show which are effective. But Amundson is confident that the industry will benefit from the investments that have already been made.
"Wisconsin is sitting in a much better place than many states because of the investments and because of the breadth and depth of the programs that we've administered," Amundson said.
Donate: Wisconsin Examiner
Help spread Wisconsin news, relentless reporting, unheard voices, and untold stories. Make a difference with a tax-deductible contribution to the Wisconsin Examiner