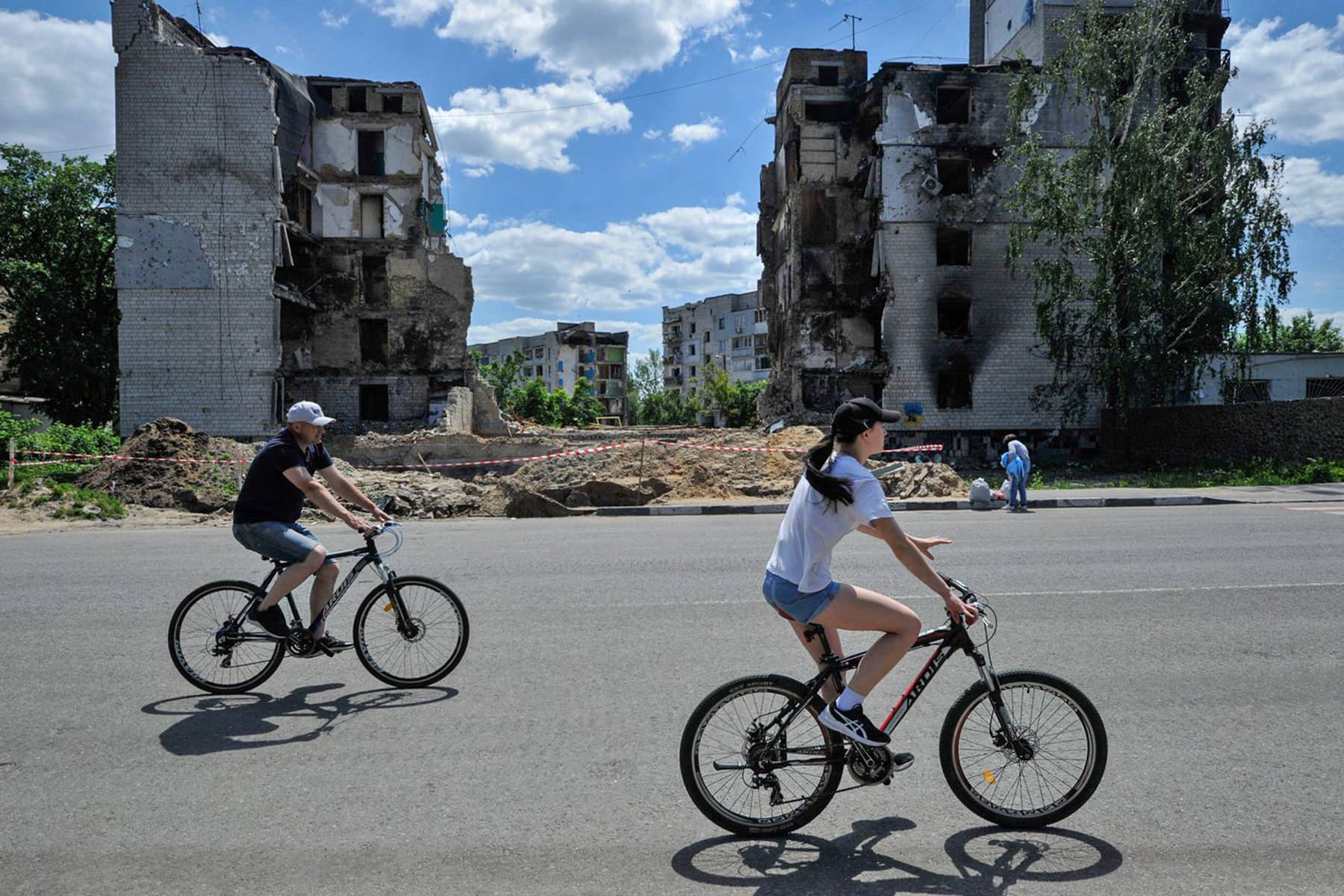 "It's becoming harder to sell stories about Ukraine," said one of my colleagues from an international TV crew, as we drove past bombed-out apartment blocks in the town of Borodianka, just north of Kyiv. "People are tired of this war."
I understand. I am Ukrainian. Most of my acquaintances abroad stopped wondering whether I was dead or alive in the third week of Russia's full-scale invasion.
I am currently working as a fixer – a translator, organizer, problem solver – for international television. This is my first visit to the villages and towns north of the capital since they were liberated. It's a beautiful May day and the charred carcasses of houses in Makariv, Andriivka and Hostomel stand out in sharp relief against the blue sky. Poplar fluff is everywhere, looking too much like ash.
The Russian army was forced out of the Kyiv region two months ago, and the period of breaking news from the area is luckily over. Now, we are looking for stories with more lasting impact, interviewing the survivors of Russian war crimes.
But after more than three months of constant news about Ukrainian cities being destroyed, Ukrainian civilians tortured, and the Ukrainian army hit with all types of weapons but nuclear, the global community is sliding into 'Ukraine fatigue.'
Calls for Ukraine to compromise with the Russian Federation, the aggressor state, and cede territories are getting louder. No doubt, they are, in part, fueled by the looming food crisis – courtesy of Russia blocking Ukrainian grain exports. For a world that appears ready to move on, Ukraine's resistance might slowly turn into an inconvenience. And Russia is banking on it.
Back in 2014, the world turned a blind eye to Russia's violation of Ukraine's territorial integrity – the annexation of Crimea, the occupation of Donbas. This paved the way for the Kremlin's current full-scale invasion. Turning a blind eye to this war of annihilation will have consequences the world cannot afford. Each time the global community opts for appeasement, Russia escalates.
Looking for an official in the town of Borodianka, I shout to my colleagues across the square: "I'll ask in the village shop!" I almost step inside the shop without noticing that it, like almost everything here, has been burnt down. Take notice: this is Europe in 2022. This war of annihilation could have been prevented. Some things still can be.
For our Western allies, the longed-for vision of peace on the European continent still seems to involve financing the Russian military via energy imports and measures to "save face" for Vladimir Putin.
Yet the Russian president's vision for Ukraine is clarified by the testimonies of Ukrainians who have survived the Russian occupation of the Kyiv region. We speak to one woman who was raped by a Russian soldier the same age as her son, and another who witnessed her neighbor's murder, and another whose dog was shot just for fun.
When we ask survivors about the future, they envision only one thing: a Ukrainian victory. It is clear to them that, unless Ukraine wins this war, the war crimes they have suffered at the hands of the Russian military will continue for their compatriots trapped in the Ukrainian territories that Russia currently occupies – equivalent to about 20% of the country.
The survivors know that without Russia's unquestionable, irrevocable defeat, any return to peace would be temporary. Emboldened by its gains, Russian would regroup and return, to rape, torture and burn. Despite western European leaders' repetitive calls to the contrary, Russia must be humiliated.
Ukrainians will battle against Russia's exceeding military forces, relentlessly, for as long as it takes. No matter how tired the world is of watching us fight, Ukraine's victory is inevitable. And unlike the tired allies of ours, on the moral plane, we have already won.
Mаrkus Schrеіbеr and SОPА Imаges