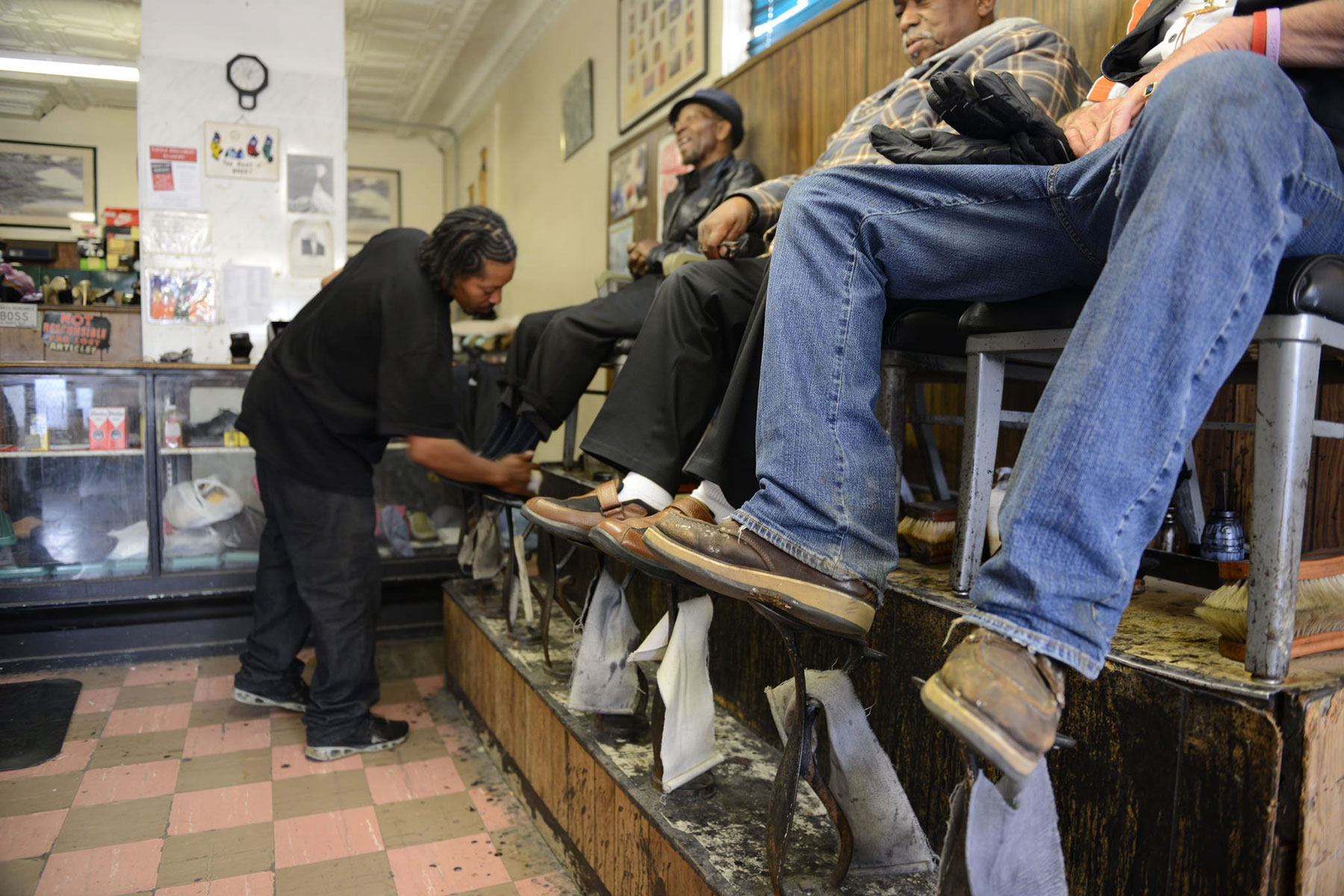 Below the baritone voices of wise men rattling on about politics, business and life was a hypnotic rhythm of polishing brushes rapidly crossing over each side of their shoes.
"We talk about everything," said Joe Johnson, 78, perched above a hard-working shoe shiner as the sweet aroma of polish filled the small cluttered space.
"I have been coming here for years. The talk varies every day," he said, before striking up a conversation about the campaign for president and military spending.
For the last 50 years, on a daily basis, this is what has gone down at Scruggs & Sons Shoe Repair, 3570 N. Teutonia Ave., in the Arlington Heights neighborhood. The family-owned business is one of a few shining and repair establishments still left in the city as many of the remaining shoe shiners have taken up territory at the airport or the courthouse.
"Preachers, teachers, politicians…everybody comes in here. We have a good clientele," said store owner Wanda Scruggs, 69, as she stood near a pair of shiny pink cowboy boots standing at attention. "Kids even come through to have us clean their tennis shoes.
Scruggs fixes, cleans and polishes anything leather. From belts and purses to saddles and a vast array of leather attire brought in by bikers, Scruggs has repaired, polished and buffed it all. But while the shoe service brings customers in, it is the friendly banter that keeps them returning year after year.
"It's a place for everybody to sit back, relax and unwind a little bit," said Jerrell Washington, 29, the lead shoe shiner, while he bent over and buffed a pair of shiny black leather loafers on the feet of James Fowler, 80, who has been coming to Scruggs for more than four decades.
"They have done such a good job on my shoes for years…they make them look great," Fowler said.
The centerpiece of the small store on the city's North Side is a row of four chairs that sit above shoe rests and an assortment of brushes, towels and cans of polish. During the last 20 years, this is where Washington has perfected the art of the shoeshine, a systematic process involving cleaning, buffing and polishing that crescendos with an emphatic snap of his white towel.
"You got to have a passion for your craft," he said, pointing to the word "Shine" tattooed on the inside of his arm.
Much like Fowler, 69-year-old Walt Smith, has been a loyal customer for decades at Scruggs, located in an area of the city where half the residents live in poverty and a quarter are unemployed.
"There's a lot of history here…it's important to support a local business," Smith said while waiting for Scruggs to retrieve the shoes he had dropped off a few days earlier. "We need to step our game up and take care of these businesses."
A shoe shine costs from $4 to $8 depending on the shoes and the level of service. Washington said there is still a wide appeal for a shoe shine, given how expensive a new pair of dress shoes is these days and how important appearance is to get ahead in the world.
"How you look affects how you feel," Washington said as a television showed a B-movie in the front of the shop. "When they walk out with shiny shoes, they walk out with a smile and with confidence. There is a certain feeling you get with looking good."
Despite the economic challenges that the business, like any other establishment faces, Scruggs is nowhere near closing up shop and retiring, she said.
"People say that they appreciate that we are still here," Scruggs said. "I love it."