Postal errors and ballot delivery delays in Wisconsin signal alarm about national voter suppression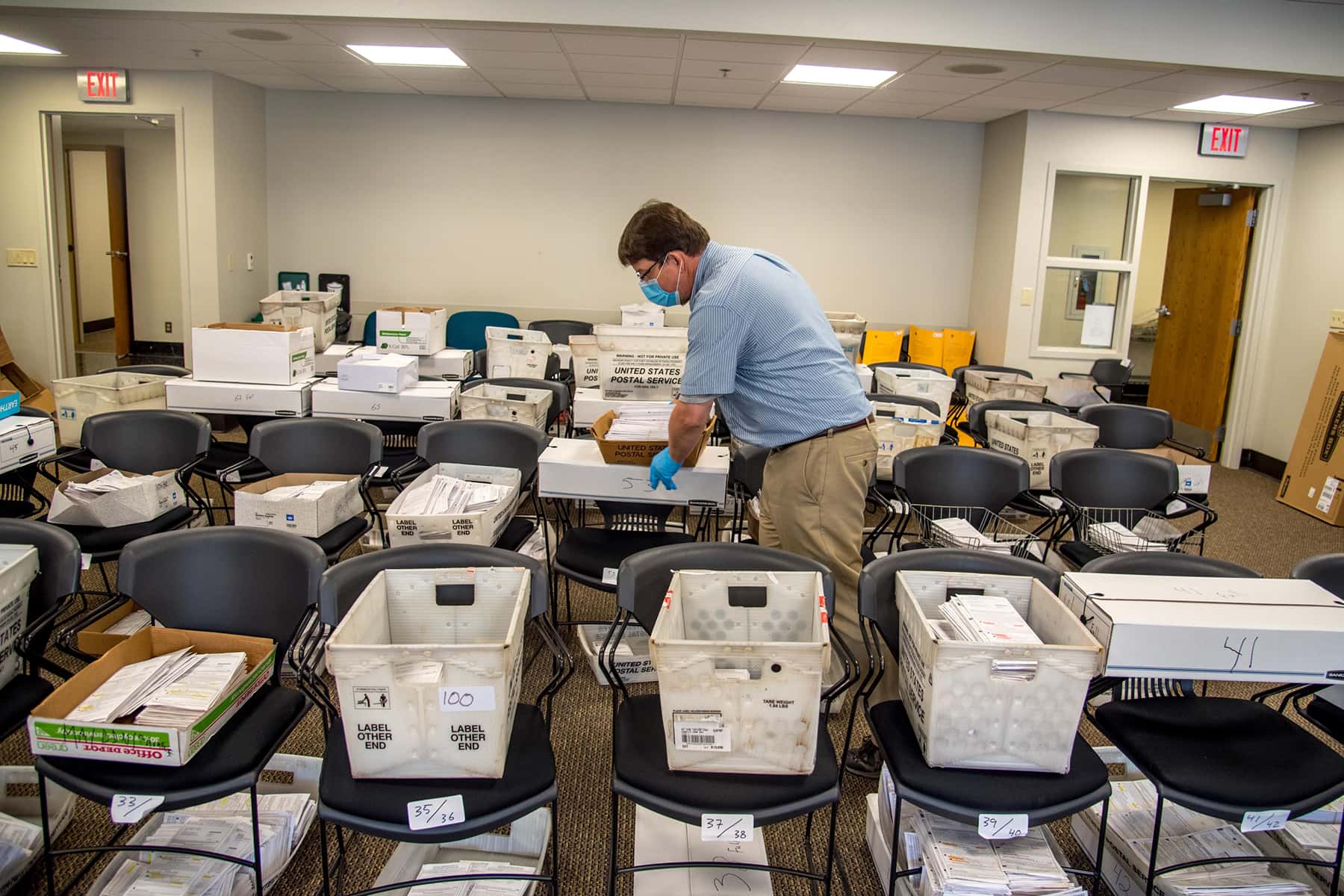 The U.S. Postal Service is not meeting goals for on-time mail delivery, a worrying sign as millions of Americans are expected to vote by mail in November.
Based on its own performance measures — and the loss of hundreds of Wisconsin ballots on their way to voters this summer — the U.S. Postal Service has its work cut out for it before Election Day. Among the 13 postal districts serving key presidential battleground states, four failed to meet any on-time service goals handling first-class mail between April 1 and June 30, and six districts achieved only one.
The laggards are in, or in parts of, five battleground states — Pennsylvania, Michigan, Florida, Wisconsin and North Carolina — politically competitive blends of urban and rural voters that will likely determine the presidential election. The postal service district serving Arizona, also expected to be a highly competitive state but with voters who typically vote by mail, hit both delivery targets.
Three of the postal districts that missed both targets represent the largest metropolitan areas in their respective states — Philadelphia, Detroit and Milwaukee, Democratic strongholds in states that propelled Donald Trump to victory in 2016.
The 13 districts were not outliers compared to the rest of the country. More than half of the nation's 67 postal districts failed to meet any first-class mail delivery goals, and 23 only met one.
And the below-par delivery performance in districts representing parts of Wisconsin, Michigan, and Florida — where the presidential campaigns are spending millions — continues a trend: They have missed targets more often than many other districts across the country since the end of 2016.
Any other year, perhaps any other election year, a steady underperformance of mail delivery in swing states would go unnoticed. This year, though, the arcane, unremarkable metrics — Service Performance Management Data — have taken on outsized importance: They may foreshadow the hot spots of a ballot counting controversy on Election Day and the days that follow.
"I believe it is highly likely that in the November General Election, the absentee ballots of at least tens of thousands of voters will arrive at election offices after Election Day and will not be counted unless the Ballot Receipt Deadline is extended," wrote Ronald Stroman, the deputy postmaster general of the United States Postal Service from 2011 until June 1, in a recent court filing challenging the Wisconsin deadline for ballot submission.
Delays spark partisan concerns
Democrats, in particular, are worried about on-time mail arrival deadlines in other states, as well. While some allow for mailed ballots to be accepted if postmarked on Election Day, other battleground states – Pennsylvania, Michigan and Florida — require ballots to be in the hands of elections officers on Election Day. Lawyers representing Democrats, voting rights and civil rights groups are suing to allow ballots to count even if the ballot envelopes have not yet arrived at polling sites but are postmarked by Election Day.
Compared to the same period one year ago and to the first three months of 2020, on-time mail delivery nationally is suffering as a result of the coronavirus pandemic, presenting a worrisome picture of how mail service could be hindered as a rapidly rising number of people choose to steer clear of COVID-19 and vote by mail in November.
"When I have people telling me that they're going days without getting mail, that makes me nervous," said Tina Barton, city clerk for Rochester Hills, Michigan. Her anecdotal evidence is confirmed by the data from Detroit's postal district in the last quarter, which reported the second worst on-time scores in the nation. The on-time delivery of Michigan's other postal district, which represents the western and northern parts of the state, was also near the bottom in the last quarter.
There's also worry — mostly among Democrats — that such delays could worsen under recent management changes by U.S. Postmaster General Louis DeJoy, a major donor to the Republican National Committee and to President Trump, who has repeatedly falsely claimed that mail-in voting is rife with fraud.
Three months into the job, DeJoy has ended overtime and insisted that trucks leave on time even if mail isn't fully loaded. The concern is sh