Paralyzed veterans at Milwaukee VA use robotic exoskeletons to walk again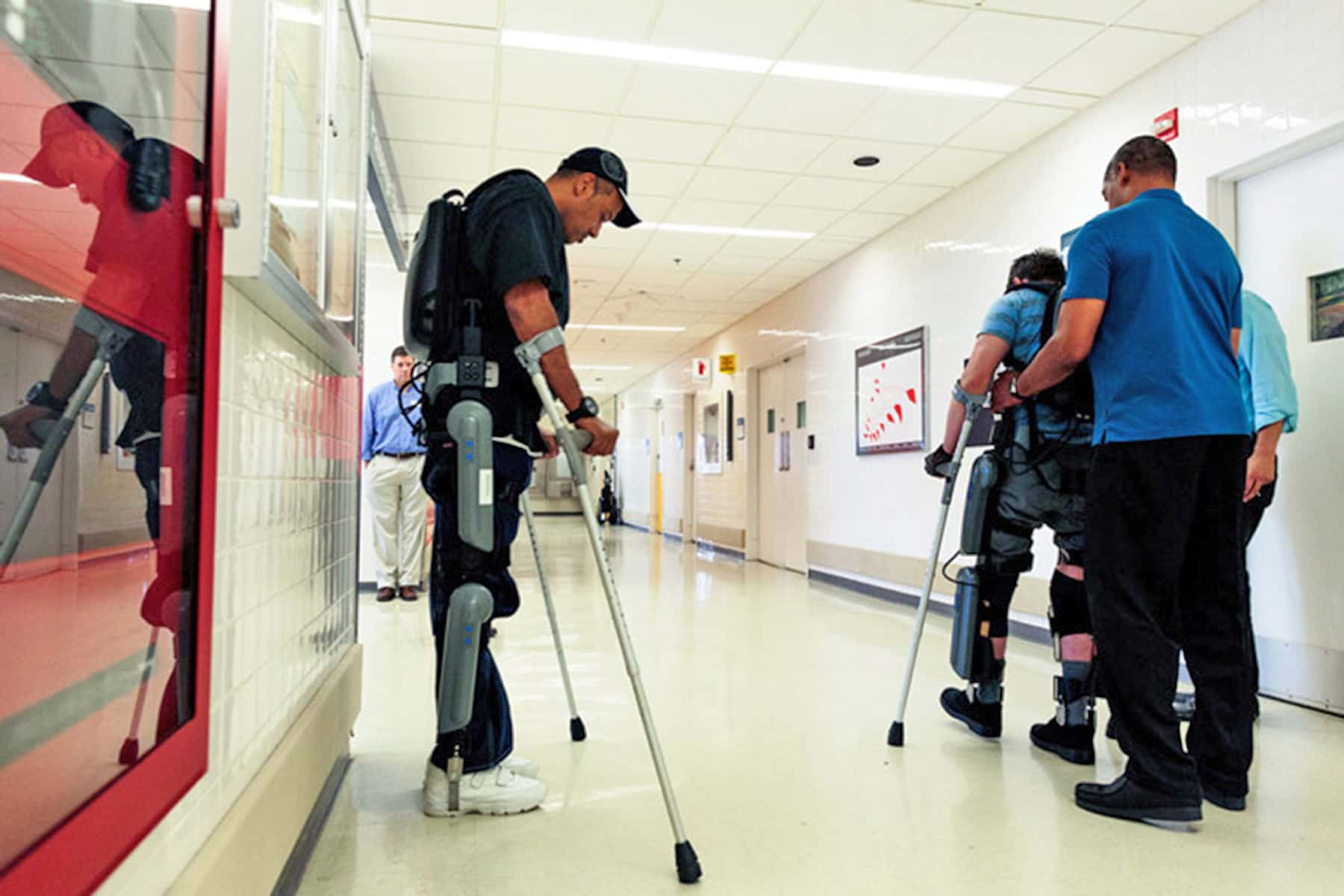 Since being paralyzed almost three decades ago, Dean Juntunen has competed in more than 90 wheelchair marathons, continued snowmobiling and four-wheeling, and taken up kayaking.
Now, Juntunen is taking another significant step. And then another step. And then another.
"Just standing talking to you is interesting," Juntunen said. "I had not gone from a sitting position to a standing position in 27 years. I got injured in '91, so just that in itself is fun. I like just standing up and moving around."
The medically retired Air Force captain is walking with the aid of a wearable exoskeleton robotic device as part of a study at the Spinal Cord Injury Center at the Milwaukee VA Medical Center.
About 160 Veterans are participating in the program at 15 VA Centers across the country. After completing a series of rigorous training sessions, Veterans in this study will take the exoskeleton home for use in everyday life.
Participants must meet certain criteria, including bone density. Users should be between about 5-foot-3 and 6-foot-3 and cannot weigh more than 220 pounds.
"Most paralyzed people, if not all, lose bone density," Juntunen said. "So, you have to pass a bone density scan to qualify for this program. I happen to have unusually good bone density and I've been paralyzed for 27 years."
Juntunen was on active duty when he was injured, in between assignments from Malmstrom AFB in Great Falls, Montana to Wright-Patterson AFB in Dayton, Ohio when his life changed. An avid hiker and outdoorsman, Juntunen's life changed when a tree branch gave way and he fell 30 feet to the ground.
"I landed on my back in a fetal position," said Juntunen, who lives near Mass City in Michigan's Upper Peninsula. "Spine folded in half, broke five vertebrae, wrecked my spinal cord in two spots."
Juntunen recently stepped down from the board of Ontonagon Area School District after 22 ½ years, including about 15 as president. He volunteered to for the study at the Milwaukee VA.
"Well, I have a hard time saying no, and they strongly asked me to do it. So, I decided, you know what, that's probably going to be fun playing with that robot," Juntunen said. "So, I guess I'll make a bunch of trips to Milwaukee. That was the downside for me, is a bunch of trips to Milwaukee – six hours one way."
Juntunen, who has an engineering degree, said the hardest part of mastering the robotic device was developing balance.
"That's one of the hardest things about getting paralyzed is relearning your sense of balance, because you can't feel anything through your butt," he said. "I'm paralyzed from the base of the rib cage down, so it's like I'm sitting on a stump all the time."
"If I was a new injury, this would have been harder, because I would have been learning my balance in the first place," Juntunen said. "As a paraplegic, then I'd have to learn this balance on top of it. It would have been a little harder."
Turns and pivots presented challenges, as did going up an incline, he said.
"I liken to this to walking on stilts for an able-bodied person because you have to, quote, feel the ground through wooden or metal legs," Juntunen said. "That's basically what I'm doing in this thing."
"I don't really describe this as walking, so much as I'm riding the robot," he said. "Unless you want to call it walking on stilts, in that sense it's like walking. But the interesting thing is, my brain feels like it's walking. I'm a complete injury, so I can't feel anything. My brain has no idea what my legs are doing, but nonetheless it feels like I'm walking in my head."
Not all participants are able to sufficiently master the nuances of the 51-pound device to meet the requirements of the study.
"Some people don't get past what we call the basic training," said Joe Berman, Milwaukee VA project manager. "To be eligible to go into the advanced training, you have to be able to master some balance skills and do five continuous steps with assistance within five training sessions. That's been shown by previous research to be a good predictor of who is going to succeed in passing the advanced skills that we require to take the device home."
The training sessions at the Milwaukee last about 2 to 2 ½ hours, usually twice a day. With the aid of certified trainers, Juntunen walked up to a quarter mile, starting with the lightly trafficked tunnel between the main hospital and the Spinal Cord Injury Center.
He eventually progressed to one of the main public entries to the hospital, which had inclines, carpeted areas and pedestrian traffic.
"The inclines are harder," Juntunen said. "Here, you've got short incline, then flat, incline, flat, so the transitions are harder. You're in balance going down, now when it flattens out you have to change where your balance is, so the transition is a little trickier. Coming up is the worst, up the ramps is the hardest. You kind of have to reach behind you with the crutches. It's more exertion and more difficult on the balance because the robot is always perpendicular to the surface."
Mastering use of the device in the public space was part of the requirement before Juntunen can take it home.
"In order to take the device home, they need to be able to navigate up and down ADA-compliant ramps, go through doorways," said Zach Hodgson, a physical therapist at the Milwaukee VA and part of the certified training team. "Right now, we have three trainers, but at home he'll need a companion to walk with him at all times. So, it's kind of looking at all those skills we need to get to and then making plan based on how he's progressing."
"He's going to take this device home for four months and then use it in his home and community so we really get a good idea about how useful these devices are at home, or if they're just a fancy paperweight that somebody's really excited to get," Hodgson said. "After a month, and the excitement kind of wears off, do they end up not using it, does it sit around and collect dust."
At home, companions replace the VA trainers to help with the device. In Juntunen's case, he is getting help from his kayaking buddies.
"They've seen more some transferring and stuff," he said. "They know that I can sit on stuff and balance, sit on the edge of my kayak before I transfer up to the seat and stuff. So, that's all normal for them."
After completing training in Milwaukee, Juntunen is scheduled to have another session in mid-January at a shopping mall in Houghton, Michigan, tentatively followed by another session in the atrium of the Green Bay Packers Hall of Fame.
Milwaukee VA Medical Center