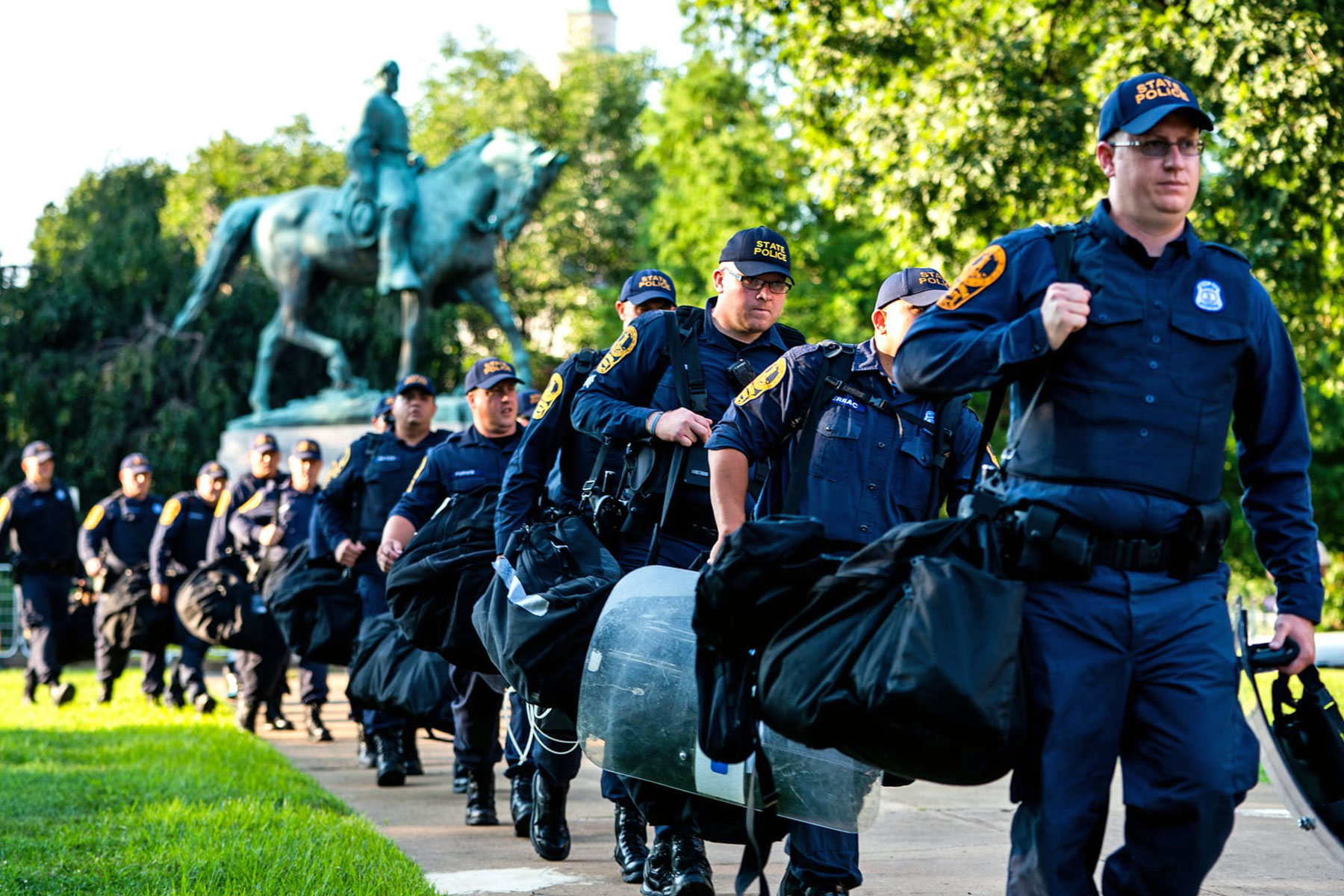 A year after the deadly car-ramming in Charlottesville, Virginia, white supremacists plan 'Unite the Right 2' in DC.
A 2010 silver Dodge Charger thundered down Charlottesville's Fourth Street Southeast on the afternoon of August 12, 2017. The driver of the car accelerated and barreled into a crowd of pedestrians. Bodies flew. Bystanders screamed. Some fled, but others rushed the coupe, striking it with flagpoles as the driver threw it into reverse and retreated.
Constance Young, an organiser with the Shut It Down DC activist group, had travelled to Charlottesville with an interfaith group.
"I heard the car attack first, and then I saw the bodies flying, and then he reversed, and we were all left to sort of fend for ourselves," Young, who was injured in the attack, said.
The car made it a mile from the scene of the attack before a police deputy stopped and arrested 20-year-old James Alex Fields Jr.
Back on Fourth Street Southeast, people were sprawled on the pavement. Heather Heyer, a 32-year-old paralegal and counter-protester, was later pronounced dead at the University of Virginia Medical Center, and dozens more were injured.
The fatal car-ramming was the tragic conclusion to Unite the Right, the largest white supremacist rally held in the US in decades. Throughout the day leading up to the attack, far-right participants clashed with community members, anti-fascists (Antifa) and antiracist activists across the Virginian city.
A year later, Fields is behind bars and facing a slew of charges, including federal hate crimes. But Jason Kessler, who organised last year's rally, is gearing up for a second iteration in Washington, DC, on Sunday.
Along with others, Young is organising a rally against Kessler's protest. It is one of a handful of counterdemonstrations slated to take place over the weekend.
"I don't understand how a murderous militia is given an opportunity to convene after what happened last year," said Young. "I just don't understand why they were given the opportunity to do this again and to potentially terrorize our nation's capital."
Far right divided
Unite the Right was the high point of the alt-right, the loosely knit coalition of white nationalist, white supremacist and neo-Nazi groups that surged during Donald Trump's presidential campaign and celebrated his victory.
But "Unite the Right 2" comes at a time when the far right is at its most marginalized and divided since Trump's ascent to the presidency.
Keegan Hankes, a senior research analyst at the Southern Poverty Law Center hate monitor, predicted a very small turnout, citing the pervasive divisions among far-right groups and ongoing lawsuits against several of last year's high-profile participants, including alt-right leader Richard Spencer and white nationalist Christopher Cantwell, among others.
For his part, Spencer said he will not attend the rally in a Twitter post also urging others to abstain from attending.
"I can't even tell you affirmatively of one major hate group that will attend. By and large, the organised white nationalist movement is not going to attend," said Hankes. "They are fighting with each other at a rate that I haven't seen since before the movement was electrified by Trump's campaign."
Charlottesville's Unite the Right led to a far-reaching wave of backlash, including a crackdown by tech companies and social media outlets, cities rejecting alt-right protest permits and universities cancelling speaking events by leading alt-right figures.
Twitter and Facebook banned several far-right leaders from their platforms, and web-hosting services booted neo-Nazi websites like the Daily Stormer. Several participants had their identities revealed online.
While many far-right groups attempted to rebrand themselves as run-of-the-mill nationalist movements, others collapsed under the weight of infighting. In April, the Traditionalist Worker Party ceased to exist after its leader, Matthew Heimbach, was arrested and charged over a trailer park brawl.
"The aftermath of that rally was devastating for those groups," Hankes added. "It has been a huge setback."
'Unite the hate'
The City of Charlottesville denied Kessler's request for a permit to hold a similar demonstration, and demonstrators will hold their main protest on Sunday afternoon, the first anniversary of Heyer's death, in the Washington, DC's Lafayette Park.
Along with a handful of others, former Ku Klux Klan leader David Duke is slated to speak at the demonstration, according to documents recently released by the National Park Service.
"Antifa, the media and law enforcement know everything that we do," the rally's official website warns participants. "Don't let that rattle you."
Like last year, anti-racists, anti-fascists and other counter-demonstrators plan to flood the streets to voice their disapproval. At least 1,000 counterprotesters are expected to attend, according to local media reports.
Among the groups attending the counterdemonstrations are Black Lives Matter, a slew of anti-fascist collectives, Smash Racism DC, the International Socialist Organization, the Democratic Socialists of America and several anarchist outfits.
Along with fellow activists, Maurice Cook, a DC-based activist and cofounder the March for Racial Justice group, also witnessed last year's deadly attack in Charlottesville.
"We went down there to do what we do, and the sky fell," he said at a pre-rally meeting in DC on Wednesday night.
"I saw something that I had never seen before, and I never want to see that again," he recalled. "I think we just have to ensure that at any moment that they are feeling confident enough to come out, that we are intentional in our demand that they go back to the cage where they belong."
Reverend Grayland Hagler, a senior pastor at the DC-based Plymouth United Church of Christ, will also join the counterprotest this weekend.
He pointed to an attack on a black man in Washington, DC, on Monday morning, in which 24-year-old Maxim Smith, who is white, allegedly smashed Ketchazo Paho's head with a bicycle lock. Police are investigating the incident as a hate crime, local media reported.
"You have this kind of stuff going on because these [white supremacists] are in power," said Hagler. "They call this Unite the Right. This is Unite the Hate."
Patrick Strickland and Laurin-Whitney Gottbrath