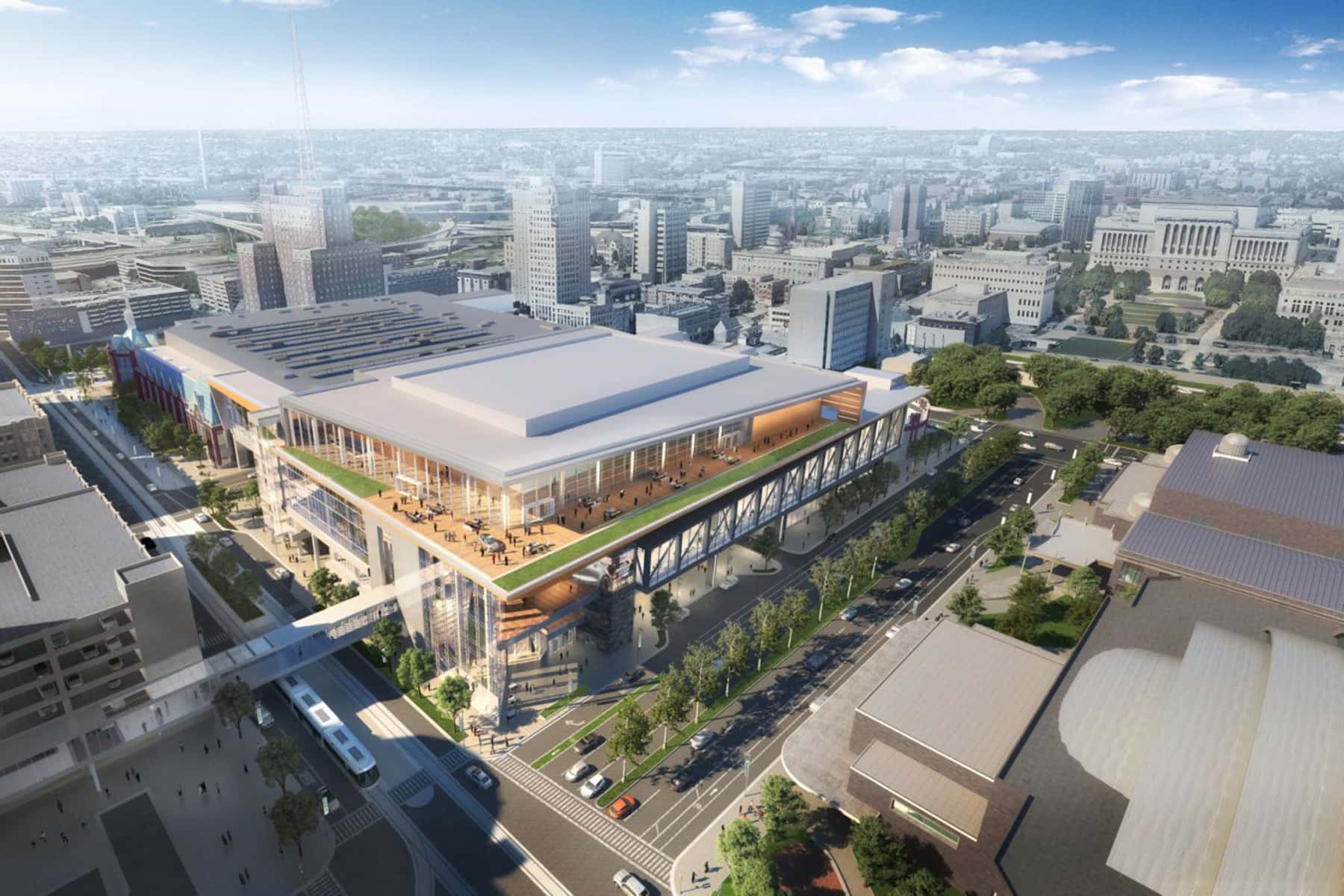 For years, Milwaukee officials have discussed renovating and expanding its downtown convention center but numerous studies and setbacks have delayed the process. On March 6, the Wisconsin Center District (WCD) released renderings of what the proposed expansion project would look like.
The expansion will double the square footage of the convention center and generate $12.6 billion in spending over a 30-year period. A state budget provision providing the financial backing is needed to pay for the likely $300 million project.
The exposition hall square footage will increase by 112,000 sq. ft., totaling 300,000 contiguous sq. ft., plus integrate six loading docks to support the added square footage. It will also offer a ballroom with a minimum of 30,000 sq. ft. and a minimum seating capacity of 2,000, along with no fewer than 24 new meeting rooms and no fewer than 400 parking spaces.
Previous expansion plans relied on increasing local sales tax, but the state Legislature showed little support because they wanted the district to find additional funding.
Governor Tony Evers included a state budget provision granting the Wisconsin Center District up to $300 million in bonding for the expansion project — which essentially means that if the district cannot repay its debt, the state will cover the cost.
The Milwaukee Common Council still has to approve the provision, and there are five criteria that must be met under state guidelines:
The new expo hall must be 100,000 square feet.
The convention center must attract at least 50,000 out-of-state visitors annually.
It must stimulate at least $6.5 billion in total spending in the state over 30 years beginning on the date the bonds are issued.
It must generate at least $150 million in incremental state income, franchise and sales tax revenues over 30 years.
It must support at least 2,000 full-time equivalent jobs — those jobs include construction jobs.
If the Wisconsin Center District fails to meet those guidelines, the state will not back them for the bonds. After the Common Council approves the provision it will be sent to the Joel Brennan, the Secretary of the Department of Administration, for his signature. Brennan is on the Wisconsin Center District Board. On April 2, the district will meet again to finalize the cost of the expansion and move forward with the project.
The current Milwaukee convention center, which was built in 1998, is 266,000 square feet, with about 189,000 square feet of exhibit space. By comparison, Cincinnati has 196,800 square feet of exhibit space at its convention center; Columbus has 373,000 square feet; Minneapolis has 475,000 square feet; and Indianapolis has two convention venues totaling 749,000 square feet of exhibit space.
VISIT Milwaukee and Brooks have said Milwaukee has missed out on larger conventions because meeting planners choose similarly-sized cities with newer and larger convention centers. Aesthetically, he said he also wants to make sure there are enough restrooms, including, gender neutral bathrooms, so visitors have a comfortable experience.
"We need to build this, so they come, not if they come," Brooks said. "We're building this so there are things in our building that are what the meeting planners want and that differentiates us from other markets."
Eppstein Uhen Architecs and tvsdesign
Donate: Wisconsin Public Radio