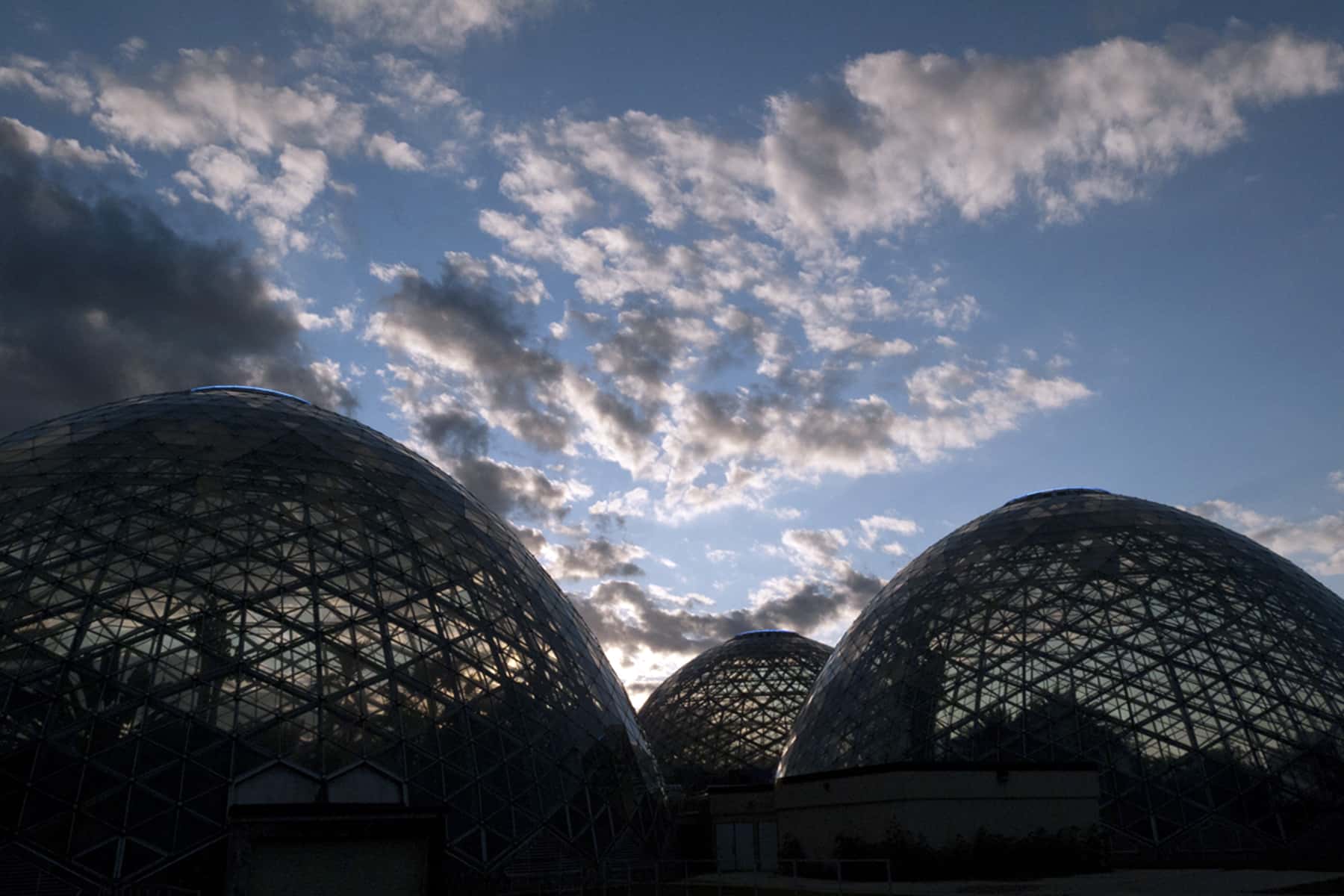 The three bee-hive shaped glass structures that are home to tropical, desert and rotating show installations have glistened within Mitchell Park on Milwaukee's near south side for nearly 50 years. But like other Milwaukee County facilities, the buildings' maintenance has been chronically deferred.
Safety concerns piqued in 2016 when a piece of concrete fell inside the Desert Dome. As a result, all three closed for several weeks. Soon after, a task force formed to try to come up with a long-term solution. Wednesday evening, during another conversation about the future of the domes, consultant Mike Devine shared one vision of a reimagined horticultural venue.
Devine works with museum planning and design firm Gallagher & Associates. Its solution calls for demolishing the Domes, then building a new home for both the Domes and the Milwaukee Public Museum — the institution dates back well over a century but in recent years has faced financial and administrative challenges.
"When you look at the two institutions today, those total just under 500,000 square feet. And as we evaluated what would be a more efficient and right-sized facility, we come up with something about 300,000 square feet," Devine said. "We do feel that the guest experience that we're suggesting here and the size that we're suggesting here can provide a fabulous guest experience along the way."
Rather than each institution having its own exhibit space, Devine's team suggested co-mingling their collections. However, members of the task force tried to puzzle out how a bison hunt diorama could co-mingle with exotic tropical plants. The meeting revealed even more confusion and concerns. Task force member and county supervisor Jason Haas said he co-sponsored a budget amendment to explore whether the Domes and the public museum could join forces, but not at the expense of the Domes.
"The budget amendment that I cosponsored mandated that the conservatory have the same square footage in the hypothetical new facility as in the current facility. So, I'm curious as to why that was overlooked," Haas said.
The proposal called for creation of a Milwaukee Public Museum task force. After it formed, the task force decided to hire a consultant. Gallagher & Associates was chosen and paid $42,500. The funding came through Milwaukee County's Department of Administrative Services. Ellen Censky, interim CEO of the Milwaukee Public Museum, wasn't worried about how the study was funded. She is concerned about the suggestion of limiting her museum's space. She reminded the group that the official position of the Milwaukee County Board of Supervisors was to repair and restore the Milwaukee County Domes, not to tear them down.
"We can't fit into 24,000 square feet," Censky said. "It's clear that the county's policy is to restore and repair the Domes — and it to us is something that won't work."
Bill Lynch has chaired the Domes Task Force since its inception. His committee has sifted through reports, recommendations and what seemed like mind-boggling bureaucracy. But Lynch said in approximately five months the task force will present its final recommendation – that will likely fold in short and long-term strategies.
"To restore the Domes and add additional facilities so they operate more efficiently and effectively. Do all of that but also develop the Domes over a large period of time as a destination/attraction with a focus on comparative environments and ecological matters," Lynch said.
The Mitchell Park Domes were recognized by the National Trust for Historic Preservation as one of the country's most endangered historic places in 2016. Lynch said historic designation could help pay for the multimillion dollar revitalization project through historic tax credits.
"We're very intrigued with that as a significant portion of the capital funding for the way forward. Twenty percent of the capital cost, which on the scale we're talking that's millions of dollars and that's very helpful," added Lynch. "You can't tear down the Domes and get historic tax credits. It just doesn't work that way."
Wisconsin Public Radio (WPR) is a civic and cultural resource that exists to enlighten and enrich the quality of life for its listeners. Help support their mission with a contribution.