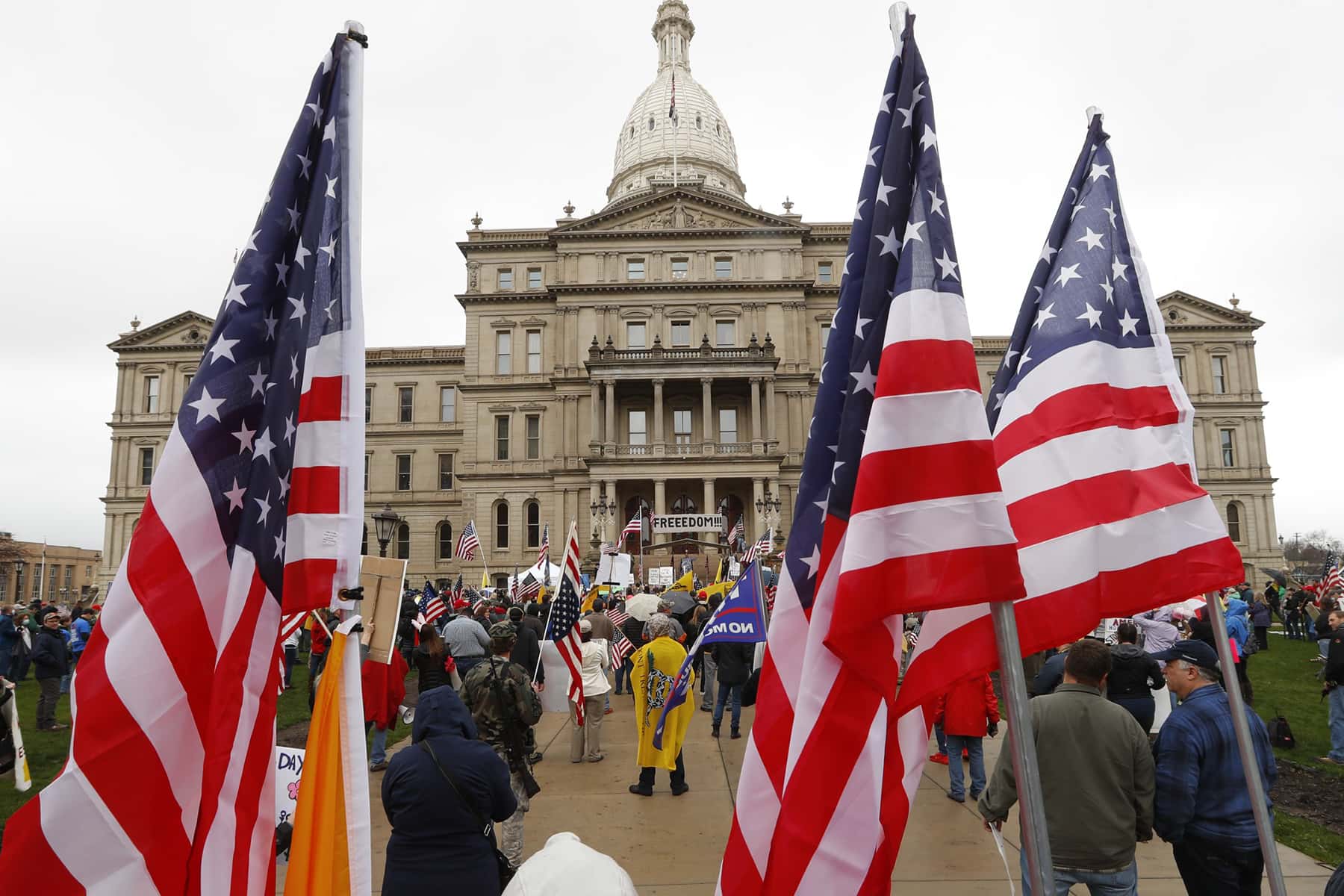 The men arrested in connection with a kidnapping plot against Michigan's governor were connected with a movement of anti-government extremists that is active in Wisconsin.
Experts who track extremists say the loosely organized groups can serve as a gateway to radicalization — and in extreme cases, that can lead to planned acts of domestic terrorism such as those described in the Michigan plot. Some of these groups deny being anti-government extremists. On the Three Percenters website, the organization states: "We are NOT a militia." But a consistent thread among such groups is the idea that people should be prepared for an armed struggle against the government.
Thirteen men were charged on October 8 in what authorities say was a plot to kidnap Michigan Governor Gretchen Whitmer. According to the criminal complaint, the Michigan men did weapons training in the Wisconsin village of Cambria, and planned to bring Whitmer back to an undisclosed Wisconsin location for what they termed a "trial."
The training site was outside of Cambria in the town of Courtland, at a rural home on about two acres of land. On October 8, a reporter from Milwaukee's CBS 58 interviewed the owner of the home, Michael Jung, who said he belonged to the Three Percenters. Jung said he knew the men charged in the kidnapping plot and confirmed they had participated in paramilitary trainings there.
Columbia County Sheriff Roger Brandner said the FBI investigation found the Michigan men participated in training at the house for one day. He did not name Jung, but said the property owner was not a target of the investigation and was not facing criminal charges in the case.
The connection has put a spotlight on the presence of anti-government groups in Wisconsin. The Three Percenter group, researchers told WPR, is not tightly organized and is as much a brand that can be used by any anti-government group as it is an actual organization.
But there are indications that this group and other anti-government extremists are active in Wisconsin. A November 2019 post on a national forum sought to recruit Wisconsinites to the Three Percenter organization.
"We are a national group with a heavy presence in Wisconsin," read the post. "We are not keyboard warriors, we are very active and train all year round."
More recent posts on the same forum show members seeking to connect with other extremists. As recently as September, members discussed a training event and meet-up in northeastern Wisconsin. Such gatherings are not criminal, and many of those involved with extremist groups emphasize they are interested in self-defense or preparation for off-the-grid living, not acts of violence.
Javed Ali, a former National Security Council counterterrorism director in the Trump administration, said most group meet-ups don't lead in the direction of criminality — but that the difference between a law-abiding group and one that leads to radicalization can be a "very fuzzy line."
"At some point, (the Michigan group) turned even from that orientation of being a militia … and then started doing something much more sinister and dangerous that involved elements of terrorist plotting," Ali said.
Alex Friedfeld, an investigative researcher at the Center on Extremism at the Anti-Defamation League, said it's not unknown for people who plan or commit acts of domestic terrorism to have first gotten involved with an established extremist group such as the Three Percenters.
"We've seen it become almost like a gateway for these other ideologies," Friedfeld said. "People will get introduced to the Three Percenter concept first, then decide it's something they like, and go down that rabbit hole and potentially get further radicalized."
Online rhetoric in the extremist forums is filled with violent fantasies. In July, one northern Wisconsin forum member wrote that, in the event of unspecified government actions to infringe his liberty, he "will not go willingly … or alive for that matter. But I am a tough SOB and I promise to take many with me."
Sam Jackson, author of "Oath Keepers: Patriotism and the Edge of Violence in a Right-Wing Antigovernment Group," said the charged rhetoric often used by such groups is a form of "strategic ambiguity." They stand in opposition to tyranny without stating clearly how they identify it — or what appropriate action would be against it.
"Is appropriate action voting? Is it engaging in a letter-writing campaign?" Jackson said. "Or does it mean something more conflictual, like arming up and going to a legislative chamber … or arming up and going to an anti-Trump protest to intimidate those who are protesting Trump? Or does it even mean engaging in some sort of violence?"
Rhetoric from such groups sets the stage for violence, Jackson said, while still allowing them the ability to disavow, for example, the accused domestic terrorists in Michigan.
Public health restrictions put in place to slow the spread of COVID-19 have been a focus of the right-wing extremist movement, which have drawn encouragement from President Donald Trump's opposition to many of them, including a tweeted call in April to "LIBERATE MICHIGAN!" Jackson said conspiracy theories about the imposition of martial law through public health declarations long predate the pandemic, including the frequent opposition in the groups to "forced vaccination."
"They have been ready and even preparing to see tyranny in different forms for years," Jackson said.
Ali, a longtime FBI official before his time on the White House National Security Council, emphasizes that the men arrested in the Michigan plot are accused of going much further than simply engaging in overheated rhetoric. For example, the men are accused of conducting surveillance on one of Whitmer's residences. In Wisconsin, they are alleged to have practiced building improvised explosive devices, though the criminal complaint states that their improvised explosive devices failed to explode. They were said to be planning to blow up a bridge.
"They took a number of active steps to further their plan," Ali said. "This went way beyond aspirational chitchat."
Experts said the evidence points to the threat of domestic terrorism, both from semi-organized extremist groups and individuals, getting worse. For more than a year, Ali has been calling for an increased focus on the threat of domestic terrorism. And Friedfeld said the fact that the Michigan plot was disrupted by authorities doesn't mean another, similar group or individual can't still do serious damage.
The Michigan group "tried to build an explosive," Friedfeld said. "It didn't work, but someone else may have a little bit more knowledge. And there are so many way to hurt people that do not require a lot of still or training. That's what's concerning."
Pаul Sаncyа and Jеff Kоwаlsky
Donate: Wisconsin Public Radio