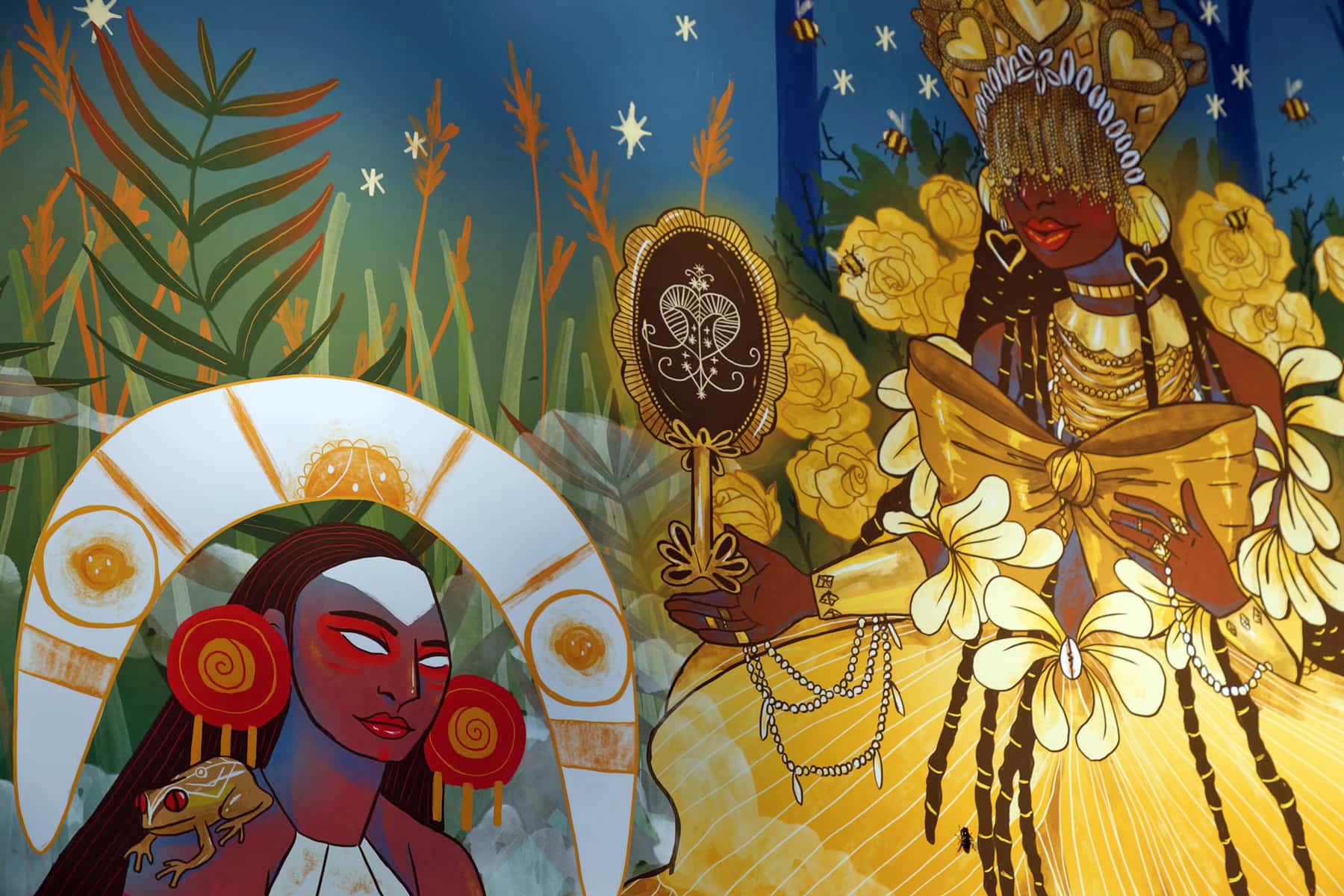 We are used to being left out. The lack of Latinx representation is evident from the entertainment industry, to roles in leadership, and even here in Milwaukee where you will be hard pressed to find us being represented in the arts community.
Through hard work, however, we are seeing the tide change in all these areas. Alexandria Ocasio-Cortez not only worked and fought her way into a Congress seat but also rightly earned a spot on the cover of Time magazine. Yalitza Aparicio was nominated for best actress at the Oscars for her stunning performance in "Roma." And in Milwaukee, Latina artists have come together to create LUNA, or Latinas Unidas en las Artes. After an amazing first year, we are making sure that we are being heard and seen even more in year two.
That being said, we still roll our eyes when large group shows announced as "inclusive" and "diverse" somehow have zero Latina artist representation. LUNA comprises 30 women, and this does not come close to making up all the Latina artists in this city. Yet we do not expect that a show of 38 "Milwaukee Influencers" would have the room for Latinas when they need to make sure that over a third of their show is filled with white male artists.
As artists who are constantly creating and engaging in the community, while simultaneously juggling side-hustles to pay rent, we do not have the time or luxury to call out every single gallery owner or curator for continuing to ignore our existence. On the other hand, if and when you blatantly exclude us and misappropriate our culture – we will call you out. Recently, we came across a show called "Arte de Mujeres" at a local gallery in a neighborhood that rhymes with way-blue. This show, which seemed to be in honor of Cinco de Mayo, had no Latinx artists and clearly had no Latinx people involved in the planning as evidenced by the event description.
We called the gallery owner, a self-described liberal, and educated her on why misappropriating our culture will not be tolerated. After putting in the work to educate this gallery owner, we decided to create a list for those who have "great intentions" but continue to erase the narratives of black and brown folks. This gallery is not the only gallery to have created a show that is completely problematic, and it likely won't be the last.
Here are five guidelines to move the conversation forward in hopes of creating a more inclusive and less racist art scene in Milwaukee.
1. Stop appropriating whole cultures.
If you are going to call a show, say "Arte de Mujeres," you are going to want to have women artists in that show who know what that means without using Google translate.
2. Do not use cultural holidays as themes.
While many Americans use Cinco de Mayo as an excuse to drink an abundance of tequila and sport a sombrero, this does not mean we should celebrate this fact. And let's definitely not excuse binge drinking on Cinco de Mayo by saying we do it on St. Patrick's Day. Both, if we all really think about it, are entirely questionable. While somebody made bank in the T-shirt business, we actually are not all Irish on St. Patrick's Day and we are definitely not all Mexican on the Fifth of May. Furthermore, maybe do not celebrate a holiday you know nothing about. Remember that tweet President Donald Trump made before he was elected? Maybe we can learn a lot from him. If he celebrates Cinco de Mayo by eating "taco bowls," it is definitely inappropriate to follow suit. Actually, on second thought, do eat taco bowls on Cinco de Mayo but do not tweet about it. Because guess what? Cinco de Mayo "snacks" are just Mexican food. You can literally go out and support a local Mexican restaurant 365 days of the year and drink and eat all the margaritas, tacos, and tortilla chips you want. In fact, we dare you all not to wait until Cinco de Mayo.
3. Apologize publicly and make amends.
If you happen to upset the exact people whose culture you are stealing from, do not delete our complaints off your Facebook event. Anybody can apologize behind closed doors, but if you really want to prove you are open to education on these things, apologize openly. And do not make excuses for your ignorance. You messed up. You missed the mark. You did not know better and you should have. Do not humblebrag that many people know you are a great person. You had a bad moment. It is embarrassing, maybe even painful, but you have to face the fact that your actions caused pain too – and not a new pain. Pain we have been dealing with our entire lives. So your temporary pain over being called out for your racism, however inadvertent that racism was, is nothing. Live in it and experience only a minuscule of what your black and brown friends have had to experience on a damn near daily basis.
4. Collaborate with people of color.
This all could have been avoided had there been Latinx people involved. Twelve artists and performers and somewhere between two to three people from the gallery and nobody said, "Huh, that's kinda weird?" After one of the LUNA members posted in the group, it took all of four seconds for an 87-comment chain to emerge. We did not scratch our heads and send shrug emojis – very much the opposite. Of course, this does not just mean find yourself "A" Latinx, or any other person of color, friend, or collaborator. You do not want to become that person that says, "but I have a friend who is Latina…" And even if you check in with the one collaborator who has more melanin than you, that does not mean this person is woke either. Unfortunately, ignorance is not racist. We all have our biases and we here in Milwaukee, whose claim to fame is beer, cheese, and the most segregated city in America, should know that better than anyone. You are going to have to do some work to diversify your circle, and it is not going to happen overnight. We understand that. What we do not understand is why you are still scared to come to the North and South sides of Milwaukee.
5. Hire, represent, and show up for diverse talent.
Finally, start genuinely supporting all artists of color. We make art and we find ways to show it despite it being twice as hard as it is for white artists. If you are a curator or a gallery owner, stop this nonsense of having a majority of white artists in your shows. If you are just a person who likes art, find our shows and show up. We hope these guidelines inspire you – whether it is shaking your head in acknowledgment or realizing you have got a lot of work to do. Either way, keep your chin up, look out and make room for us – because we are not going anywhere.
Gabriela Riveroshas and Renee Martinez