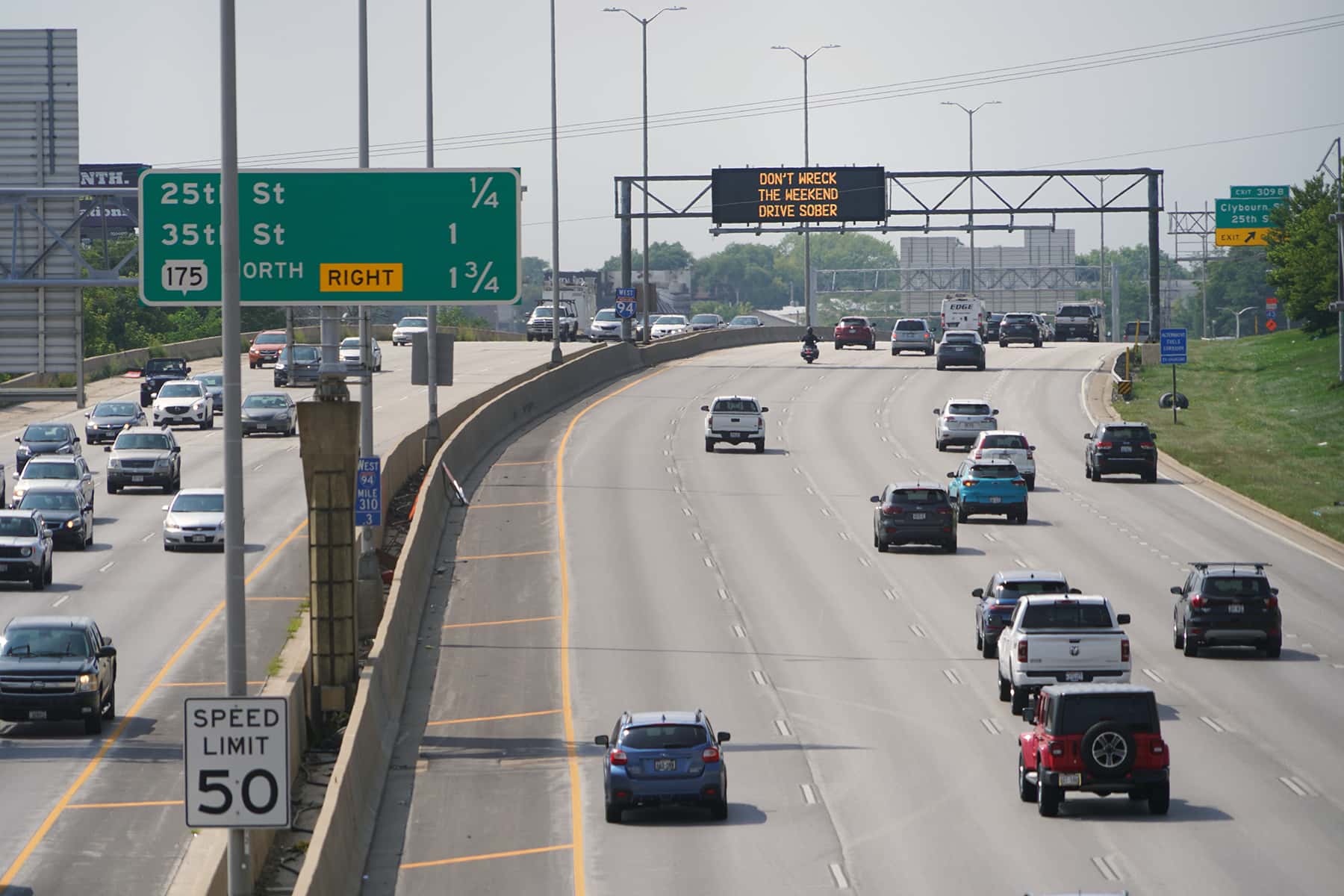 A coalition of transit, faith, and environmental groups is proposing an alternative to a controversial $1 billion plan to expand a 3-mile stretch of the Interstate 94 freeway system west of Milwaukee.
The report Fix at Six: A sustainable alternative to expanding I-94 in Milwaukee was released on September 14 by the groups, including 1000 Friends of Wisconsin, the American Civil Liberties Union of Wisconsin and the Wisconsin Chapter of the Sierra Club, outlines a proposal to keep I-94's east-west highway at six lanes, or "fix at six." An earlier version of the proposed expansion called for expanding the freeway to eight lanes and rebuilding roughly 3.5 miles of I-94 east-west in Milwaukee County, from 70th Street to 16th Street, to reduce congestion and improve safety.
In a virtual press conference, the groups said their proposal would address safety and congestion issues by repairing the aging stretch of highway and adding a new rapid transit bus route along 27th Street. They also want to see investment in bike and pedestrian friendly infrastructure near the east-west corridor, as well as exploration of more bus routes and commuter rail.
"Our goal with this report was obviously to promote a more sustainable and just alternative for the corridor, one that is responsive to the needs and desires of the surrounding neighborhoods," said Gregg May, transit policy director for 1000 Friends of Wisconsin.
May said the proposed alternative would remain within the expansion's estimated $1.1 billion price tag. Transit, faith and environmental advocates argue expansion would increase vehicle emissions, harm wetlands and green space, and uphold a status quo that favors wealthy suburban commuters.
Residents of Milwaukee who live near the east-west corridor are advocating for more bus routes instead of the expansion, including Adele Nance, a transportation task force member with Milwaukee Inner-City Congregations Allied for Hope (MICAH). She said she thinks the proposed expansion is a disservice to inner city residents who will be impacted by the project, which borders homes in a predominantly Black neighborhood of Milwaukee.
"Where do we benefit in it other than the money is coming through here for y'all to use up? And it's (disheartening), and it's heartbreaking," said Nance in a recorded statement.
Former Republican Governor Scott Walker nixed the project in 2017, but Democratic Governor Tony Evers revived the proposed expansion. The Legislature's budget-writing committee voted to cut funding for public transit in Milwaukee and Madison by 50 percent over the next two years, but Republican lawmakers on the committee approved the proposed I-94 expansion.
Wisconsin Department of Transportation Secretary Craig Thompson has said racial equity will be a priority as DOT conducts a supplemental environmental impact statement on the project. DOT officials announced further environmental review of the project earlier this year amid pushback from local politicians, environmentalists and community groups.
"Doing nothing about this portion of road is not an option," Thompson said in April. "This aging stretch of highway is one of the most dangerous roads in the state. We've seen crash rates decline dramatically in the portions of the southeast interstates that have already been modernized, so we know that upgrading the east-west corridor will prevent injuries and needless deaths."
A final environmental impact study found more than 2,600 crashes occurred on the freeway and interchange ramps from 2005 to 2009. Crash rates in the east-west corridor are two to three times higher than similar highways. A DOT spokesperson said that transportation officials welcome all suggestions and input on the project.
"The design team is preparing a supplemental environmental impact statement (SEIS) that will look at six- and eight-lane alternatives for the reconstruction of I-94 between 70th and 17th Streets," wrote Michael Pyritz, regional communications manager.
Transportation officials previously eliminated a six-lane option because it wouldn't provide better service or traffic as more cars are expected to use the freeway in the future. May argued that the DOT's own environmental consultant found safety concerns could be addressed without the proposed expansion, saying that congestion is driving the proposed expansion.
Opponents of the project argue that traffic patterns have changed since the expansion was first approved, requiring further study. The DOT estimates up to 160,000 cars travel the stretch of highway each day, but traffic volumes are expected to rise up to 16 percent by 2040.
Victoria Gillet, a primary care physician in Milwaukee, said more than 50,000 people die prematurely across the nation each year because of exposure to vehicle emissions. When COVID-19 restrictions were lifted, she said many patients who live nearby overpasses sought care from her for worsening asthma as people resumed their normal travel patterns.
"My patients that were coming from these areas rife with vehicle pollution were low income and communities of color," said Gillet. "We know that these communities bear the brunt of air pollution."
She said public transit and bike friendly infrastructure would help her patients lead healthier lives. The state spends less than 2 percent of federal funding on bike pedestrian infrastructure, according to Caressa Givens, the city's community programs manager for the Wisconsin Bike Federation. She noted the state hasn't updated its statewide bicycle plan in the last decade. The League of American Bicyclists used to rank Wisconsin as the second-most bike friendly state in the country, but the state now ranks 29th across the country.
With climate change driving more extreme storms, Cheryl Nenn, with Milwaukee Riverkeeper, argued now isn't the time to increase the amount of paved surfaces in the city.
"Polluted runoff from this expansion and other highway expansion will continue to increase over time because of this increased rainfall," said Nenn. "Climate change demands smarter development that creates resiliency rather than increasing flood risk sewer overflows and pollution of our air and water."
The proposed expansion has received support from Republican lawmakers, Milwaukee's business community and labor unions who have argued the project would create up to 10,000 good paying jobs.
Chris Jenkins, communications director with the Metropolitan Milwaukee Association of Commerce, said the project's effects on residents and the environment are valid concerns.
"But, we also have the additional concern of people having jobs and having a really robust job market here, and the efficiency of our transportation system is really critical to that," said Jenkins.
The Wisconsin Chapter of the National Association of Minority Contractors has said the expansion would deliver up to $115 million in contracts for small, minority and woman-owned businesses.
A public meeting on the proposed expansion is set to be held in late fall or early winter. The project relies heavily on federal funding. Thompson said in April that he hoped further review of the project would allow the DOT to gain final approval of federal funding by late 2022.
Donate: Wisconsin Public Radio