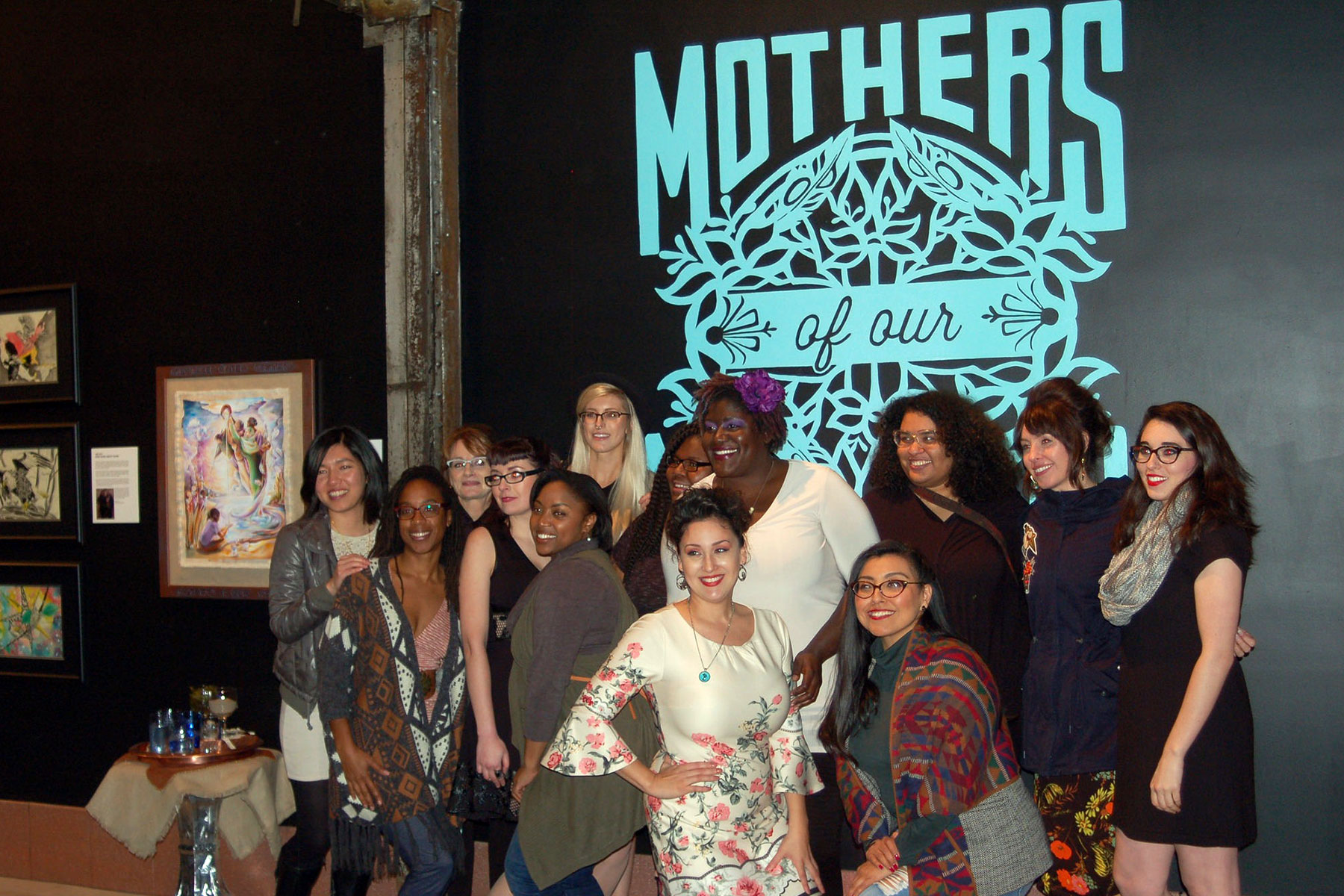 The Milwaukee opening of the Mothers of our Nations exhibit was held at The Magnet Factory, 2424 S. Graham Street.
When Jasmine Barmore was given the opportunity to create artwork inspired by a women-led organization, she thought of Chandra Cooper, the executive director and founder of Grateful Girls, a nonprofit that helps women who have escaped the sex trafficking industry.
Barmore often creates portraits reflecting women's inner beauty and strength. After she spent time interviewing Cooper and learning about Grateful Girls, Barmore decided to continue that theme. She created two portraits, each image featuring a black woman in shades of pink and orange with flowers in her hair. Cooper was thrilled.
"For someone to think about our organization and who we are and what we do, and to create something so beautiful, that's an honor," Cooper said. "I can't wait for us to put [the portraits] in our facility to share with the people that we serve on a daily basis."
Barmore is one of 16 female visual artists and poets of the From Here to Her artist collective, who spent the last year creating art to honor women-led groups in Milwaukee and Madison. The project is titled Mothers of Our Nations and is inspired by a quote from environmental activist Winona LaDuke. The exhibit also shares the same name as the collective's 2014 pop-up show about activist women.
From Here to Her artists and co-curators Katie Mullen and Rosana Lazcano felt this year was the right time to focus on women-led groups.
"Everywhere we looked this year we were seeing women leading social justice movements," Mullen said, citing the leaders of Black Lives Matter and the North Dakota Access Pipeline protests. "It's not like women are new [to] leading social movements, but I think women feel even more emboldened to be public about leading social movements."
Mullen said the goal of the exhibit was to inspire other women to make change in their lives and communities and to put a spotlight on women who are doing that work.
The core members of the collective and invited guest artists picked the organizations they wanted to work with. What resulted were paintings, drawings and spoken word highlighting women-led organizations with missions from domestic violence to environmental justice. At the end of the project the artists will donate their work to the partner groups.
Kierston Ghaznavi worked with Pearls for Teen Girls, an organization that supports young women by providing them with self-development tools. Ghaznavi, who frequently does illustrations with pen ink and marker, created a set of 19 paper dolls to represent the staff at Pearls for Teen Girls.
"The staff works really hard. It's a staff of all women and they don't go out and look to be put on a pedestal for what they do," Ghaznavi said. "I wanted to do these dolls to show them they're perfect the way they are and what they're doing is really important."
Ghaznavi not only learned about Pearls for Teen Girls throughout the project, but she also hosted a six-week class to teach girls how to make their own paper dolls. She said it was an honor to meet the staff.
"Being able to go in there and see how they interact with each other — it's not just a mothering and nurturing environment for the girls, but for each other. It's a real sisterhood there," Ghaznavi said. "They're passionate about the girls and each other, so I'm really excited to be able to give this as a gift to them and honor them."
Melanie Ariens, artist-in-residence at the Milwaukee Water Commons, worked with From Here to Her artist Tia Chianti Richardson. Richardson did a painting and Ariens created a shrine to represent the mission of the Milwaukee Water Commons, which is to create equitable access to water in Milwaukee.
Ariens said she was honored Richardson chose the Milwaukee Water Commons for the Mothers of Our Nations project.
"It made us feel validated in a way that we were chosen to be one of the partner organizations," she said. "Just to be a part of the awesome variety of women-led organizations that are represented in the show really feels good."
Lazcano chose to honor the Center for Self Sufficiency, which provides case management and resources to men returning home from prison.
"It's going to mean a lot for us to have that hanging up, to remind us when times are hard, that this is important work that we do," said Keonna Muñoz, member services coordinator at the Center for Self Sufficiency. "We look at that painting and see that somebody recognizes the hard work we do every day."
The exhibit will move from Milwaukee to Gallery Marzen in Madison on Dec. 3, and will be open to the public during regular gallery hours.