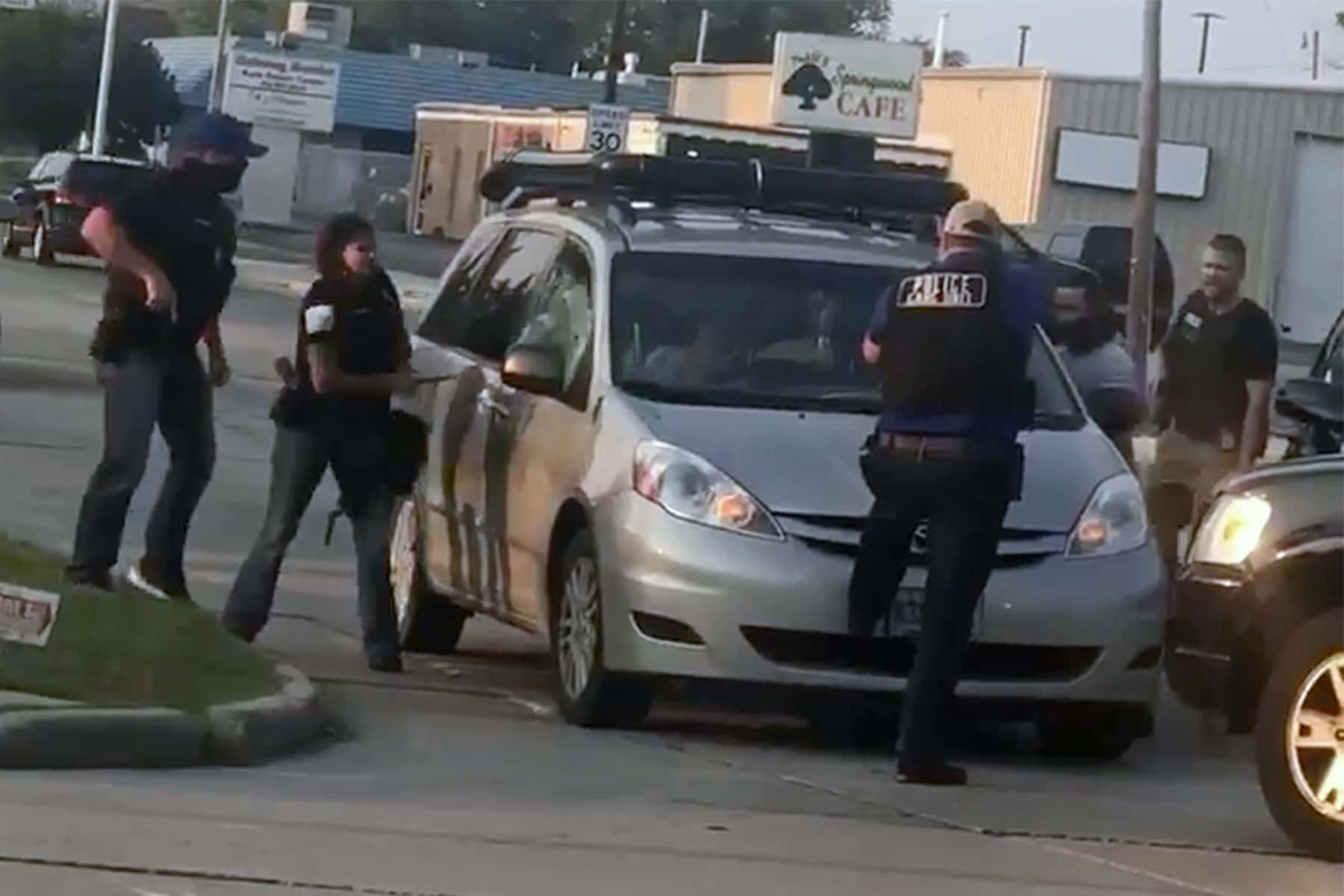 Police and federal law enforcement agents used unmarked vehicles to arrest and detain protesters on August 26 in Kenosha. According to activists, at least 12 protesters were arrested this way.
A video posted online shows a man wearing a U.S. Marshal uniform along with police pointing guns at a van stopped near a gas station, then breaking the van's window and taking passengers away in vehicles without markings or license plates.
The people in the van were part of Riot Kitchen 206, a Seattle nonprofit that provides food for protesters. A board member with the organization called the arrests "a nightmare."
"My friends were snatched in broad daylight by people in unmarked vans, and I didn't know what was happening to them for hours," Jennifer Scheurle said.
The group of nine was part of a caravan heading from the Pacific Northwest to Washington DC to support protests of racial injustice and police brutality. After a Kenosha police officer on August 23 shot 29-year-old Jacob Blake seven times in the back during an arrest, the group decided to detour to Kenosha to help protesters there.
Activist Omar Flores with the Milwaukee Alliance Against Racist and Political Oppression said another three student activists were taken in unmarked pickup trucks by men who told them, "Don't even try it, we're cops."
"When there's an unmarked vehicle coming up to you and somebody just says 'we're cops,' are you supposed to just take their word for it?" Flores said. "Couldn't anyone just go around and do that? Is this what we really want to look like as a country?"
The arrests are similar to arrests of protesters in July in Portland, Oregon, when federal agents used unmarked vehicles as part of a broader escalation of law enforcement tactics there. The acting Homeland Security Secretary at the time confirmed that the agency had used the tactic.
Flores read a letter from the Milwaukee National Lawyers Guild, who called on the Wisconsin Department of Justice and U.S. Department of Justice to investigate the use of unmarked vehicles in arrests. Flores said his group is calling for the immediate release and all charges dropped for those arrested on curfew violations, which he called unconstitutional.
He said activist Adelana Akindes, 26, of Kenosha was one of those arrested. Kenosha County Sheriff's Department records show Akindes was booked at 10:22 p.m. Wednesday on charges of failing to comply with the curfew order. The records do not include the time of her arrest.
The mother of Akindes, Faye Akindes, said the style of the arrests was "part of a pattern of behavior between those in power, the state, the police department, the feds, and ordinary citizens participating in peaceful demonstrations" that is connected to incidents in Portland and elsewhere.
The arrests of the Riot Kitchen workers happened shortly after Kenosha's 7:00 p.m. curfew Wednesday night, when police mostly chose to keep their distance from a group of hundreds of peaceful protesters who marched through downtown until late Wednesday night.
Scheurle said the nature of the arrest in unmarked vehicles was alarming. She spent all night trying to reach different agencies to find out where her friends were being held.
"No matter what your political affiliation is," she said, "what would it feel like to have your friends just be snatched from the street by people who aren't even identified? Who are these people? Are they police? Are they not police? Are they random people who just snatched my friends at gunpoint? It's terrifying."
Riot Kitchen HQ just learned that our bus crew was arrested in broad daylight in #Kenosha today – kidnapped by feds in unmarked vans.

We are currently trying to find our friends who were just there to feed people.

Please share and donate for bail via Venmo riotkitchen206 pic.twitter.com/o2TDbohvFl

— riotkitchen206 (@riotkitchen206) August 27, 2020
Donate: Wisconsin Public Radio
These headline links feature the daily news reports published by Milwaukee Independent about the George Floyd protests, the revival of the Black Lives Matter movement that followed, and their impact on the local community in for 8 months from May to December of 2020.