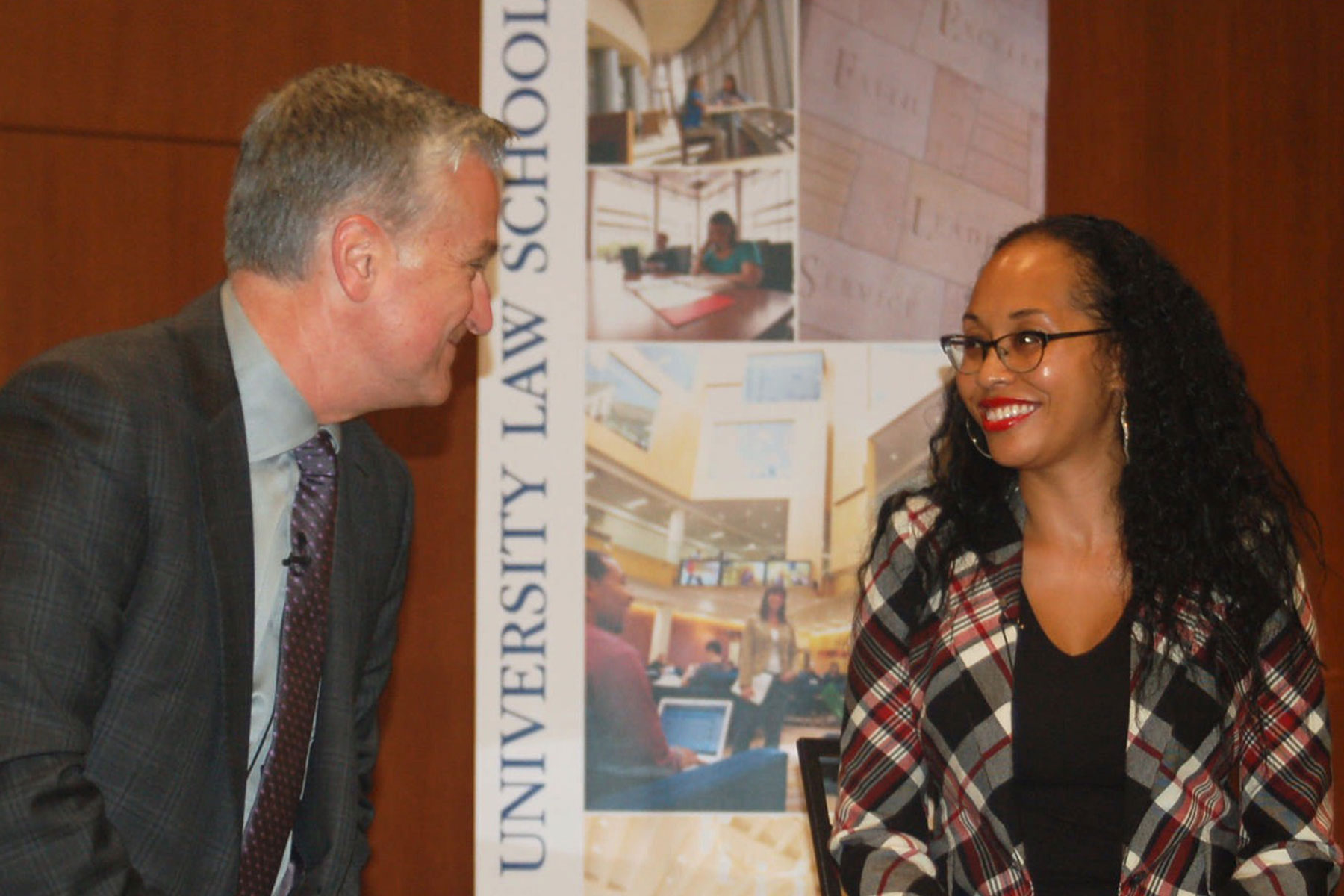 Who is Kimberley Motley? The international litigation attorney, former Mrs. Wisconsin and subject of "Motley's Law," a documentary screened at the recent Milwaukee Film Festival, defies simple labels.
Motley's complex mixture of intellect, courage and creativity captivated audiences at two recent appearances in Milwaukee. The 41-year-old North Side native who opened a law firm in Afghanistan and is representing clients on every continent except Antarctica spoke about her work and her life after the screening of the documentary and at Mike Gousha's "On The Issues" forum at Marquette University Law School.
Motley's path from her childhood home in the Berryland public housing project to her status as the only foreign attorney practicing in Afghanistan seems, to one former colleague, like a natural progression.
"I really liked her approach to work," said Deja Vishny, homicide practice coordinator at the Wisconsin State Public Defender's Office (SPD). Vishny worked with Motley in a trial skills program and as her supervisor when Motley joined SPD after graduating from Marquette Law School in 2003.
Vishny was impressed by Motley's care for her clients and her pursuit of a concept Motley calls "justness."
"To me justness means using laws for their intended purpose, which is to protect," Motley said. "It's the legal reality that I fight for on behalf of my clients," she added. "Justice is the poetry and justness is the prose."
Vishny also pointed to Motley's tenacity in fighting for her clients' best interests. She recalled a case in which Motley observed that a prosecutor was relying on an inaccurate interpretation of words spoken by an African-American client. According to Vishny, Motley searched for an expert witness knowledgeable about African-American Vernacular English.
Motley said that exposure to social issues such as substance abuse and teen pregnancy in her poor neighborhood were beneficial for her and her siblings growing up. The tough situations they saw around them helped them learn early about the real world, she added.
Motley and her siblings were raised by their Korean mother and African-American father and attended predominately white schools. This led them to feel comfortable interacting with all kinds of people, she said. And like other children of immigrants, the experience of speaking to adults on behalf of their mother helped them develop strong speaking skills at an early age.
In an appearance following the documentary screening, she noted that her father was heavily invested in his children's education. The second child of four, Motley attended St. Albert Elementary School, a private Catholic school, and Whitefish Bay High School through the recently discontinued Chapter 220 voluntary integration program. In addition to her law degree, Motley earned bachelor's and master's degrees in criminal justice from UW-Milwaukee.
Though he is thankful for the educational opportunities their father provided him and his siblings, Motley's younger brother, Jay-Sun Bowman, said his father's harsh rules and discipline created a tense atmosphere in their home.
"(Our father) was very hard on Kimberley and protective because (she) was a girl." Her freedom was more restricted and she wasn't allowed to go to prom, talk to boys or any of that," Bowman said.
"A lot of people look at Kimberley now and say 'How could you (work in Afghanistan)? You're in harm's way,'" Bowman said. In response to a question about safety she said, "I know it's unsafe. I know I can get on a plane and leave whenever I want to."
Motley said she joined the U.S. Department of State as a legal trainer in Afghanistan in 2008 to make money. "It was a family financial decision."
After a year, she decided to open a private litigation firm to represent foreigners in jail there. Since then, her client base has grown to include diplomats, news agencies and corporations from many nations. Though she spends about 70 percent of her time working on private criminal and corporate cases and some civil litigation, she spends the other 30 percent representing Afghani and other clients suffering human rights violations, who cannot pay for her legal services.
Motley researches Islamic and Afghan law. Calling herself a "legal archaeologist," she described several cases in which she succeeded in bringing relief to young women sold into marriages that effectively enslaved them. Motley argued one of those cases before the Supreme Court of Afghanistan. Currently, she is one of a number of lawyers working to free Malaysian political prisoner Anwar Ibrahim, a former deputy prime minister. Modest about her pro bono work, Motley said, "I consider myself to be a global investor in human rights."
Motley, her husband Claudiare Motley and their three children, ages 20, 15 and 10, reside in North Carolina. Claudiare Motley, a finance expert and recent law school graduate, also works in the family business, Motley Law. He was injured by a gunshot to the face while visiting Milwaukee for a high school reunion in 2014. Now recovered, he and Kimberley are working to help the perpetrator, a teenager who was paralyzed during a later gun crime.
The Motleys still have many family members and friends in the city and Kimberley says she would return to work here if she had a case. "My focus has always been litigation," Kimberley said. "I go to different countries and I litigate cases in court. I am a court person."