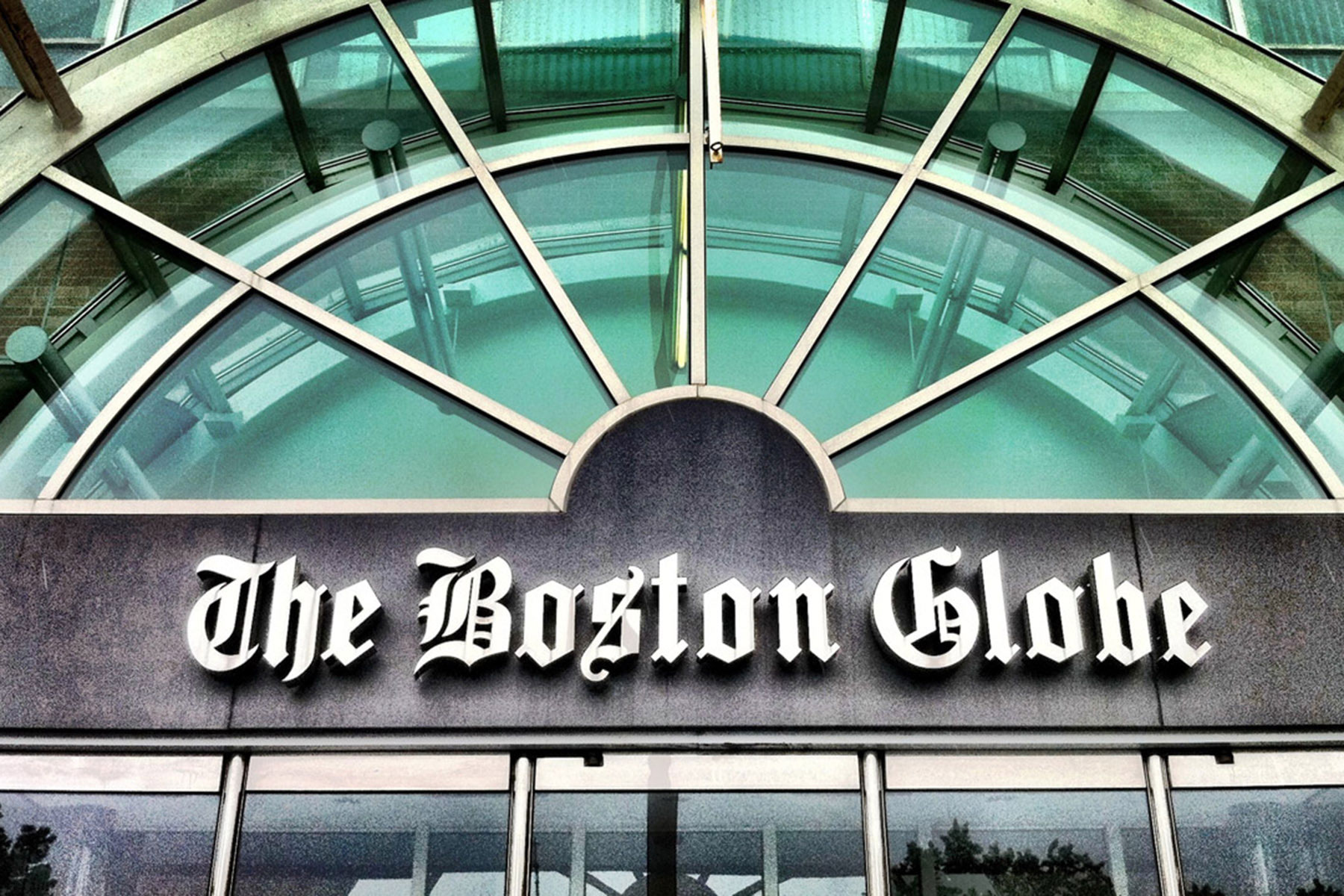 A Boston newspaper proposed a coordinated editorial response today, August 16, from publications across the U.S. to President Donald Trump's frequent attacks on the news media.
"We are not the enemy of the people," said Marjorie Pritchard, deputy managing editor for the editorial page of The Boston Globe, referring to a characterization of journalists that Trump has used in the past. The president, who contends he has largely been covered unfairly by the press, also employs the term "fake news" often when describing the media.
The Globe will join editorial boards nationwide to write and publish editorials on August 16 denouncing what the newspaper called a "dirty war against the free press." The Globe's opinion page put out the call for a mass response last week.
"We propose to publish an editorial on August 16 on the dangers of the administration's assault on the press and ask others to commit to publishing their own editorials on the same date," the pitch to editors said.
Over 350 news outlets committed to editorials, with publications ranging from large metropolitan dailies, such as the Houston Chronicle, Minneapolis Star Tribune, Miami Herald and Denver Post, to small weekly papers with circulations as low as 4,000.
The newspaper's request was being promoted by industry groups such as the American Society of News Editors and regional groups like the New England Newspaper and Press Association. It suggested editorial boards take a common stand against Trump's words regardless of their politics, or whether they generally editorialized in support of or in opposition to the president's policies.
"Our words will differ. But at least we can agree that such attacks are alarming," the appeal said, acknowledging that newspapers were likely to take different approaches.
Pritchard, who oversees the Globe's editorial page, said the decision to seek the coordinated response from newspapers was reached after Trump appeared to step up his rhetoric in recent weeks.
At an August 2 political rally in Wilkes-Barre, Pennsylvania, Trump told his audience that the media was "fake, fake disgusting news."
"What ever happened to the free press? What ever happened to honest reporting?" the president asked, pointing to journalists covering the event. "They don't report it. They only make up stories."
Pritchard said she hoped the editorials would make an impression on Americans.
"I hope it would educate readers to realize that an attack on the First Amendment is unacceptable," she said. "We are a free and independent press, it is one of the most sacred principles enshrined in the Constitution."
The dirty war against journalists must end
A central pillar of President Trump's politics is a sustained assault on the free press. Journalists are not classified as fellow Americans, but rather "the enemy of the people." This relentless assault on the free press has dangerous consequences. We asked editorial boards from around the country – liberal and conservative, large and small – to join us today to address this fundamental threat in their own words.

Replacing a free media with a state-run media has always been a first order of business for any corrupt regime taking over a country. Today in the United States we have a president who has created a mantra that members of the media who do not blatantly support the policies of the current US administration are the "enemy of the people." This is one of the many lies that have been thrown out by this president, much like an old-time charlatan threw out "magic" dust or water on a hopeful crowd.

For more than two centuries, this foundational American principle has protected journalists at home and served as a model for free nations abroad. Today it is under serious threat. And it sends an alarming signal to despots from Ankara to Moscow, Beijing to Baghdad, that journalists can be treated as a domestic enemy.

The press is necessary to a free society because it does not implicitly trust leaders — from the local planning board to the White House. And it's not a coincidence that this president — whose financial affairs are murky and whose suspicious pattern of behavior triggered his own Justice Department to appoint an independent counsel to investigate him — has tried so hard to intimidate journalists who provide independent scrutiny.

There was once broad, bipartisan, intergenerational agreement in the United States that the press played this important role. Yet that view is no longer shared by many Americans. "The news media is the enemy of the American people," is a sentiment endorsed by 48 percent of Republicans surveyed this month by Ipsos polling firm. That poll is not an outlier. One published this week found 51 percent of Republicans considered the press "the enemy of the people rather than an important part of democracy."

Trump's attack feedback loop helps explain why his faithful are following him into undemocratic territory. More than a quarter of Americans now say that "the president should have the authority to close news outlets engaged in bad behavior," including 43 percent of Republicans. Thirteen percent of those surveyed thought that "President Trump should close down mainstream news outlets, like CNN, The Washington Post and The New York Times."

Trump's apologists feebly insist that he is referring only to biased coverage, rather than the entire fourth estate. But the president's own words and long track record show again and again just how deeply cynical and dishonest this argument is.

The nation's Founding Fathers took for granted that the press would be biased and yet they still explicitly enshrined the freedom of journalists and publishers in the Constitution. "Our liberty depends on the freedom of the press, and that cannot be limited without being lost," wrote Thomas Jefferson.

American politicians of all parties since the Founders have groused about the media, trying to work the refs by arguing that the news is biased against their tribe. But there was always respect for the press as an institution. It was not that long ago that Ronald Reagan proclaimed, "Our tradition of a free press as a vital part of our democracy is as important as ever."

"The press was to serve the governed, not the governors," Supreme Court Justice Hugo Black wrote in 1971. Would that it were still the case. Today, the only media that Trump's movement accepts as legitimate are those that unquestioningly advocate for its leader personally.

Indeed, it is not just that the president is stoking domestic division for political and personal gain, he's asking his audiences to follow him into Fantasia. "Just stick with us, don't believe the crap you see from these people, the fake news," he told an audience in Kansas last month. "Just remember, what you're seeing and what you're reading is not what's happening." George Orwell put it more gracefully in his novel "1984." "The party told you to reject the evidence of your eyes and ears. It was their final, most essential command."

It is an essential endpoint to Trump's deluge of dishonesty that he now contests objective reality and urges his supporters to do the same. In the first 558 days of his presidency, Trump made 4,229 false or misleading claims, according to a list compiled by The Washington Post. Yet among Trump supporters, only 17 percent think that the administration regularly makes false claims. "Alternative facts" have become de facto.

Lies are antithetical to an informed citizenry, responsible for self-governance. The greatness of America is dependent on the role of a free press to speak the truth to the powerful. To label the press "the enemy of the people" is as un-American as it is dangerous to the civic compact we have shared for more than two centuries.

– Boston Globe Editorial Board
Joel Page and Lane Turner