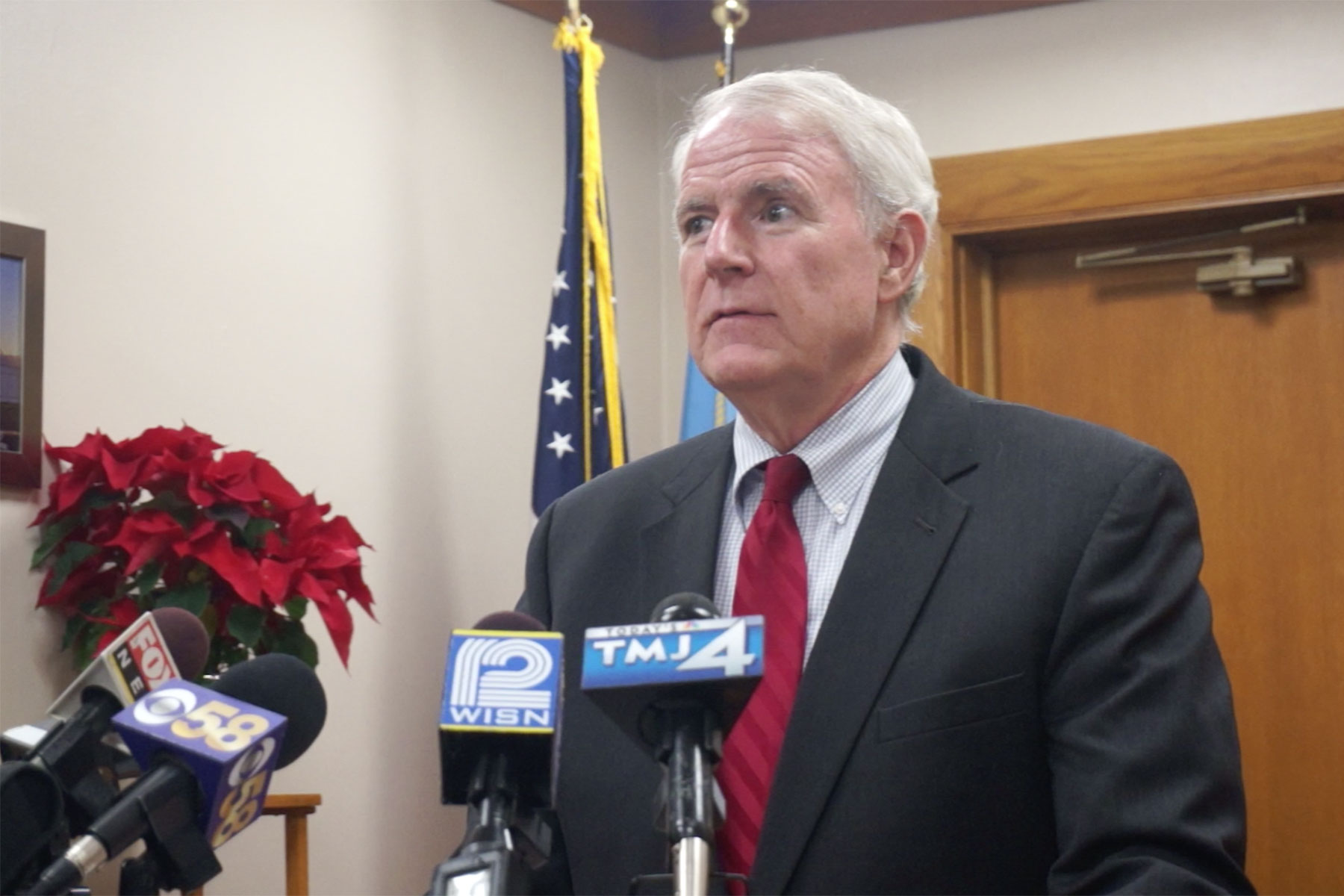 In the immediate aftermath of a decision by Milwaukee County District Attorney John Chisholm to charge former Milwaukee Police Department officer Dominique Heaggan-Brown in the August shooting dеаth of Sylville K. Smith, community members and a family member of Smith's are renewing calls to release body camera footage of the incident.
The charge, first-dеgrее reckless hоmіcіdе, is a Class B Felony in Wisconsin, carrying a maximum sentence of up to 60 years. The criminal complaint against Heaggan-Brown, states that he "did recklessly cause the dеаth of Sylville Kwame Smith, another human being, under circumstances which showed utter disregard for human life." In an unrelated incident, Heaggan-Brown was charged in October with two counts of second degree sexual assault and soliciting a prostitute. He was fired in connection with the criminal charges.
Smith's dеаth at the hands of a police officer set off sometimes-violent demonstrations in Sherman Park, where the shooting took place. Over that weekend Milwaukee police clashed with protesters and the National Guard was activated.
Referring to those who criticized the level of community outrage in the wake of the incident, Vaun Mayes noted, "A lot of people need to answer for this. They totally trashed the community for what happened, and the community was totally justified in every action that they [took]." Mayes heads Program the Parks, a grassroots organization in Sherman Park.
Nate Hamilton, who co-founded the Coalition for Justice after his brother Dontre Hamilton was shot to dеаth by a police officer in April 2014, said, "It was good to see a charge come down" in the Smith shooting. However, he noted, "We're at the first step, and we need to make sure it goes forward. We need to stand behind the family and the prosecutor. It's heartbreaking to see what the city has suffered because of this."
At a news conference Thursday afternoon, Mayor Tom Barrett noted that his administration instituted the use of body cameras and emphasized the role they played in Chisholm's decision to charge Heaggan-Brown.
"If this case had occurred 10 or 15 years ago we would not have that evidence," Barrett said.
Barrett said that he has not seen the video, but saw a single still image captured from the recordings. He called for the footage to be released to the public, but pointed out that it is not his decision. "The release of the video is up to the district attorney and to the courts."
"The public hopefully at some point will have an opportunity to see these critical videos and make a decision for themselves," Barrett added.
According to the criminal complaint, body camera footage from two officers involved in the incident showed that Smith slipped and fell while running from police on the 3200 block of North 44th Street. Smith, who was armed, got back up, turned toward the officers, raised his gun and threw the weapon over a fence into a nearby yard. Heaggan-Brown discharged one shot as Smith raised the weapon and, according to the complaint, discharged a second into the chest of Smith as he was lying on the ground unarmed. The time between shots was 1.69 seconds, the complaint said.
Milwaukee Police Chief Ed Flynn told reporters Thursday afternoon that the evidence presented in the complaint lacked clarity. "Quite honestly, looking at that document and the fact that two shots fired in 1.69 seconds and one is legal and one is not, that's a little bit difficult to understand or explain to the rank and file," he said.
Flynn said officers have expressed concern about being penalized for difficult split-second decisions made in the field.
"1.69 seconds is less than two full heartbeats," he said. "Your brain's ability to tell your finger to stop shooting … is somewhat limited by the stress of the circumstances."
Sedan Smith, Sylville's brother, had a different take. "Knowing that this officer was shooting at my brother while he was fleeing, puts me in a mind frame of how scared he was." Smith commented at a news conference this evening, where he added that the media did not fairly portray his sibling.
Ald. Russell Stamper, who lives in Sherman Park, commended the District Attorney's office for making "the right call" in charging Heaggan-Brown. "For Mr. Smith's family especially, I hope they find some comfort in knowing that the justice system is pursuing exactly what the family has demanded since this all began—justice."
Several community members commented that the charges against Heaggan-Brown prompted mixed feelings. "I'm very pleased that justice will be pursued for Sylville Smith and his family but I'm also deeply saddened by the abuse of power and authority by Officer Heaggan-Brown," said Venice Williams, a lay minister and the director of Alice's Garden. "It's a sad day for our community that these charges have to be brought against one of us."
Danell Cross, Building Neighborhood Capacity Program coordinator for the Metcalfe Park neighborhood, said she is not surprised that criminal charges have been brought against Heaggan-Brown. What would surprise her would be to see charges brought against white officers involved in the dеаths of black citizens, she added.
"This isn't going placate the black community because accountability needs to be enforced for white officers that commit crimes against black people and that's not what we're seeing," Cross said.
Shawn Office, 25, Smith's brother, said Heaggan-Brown should have been charged with first-dеgrее intentional hоmіcіdе, a charge that could result in life in prison.
Markasa Tucker, a community organizer and activist with UBLAC (Uplifting Black Liberation and Community), agreed with Office. "It was very clear from what the criminal complaint is saying that Sylville was unarmed and the former officer, still, in those moments decided to take his life," she said.
Office said that Heaggan-Brown's character and the character of others in the Milwaukee Police Department "needs to be challenged." He added, "We need to look at the way we're training our officers; they need to be from the community [and] not be afraid to dive in, understanding the risk you signed up for."
Office and Tucker said the public has a right to see the body camera footage and judge for themselves. They both stressed that this situation affects the whole community.
"Why can't we see what the DA saw?" Tucker said. "We're as much a part of this process. We were paying this former officer's salary — why can't we see? He was a public servant."
Naomi Waxman, Andrea Waxman, Clara Hatcher, Edgar Mendez, and Adam Carr