Beer Craft: Barrel aging writes next chapter of brewing renaissance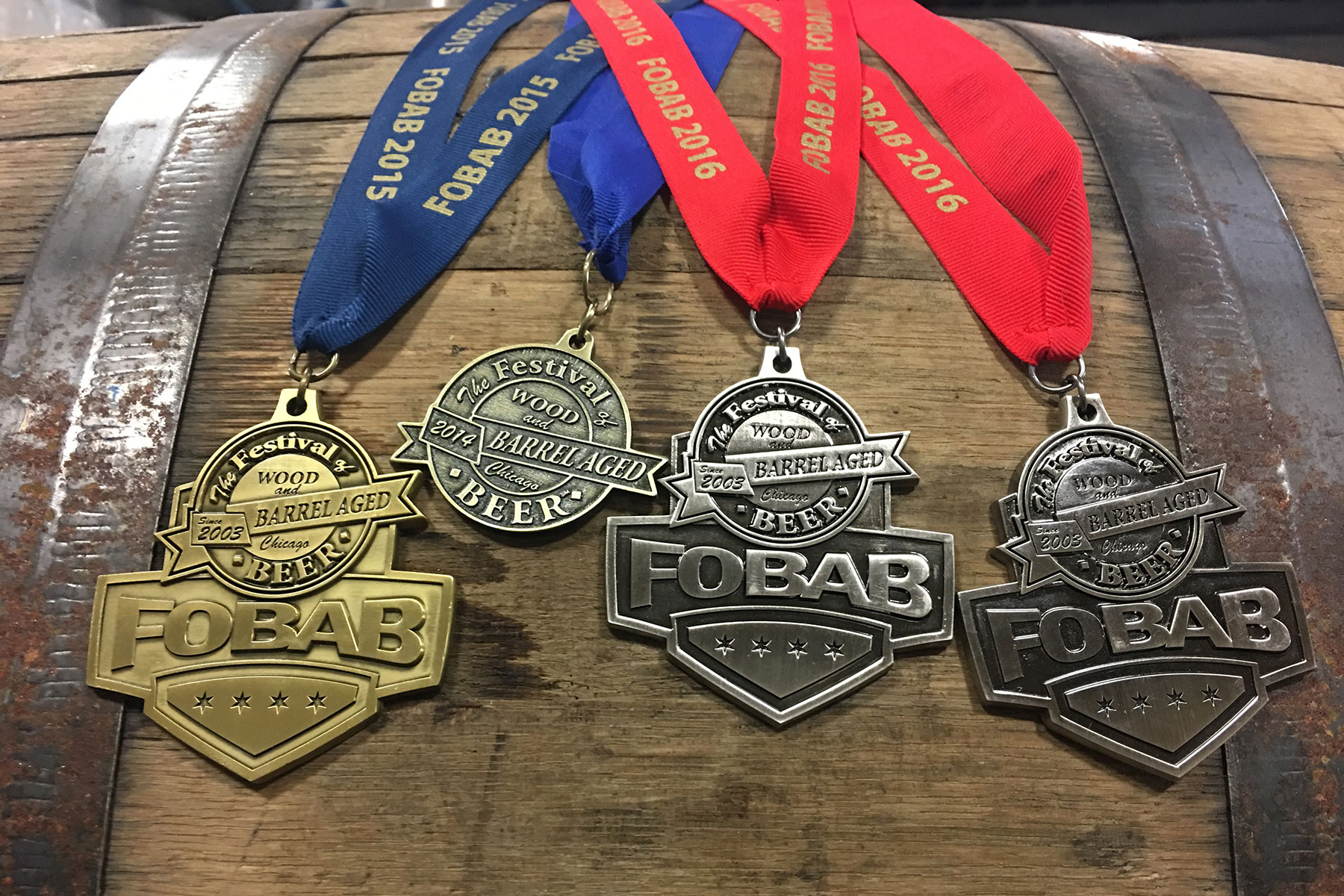 As craft beer in Milwaukee continues its renaissance, the popular narrative has been focused on new breweries opening, but the story of craft beer in the city is more complicated than how many breweries we have and what neighborhoods they are in.
What this story misses is an exploration of how Milwaukee's craft brewers are working to build rich portfolios of beers that are complex enough to stand up against breweries with a national reputation.
One such story is the story of Milwaukee Brewing Company and their head brewer, Robert "Bert" Morton. Over the last few years, The MBC team has been quietly building Milwaukee's first barrel program. And not just any old barrel program, but a barrel program that's winning awards. At the recent Festival of Barrel Aged Beers (FOAB), the MBC team won second place with Louie's Resurrection in the Strong Pale Beer category, and Prestige Worldwide Barleywine won second in the Barleywine category.
Looking through the list of winners on FOAB's website, you see breweries like Bell's, Sierra Nevada, Goose Island, The Lost Abbey, Transient Artisan Ales, 5 Rabbits — some of the biggest names in Craft Beer. And right alongside them, Milwaukee Brewing Company. This is huge. Milwaukee's long been known as Beer City, USA. In recent years though, what that moniker meant was macro-beer city. For that to change, for Milwaukee to reimagine itself as craft-beer city, more breweries need to start bringing home the kind of awards recently gathered by Milwaukee Brewing.
With their latest series of barrel-aged beer, Milwaukee Brewing Company has fundamentally shifted Milwaukee's craft beer narrative through a strong series of limited-release, barrel-aged beers.
Local Context
Certainly MobCraft, Like Minds, Sprecher, Lakefront, Black Husky, and now Good City have all produced barrel-aged beers, but the scope and quantity of Milwaukee's barrel-aged releases sets the brewery apart. Simply put, no one else is releasing as many barrel-aged beers as frequently as Milwaukee Brewing Company.
What's more, the quality, the relatively-limited quantity of bottles released, and their limited availability, creates the potential to deliver to Milwaukee beer-lovers what might become our first white-whales, elusive beers which are both excellent and extremely hard to find.
Between late October and Christmas, Milwaukee Brewing Company will release six barrel-aged beers: Louie's Resurrection, two versions of Grand Madame Barleywine, Louie's Cherry Bounce, and Gin-Barrel-Aged O-Gii. In the following weeks, they will also release a seventh beer, which was so delicious when I tasted it with Bert and his staff that I seriously considered trying to keep it a secret. This as-yet-unnamed Oatmeal Stout was aged in barrels used to age Pineau des Charentes, a French aperitif.
To understand just what went into developing their barrel program, what inspired these beers, and how they were produced, I recently headed into Milwaukee Brewing's 2nd Street brewery to chat with head-brewer Bert.
Reinventing Core Styles and Adding New Ones
I found Bert, and fellow brewer Kurt, standing at a makeshift bar beside a tower of pallets loaded for shipment. In a joyfully coincidental moment, he poured me a few ounces of a rich looking, dark beer from a plastic bottle, the first samples of an Oatmeal Stout aged in Pieau barrels. Slightly reminiscent of port-wine in body and flavor, the beer was so delicious that five or six people, including owner Jim McCabe, stopped by to sample it.
The happenstance felicitousness of that moment has come to define for me Milwaukee Brewing Company's whole approach to developing their barrel aging program. Milwaukee's Head Brewer, Bert, describes these beers as "fun" beers. And these beers certainly are fun, playful combinations of flavor that seem to arise out the exuberance Bert and his team feel for the brewing process. Yet they are also down-to-earth, growing as much from pragmatism as a desire to experiment with brewing a variety of styles outside the brewery's typical repertoire.
Rounding our Milwaukee's barrel lineup are beers like Grand Madame, an English Barleywine, Elf's Lament, a Belgian Dubbel, Wolfhound, an Irish Red aged in Brandy barrels. These are subtle, complex beers that reveal themselves slowly as you sip through each glass. They are also a chance for the brewers to experiment and to brew styles outside the brewery's core lineup.
The Brewing And Aging Process
Louie's Resurrection starts as a higher ABV version of of the beer that built Milwaukee Brewing, Louie's Demise. Morton explains that this increased strength safeguards against off-flavor-producing microorganisms tainting the barrel, and it produces a beer which "melds better" with the flavors of the Copper and Kings Brandy barrels.
Brandy is a quintessentially Wisconsin spirit: warming, not particularly stylish, a bit old-fashioned. Plus, as Bert tell me, "Wisconsin consumes more brandy than any other state in the Union." So Brandy barrels are both fitting for a Milwaukee brewery and a bit tongue-in-cheek too. Both cheaper and more readily available than the more common Bourbon barrels, Brandy barrels are much a practical choice for Bert in his team as they are a stylistic choice.
Practicality too guides Bert's brewing schedule. Louie's Resurrection is brewed at the end of July, when, as the summer rush subsides, the brewery begins to have open slots in their brewing schedule. Brewing later in the summer also ensures that the beer is ready to transfer into barrels when temperatures in the brewhouse begin cooling down. Cooler temperatures reduce the likelihood of infectious microorganisms growing in the barrels.
All barrel aged beer is exposed to some oxygen through the porous wood of the barrels, which can lead to flat, papery flavors. By keeping the barrels cool during the aging process, Morton reduces the likelihood of these off-flavors and encourages the development of the desirable, sherry-like flavors that can also arise from oxygen interacting with fermented beer. In the case of Louie's Ressurection, yhe aged beer is then blended with a fresh batch to meet the flavor profile Bert and his team are looking for — though this is not always a part of his process for other barrel aged beers. It all depends on how much barrel character is present in the beer.
None of Milwaukee Brewing's beers are aged in barrels for more than a few months. This may result from the limited amount of space the busy, crowded brewery has to store barrels in. Rather than devote that space to aging one or two beers for a year, Bert and his team have opted to age nearly a dozen beers for shorter amounts of time. The end result is that in all of MIlwaukee Brewing's barrel aged beers, the barrel presence is soft and incredibly well balanced. If there is a hallmark of style to Milwaukee's barrel aged beers, it's that the barrel is as natural part of the beer as water, yeast, hops, or malt.
The Beers
Unlike the spice-laden stouts and strong ales most brewers go for when barrel aging, Milwaukee often likes to layer flavor atop beers from Milwaukee Brewing's core lineup. Louie's Resurrection, and Cherry Bounce — which all play on a beer we've come to know and love — provide a good place to examine how Bert and his team develop barrel aged beers.
A wonderfully ruddy, amber beer with the aroma of caramel and brandy, Louie's Resurrection balances big caramel malts with a creamy, vanilla flavor, that gives way to a breath of brandy on the finish.
As the beer warms, I found myself contemplating its mellow notes of toffee when I realized how soft and subtle the Louie's Resurrection is. For most brewers, it seems like barrel-aging is an excuse to make aggressively flavorful, challenging beers. Which is fine. I love those beers. Except for one thing. They can be a bit like that guy who only talks about Political Philosophy at a party. Personally, I love aggressive, challenging beer (and people), but Louie's Resurrection seems to suggest that not every barrel-aged beer needs to be a think piece.
Cherry Bounce adopts the quintessential Wisconsin tradition of bounce cherries (cherries aged for a year in Brandy) through adding tart cherries into the Louie's Resurrection recipe. These cherries come off as a tart fruity scent on the nose and then arise again as a subtle piquancy at the finish. Creamy, with notes of vanilla woven through, the alcohol in this beer is supremely well hidden behind fruity, caramel, malty notes. The barrel presence is this beer was controlled, and quite soft, adding another layer of flavor and interest to the beer. This was the kind of beer that seems extremely laid-back but must have taken immense skill to create.
Bert and his team did similarly masterful work with their English style Barleywine, which has roots as an Aristocratic beer brewed on estate-owned breweries once common among the English nobility. Designed to supplant wine in a time when relations between wine-brewing countries and the English were often tense, English Barleywine was originally barrel aged and intended to be as complex as wine.
In keeping with that tradition, Milwaukee Brewing's two Barleywines are complex, balanced, and built to age along with fine wine. Indeed, the Brandy-barrel aged version of Grand Madame is a total joy to drink precisely because of how Bert and his team perfectly crafted the beer. A complex amalgam of rum raisins, hazelnuts, and caramel, with an earthy nose, and a finish that weaves English hop character with brandy, Grand Madame is complex yet balanced. Like Louie's Resurrection, it's also fairly restrained.
Made from the same mother batch of English Barleywine, the Sherry-barrel aged version of Grand Madame seems like a sure contender at next year's Festival of Barrel Aged Beers. It was so delicious when I opened it that it almost seems impossible for it to improve with time, but it was so replete with flavor that it will surely age extremely well.
Like her sister, the Sherry Barrel Grand Madame was almost chewy with rich notes of caramel and rum raisins, yet she was much fruitier, tasting at times of chocolate-covered cherries and at others like port wine. The sherry was softly woven from nose to the middle of the beer, to the finish. Underneath it all was a barely discernible earthiness which grounded everything.
Writing The Next Chapter for Milwaukee Craft Beer
There's something really spectacular about a brewer who can brew great beer that's both true to style and makes careful use of barrel-aging. With these beers there's nothing to hide behind: no spices, no heavy-hopping, no funky yeast character, no strong roasty character. There's just the beer and the barrel and the skill of the brewer.
Often I think of beer as an expression of the brewer who created it, for, like Art, beer can have a theme, explore an idea, and reveal something about the person who made it. As I drank these beers, I thought about Bert Morton, standing comfortably among his team of fellow brewers, calm, sipping his beer with evident but quiet pleasure. And later, as he toured me through the brewery, answered my questions, and told me the story of winning medals at the Festival of Barrel Aged Beers. This is not a man who will tell you that he's the lead guard of Milwaukee's craft beer scene, but in many ways he is. While everyone else is chasing stories about new breweries opening, Bert is going to keep doing what he's always done: quietly brew delicious beer.
And let's hope the city sits up and notices because if Milwaukee's craft beer scene is going to make it, and I mean really make it, regionally and nationally, it's going to take more than some new breweries opening. It's going to take more brewers like the Milwaukee Brewing Team producing a variety of complex, award-winning beers.
If you want to know what that future tastes like, head to Milwaukee Brewing Company's tap room. You might find they still have a couple of these bottles left.
Nathan Whitcomb
Nathan Whitcomb