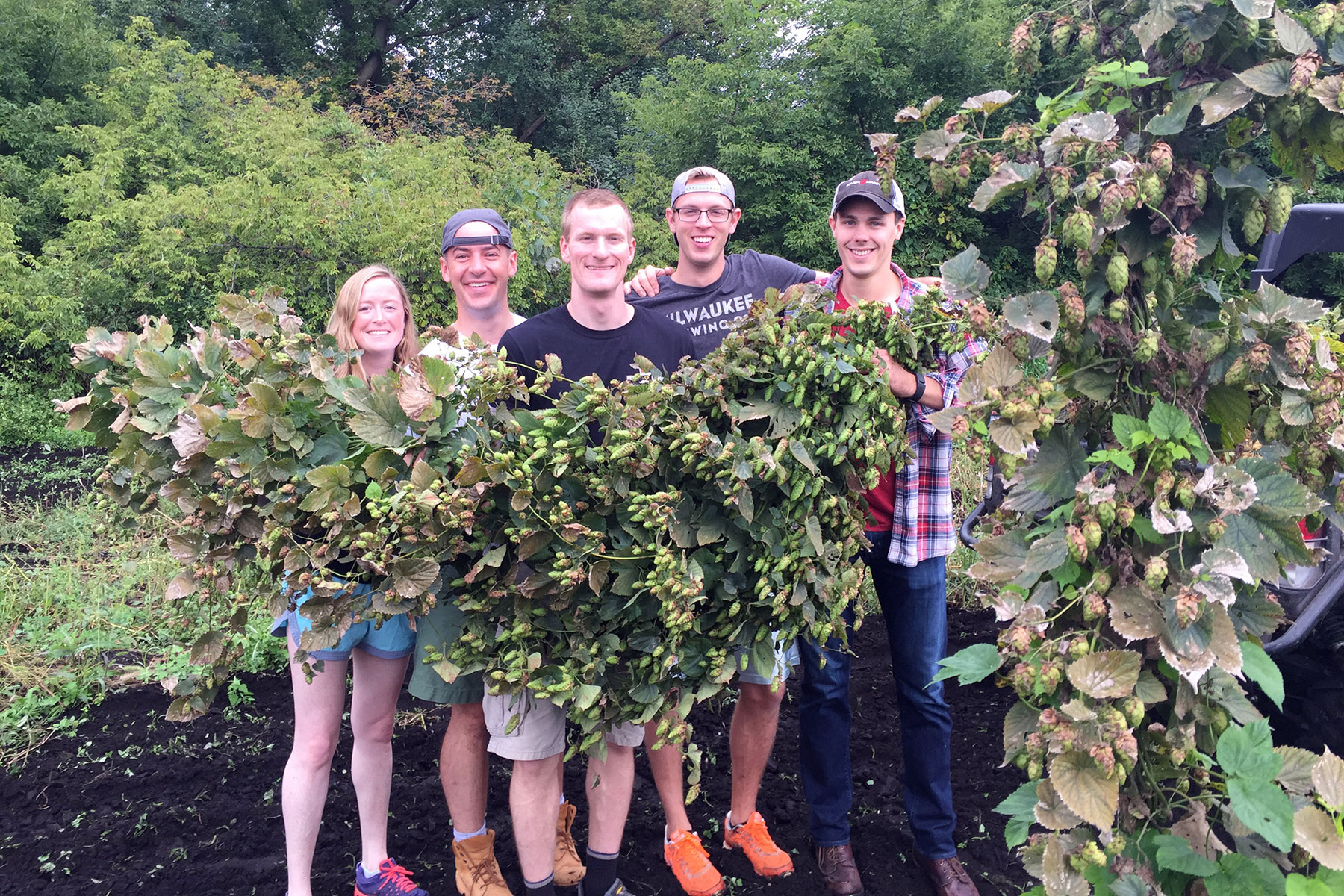 Milwaukee's Craft Beer Renaissance has brought craft beer drinkers everything from a corner brew pub, to a brewery that pairs art with beer, to an urban farmhouse brewery, and now John Degroote is creating the city's first cooperative brewery: New Barons Brewing Cooperative.
Though still in the planning and development stage, with their sights set on funding a 15 BBL brewery to open in 2018, the cooperative already has 60 members and will seek to gather the capital needed to open from a mix of investors and member-owners. As with any co-op, member-owners of New Barons will be able to elect the brewery's Board of Directors, and have a voice in much of the co-op's business decisions.
Considered in the national craft beer context, a cooperatively run brewery is relatively rare. There are just over a dozen cooperatively owned brewers in the country, notably Black Star Co-op Pub and Brewery in Austin and Fair State Brewing Cooperative in Minneapolis. Degroote looks to both of these breweries as influences. Specifically, Black Star suggested to Degroote that he initially court a mix of investors and members to help raise the capital required to build a brewery. While these investors would initially own more shares of the co-op, and receive a proportionate share of the dividends paid out to all owners, the brewery would buy back their shares as profits grew, gradually turning the brewery into a truly member owned co-op.
Most breweries offer consumers great beer, taprooms, beer-release parties, maybe the chance to meet the brewer, but through the cooperative business model, Degroote has designed a brewery that promises levels of involvement, engagement, unlike any other brewery in the city.
"There are so many fun things you can do harnessing [the cooperative] model," Degroote explains. Members will enjoy the perks of a member happy hour, brewing competitions, and patronage-based dividends. Degroote even imagines that the brewery could source some of it's recipes from the co-op's member-owners, telling me, "members could see their beer being sold on the market."
Involvement and outreach are always key to the success of co-ops, yet the cooperative business model involves a set of values that both distinguish New Barons from most breweries and give it a competitive edge in the market. I like to think of this as the profit-plus-values business model.
Localism and a commitment to community are both core to New Barons. While these values benefit members through the brewery's mission to creating a community of beer lovers, becoming a center for education about beer, and building a place like-minded beer-lovers can down a few pints, the co-op itself benefits too. That community is invested in the co-op both through buying a share, and through shared values. In turn, that investment can lead to long-term beer sales. This kind of for-the-people, by-the-people model feels natural in Milwaukee's craft beer scene, where anti-hype and Midwestern values define the local industry.
As Degroote explains it, he wants to "nurture that relationship with [members]." Then, later, in a brief philosophical aside, he adds this: "People want to be connected." It strikes me that what he's talking about is exactly the kind of face-to-face, human connection that beer makes so well. Many breweries recognize this need on some level, creating spaces for people to gather with friends, and sometimes even making efforts to remove the fourth wall between brewer and drinker, but New Barons is designed to bring drinkers, brewers, and everyone in-between, into concert in a way that very few other breweries can.
Further, because the brewery will be inherently connected to Milwaukee through its members, and because these members each own a share of the brewery, New Barons Brewing will almost certainly never leave the city or change ownership in the way similar to many craft breweries across the country. "being cooperatively owned forces it to be a truly local enterprise," Many craft breweries are being bought by huge beer conglomerates often referred to simply as Macro or Macro-beer, but with a "coop that would be very difficult." Such a sale would require the consent of the brewery's member owners.
This speaks to a generation of craft beer drinkers who seek for themselves the ideals of hard work, dedication, craftsmanship, and independence so often found in Milwaukee's growing craft beer industry. This same generation wants to know who is making the beer they drink, what they stand for.
It's common to hear brewers talk about a commitment to great, quality beer, and an appealing space for patrons to drink and chat, but few in the city seem to have a sense of the principles that ultimately guide their business and brewing decisions. That New Barons knows not just what they stand for but how those value can connect them to beer-drinkers, speaks to the strength of their vision.
New Barons Brewing Coop is currently seeking new members, and this is an exciting time to get involved. If you want to get be a part of the brewery's journey, you can also sign up for a membership online.
As Milwaukee's Craft Beer Renaissance continues, this is definitely a brewery I'll be keeping an eye on. Make sure to check back here for periodic updates on their progress,
Nathan Whitcomb
Nathan Whitcomb