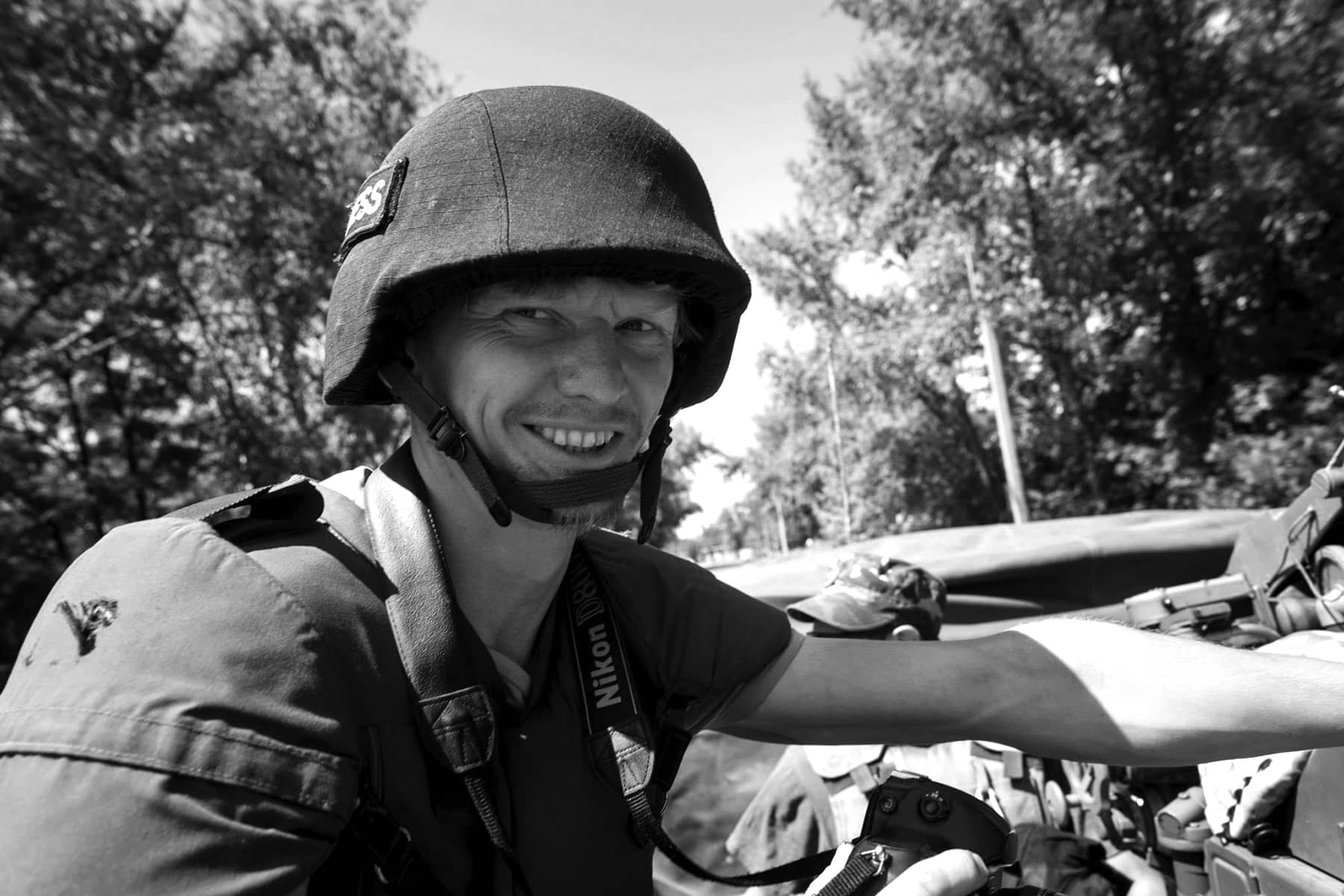 In the early days of the Russian invasion, the photo of a family carrying their German Shepherd while fleeing across a destroyed bridge in Milwaukee's sister city of Irpin went viral. It showed the world the humanitarian crisis unfolding from Putin's brutal attack against its neighbor.
Maks Levin, one of the greatest Ukrainian war photojournalists and documentary filmmakers was found dead in Kyiv Oblast on April 1. Presidential aide Andriy Yermak made the announcement on April 2, after a two weeks of searching.
"He went missing in the conflict area on March 13 in the Kyiv region. His body was found near the village of Huta-Mezhyhirska on April 1," Yermak said in a post on Telegram.
Reporters Without Borders confirmed the report on Twitter, saying Levin was the latest of five journalist killed by Russian forces since launching its unprovoked war on an independent Ukraine.
"Targeting journalists is a war crime," the Paris-based media watchdog said, adding that Levin was "unarmed and wearing a press jacket."
The prosecutor's office said that, according to preliminary findings, Levin "was fatally shot twice with small-arms fire by servicemen" with the Russian military.
News of Levin's death comes to light as Ukrainian officials said on April 2 that the entire Kyiv region was no longer under Russian control. But as the invading forces withdrew, grim scenes of the devastation left behind have emerged.
Evidence and horrifying eyewitness accounts from newly liberated towns detail mass civilian killings. Russia has also been accused of taking children as hostages and using them as "human shields" to protect their retreat.
Levin, a father of four, had been working with many Ukrainian and international media organizations, including Reuters, the BBC, and the Associated Press.
John Pullman, global managing editor for visuals at Reuters said, "We are deeply saddened to hear of the death of Maksim Levin, a longtime contributor to Reuters, in Ukraine. Maks has provided compelling photos and video from Ukraine to Reuters since 2013. His death is a huge loss to the world of journalism. Our thoughts are with his family at this difficult time."
In the beginning of March, 40-year-old Levin and his long-time colleague Oleksiy Chernyshov headed to Huta-Mezhyhirska to document the outcomes of Russian war crimes. There was no communications from either correspondent since March 13. After many attempts to locate the men, Levin was found by police. The location and condition of his Chernyshov remains unknown.
For the past 8 years, since 2014, Levin has been documenting moments of war with his images. He survived the battle of Illovaisk in August 2014, and his images from that massacre launched the acclaimed photo project After Ilovaisk.
Many of the pictures used in news reports, from the first waves of the Russian invasion of Ukraine in late February, were taken by Levin. He was with soldiers as they waited in the snow on the outskirts of Kharkiv, Ukraine's second city, to repel a Russian tank column that had crossed over the north east border from Belgorod on February 24.