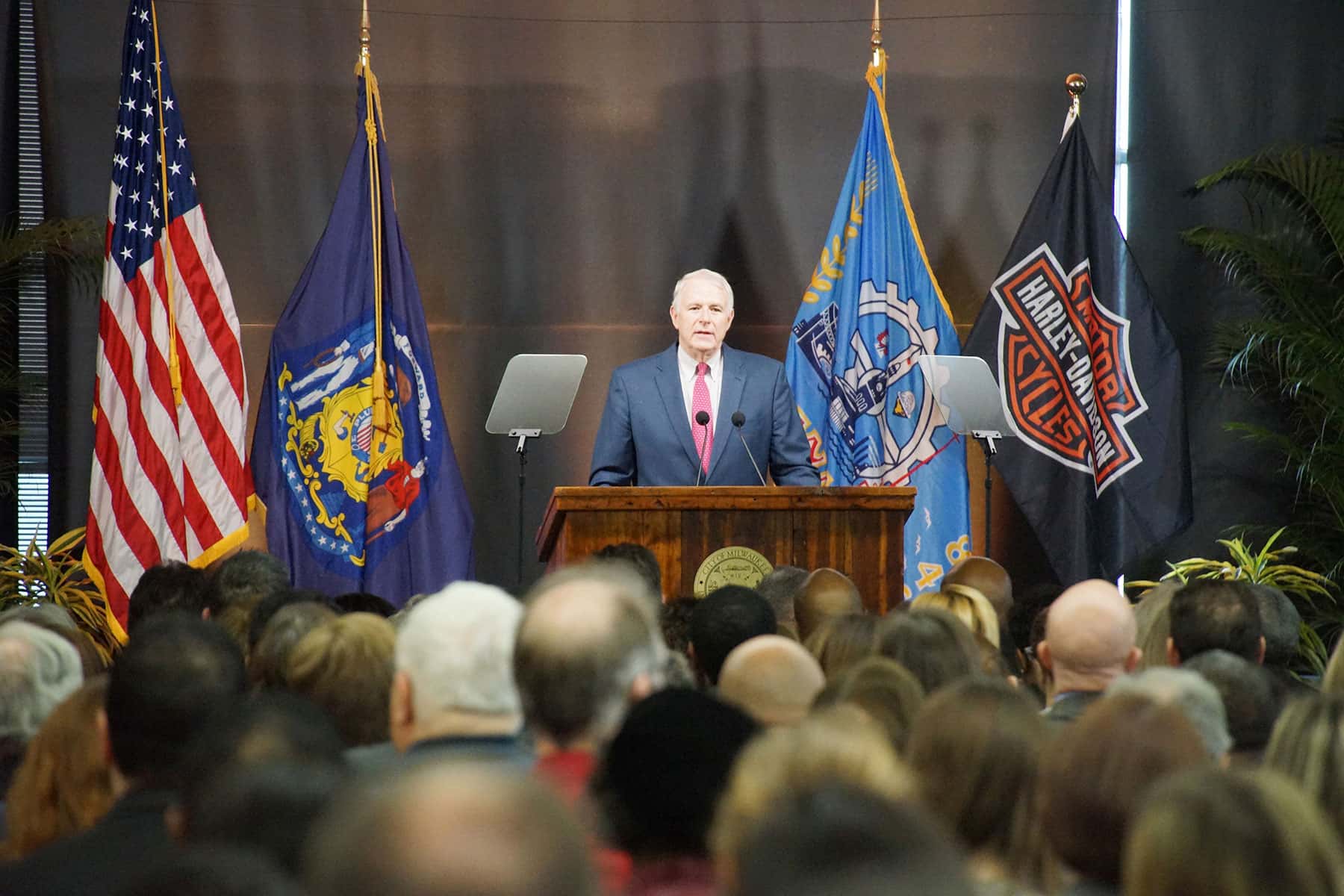 "Milwaukee is a City with 600,000 stories. Some tales of triumph and accomplishment, others of loss and sadness. The state of our City is the sum of all these stories. And, together, we are defining what's next for Milwaukee." – Mayor Tom Barrett, City of Milwaukee
Milwaukee Mayor Tom Barrett delivered his 2017 State of the City address on March 6 at the Harley-Davidson University to a crowd of hundreds. The Mayor's speech highlighted Milwaukee's progress and growth. Barrett emphasized the City's efforts in strengthening neighborhoods, creating jobs, building healthier and safer communities, and improving educational initiatives in Milwaukee. These images document the event and members of the community who attended, in support of building a brighter future for the city.
"The energy of new entrepreneurs will also help define the new Milwaukee. I want to make sure new businesses have an opportunity to thrive. We are a Kiva small business loan city where small loans have helped dozens of companies start and grow over the last three years." – Mayor Tom Barrett, City of Milwaukee
"In 2015, the Wisconsin Department of Revenue calculated that the amount of state revenue generated in Milwaukee exceeded the amount of state aid paid to the City, County and Milwaukee Public Schools by more than $460 million. I call that the Milwaukee Dividend. This means the City is getting back 66% of what we send to Madison." – Mayor Tom Barrett, City of Milwaukee
"So if anyone tells you Milwaukee is a drain on the state, please correct them immediately. The Milwaukee Dividend is even more remarkable given the fact that the City is home to 72% of the region's poor, which is the second highest concentration in any major metro area in the country." – Mayor Tom Barrett, City of Milwaukee
Read the article and view the photo essay that were produced as companion features for this news report.