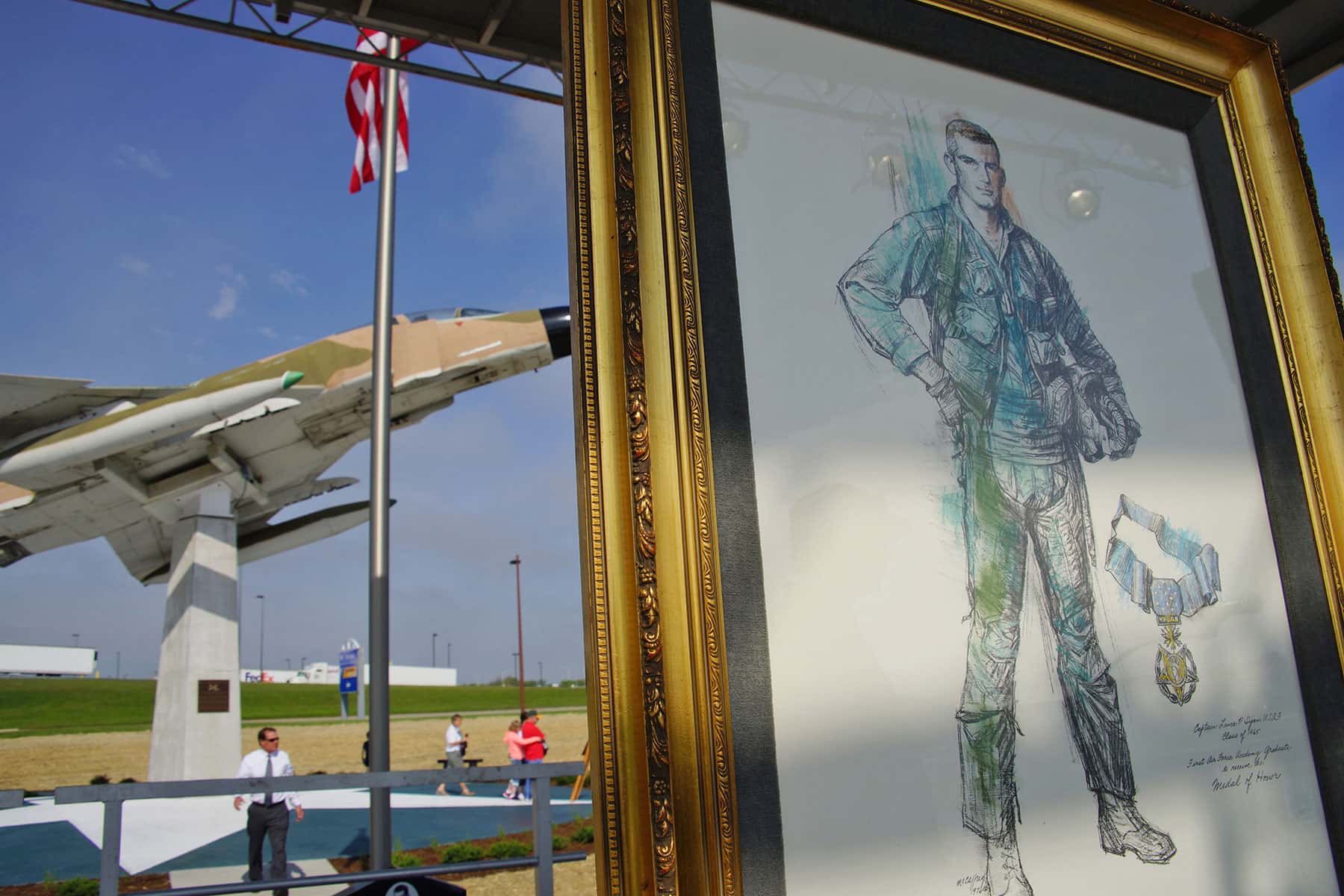 "Our boy lance continues to bring us together, 50 years later. The Lance P. Sijan Memorial Plaza is tangible evidence of what the power of faith and stewardship can do. A made-up mind is a powerful thing. Faith can move mountains, or an F-4C Phantom Jet." – Janine Sijan Rozina
The Lance P. Sijan Memorial Plaza at 5500 South Howell Avenue was officially dedicated on May 27, and sits just across from the entrance to Mitchell Airport. The international facility was named for another of Milwaukee's sons and fellow Medal of Honor recipient, Brigadier General William "Billy" Mitchell. A replica of the 15 ton supersonic aircraft that Sijan had flown in the Vietnam War, a F-4C Phantom Jet joins the WW2 era B-25 Mitchell Bomber on display.
Hundreds of former and current members of the military, along with the general public and Sijan family, gathered from across the country to attend the event, including Mayor Tom Barrett, Count Executive Chris Abele, Governor Scott Walker, Medal of Honor recipient Gary Wetzel, George Banda, Major General Donald P. Dunbar, Colonel Dan Yenchesky, and fellow POW veterans Guy Gruters and Lee Ellis.
The dedication was closed with a special aerial tribute by Team Fastrax, a professional parachute demonstration squad that has a culmination of more than 175,000 skydives. The team members made a precision landing at the edge of the plaza, to the thrill of the crowd.
These photos document a ceremony that was filled with a range of emotions. Not just sadness at the loss of Sijan, but so many more positive expressions like joy, hope, and pride for what his life stood for, and how it continued to touch friends, family, and strangers after five decades. The new Milwaukee landmark, remembering all who have served their country, stands as a silent witness that within each person is the spirit and ability to survive any hardship and to never quit.