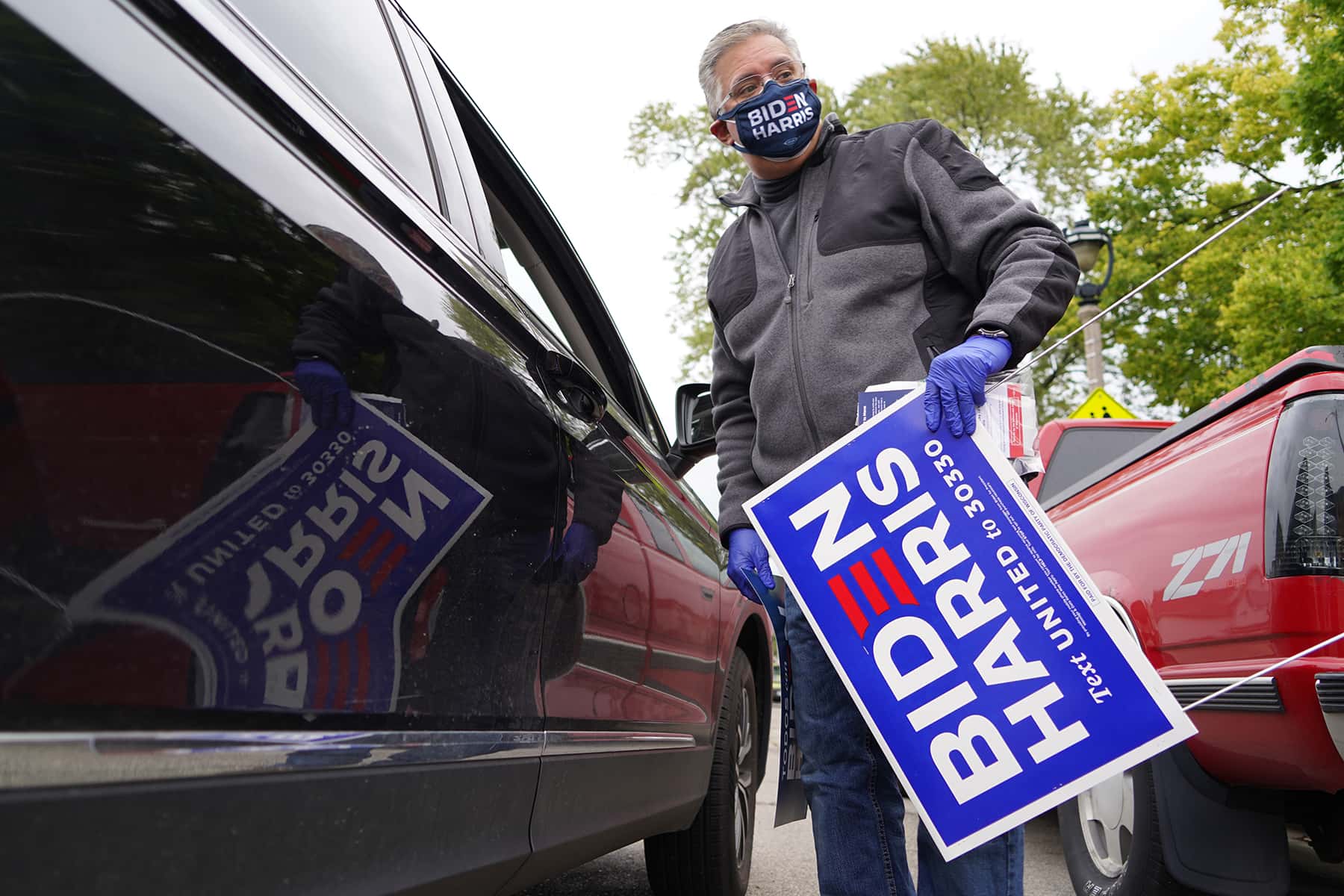 Much like sporting events where fans adorn themselves with team jerseys, neighborhoods show their political affiliation with yard signs. As with everything else in a turbulent 2020, publicly declaring support in the presidential race has been met with hostile reactions. For Milwaukee's Latino community, even such a simple endorsement comes with barriers.
Knowing that the incumbent president would seek re-election allowed the Trump campaign to deploy yard signs earlier than his Democratic rival, who did not become official until the national convention nomination – which was sort of held in Milwaukee on August 20.
As a result, Biden-Harris yard signs did not start appearing in significant clusters of local neighborhoods until early September. In a Democratic stronghold like Milwaukee, many eager supporters invested in the yard signs, which sell for between $20 and $25 on the official campaign site.
For many residents, who continue to struggle with the health burdens of COVID-19 and financial hardships from how badly the pandemic has been mismanaged, the price tag for a simple yard sign was an out of reach expense. Especially since Trump supporters have repeatedly stolen Biden-Harris yard signs in the middle of the night, and cost to replace them adds up quickly.
In late September, for example, a Vietnam veteran from Saukville had his custom-made Joe Biden sign vandalized. Such incidents continue daily in Waukesha. Reports have documented that tens of thousands of Pro-Biden signs around the country have disappeared from lawns, in some cases from entire neighborhoods.
Over the past couple weeks, the Biden campaign has distributed yard signs, placards, stickers, and buttons for free in Milwaukee. Previously, the campaign launched a pop-up distribution center for supplies at Burnham Park.
The October 3 yard sign event was held at Walker Square Park on Milwaukee's south side. Several hundred yard signs and Biden-Harris support materials were safely handed out to voters in two hours. It took place a day after Trump was rushed to the Walter Reed National Military Medical Center, when he could no longer hide the debilitating effects of his COVID-19 infection.
"The campaign began holding in-person, yet socially distanced Biden-Harris Yard Sign pick up events," said Darryl Morin, Vice Chair of Wisconsin Todos Con Biden–Harris Committee. "To ensure they are safe for the public and our volunteers, all volunteers are required to wear masks and gloves, and have their temperature monitored."
Given the importance of the Latino vote, particularly with Milwaukee's large Hispanic population, reworking the outreach program was no small endeavor for the campaign. As Democratic National Committee Chairman Tom Perez has stated repeatedly "the last presidential election in Wisconsin was lost by approximately 20,000 votes. There are over 200,000 eligible Latino voters in Wisconsin. Latinos can and will determine the outcome of the election in Wisconsin, and quite possibly the country."
The committee has had to reinvent, in real-time, all outreach efforts to the Latino community. Based on the recommendations and guidance from the Centers for Disease Control and Prevention (CDC), the committee was forced to shelve its plans to have a large network of volunteers knocking on doors throughout Wisconsin. In addition, all in-person rallies were transitioned to virtual roundtables.
"With these changes, the campaign has made record investments in Latino-targeted advertising on social media, Spanish radio and television, and in Latino serving print publications," added Morin. "Literally dozens of virtual events have been held allowing members of Wisconsin's Latino community to directly interact with campaign officials, as well as members of congress and policy experts."
The campaign has also launched the most comprehensive postal effort in history, sending mailers to Latino homes throughout the state with materials printed in both English and Spanish.
"The Joe Biden campaign has a robust organizing program in Latino communities across Wisconsin," said David Aguayo, Latino Outreach Director for the Biden-Harris campaign. "From frequent Spanish language phone and text banks with dozens of weekly volunteers, to pop-up material distribution centers on the South Side of Milwaukee, the campaign has communicated with tens of thousands of Latino voters about the clear choice in this year's election."