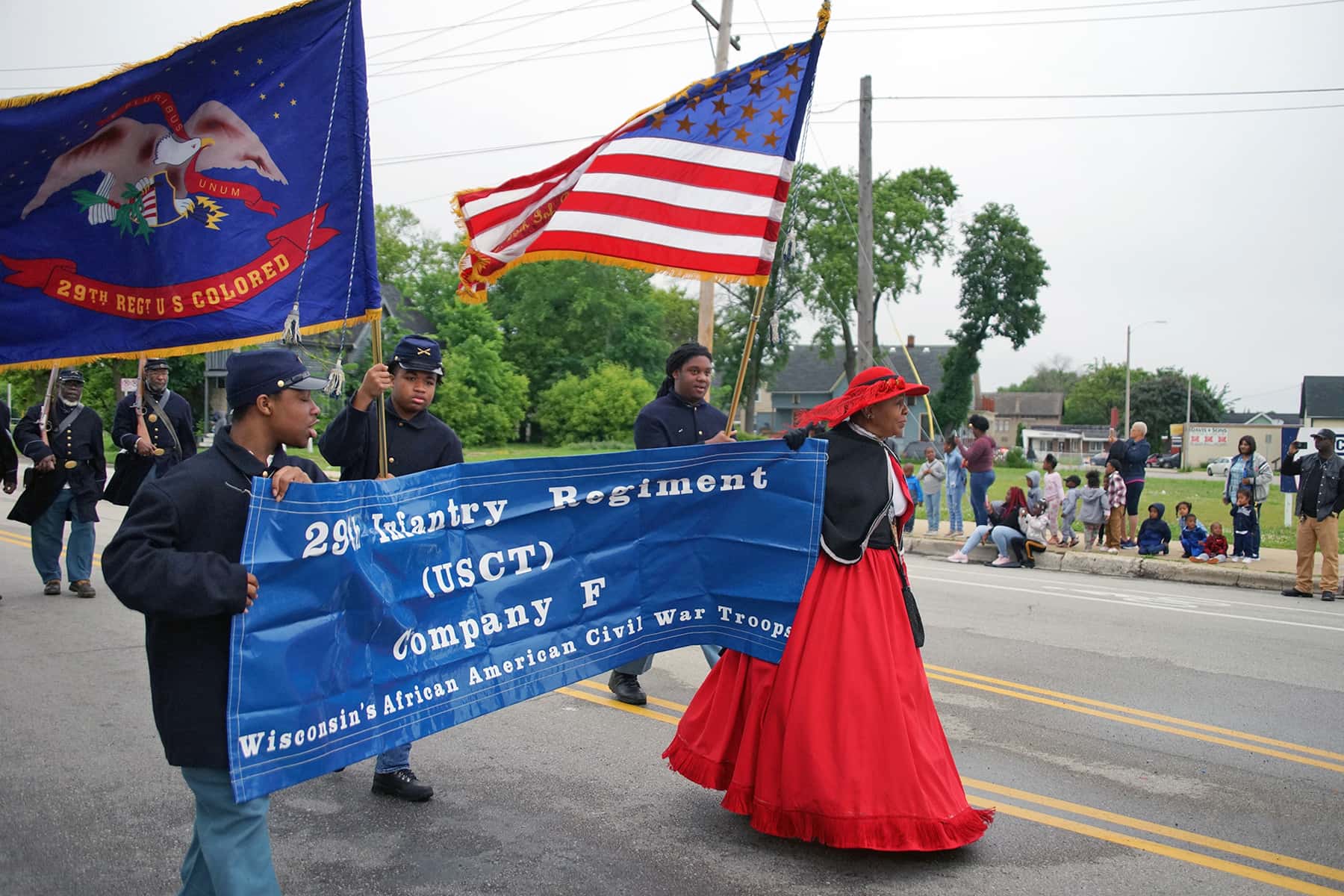 A crowd of thousands attended Milwaukee's 2019 Juneteenth Day Festival in spite of gloomy weather and bouts of rain, sharing a passionate enthusiasm and deep pride for the African American community on the day recognized as the end of slavery.
June 19 is still not recognized as a federal holiday, even though it has been celebrated for 154 years. The Civil War has no day of commemoration, like when the original 13 colonies declared independence. Yet by many criteria, Juneteenth represents a far greater struggle for freedom than July 4.
The tradition is the oldest known celebration commemorating the ending of slavery in the United States. Organized by the Northcott Neighborhood House, Milwaukee hosts one of the oldest Juneteenth Day Festivals in the country, and its popularity in recent years has grown. The local event kicked off with a mile and a half parade, that began on 19th Street and Atkinson Avenue and proceed down Dr. Martin Luther King Drive to end at Burleigh Street.
The day also marked the retirement of McArthur "Mac" Weddle, Executive Director of the Northcott Neighborhood House. Under Weddle's leadership for the past 42 years, the city's Juneteenth celebration expanded to rival cities across the nation. Established in 1961, in affiliation with the United Methodist Church, Northcott provides recreational activities for youth, educational and employment training opportunities for adults and ex-offenders, and basic necessities to families and senior citizens.
At the festival's opening ceremony, Weddle was honored with numerous awards by every level of government, from the city, county, and state. Presenting the recognition for his service were elected officials, including city common council members, county supervisors, representatives for U.S. Senator Tammy Baldwin and U.S. Congresswoman Gwen Moore, Mayor Tom Barrett, County Executive Chris Abele, Governor Tony Evers, and Lt. Governor Mandela Barnes.
Governor Evers issued a proclamation, declaring June 19th as Juneteenth Day throughout the state of Wisconsin. Juneteenth commemorates the day in 1865, where the last slaves were informed of their freedom, effectively ending slavery in the United States. June 19 was recognized as the day Union Army Major General Gordon Granger arrived in Galveston, Texas to declare the end of slavery. Although the Emancipation Proclamation was issued by President Abraham Lincoln in 1863, slavery was still an active practice in Texas and other Confederate states because of the lack of Union soldiers to enforce the proclamation.
"Juneteenth is recognized throughout the United States and Wisconsin is proud to be a part of this important day," Governor Evers said. "This is a time to recognize the struggles of African Americans in our country's modern history. While we use this time to reconcile with our past, we must also continue to make progress by moving forward in solidarity and strength."
It was the first time in recent memory that a Wisconsin governor had attended Juneteenth in Milwaukee, highlighting the fact that former Governor Scott Walker never made an appearance. The Wisconsin Legislative Black Caucus also issued a Juneteenth Day Milwaukee proclamation, thanking Weddle for his decades of service, and sharing the pride that Milwaukee stands as a model for other celebrations around the nation.
"Juneteenth is a day to celebrate African American freedom and achievement, encourage continuous self-development and respect for all cultures, and reflect on the history of slavery and the lives lost in the fight for equal rights."
The ceremony also included another first, with Police Chief Alfonso Morales and Milwaukee County Sheriff-elect Earnell Lucas joining together in friendship to align both departments to address issues of concern by the African American community. Former Sheriff David Clarke was known for his general animosity towards the public and uncooperative attitude with the Milwaukee Police Department.
The Juneteenth Day Festival also included numerous food vendors and merchants, plus information booths from a variety of agencies with support and information for the public. These images capture moments from the Juneteenth Day event, as members of the African American community attended in support of their neighborhood and cultural history.