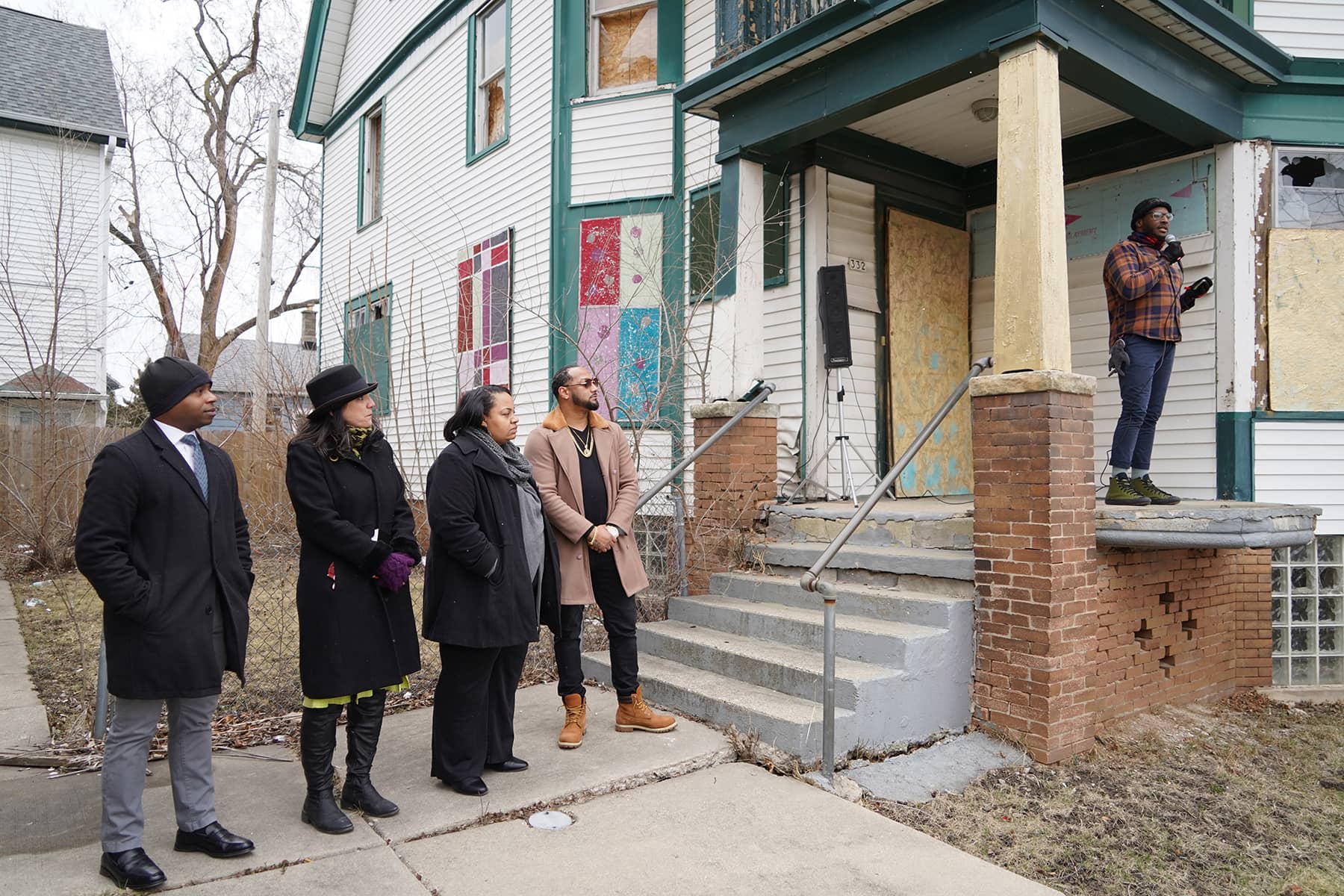 Acting Mayor Cavalier Johnson joined community partners in the Bronzeville Cultural and Entertainment District on March 26 to highlight a new development project that will offer housing and working spaces for local and visiting artists in the Harambee neighborhood.
Called HomeWorks: Bronzeville, the project is a reflection of the significant public effort in the 6th District to fuel economic growth for the area. The initiative emphasizes community development in its physical, economic, and social form by way of authentic arts and culture applications.
"I always love when members of the community and the City can collaborate to turn a blighted property into a hub that will support and uplift others," said 6th District Alderwoman Milele A. Coggs. "I want to thank all the partners and stakeholders who have helped make this project happen, and I look forward to unveiling the final product in the future."
The project involves a previously City-owned duplex at 322 W. Meinecke Avenue that will be redeveloped into a space for artists to live and work. The duplex was sold to HomeWorks: Bronzeville LLC, a local group led by artists Mikal Floyd-Pruitt, Vedale Hill, and Sara Daleiden, for $1.
The renovations will create a ground-floor studio to be utilized by CopyWrite Magazine and an upper-level living space. It will be the second development in the neighborhood for HomeWorks: Bronzeville. In 2018, the group completed its first project, a fully gutted duplex turned into a two-story space designed for Hill and family, featuring a public gallery on the lower level.
"While others build a place and then find the people, we find the people and then build the place," said Hill of Jazale's Art Studio, in discussing the need for this specific type of creative development.
The stakeholders of the initiative want to create opportunities for communal investment that have not been seen in the area since the disruption and displacement during the 1960s. The project has been a balance of infusing new momentum for urban life, without creating conditions for gentrification that destabilize existing neighbors.
"It's crucial that our shared values and aspirations frame and guide this initiative. If goals and practices aren't part of the process, they won't be part of the product. It's as simple as that," said Floyd-Pruitt.
The project is supported by the City's ARCH (Art and Resource Community Hub) Loan Program. ARCH provides matching loans of up to $25,000 to buyers of City-owned tax foreclosed properties that will be used for art related uses or as community resource centers.
"We seek to cultivate Bronzeville by concentrating on properties that surround America's Black Holocaust Museum in the Harambee neighborhood portion of the district," said Sara Daleiden. "We honor the re-emergence of the museum as a beacon for change and an archive of pertinent history for this community."
Development efforts have been focused on specific qualities that are meant to challenge traditional practices and emphasize a niche community's needs. They include retaining a creative talent pool, facilitating transferable wealth, shifting the narrative of ownership as a tool for stability and growth, and providing opportunities to increase and retain cultural value.
Mayor Johnson lived for a time in his youth a few blocks away from the project location, between 6th Street and Clarke Street. He remembered waking to the area to reach the Walgreens that had once been on North Avenue. He said that many of the nearby properties were vacant for some time, and the blight was not just in that neighborhood.
"When you're a young person of color in Milwaukee, you see things like this going on so often. You start to internalize that, you begin to think it's normal, and it's not." said Mayor Johnson. "So partnerships like this are working to transform these blighted properties into spaces where young people, particularly the folks who live in neighborhoods like this across the city, can be proud and welcome the next phase of what our economy needs to be in Milwaukee."
Because it was unlikely that one company was going to move to the area and create 20,000 heavy manufacturing jobs, Mayor Johnson said that new ways needed to be created to get folks involved. Such efforts would bring opportunities to people, allowing experience and culture grow together.