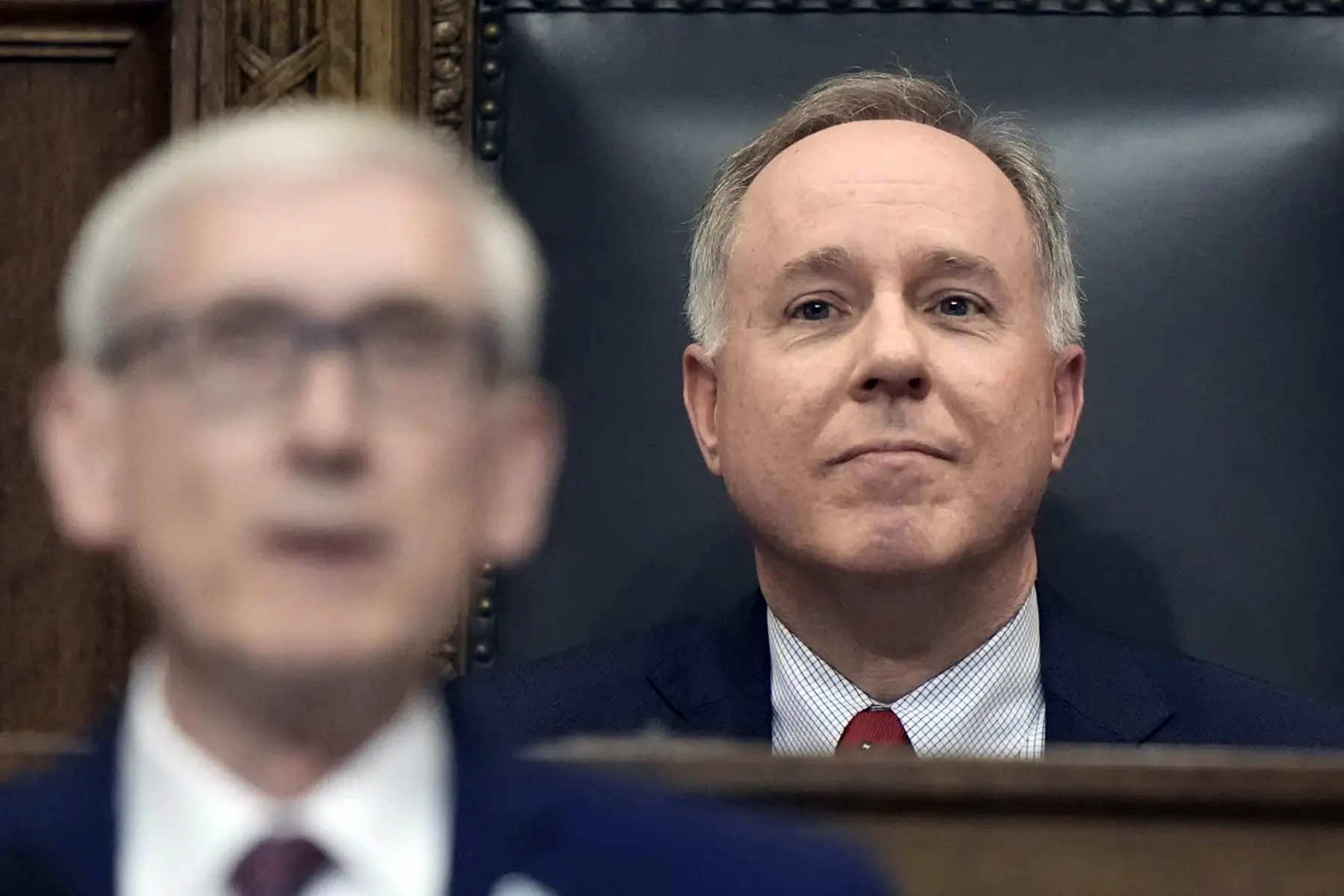 Even before the newly elected justice who gave liberals a one-seat majority on the Wisconsin Supreme Court has heard a case, Republican lawmakers have been making threats to take the unprecedented step of impeaching and removing her from office. And because of gerrymandering, they have the votes to do it.
Republicans worry that the legislative districts they drew 12 years ago, which are widely viewed as among the most gerrymandered in the country, will be undone in one of the court's first actions under liberal control.
Several groups that support Democracy brought two lawsuits in the first week of newly elected Justice Janet Protasiewicz's term asking the new liberal-controlled court to toss the maps. They waited to bring the challenges until after Protasiewicz started her 10-year term the court on August 1, flipping majority control to 4-3 liberals for the first time in 15 years.
The moves came after Protasiewicz said during her winning campaign that the maps are "rigged," "unfair" and should be reviewed. Republicans argue that she cannot fairly hear the redistricting lawsuits.
"When you're saying that one side has rigged maps, you have made a decision that maps in her opinion are biased, which is the point of the whole case," Republican Assembly Speaker Robin Vos said on August 31.
Vos and fellow Republicans who control the Legislature asked to intervene in the redistricting lawsuits, arguing that Protasiewicz must recuse herself because she has prejudged the cases. Those who brought the lawsuits argue that Republicans are trying to nullify the results of the election, which Protasiewicz won by 11 percentage points.
"Those who unconstitutionally locked themselves into control over the legislature are apoplectic that they cannot gerrymander the court," attorney Jeffrey Mandell, who is part of a coalition that filed one of the lawsuits, posted on social media on August 31. "They're trying, again, to undo the will of Wisconsin voters and preserve their illegitimate power at all costs."
Protasiewicz did not make any "pledges or promises" about how she would rule, which would require recusal, attorneys in the other redistricting lawsuits argued this week in a filing that seeks to keep her from stepping aside.
Even as Vos and other lawmakers talk about impeachment, Vos said he still has not decided whether to proceed.
"I want to do legal research and see if this is unprecedented," he said. "I'm not saying it's definitely happening. But we have to take a look at it."
Republicans have a 64-35 majority in the Assembly and it would only take 50 votes to impeach. They control 22 of the 33 seats in the state Senate, giving them exactly the number they'd then need to convict and remove Protasiewicz from office.
If the Assembly impeached her, Protasiewicz would be barred from taking any actions as a justice until the Senate acted. That could effectively stop her from voting on redistricting without removing her from office and creating a vacancy that Democratic Governor Tony Evers would fill.
The day after Protasiewicz was elected, Wisconsin Senate Majority Leader Devin LeMahieu seemed to cast doubt on the Senate moving ahead with impeachment.
"To impeach someone, they would need to do something very serious," LeMahieu said. "We are not looking to start the impeachment process as a regular occurring event in Wisconsin."
LeMahieu has kept quiet about the matter of late, even as other lawmakers have spoken out about the impeachment possibility.
The Legislature has voted only once to impeach a state judge. It happened in 1853, just five years after statehood, and the state Senate did not convict. The Wisconsin Constitution limits the reasons to impeach a sitting officeholder to corrupt conduct in office or the commission or a crime or misdemeanor, according to the Wisconsin Legislative Council, nonpartisan attorneys who advise the Legislature.
Given the lack of precedent, it is "super hard to predict," what might happen in this case, said Chad Oldfather, a Marquette University Law School professor.
"There's so much unchartered territory that's involved in this," he said. "It's unclear what the standards are."
For example, Oldfather said, legal challenges could be brought in state or federal court over what is an impeachable offense and whether whatever action the Legislature takes is legal. Mixed in are political calculations on whether and how to proceed, he said.
"It's a mess, is what it is," Oldfather said.
The fight over redistricting, and possible impeachment, comes amid public and private fighting among the justices. In their first week in power, liberal justices fired the conservative state court director and weakened the powers of conservative Chief Justice Annette Ziegler.
The court has yet to hear its first case of the term. Oral arguments in that case, over whether a couple must be married to adopt a child, are set for September 11. The state Supreme Court has not decided if it will hear the redistricting challenges.