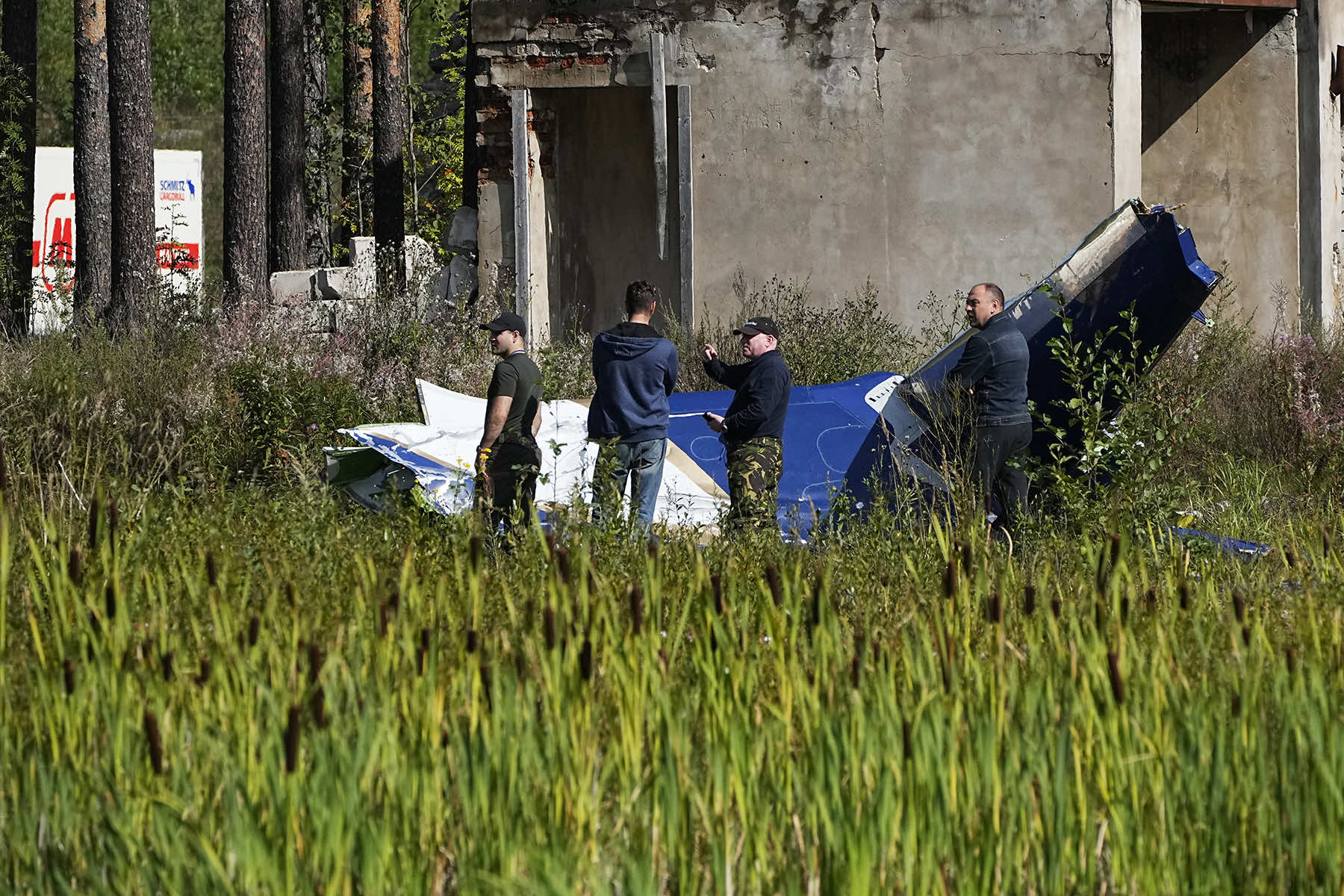 When Yevgeny Prigozhin launched his armed rebellion that challenged the Kremlin, Western officials predicted Russian President Vladimir Putin would seek vengeance against the mercenary leader.
Two months to the day after the action that Putin labeled a "stab in the back" and "treason," those forecasts seem to have come true, in ruthless and menacing fashion.
Although authorities have not yet confirmed the deaths of Prigozhin and his top lieutenants from the Wagner private military contractor in the August 23 plane crash northwest of Moscow, it sent an immediate chill through Russian official circles.
Even amid the uncertainty, the message was clear: Anyone who dares to cross the Kremlin will perish.
But even as the crash worked to restore an image of Kremlin authority that was badly crippled by the Prigozhin mutiny, it also sowed confusion and anger among Russian hard-liners, heralding perhaps other challenges to Putin as the war in Ukraine marked its 18th month.
Many see the events as a sign of an intensifying government meltdown.
"It's not a state, it's not Russia. It's just one sprawling mafia, one tentacle of which is colliding with others," said Dmitry Oreshkin, a professor at Free University in Riga, Latvia.
A preliminary U.S. intelligence assessment concluded that an intentional explosion caused the plane crash presumed to have killed a mercenary leader who was eulogized on August 24 by Vladimir Putin, even as suspicions grew that the Russian dictator was the architect of the assassination.
One of the U.S. and Western officials who described the initial assessment said it determined that Yevgeny Prigozhin was "very likely" targeted and that the explosion falls in line with Putin's "long history of trying to silence his critics."
Numerous opponents and critics of Putin have been killed or gravely sickened in apparent assassination attempts, and U.S. and other Western officials long expected the Russian leader to go after Prigozhin, despite promising to drop charges in a deal that ended the June 23-24 mutiny.
"It is no coincidence that the whole world immediately looks at the Kremlin when a disgraced ex-confidant of Putin suddenly falls from the sky, two months after he attempted an uprising," said German Foreign Minister Annalena Baerbock, while acknowledging that the facts were still unclear.
"We know this pattern … in Putin's Russia — deaths and dubious suicides, falls from windows that all ultimately remain unexplained," she added.
Ukrainian President Volodymyr Zelenskyy also pointed the finger: "We have nothing to do with this. Everyone understands who does."
The officials, who spoke on the condition of anonymity because they were not authorized to comment, did not offer any details about what caused the explosion, which was widely believed to be vengeance for the mutiny in June that posed the biggest challenge to the Russian leader's 23-year rule. Several of Prigozhin's lieutenants were also presumed dead.
Pentagon spokesman General Pat Ryder said press reports that a surface-to-air missile took down the plane were inaccurate. He declined to say whether the U.S. suspected a bomb or believed the crash was an assassination.
Details of the intelligence assessment surfaced as Putin expressed his condolences to the families of those who were reported to be aboard the jet and referred to "serious mistakes" by Prigozhin.
The Institute for the Study of War argued that Russian authorities likely moved against Prigozhin and his top associates as "the final step to eliminate Wagner as an independent organization."
Abbas Gallyamov, a former speechwriter for Putin turned political consultant, said by carrying out the mutiny and remaining free, Prigozhin "shoved Putin's face into the dirt in front of the whole world."
Failing to punish Prigozhin would have offered an "open invitation for all potential rebels and mutineers," so Putin had to act, Gallyamov said.
He added that it could have taken two months to act because Prigozhin was well-protected by his security and Russian spy agencies were waiting for the right opportunity.
"They could have worked on it for a long time and had the opportunity only now," Gallyamov said.
Videos shared by the pro-Wagner Telegram channel Grey Zone showed a plane dropping like a stone from a large cloud of smoke, twisting wildly as it fell, one of its wings apparently missing. A free fall like that typically occurs when an aircraft sustains severe damage. A frame-by-frame analysis of two videos was consistent with some sort of midflight explosion.
While authorities are unlikely to announce the cause of the crash anytime soon, Prigozhin's plane was seen plummeting from a large cloud of smoke, twisting wildly and missing a wing. One witness said the jet "exploded in the sky" and "something sort of was torn from it in the air."
Some Russian media speculated it was brought down by a bomb. Prigozhin's supporters claimed on their messaging app channels that it was shot down by an air defense system, bluntly accusing authorities of assassinating him. None of the allegations cited any evidence.
Oreshkin said the downing of a private jet seemed to be a strong message to scare Russian elites into submission.
"This is a demonstrative action," he said. "Prigozhin could have been quietly poisoned and he would have died of a heart attack, like many previous opponents of Putin or his generals. But apparently it was intended to serve as a show of uncompromising control over the situation."
Other Kremlin critics have died from poisoning in what the Russian opposition and the West described as targeted killings that had Putin's blessing, but none has been known to have perished in an air accident.
While acknowledging that all the facts are still unclear, German Foreign Minister Annalena Baerbock said, "the whole world immediately looks at the Kremlin when a disgraced ex-confidant of Putin suddenly falls from the sky, two months after he attempted an uprising."
Western officials had believed Prigozhin's days were numbered ever since the mutiny, noting that Putin would never forgive the humiliation.
For Putin "revenge is a dish best served cold," CIA Director William Burns said in July, describing the Russian leader as "the ultimate apostle of payback."
Prigozhin's jet was tracked flying among the cities of Moscow, St. Petersburg, and Belarus in the weeks following the mutiny, and Wagner had raised its profile in Africa, a hectic activity that led to speculation Putin considered the 62-year-old mercenary leader who over the years had won lucrative Kremlin contracts too valuable to discard quickly.
Prigozhin recently released a video purportedly from an unknown desert location, claiming Wagner was "making Russia even greater on all continents, and Africa even more free." His mercenaries have been especially active in several African countries in recent years, extending Russia's influence and enriching it with mineral wealth.
Some Russian media claimed Prigozhin could have hoped to persuade Putin to entrust him with expanding those projects, even though the Defense Ministry apparently sought to take them over. Others pointed out that he might have violated the deal with the Kremlin by trying to continue his business activities in Russia and boasting about his exploits in Africa in the latest video.
Alexander Baunov of the Carnegie Endowment said it was a signature tactic of dictatorial regimes to "bring an enemy or a traitor closer before destruction," as criminal clans do.
Oreshkin said authorities might have opted for using the plane crash to decapitate Wagner to prevent any threat his lieutenants might pose.
"It is clear that just removing one person is not enough, you need to remove his key people, because they probably had a Plan B in case of losing their boss," he said. "Therefore, the ideal option is to eliminate them all together, which, in fact, happened."
Those on the flight manifest included Dmitry Utkin, a former military intelligence officer who directed Wagner's operations, and Valery Chekalov, its security chief.
Alexei Mukhin, a pro-Kremlin political expert, said the crash gave Putin a "demonic aura that his opponents won't be able to ignore," noting that Kremlin foes abroad will feel increasingly unsafe.
Reports said General Sergei Surovikin, who had links with Prigozhin, was dismissed as air force chief following what Russian media described as a two-month investigation into his possible connection to the mutiny — a signal authorities were methodically trying to uproot any dissent in the ranks.
While the jet crash certainly sent a message of toughness, Oreshkin warned it could have mixed results, creating confusion among hard-liners who admired Wagner's role in Ukraine and lauded Prigozhin's criticism of the military brass.
Roman Saponkov, a military blogger who had supported Prigozhin, predicted it will have "catastrophic consequences."
"People who issued that order don't understand the sentiments in the military," he said.
Some Kremlin supporters sought to shift blame for the crash to Ukraine, without offering evidence.
Sergei Markov, a pro-Kremlin political analyst, alleged Kyiv authorities were behind it to rally support on the country's Independence Day, celebrated on August 24.
"It was Ukraine that killed Prigozhin," Markov said. "Prigozhin wasn't a problem for Putin."
But Ukrainian President Volodymyr Zelenskyy said his country had "nothing to do with this. Everyone understands who does."
Wagner was one of the most capable elements of Russia's forces but it has stopped playing any role in Ukraine after capturing the eastern stronghold of Bakhmut in May. Its remnants probably will be incorporated into the Russian military and lose much of their capability.
"It was the most capable Russian military unit that fought in Ukraine," Gallyamov said. "It's quite obvious that now after it's put under control of the incompetent top military brass, Wagner won't stand out from others."
Early expectations of victory in Ukraine gave way to increasing public fatigue in Russia, and "now the phase of disappointment begins, which will last a few months and appears irreversible," Oreshkin said.
President Joe Biden, speaking to reporters on August 24, said he believed Putin was behind the crash, though he acknowledged that he did not have information verifying his belief.
"I don't know for a fact what happened, but I'm not surprised," Biden said. "There's not much that happens in Russia that Putin's not behind."
At Wagner's headquarters in St. Petersburg, lights were turned on in the shape of a large cross, and Prigozhin supporters built a makeshift memorial, piling red and white flowers outside the building on August 24, along with company flags and candles.
In his first comments on the crash, Putin said the passengers had "made a significant contribution" to the fighting in Ukraine.
"We remember this, we know, and we will not forget," he said in a televised interview with the Russian-installed leader of Ukraine's partially occupied Donetsk region, Denis Pushilin.
Putin recalled that he had known Prigozhin since the early 1990s and described him as "a man of difficult fate" who had "made serious mistakes in life, and he achieved the results he needed — both for himself and, when I asked him about it, for the common cause, as in these last months. He was a talented man, a talented businessman."
Even if confirmed, Prigozhin's death probably would not have an immediate impact on the battlefield, but it reflects escalating Russian infighting that could result in growing public dismay and eventually weaken Moscow's hand in the conflict.