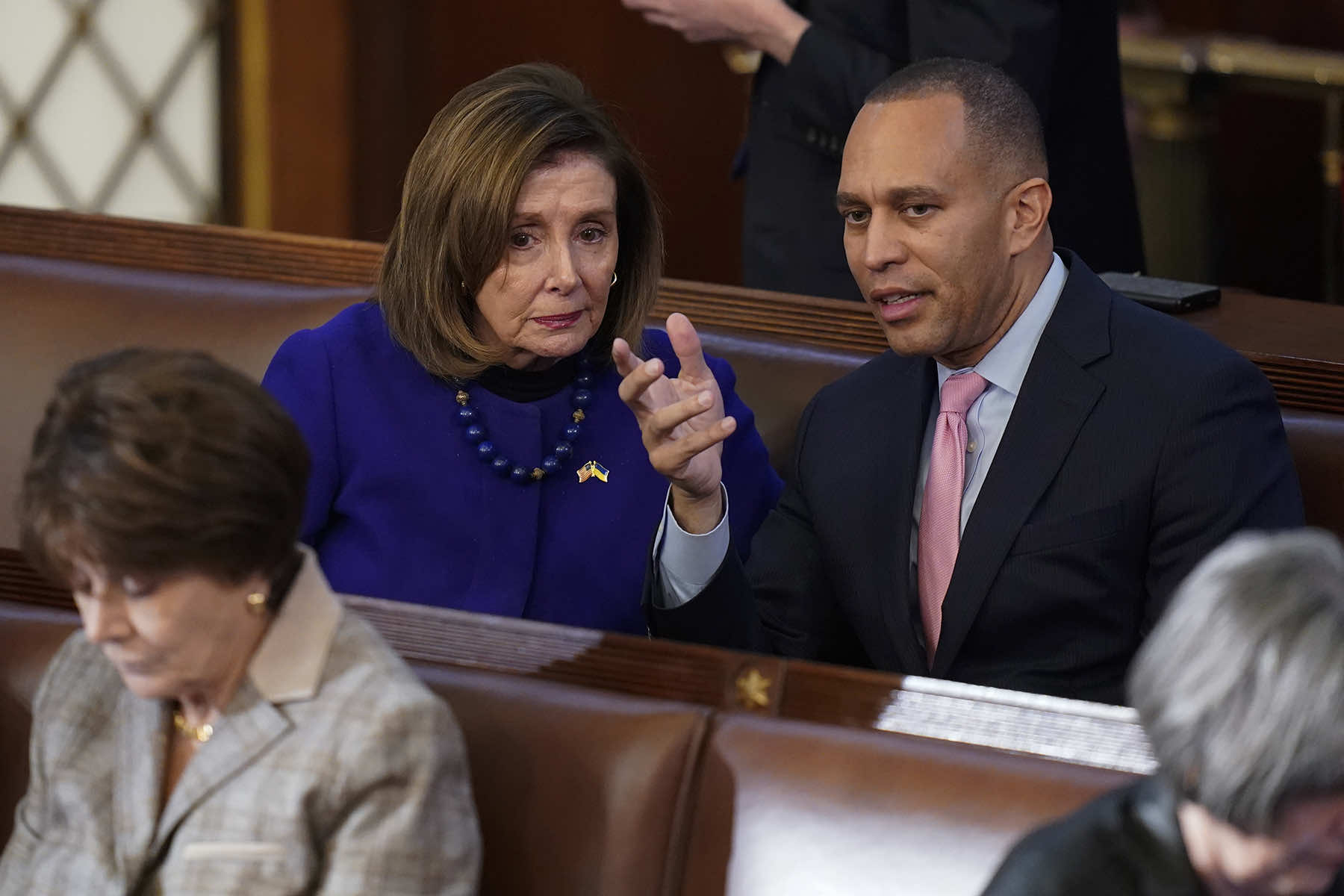 The infighting was so intense a year ago that Democrats who controlled both the White House and Congress could not win support for a sweeping social spending package that was the party's top legislative priority. President Joe Biden, meanwhile, was viewed skeptically enough that some of his fellow Democrats questioned the wisdom of him seeking reelection. What a difference a year makes.
Speculation about Biden's political future has quieted after Democrats outperformed expectations during the November midterm elections. His toughest critics on the left are signaling they would work to help him secure a second term.
And perhaps most notably, last year's dissent on Capitol Hill melted away over the past week as every Democrat voted — repeatedly — in support of Hakeem Jeffries for the House speakership. That was the type of showing Republican Kevin McCarthy could only long for as he worked through 15 votes over four bruising days to finally win backing from his party to take the gavel.
That unity is a shift for a Democratic Party built on fragile electoral coalitions that often begin to fray when it's time to govern. But the dynamic was a tonic of sorts for lawmakers otherwise unhappy to be shifting to the House minority and spurred optimism that the party could stick together heading into the next campaign, when both Congress and the White House are at stake.
"It's a very powerful feeling," New Hampshire Democratic Rep. Annie Kuster said of Jeffries receiving all 3,179 votes for speaker of the 3,179 cast by his party's House members. "It's sort of a championship moment."
Of course, the unity may not prove sustainable. It will get an immediate test as the Department of Justice investigates potentially classified documents found in the Washington office space of Biden's former institute — which Republicans are likening to federal authorities probing of former President Donald Trump keeping hundreds of such records at his Florida club.
Tensions could also come from fellow Democrats on policy issues like immigration, police reform, raising the minimum wage, expanding voting rights and better protecting access to abortion — all areas where the party's progressive wing would like to see Biden and the establishment do more.
Joseph Geevarghese, executive director of the progressive advocacy group Our Revolution, said grassroots activists and elected officials around the country understand the strategic value of the party holding firm during so many House speaker votes.
But he warned that it may not last.
"I don't think this show of unity should create any illusion that progressives are going to pull their punches," Geevarghese said. "There's an old organizing adage, 'No permanent allies, no permanent enemies, only permanent interests.'"
Indeed, McCarthy alluded to how hard it will be for Democrats to stave off eventual dissent within their own ranks, joking, "Hakeem, I've got to warn you: Two years ago, I got 100% of the vote from my conference." That recalled House Republicans uniformly opposing Democrat Nancy Pelosi as speaker in 2021, when doing so was easier than settling on someone to actually run the House.
Still, former New York Rep. Steve Israel, who was a top Pelosi adviser, predicted that additional divisions within the House GOP would make it easier for Democrats to find common ground.
"I expect that House Republicans will pursue a vitriolic agenda that pleases their own base and that will keep Democrats united for the next two years," said Israel, who headed the House Democratic campaign arm from 2011 to 2015 and now directs the Cornell University Institute of Politics and Global Affairs.
That's a far cry from early last year, when Democratic congressional disagreements derailed Build Back Better, an environmental and social spending proposal that was supposed to be the centerpiece of Biden's domestic agenda.
The president later salvaged some of that package's green energy and health care priorities via a major spending bill. He also scored key victories on a bipartisan infrastructure package, new gun safety regulations and bolstering U.S. technology manufacturing.
Democrats additionally made progress in expanding Medicaid for the poorest children, capping insulin prices for Medicare recipients and giving Medicare the ability to negotiate drug pricing — all of which seemingly satiated many progressives, at least for now.
The party did that despite having a House majority about as razor-thin as the one that left Republicans unable to settle on a speaker for so long last week. Jeffries has also been part of the Progressive Congressional Caucus, but that hasn't prevented other disagreements from surfacing.
Rep. Pramila Jayapal, D-WA, head of the progressive House caucus, has already co-authored a statement calling "unacceptable" a Biden administration announcement that it would continue enforcing Title 42, the emergency powers that allows officials on the U.S.-Mexico border to quickly turn away migrants, amid court orders.
Rep. Ruben Gallego, D-AZ, also is gearing up for a primary challenge against incumbent Sen. Kyrsten Sinema, who recently left the Democratic Party to become an independent, because of her past opposition progressive legislation.
Vermont Sen. Bernie Sanders, an independent who launched Democratic presidential primary challenges from the left against Biden in 2020 and Hillary Clinton in 2016, has vowed to campaign against his own colleagues, promising to try to defeat Sinema and moderate West Virginia Democratic Sen. Joe Manchin.
Sanders hasn't ruled out a third White House run but plans to support Biden if he runs — and the party appears to be coalescing around the president, whose aides and allies are preparing for a reelection run, even though one hasn't yet been formally announced.
That's despite Biden being the oldest president in U.S. history and remaining unpopular, with just 43% job approval rating — even after Democrats' strong midterm elections showings. One progressive group isn't onboard, paying for a national cable TV spot and mobile billboard circulating between the White House and U.S. Capitol proclaiming, "Don't Run, Joe."
But Rep. Ro Khanna, D-CA, a rising star on the left and possible future presidential contender, said that what he's telling "my friends on the progressive side is it's in our interest to have the president succeed as much as possible, and then we can argue about what the future is post Biden."
"I definitely want to be part of the conversation about the future of the party," Khanna said. "And I know probably that conversation starts in 2028."
Geevarghese struck a similar, conciliatory tone, saying Our Revolution has enjoyed a strong working relationship with Biden despite it having grown out of Sanders' 2016 White House bid.
"There's a conversation that's been happening where progressive feel like we have an opening with Joe Biden to press our priorities," Geevarghese said. "We may not win everything. But we're a partner in the process."