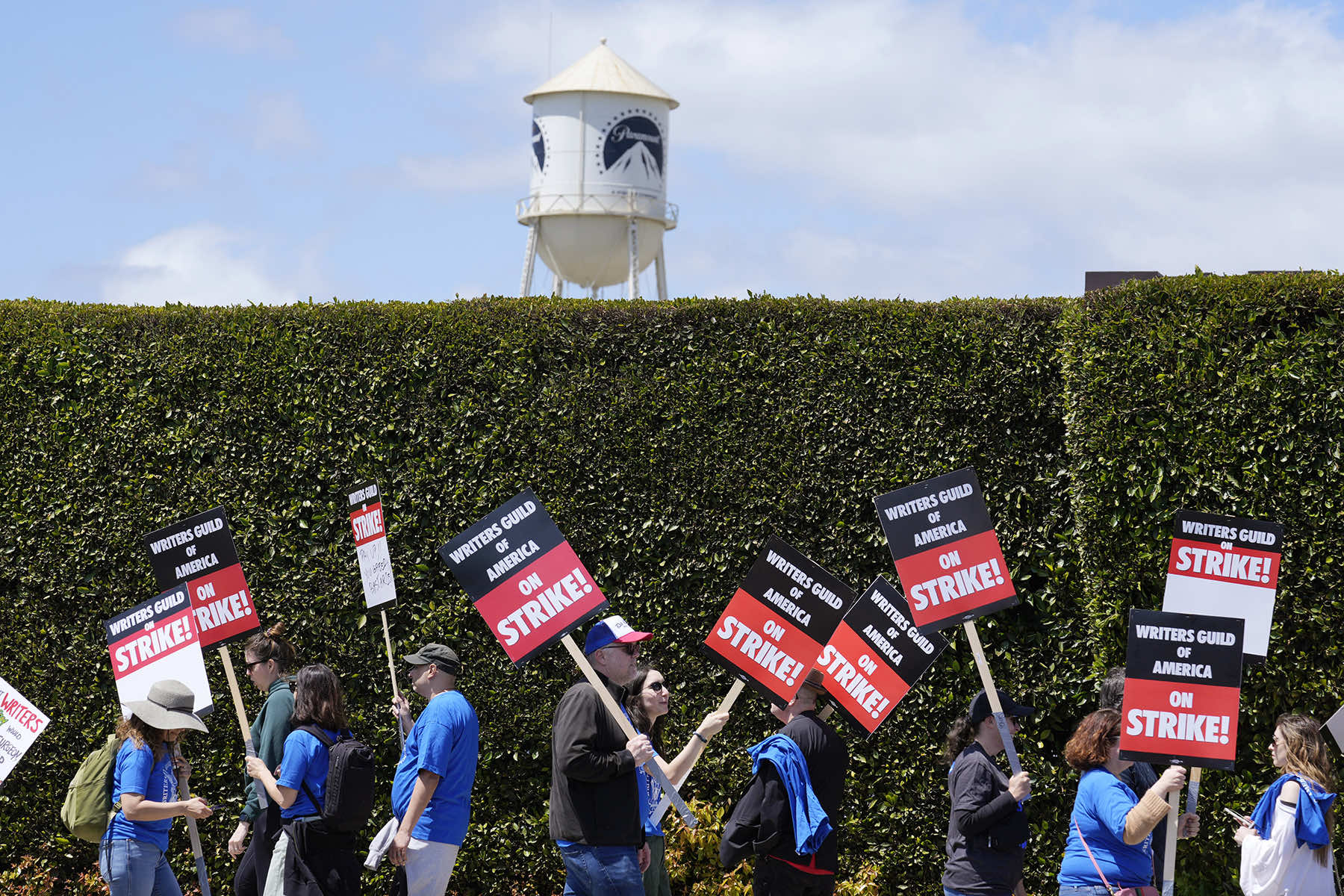 The first Hollywood strike in 15 years began on May 2 as the economic pressures of the streaming era prompted unionized TV and film writers to picket for better pay outside major studios, a work stoppage that already is leading most late-night shows to air reruns.
"No contracts, no content!" sign-carrying members of the Writers Guild of America chanted outside the Manhattan building where NBCUniversal was touting its Peacock streaming service to advertisers.
Some 11,500 film and television writers represented by the union put down their pens and laptops after failing to reach a new contract with the trade association that represents Hollywood studios and production companies.
The union is seeking higher minimum pay, more writers per show and shorter exclusive contracts, among other demands — all conditions it says have been diminished in the content boom driven by streaming.
"There's too much work and not enough pay," said demonstrator Sean Crespo, a 46-year-old writer whose credits include the former TBS show "Full Frontal With Samantha Bee."
The labor dispute could have a cascading effect on TV and film productions depending on how long the strike lasts, and it comes as streaming services are under growing pressure from Wall Street to show profits.
Late-night television was the first to feel the fallout, just as it was during the 2007 writers strike that lasted for 100 days.
All of the top late-night shows, which are staffed by writers that pen monologues and jokes for their hosts, immediately went dark. NBC's "The Tonight Show," Comedy Central's "Daily Show," ABC's Jimmy Kimmel Live," CBS's "The Late Show" and NBC's "Late Night" all made plans for reruns through the week.
NBC's "Saturday Night Live," which had been scheduled to air a new episode, also went dark with reruns instead.
"Everyone including myself hope both sides reach a deal. But I also think that the writers' demands are not unreasonable," host Stephen Colbert said on the May 1 "Late Show."
"This nation owes so much to unions," Colbert said. "Unions are the reason we have weekends, and by extension why we have TGI Fridays."
Playwright Tony Kushner ("The Fabelmans") and "Dopesick" creator Danny Strong were among those demonstrating in New York recently.
The strike's impact on scripted series and films will take longer to notice. If a strike persisted through the summer, fall TV schedules could be upended. In the meantime, those with finished scripts are permitted to continue shooting.
During the 2007 strike, late-night hosts eventually returned to air and improvised their way through shows. "Tonight" show host Jay Leno angered WGA leadership when he began writing his own monologues.
One late-night show will not go dark. Fox News' "Gutfeld!" with Greg Gutfeld will continue airing new episodes, Fox said.
The Alliance of Motion Picture and Television Producers, which represents studios and productions companies, said it presented an offer with "generous increases in compensation for writers as well as improvements in streaming residuals."
The trade association said in a statement that it was prepared to improve its offer "but was unwilling to do so because of the magnitude of other proposals still on the table that the guild continues to insist upon."
A shutdown has been widely forecast for months. The writers last month voted overwhelmingly to authorize a strike, with 98% of membership in support. Writers say their pay isn't keeping pace with inflation, TV writer rooms have shrunk too much and the old calculus for how residuals are paid out needs to be redrawn.
Streaming has exploded the number of series and films that are annually made, meaning more jobs for writers. But writers say they're making less than they used to while working under more strained conditions. The WGA said "the companies' behavior has created a gig economy inside a union workforce."
The union is seeking more compensation for writers up front. That's because many of the payments writers have historically profited from on the back end — like syndication and international licensing — have been largely phased out by the onset of streaming.
The studios' trade association said that the primary sticking points to a deal revolved around so-called mini-rooms — the guild is seeking a minimum number of scribes per writer room — and the duration of employment contracts.
The writers' union says more flexibility is needed for writers at a time when they're contracted for series that tend to be shorter-lived than the once-standard 20-plus episode broadcast season. They are also seeking more regulation around the use of artificial intelligence, which writers say could give producers a shortcut to finishing a WGA writer's work.
"Understand that our fight is the same fight that is coming to your professional sector next: it's the devaluing of human effort, skill, and talent in favor of automation and profits," said the writer-director Justine Bateman.
Many studios and production companies are slashing spending. The Walt Disney Co. is eliminating 7,000 jobs. Warner Bros. Discovery is cutting costs to lessen its debt. Netflix has pumped the brakes on spending growth.
With a walkout long expected, writers have rushed to get scripts in and studios have sought to prepare their pipelines to keep churning out content for at least the short term. But the loss to local economies can be considerable. Los Angeles is estimated to have lost $2.1 billion in economic output during the last strike.
"We're assuming the worst from a business perspective," David Zaslav, chief executive of Warner Bros. Discovery, said last month. "We've got ourselves ready. We've had a lot of content that's been produced."
Overseas series could also fill some of the void. "We have a large base of upcoming shows and films from around the world," Ted Sarandos, Netflix co-chief executive, said on the company's earnings call in April.
The WGA strike may only be the beginning. Contracts for both the Directors Guild of America and SAG-AFTRA, the actors union, expire in June. Some of the same issues around the business model of streaming will factor into those bargaining sessions.
The actors' union encouraged its members to join the writers' picket lines in solidarity.