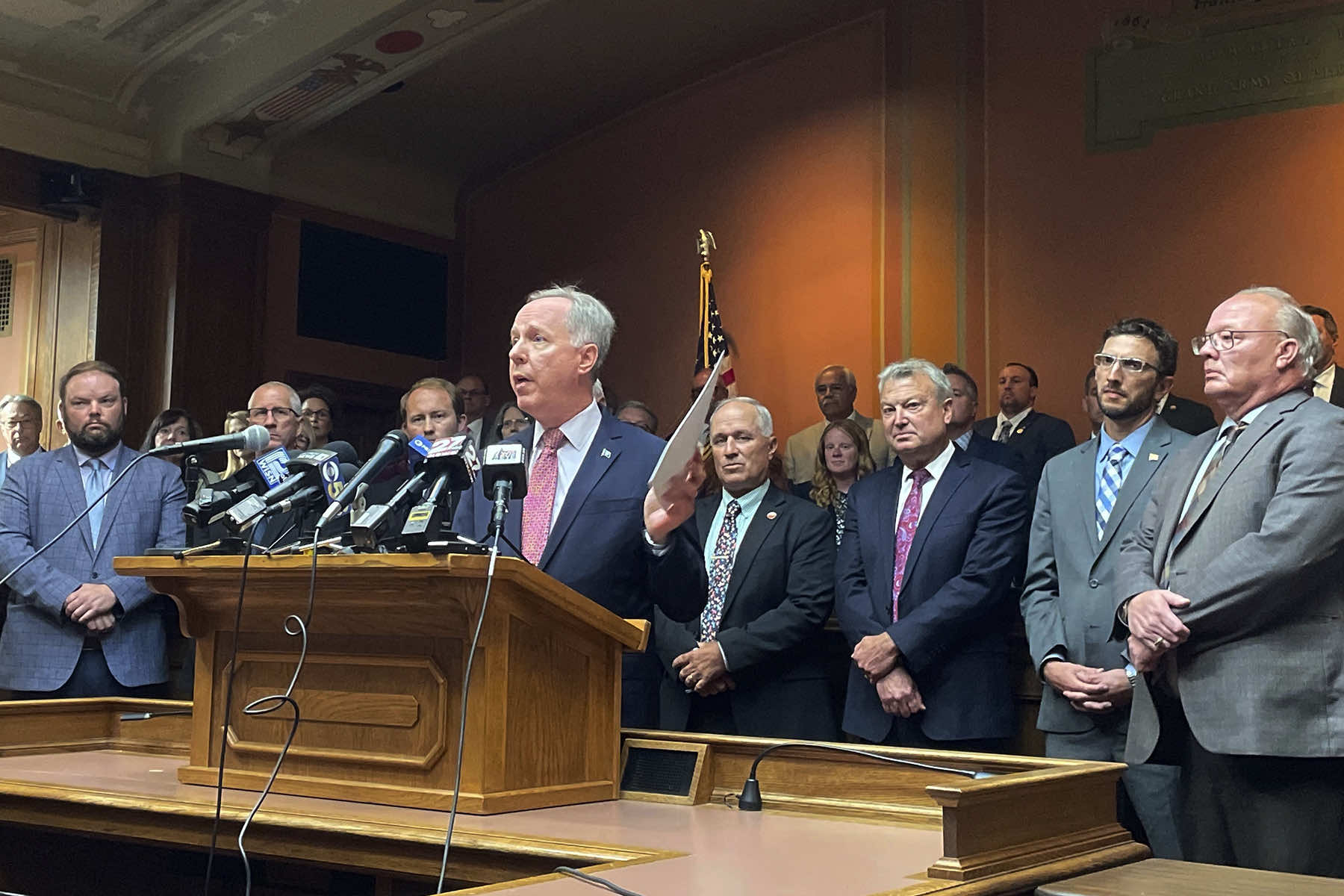 Wisconsin Governor Tony Evers shot down as "bogus" a surprise plan Republicans floated on September 12 that would have the Legislature approve new maps drawn by nonpartisan staff, preempting the state Supreme Court from tossing the current GOP-drawn boundaries.
The Republican move comes as Wisconsin justices are considering two Democratic-backed lawsuits seeking to toss the current maps, first enacted in 2011, that are among the most gerrymandered in the country and have helped Republicans increase their majority.
Republicans have long opposed plans put forward by Democrats to enact a nonpartisan redistricting process. But now, faced with the likelihood that the liberal-controlled state Supreme Court was going to throw out their maps ahead of the 2024 election, Republicans proposed enacting a new system modeled after neighboring Iowa.
Evers came out against the plan that he would have to sign in order for it to become law.
"Republicans are making a last-ditch effort to retain legislative control by having someone Legislature-picked and Legislature-approved draw Wisconsin's maps," Evers said in a statement. "That is bogus."
Under the bill, the maps would be drawn by the Legislative Reference Bureau, nonpartisan staff who work for the Legislature. Legislators would then vote up or down on the plan, and if passed it would then go to the governor for final approval.
The maps drawn could not favor a political party, incumbent legislator, or other person or group, according to the bill.
"Assembly Speaker Robin Vos announced that Republicans in the Assembly plan to introduce Iowa-style redistricting in Wisconsin," said State Senator Jeff Smith. "It's desperate and disingenuous to call for nonpartisan redistricting now, after signing secrecy oaths to gerrymander our state in 2011 and fighting tooth and nail to bake their distorted maps into law in the most recent redistricting effort.
Senator Smith said that it was up to the Supreme Court to solve the complex constitutional issues relating to redistricting, and to fix the districts in the meantime. Any redistricting model had to be one that completely removed the decision from the state legislature
"This legislature cannot be trusted to draw their own maps, after more than a decade of serving their own self-interest," added Senator Smith.
Governor Evers echoed that assessment by saying the Wisconsin Legislature "cannot be trusted to appoint or oversee someone charged with drawing fair maps."
"Wisconsinites deserve a redistricting process that's free of partisanship and interference from politicians, and it's never been clearer that today's Legislature cannot be trusted with that important responsibility," Evers said.
State Senator Mark Spreitzer said it was disingenuous for Republicans to propose the plan after years of fighting nonpartisan redistricting.
"Speaker Vos doesn't do anything unless it benefits him and his gerrymandered Republican majority," Spreitzer said in a statement.
Vos said he preferred the current system for drawing maps, which gives full authority to the Legislature. He and other Republicans have also threatened the possibility of impeachment if newly elected Justice Janet Protasiewicz did not recuse from the redistricting cases.
Protasiewicz's win in April flipped majority control of the court from conservative to liberal for the first time in 15 years.