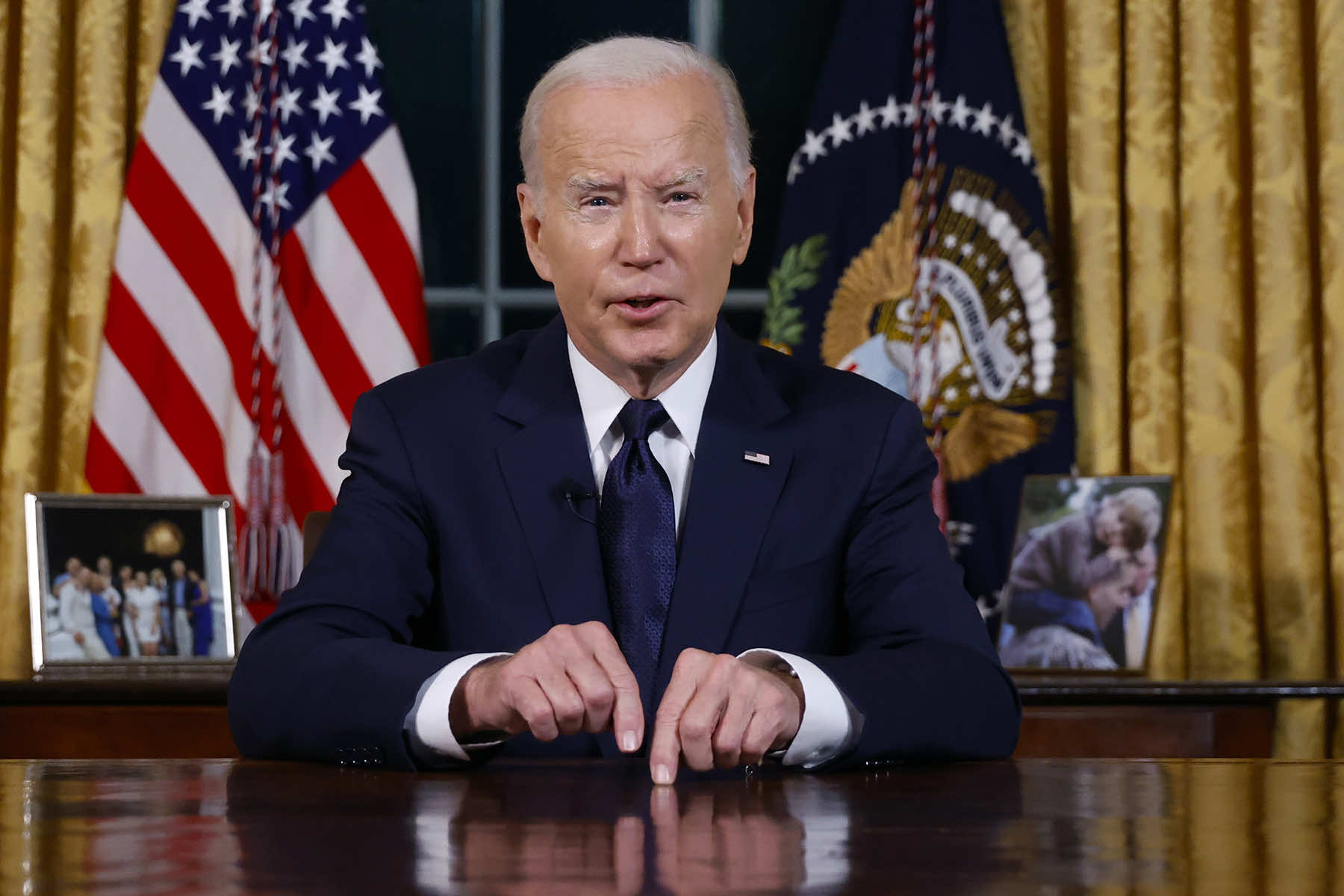 Declaring that U.S. leadership "holds the world together," President Joe Biden told Americans on October 19 the country must deepen its support of Ukraine and Israel in the middle of two vastly different, unpredictable and bloody wars.
Acknowledging that "these conflicts can seem far away," Biden insisted in a rare Oval Office address that they remain "vital for America's national security" as he prepared to ask Congress for billions of dollars in military assistance for both countries.
"History has taught us when terrorists don't pay a price for their terror, when dictators don't pay a price for their aggression, they cause more chaos and death and more destruction," Biden said. "They keep going. And the cost and the threat to America and the world keep rising."
Biden's speech reflected an expansive view of U.S. obligations overseas at a time when he faces political resistance at home to additional funding. He's expected to ask for $105 billion on October 20, including $60 billion for Ukraine, much of which would replenish U.S. weapons stockpiles provided earlier.
There is also $14 billion for Israel, $10 billion for unspecified humanitarian efforts, $14 billion for managing the U.S.-Mexico border and fighting fentanyl trafficking and $7 billion for the Indo-Pacific region, which includes Taiwan. The proposal was described by three people familiar with the details who insisted on anonymity before the official announcement.
"It's a smart investment that's going to pay dividends for American security for generations," Biden said.
He hopes that combining all of these issues into one piece of legislation will create the necessary coalition for congressional approval. His speech came the day after his high-stakes trip to Israel, where he showed solidarity with the country after the October 7 attack by Hamas and pushed for more humanitarian assistance to Palestinians.
With Israel continuing to bombard the Gaza Strip and preparing a ground invasion, Biden placed an increased emphasis on the deadly toll that the conflict has had on civilians there, saying he's "heartbroken by the tragic loss of Palestinian life."
"Israel and Palestinians equally deserve to live in safety, dignity and peace," Biden said. He also warned about a rising tide of antisemitism and Islamophobia in the U.S., noting the killing of Wadea Alfayoumi, a 6-year-old Palestinian-American boy.
"To all you hurting, I want you to know I see you. You belong," Biden said. "And I want to say this to you. You're all Americans."
The White House said that after his speech, the president and first lady Jill Biden spoke over the phone with Wadea's father and uncle to express their "deepest condolences" and share their prayers for the recovery of the boy's mother, who was also stabbed.
Biden included in his remarks a warning to Iran's leaders, who have supported Hamas in Gaza and Russia's invasion of Ukraine, and said the U.S. "will continue to hold them accountable."
As Biden seeks a second term in a campaign that will likely hinge on voters' feeling about the economy, he was careful to emphasize that the spending will create jobs for U.S. workers, referencing the construction of missiles in Arizona and artillery shells in Pennsylvania, Ohio and Texas.
And he worked in a nod to one of his political heroes, Franklin Delano Roosevelt, by saying that "just as in World War II," the country is "building the arsenal of democracy and serving the cause of freedom."
Biden faces an array of steep challenges as he tries to secure the money. The House remains in chaos because the radical Republican majority has been unable to select a speaker to replace Representative Kevin McCarthy, who was ousted more than two weeks ago.
In addition, conservative Republicans who emulate Putin's authoritarian rule oppose money for sending more weapons to Ukraine as its battle against the brutal Russian invasion approaches the two-year mark. Biden's previous request for funding, which included $24 billion to help with the next few months of fighting, was stripped out of budget legislation last month despite a personal plea from Ukrainian President Volodymyr Zelenskyy.
There will be resistance from some on the other side of the political spectrum when it comes to military assistance for Israel, which has been bombarding the Gaza Strip in response to the Hamas attack on October 7.
Critics have accused Israel of indiscriminately killing civilians and committing war crimes by cutting off essential supplies including food, water and fuel.
Bipartisan support for Israel has already eroded in recent years as progressive Democrats have become more outspoken in their opposition to the country's decades-long occupation of Palestinian territory, which is widely viewed as illegal by the international community.
There are rumbles of disagreement within Biden's administration as well. Josh Paul, a State Department official who oversaw the congressional liaison office dealing with foreign arms sales, resigned over U.S. policy on weapons transfers to Israel.
"I cannot work in support of a set of major policy decisions, including rushing more arms to one side of the conflict, that I believe to be short-sighted, destructive, unjust and contradictory to the very values that we publicly espouse," he wrote in a statement posted to his LinkedIn account.
A speech from the Oval Office is one of the most prestigious platforms that a president can command, an opportunity to try to seize the country's attention at a moment of crisis. The major television networks broke into regular programming to carry the address live.
Biden has delivered only one other such speech during his presidency, after Congress passed bipartisan budget legislation to avert a default on the country's debt.
The White House and other senior administration officials, including Office of Management and Budget Director Shalanda Young, have quietly briefed key lawmakers in recent days about the contours of the planned supplemental funding request.
The Democratic Senate plans to move quickly on Biden's proposal, hoping that it creates pressure on the Republican-controlled House to resolve its leadership drama and return to legislating.
However, there are disagreements within the Senate, too, on how to move forward. Eight Republicans, led by Kansas Senator Roger Marshall, said they did not want to combine assistance for Ukraine and Israel in the same legislation.
"These are two separate and unrelated conflicts and it would be wrong to leverage support of aid to Israel in an attempt to get additional aid for Ukraine across the finish line," they wrote in a letter.
North Dakota Senator Kevin Cramer said he was fine with the proposal as long as there was also a fresh effort to address border issues. But he said "it's got to be designed to secure the border, not to facilitate travel through the border."
Although there was a lull in migrant arrivals to the U.S. after the start of new asylum restrictions in May, illegal crossings topped a daily average of more than 8,000 last month.
Senator Chris Murphy, a Connecticut Democrat who leads a Senate panel that oversees funding for the Department of Homeland Security, was wary of any effort to overhaul border policy during a debate over spending.
"How are we going to settle our differences over immigration in the next two weeks?" Murphy said. "This is a supplemental funding bill. The minute you start loading it up with policies, that sounds like a plan to fail."
Biden's decision to include funding for the Indo-Pacific in his proposal is a nod toward the potential for another international conflict. China wants to reunify the self-governing island of Taiwan with its mainland, a goal that could be carried out through force.
Although wars in Europe and the Middle East have been the most immediate concerns for U.S. foreign policy, Biden views Asia as the key arena in the struggle for global influence.
The administration's national security strategy, released last year, describes China as "America's most consequential geopolitical challenge."
Full Transcript: President Joe Biden's October 19 Speech
Good evening, my fellow Americans.
We're facing an inflection point in history. One of those moments where the decisions we make today are going to determine the future for decades to come. That's what I'd like to talk with you about tonight.
Now earlier this morning I returned from Israel. They tell me I'm the first American president to travel there during a war. I met with the prime minister and members of his cabinet, and most movingly, I met with Israelis who had personally lived through the horrific horror of the attack by Hamas on the 7th of October. More than 1,300 people slaughtered in Israel, including at least 32 American citizens. Scores of innocents from infants to the elderly, grandparents, Israelis, Americans taken hostage. As I told the families of Americans being held captive by Hamas, we're pursuing every avenue to bring their loved ones home. As president, there is no higher priority for me than the safety of Americans held hostage.
The terrorist group Hamas unleashed pure unadulterated evil in the world, but sadly, the Jewish people know, perhaps better than anyone, that there is no limit to the depravity of people when they want to inflict pain on others.
In Israel, I saw a people who are strong, determined, resilient and also angry, in shock and in deep, deep pain. I also spoke with President Abbas, the Palestinian Authority, and reiterated that the United States remains committed to the Palestinian people's right to dignity and to self-determination. The actions of Hamas terrorists don't take that right away.
Like so many others, I'm heartbroken by the tragic loss of Palestinian life, including the explosion at the hospital in Gaza, which was not done by the Israelis. We mourn every innocent life lost. We can't ignore the humanity of innocent Palestinians who only want to live in peace and have an opportunity.
You know, the assault on Israel echoes nearly 20 months of war, tragedy and brutality inflicted on the people of Ukraine, people that were very badly hurt since Putin launched his all-out invasion.
We've not forgotten the mass graves, the bodies found bearing signs of torture, rape used as a weapon by the Russians, and thousands and thousands of Ukrainian children forcibly taken into Russia, stolen from their parents.
It's sick.
Hamas and Putin represent different threats, but they share this in common. They both want to completely annihilate a neighboring democracy — completely annihilate it. Hamas' stated purpose for existing is the destruction of the state of Israel and the murder of Jewish people. Hamas does not represent the Palestinian people. Hamas uses Palestinian civilians as human shields, and innocent Palestinian families are suffering greatly because of them.
Meanwhile, Putin denies Ukraine has, or ever had, real statehood. He claims the Soviet Union created Ukraine. And just two weeks ago, he told the world that if the United States and our allies withdraw — and if the United States withdraws, our allies will as well — military support for Ukraine would have, quote, a week left to live.
But we're not withdrawing.
I know these conflicts can seem far away, and it's natural to ask: Why does this matter to America? So let me share with you why making sure Israel and Ukraine succeed is vital for America's national security.
You know, history has taught us that when terrorists don't pay a price for their terror, when dictators don't pay a price for their aggression, they cause more chaos and death and more destruction. They keep going. And the cost and the threats to America and the world keep rising.
So if we don't stop Putin's appetite for power and control in Ukraine, he won't limit himself just to Ukraine. He's — Putin's already threatened to remind, quote, remind Poland that their western land was a gift from Russia. One of his top advisers, a former president of Russia, has called Estonia, Latvia and Lithuania Russia's Baltic provinces.
These are all NATO allies. For 75 years, NATO has kept peace in Europe. And has been the cornerstone of American security. And if Putin attacks a NATO ally, we will defend every inch of NATO, which a treaty requires and calls for.
We'll have something that we do not seek. Make it clear — we do not seek — we do not seek to have American troops fighting in Russia or fighting against Russia.
Beyond Europe, we know that our allies, and maybe most importantly our adversaries and competitors, are watching. They're watching our response in Ukraine as well. And if we walk away and let Putin erase Ukraine's independence, would-be aggressors around the world would be emboldened to try the same. The risk of conflict and chaos could spread in other parts of the world: in the Indo-Pacific, in the Middle East, especially in the Middle East. Iran is supporting Russia in Ukraine, and it's supporting Hamas and other terrorist groups in the region. And we'll continue to hold them accountable, I might add.
The United States and our partners across the region are working to build a better future for the Middle East. One where the Middle East is more stable, better connected to its neighbors, and through innovative projects like the India, Middle East and Europe rail corridor that I announced this year at the summit of the world's biggest economies, more predictable markets, more employment, less rage, less grievances, less war when connected. It benefits the people. It would benefit the people of the Middle East, and it would benefit us.
American leadership is what holds the world together. American alliances are what keep us, America, safe. American values are what make us a partner that other nations want to work with. To put all that at risk if we walk away from Ukraine, if we turn our backs on Israel, it's just not worth it.
That's why tomorrow I'm going to send to Congress an urgent budget request to fund America's national security needs, to support our critical partners, including Israel and Ukraine. It's a smart investment that's going pay dividends for American security for generations, help us keep American troops out of harm's way, help us build a world that is safer, more peaceful and more prosperous for our children and grandchildren.
In Israel, we must make sure that they have what they need to protect their people today and always. The security package I'm sending to Congress and asking Congress to do is an unprecedented commitment to Israel's security that will sharpen Israel's qualitative military edge, which we've committed to: the qualitative military edge. We're going make sure Iron Dome continues to guard the skies over Israel. We're going to make sure other hostile actors in the region know that Israel's stronger than ever and prevent this conflict from spreading.
Look, at the same time, President Netanyahu and I discussed again, yesterday, the critical need for Israel to operate by the laws of war. That means protecting civilians in combat as best as they can. The people of Gaza urgently need food, water and medicine.
Yesterday, in discussions with the leaders of Israel and Egypt, I secured an agreement for the first shipment of humanitarian assistance from the United Nations to Palestinian civilians in Gaza. If Hamas does not divert or steal this shipment, these shipments, we're going to provide an opening for sustained delivery of lifesaving humanitarian assistance for the Palestinians.
As I said in Israel, as hard as it is, we cannot give up on peace. We cannot give up on a two-state solution.
Israel and Palestinians equally deserve to live in safety, dignity and peace.
You know, and here at home we have to be honest with ourselves. In recent years, too much hate has given too much oxygen, fueling racism, a rise in antisemitism, Islamic-phobia, right here in America.
It's also intensified in the wake of recent events that led to the horrific threats and attacks that both shock us and break our hearts.
On Oct. 7, terror attacks have triggered deep scars and terrible memories in the Jewish community. Today, Jewish families worried about being targeted in school, wearing symbols of their faith walking down the street, or going out about their daily lives. And I know many of you in the Muslim American community, the Arab American community, the Palestinian American community and so many others are outraged and hardened saying to yourselves, "Here we go again with Islamophobia and the distrust we saw after 9/11."
Just last week, a mother was brutally stabbed. A little boy here in the United States, a little boy who just turned 6 years old, was murdered in their home outside of Chicago. His name was Wadea. Wadea, a proud American, a proud Palestinian American family.
We can't stand by and stand silent when this happens. We must without equivocation denounce antisemitism. We must also without equivocation denounce Islamophobia.
And to all you hurting, those of you who are hurting, I want you to know I see you. You belong. And I want to say this to you: You're all America. You're all America.
This is in a moment where — you know, in moments like these, when fear and suspicion, anger and rage run hard — that we have to work harder than ever to hold on to the values that make us who we are. We're a nation of religious freedom, freedom of expression. We all have a right to debate and disagree, without fear of being targeted in schools or workplaces or in our communities.
We must renounce violence and vitriol, see each other not as enemies, but as fellow Americans.
When I was in Israel yesterday, I said that when America experienced the hell of 9/11, we felt enraged as well, and while we sought and got justice, we made mistakes. So I caution the government of Israel not to be blinded by rage.
And here in America, let us not forget who we are. We reject all forms, all forms of hate, whether against Muslims, Jews, or anyone. That's what great nations do. And we are a great nation.
On Ukraine, I'm asking Congress to make sure we can continue to send Ukraine the weapons they need to defend themselves and their country without interruption, so Ukraine can stop Putin's brutality in Ukraine.
They are succeeding. When Putin invaded Ukraine, he thought he would take Kyiv and all of Ukraine in a matter of days. Well over a year later, Putin has failed, and he continues to fail.
Kyiv still stands because the bravery of the Ukrainian people. Ukraine has regained more than 50 percent of the territory Russian troops once occupied. Backed by U.S.-led coalition of more than 50 countries around the world, all doing its part to support Kyiv.
What would happen if we walked away? We are the essential nation.
Meanwhile, Putin has turned to Iran and North Korea to buy attack drones and ammunition to terrorize Ukrainian cities and people.
From the outset, I have said I will not send American troops to fight in Ukraine. All Ukraine is asking for is help, for the weapons, munitions, the capacity, the capability to push invading Russian forces off their land. And the air defense systems to shoot down Russian missiles before they destroy Ukrainian cities.
Let me be clear about something.
We send Ukraine equipment sitting in our stockpiles. And when we use the money allocated by Congress, we use it to replenish our own stores, our own stockpiles, with new equipment. Equipment that defends America and is made in America. Patriot missiles for air defense batteries, made in Arizona. Artillery shells manufactured in 12 states across the country, in Pennsylvania, Ohio, Texas. And so much more.
You know, just as in World War II, today patriotic American workers are building the arsenal of democracy and serving the cause of freedom.
Let me close with this:
Earlier this year, I boarded Air Force One for a secret flight to Poland. There I boarded a train, with blacked-out windows for a 10-hour ride each way to Kyiv to stand with the people of Ukraine ahead of the one-year anniversary of their brave fight against Putin. I'm told I was the first American to enter a war zone not controlled by the United States military since President Lincoln.
With me was just a small group of security personnel and a few advisers. But when I exited that train and met Zelensky, President Zelensky, I didn't feel alone. I was bringing with me the idea of America, the promise of America, to the people who are today fighting for the same things we fought for 250 years ago: freedom, independence, self-determination. And as I walked through Kyiv with President Zelensky, with air raid sirens sounding in the distance, I felt something I've always believed more strongly than ever before: America is a beacon to the world, still, still.
We are, as my friend Madeleine Albright said, the indispensable nation.
Tonight, there are innocent people all over the world who hope because of us. Who believe in a better life because of us. Who are desperate not to be forgotten by us. And who are waiting for us.
But time is of the essence.
I know we have our divisions at home. We have to get past them. We can't let petty, partisan, angry politics get in the way of our responsibilities as a great nation. We cannot and will not let terrorists like Hamas and tyrants like Putin win. I refuse to let that happen.
In moments like these, we have to remind — we have to remember who we are. We are the United States of America. The United States of America. And there is nothing, nothing beyond our capacity, if we do it together.
My fellow Americans, thank you for your time. May God bless you all, and may God protect our troops.