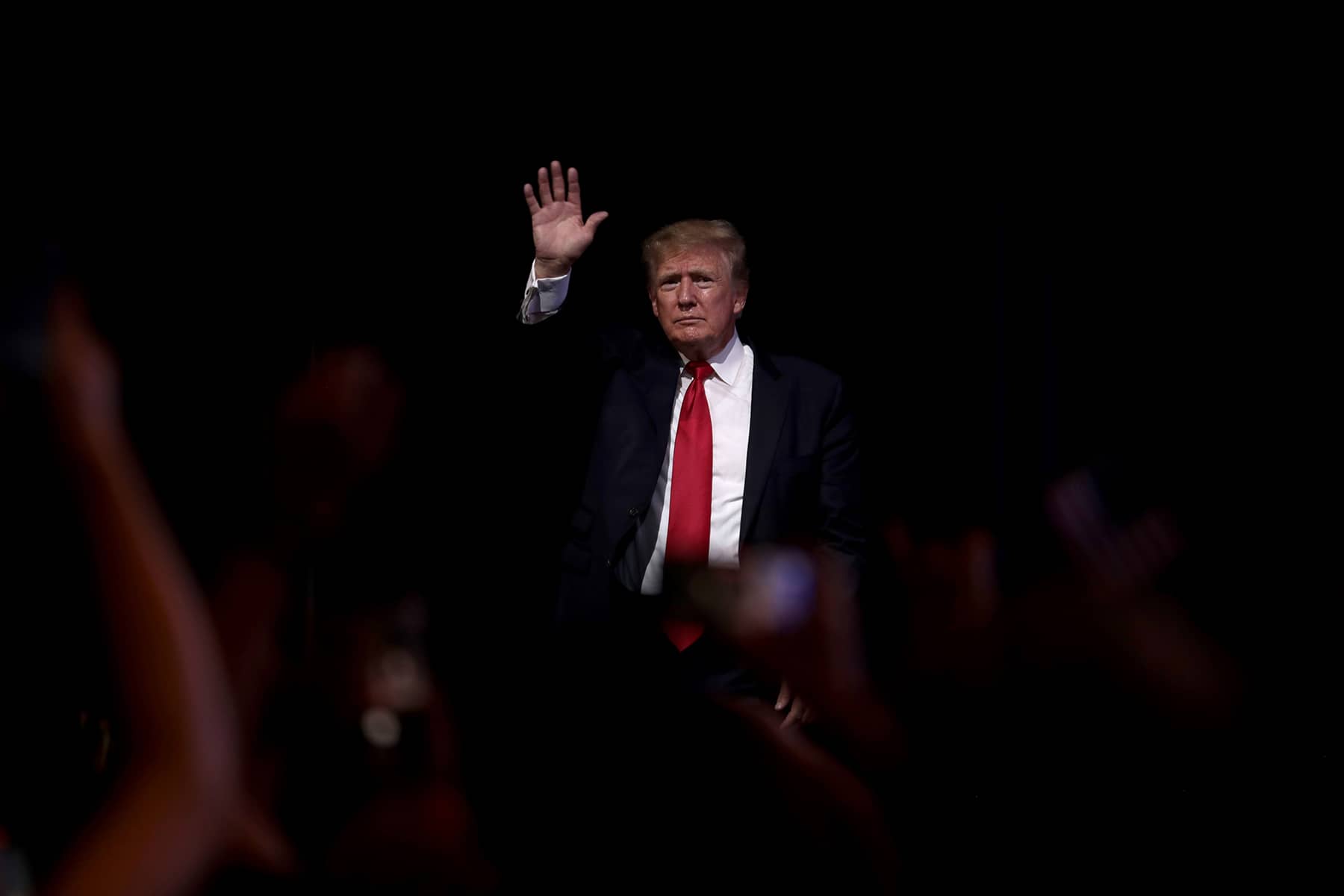 After filing the paperwork on November 15, former president Donald Trump announced a run for the 2024 presidency tonight in a speech from Mar-a-Lago.
The audience included a number of far-right social media influencers, his wife Melania, and family members Eric, Lara, and Barron Trump and Jared Kushner, but, so far as I can tell, no members of the Republican Party leadership. Trump's daughter Ivanka, who was a key advisor in the Trump White House, was not there, and said tonight she does "not plan to be involved in politics."
The speech was a subdued version of his rallies, claiming he is a victim and offering a replay of his inaugural address, which focused on what he called "American carnage." Tonight he warned "our country is in a horrible state, we're in grave trouble" and said he was leading "a great movement" to take the country back.
Compared with the midterms crowds yelling for their candidate, the lack of enthusiasm in the room seemed marked, and after about an hour, while Trump was ranting about former German chancellor Angela Merkel, the Fox News Channel cut the live feed.
Domenico Montanaro of NPR indicated that Trump might not enjoy the same uncritical coverage he received in 2016 when he began his story on the announcement: "Donald Trump, who tried to overthrow the results of the 2020 presidential election and inspired a deadly riot at the Capitol in a desperate attempt to keep himself in power, announced he is running again for president in 2024."
According to Mark Sweney of The Guardian, after the Republicans' poor showing on November 8, in which the high-profile candidates Trump backed lost, media mogul Rupert Murdoch has told Trump that he will not support Trump's 2024 candidacy and will instead back Florida governor Ron DeSantis should he decide to run.
If Murdoch follows through, this means Trump will lose the backing of the New York Post, the Wall Street Journal, and the Fox News Channel.
The party's losses in the midterms appear to have opened the door for Trump's opponents to toss him under the bus. According to Jonathan Swan at Axios, at this morning's annual meeting of the Republican governors, former New Jersey governor Chris Christie got "huge applause" from the room full of hundreds of politicians, consultants, and wealthy donors when he blamed Trump for three cycles of losses for the Republican Party. Christie said voters "rejected crazy."
Trump has likely announced his candidacy so early either to try to stop DeSantis from announcing and attracting Trump's voters, or to try to avoid indictments, or both.
There is no doubt the former president's legal troubles are heating up. On November 12, a legal filing from the Department of Justice to Special Master Judge Raymond Dearie, in charge of reviewing the documents the FBI seized on August 8 from Mar-a-Lago, revealed that Trump kept a document marked "SECRET" and another marked "CONFIDENTIAL" in a drawer together with personal documents from after his time in office. This suggests that he deliberately mishandled the documents at a time after he left office.
Meanwhile, Trump has told the special master that the president has the authority simply to declare which records are personal records, and that he declared all the seized documents to be personal records while in office. He suggests his careless handling of the classified documents proves he considered them personal records. The Department of Justice has responded with incredulity.
Trump's second chief of staff, 72-year-old former Marine Corps general John F. Kelly, told Michael S. Schmidt of The New York Times that Trump wanted to use the Department of Justice and other government agencies against those he perceived to be his political enemies. Repeatedly, he told Kelly he wanted to use the Internal Revenue Service in that way; last summer the New York Times revealed that after Kelly had left the White House, the IRS selected former FBI director James Comey and his deputy Andrew McCabe, whom Trump blamed for the investigation into the ties of his 2016 campaign to Russian operatives, for rare and extensive audits.
Trump spokesperson Liz Harrington dismissed Kelly's account, although others have made similar statements, saying: "It's total fiction created by a psycho, John Kelly, who never said this before, and made it up just because he's become so irrelevant."
New documents from Trump's former accounting firm, Mazars USA, released by the House Committee on Oversight and Reform, showed that foreign governments including those of Malaysia, Saudi Arabia, Qatar, the United Arab Emirates, Turkey, and China "spent more money than previously known at the Trump Hotel in Washington DC, and did so at sensitive times for those countries' relations with the United States."
The leader of Malaysia, for example, spent more than $250,000 over 9 days at the hotel, and Trump praised him highly while the leader was "publicly under investigation by the Department of Justice…for looting a Malaysian sovereign wealth fund and laundering the money through U.S. financial institutions."
The House Committee on Oversight and Reform yesterday wrote to the acting archivist of the United States, Debra Steidel Wall, asking her for presidential records to determine whether Trump distorted foreign policy to serve his own financial interests.
In a statement, the committee's chair, Representative Carolyn B. Maloney (D-NY) said of the information from Trump's accountants: "These documents, which the Committee continues to obtain from Mazars, will inform our legislative efforts to ensure that future presidents do not abuse their position of power for personal gain."
Letters from an Аmerican is a daily email newsletter written by Heather Cox Richardson, about the history behind today's politics