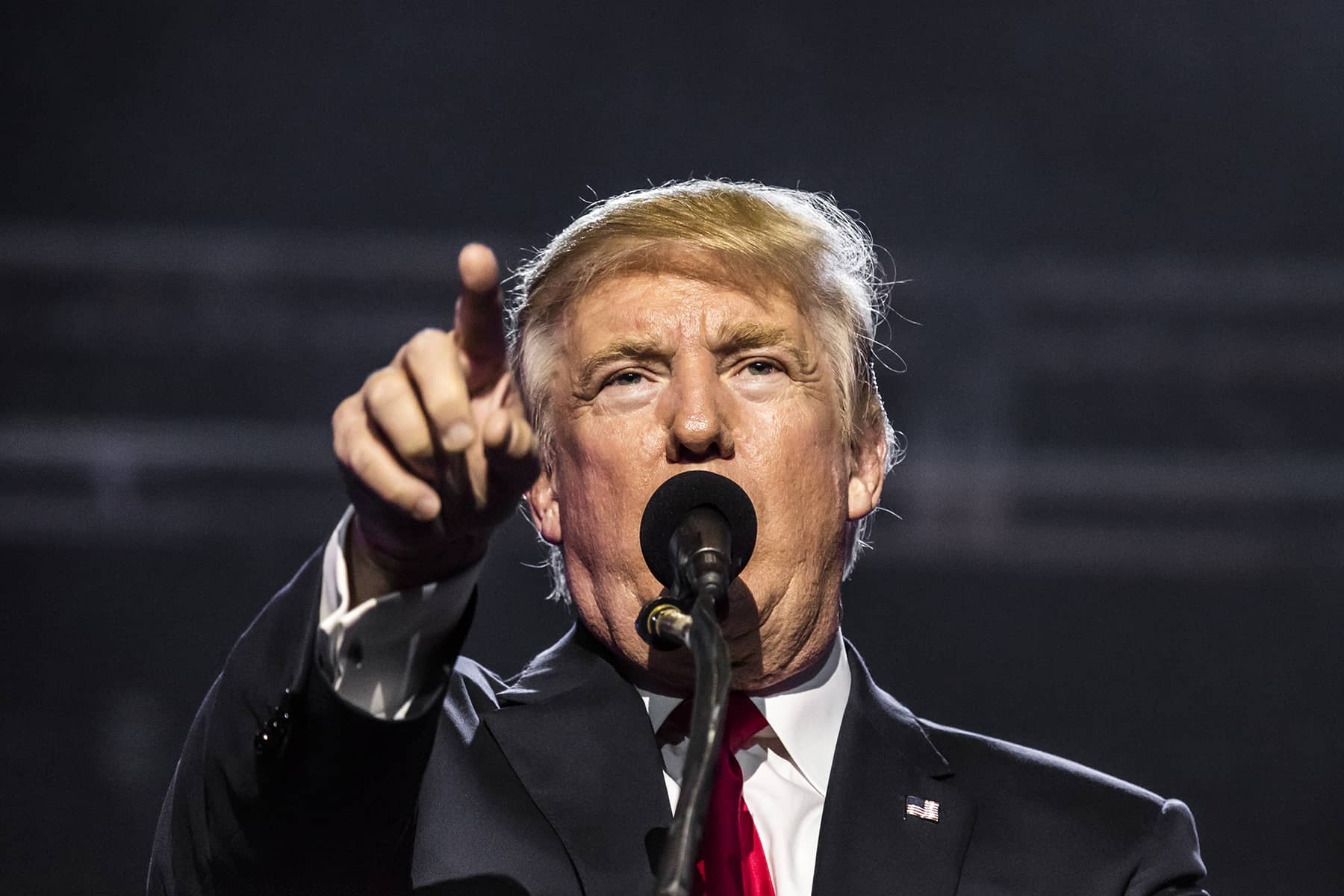 One of former president Trump's messages on the struggling right-wing social media platform Truth Social went viral on December 3.
In the message, Trump again falsely insisted that the 2020 presidential election had been characterized by massive and widespread fraud and deception.
So, with the revelation of MASSIVE & WIDESPREAD FRAUD & DECEPTION in working closely with Big Tech Companies, the DNC, & the Democrat Party, do you throw the Presidential Election Results of 2020 OUT and declare the RIGHTFUL WINNER, or do you have a NEW ELECTION? A Massive Fraud of this type and magnitude allows for the termination of all rules, regulations, and articles, even those found in the Constitution. Our great "Founders" did not want, and would not condone, False & Fraudulent Elections!
In other words, Trump is calling for the overthrow of the Constitution that established this nation. He advocates the establishment of a dictator.
This outrageous statement seems to reflect desperation from the former president as his political star fades and the many legal suits proceeding against him get closer and closer to their end dates.
The midterm elections, in which the high-profile candidates he backed lost, prompted some members of his party to suggest it's time to move on to new candidates. At the same time, lawsuits are heating up. The Department of Justice continues to investigate Trump's role in the attempt to overturn the 2020 election, an attempt that led to the events of January 6, 2021.
Chief Judge Beryl Howell of the Washington DC, District Court recently rejected Trump's claims of executive privilege and ordered Trump's White House counsel, Pat Cipollone, and deputy counsel, Patrick Philbin, to provide additional testimony to a federal grand jury.
On November 3, they each testified for several hours. On November 29, Trump advisor Stephen Miller, who worked with Trump on his speech at the Ellipse, also testified before the grand jury,
The Department of Justice is also investigating Trump's theft of documents when he left the White House. The December 1 decision of the U.S. Court of Appeals for the 11th Circuit declaring that Judge Aileen Cannon had no authority to allow Trump a special master to review the materials the FBI took when they searched Mar-a-Lago on August 8, 2022, had a very clear, concise rundown of what the government has so far recovered from the former president, and the list was damning.
In the first group of documents Trump returned to the National Archives and Records Administration (NARA), after significant pressure to do so, included "184 documents marked at varying levels of classification, including twenty-five marked top secret."
After a subpoena, Trump's lawyers returned another 38 classified documents, seventeen of which were marked top secret. Trump's team declared that a "diligent search" had turned up only these items, and there were no more left.
But the FBI learned that there were, in fact, more documents still at Mar-a-Lago and obtained a search warrant. On August 8, FBI agents retrieved about "13,000 documents and a number of other items, totaling more than 22,000 pages of material … [F]ifteen of the thirty-three seized boxes, containers, or groups of papers contained documents with classification markings, including three such documents found in desks" in Trump's office. Agents found more than 100 documents marked confidential, secret, or top secret.
Attorney General Merrick Garland appointed Special Counsel Jack Smith to oversee these two investigations after Trump announced an early candidacy for president in 2024. Smith got down to work immediately, sending out a letter on Thanksgiving Day itself. It seems likely there is good reason for Trump to be concerned.
Meanwhile, Georgia's Fulton County District Attorney Fani Willis is investigating Trump's attempt to overturn the results of President Joe Biden's 2020 election victory, and South Carolina's Supreme Court has ordered Trump's White House Chief of staff Mark Meadows to testify to that grand jury, another reason for the former president to be concerned.
And the Trump Organization's trial for tax evasion is reaching a verdict, while the House Ways and Means Committee has finally received six years of Trump's tax returns after years of attempts by the former president to keep them out of Congress's hands. At Lawfare, Daniel J. Hemel says that as a matter of law, the committee can make the returns public.
He counseled against it for a number of reasons – although he says they should be made public, but noted that the Senate Finance Committee, which will remain in Democratic hands, can now get access to the material easily and will be able to release it. If his attempt to hide his taxes was anything other than principled, there is reason for Trump to be concerned about this as well.
So, the former president has reason to try to grab headlines with an outrageous statement about overthrowing the Constitution.
But the real story here is not Trump's panic about his fading relevance and his legal exposure; it is that Trump remains the presumptive presidential nominee for the Republican Party in 2024. The leader of the Republican Party has just called for the overthrow of our fundamental law and the installation of a dictator.
"The American Constitution is a sacrosanct document that for over 200 years has guaranteed that freedom and the rule of law prevail in our great country. The Constitution brings the American people together—regardless of party—and elected leaders swear to uphold it. It's the ultimate monument to all of the Americans who have given their lives to defeat self-serving despots that abused their power and trampled on fundamental rights. Attacking the Constitution and all it stands for is anathema to the soul of our nation, and should be universally condemned. You cannot only love America when you win." – Andrew Bates, White House Deputy Press Secretary
But Republicans, so far, are silent on Trump's profound attack on the Constitution, the basis of our democratic government. That is the story, and it is earth shattering.
Letters from an Аmerican is a daily email newsletter written by Heather Cox Richardson, about the history behind today's politics