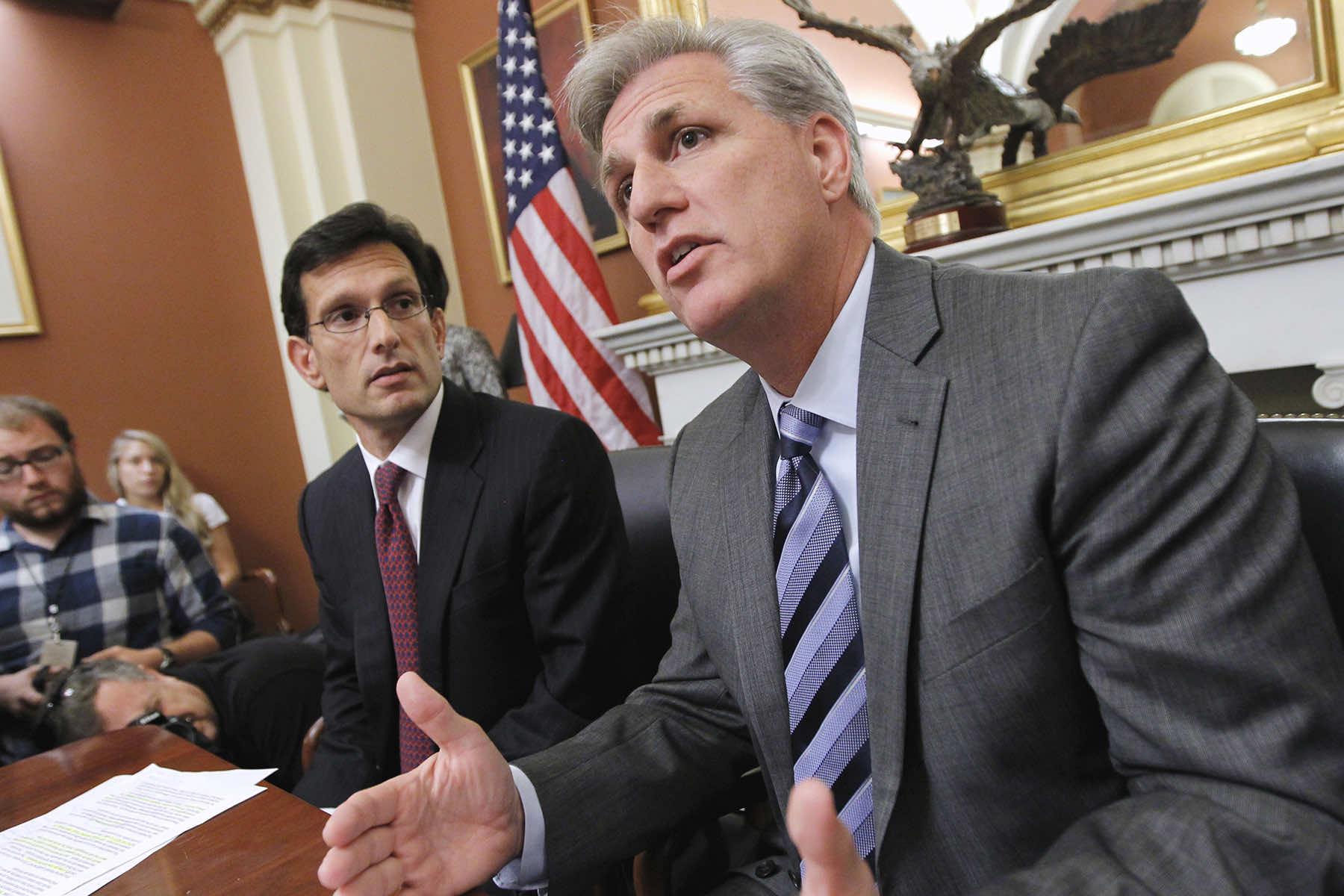 Republican leaders are recognizing that the sight of Republican lawmakers heckling the president of the United States did not do their party any favors.
It not only called attention to their behavior, it prompted many news outlets to fact-check President Biden's claim that Republicans had called for cuts to Social Security and Medicare or even called to get rid of them.
Those outlets noted that while Republicans have repeatedly said they have no intention of cutting those programs, what Biden said was true: Republican leaders have repeatedly suggested such cuts, or even the elimination of those programs, in speeches, news interviews, and written proposals.
Senator Thom Tillis (R-NC) told Alexander Bolton of The Hill that Republicans should stick to "reasonable and enduring policy" proposals. "I think we're missing an opportunity to differentiate," he said. "Focus on policy. If you get that done, it will age well."
But therein lies the Republican Party's problem. What ARE its reasonable and enduring policies? One of the reasons Biden keeps pressuring the party to release its budget is that it's not at all clear what the party stands for.
Senate minority leader Mitch McConnell (R-KY) refused to issue any plans before the 2022 midterm election, and in 2020, for the first time in its history, the party refused to write a party platform. The Republican National Committee simply resolved that if its party platform committee had met, it "would have undoubtedly unanimously agreed to reassert the Party's strong support for President Donald Trump and his Administration." So, it resolved that "the Republican Party has and will continue to enthusiastically support the President's America-first agenda."
Cutting Social Security is a centerpiece of the ideology the party adopted in the 1980s: that the government in place since 1933 was stunting the economy and should be privatized as much as possible.
In place of using the federal government to regulate business, provide a basic social safety net, protect civil rights, and promote infrastructure, Reagan Republicans promised that cutting taxes and regulation would free up capital, which investors would then plow into new businesses, creating new jobs and moving everybody upward. Americans could have low taxes and services both, they promised, for "supply-side economics" would create such economic growth that lower tax rates would still produce high enough revenues to keep the debt low and maintain services.
But constructing an economy that favored the "supply side" rather than the "demand side"—those ordinary Americans who would spend more money in their daily lives—did not, in fact, produce great economic growth or produce tax revenues high enough to keep paying expenses. In January 1981, President Ronald Reagan called the federal deficit, then almost $74 billion, "out of control." Within two years, he had increased it to $208 billion. The debt, too, nearly tripled during Reagan's term, from $930 billion to $2.6 trillion. The Republican solution was to cut taxes and slash the government even further.
As early as his 1978 congressional race, George W. Bush called for fixing Social Security's finances by permitting people to invest their payroll tax themselves. In his second term as president in 2005, he called for it again. When Republican senator Rick Scott of Florida proposed an 11-point (which he later changed to a 12 points) "Plan to Rescue America" last year, vowing to "sunset" all laws automatically after five years, the idea reflected that Republican vision. It permitted the cutting of Social Security without attaching those cuts to any one person or party.
But American voters like Social Security and Medicare and, just as they refused Bush's attempt to privatize Social Security, recoiled from Scott's plan. Under pressure from voters and from other Republicans who recognized the political damage being done, Scott wrote an op-ed saying his plan was "obviously not intended to include entitlement programs such as Medicare and Social Security—programs that hard-working people have paid into their entire lives—or the funds dedicated to our national security."
Scott attacked Biden for suggesting otherwise, but he also attacked Mitch McConnell, who also condemned Scott's plan, accusing them of engaging in "shallow gotcha politics, which is what Washington does." He also accused "Washington politicians" for "lying to you every chance they get." Scott's venom illustrated the growing rift in the Republican Party.
Since the 1990s, Republicans have had an ideological problem: voters do not actually like their economic vision, which has cut services and neglected infrastructure even as it has dramatically moved wealth upward. So to keep voters behind them, Republicans hammered on social and cultural issues, portraying those who liked the active government as godless socialists who were catering to minorities and women. "There is a religious war going on in this country," Republican Pat Buchanan told the Republican National Convention in 1992. "It is a cultural war, as critical to the kind of nation we shall be as was the Cold War itself, for this war is for the soul of America."
A generation later, that culture war has joined with the economic vision of the older party to create a new ideology. More than half of Republicans now reject the idea of a democracy based in the rule of law and instead support Christian nationalism, insisting that the United States is a Christian nation and that our society and our laws should be based in evangelical Christian values. Forty percent of the strongest adherents of Christian nationalism think "true American patriots may have to resort to violence in order to save our country," while 22% of sympathizers agree with that position.
Scott released his 11-point plan because, he said, "Americans deserve to know what we will do when given the chance," and his plan reflected the new Republicans. Sunsetting laws and tax cuts were only part of the plan. He promised to cut government jobs by 25% over the next five years, "sell off all non-essential government assets, buildings and land, and use the proceeds to pay down our national debt," get rid of all federal programs that local governments can take over, cut taxes, "grow America's economy," and "stop Socialism."
But it also reflected the turn toward Christian nationalism, centering Christianity and "Judeo-Christian values" by investing in religious schools, adoption agencies, and social services and calling for an end to abortion, gender-affirming care, and diversity training. It explicitly puts religion above the law, saying "Americans will not be required to go against their core values and beliefs in order to conform to culture or government."
The document warned that "[a]n infestation of old, corrupt Washington insiders and immature radical socialists is tearing America apart. Their bizarre policies are intentionally destroying our values, our culture, and the beliefs that hold us together as a nation." "Is this the beginning of the end of America?" it asks. "Only if we allow it to be."
That new worldview overlaps with the extremist wing that is trying to take over the Republican Party. It was at the heart of the far-right challenge to House speaker Kevin McCarthy (R-CA). It informs Florida governor Ron DeSantis's abandonment of small-government Republicanism in favor of using the power of the state government to enforce a "Christian" vision, including on businesses.
It was also behind Scott's challenge to McConnell for the position of Senate majority leader. McConnell kept his position and then removed Scott and another extremist who backed Scott, Mike Lee (R-UT), from the Senate Commerce Committee. Scott, anyway, is apparently not backing down.
J. Scott Applewhite (AP) and Evan Vucci (AP)
Letters from an Аmerican is a daily email newsletter written by Heather Cox Richardson, about the history behind today's politics