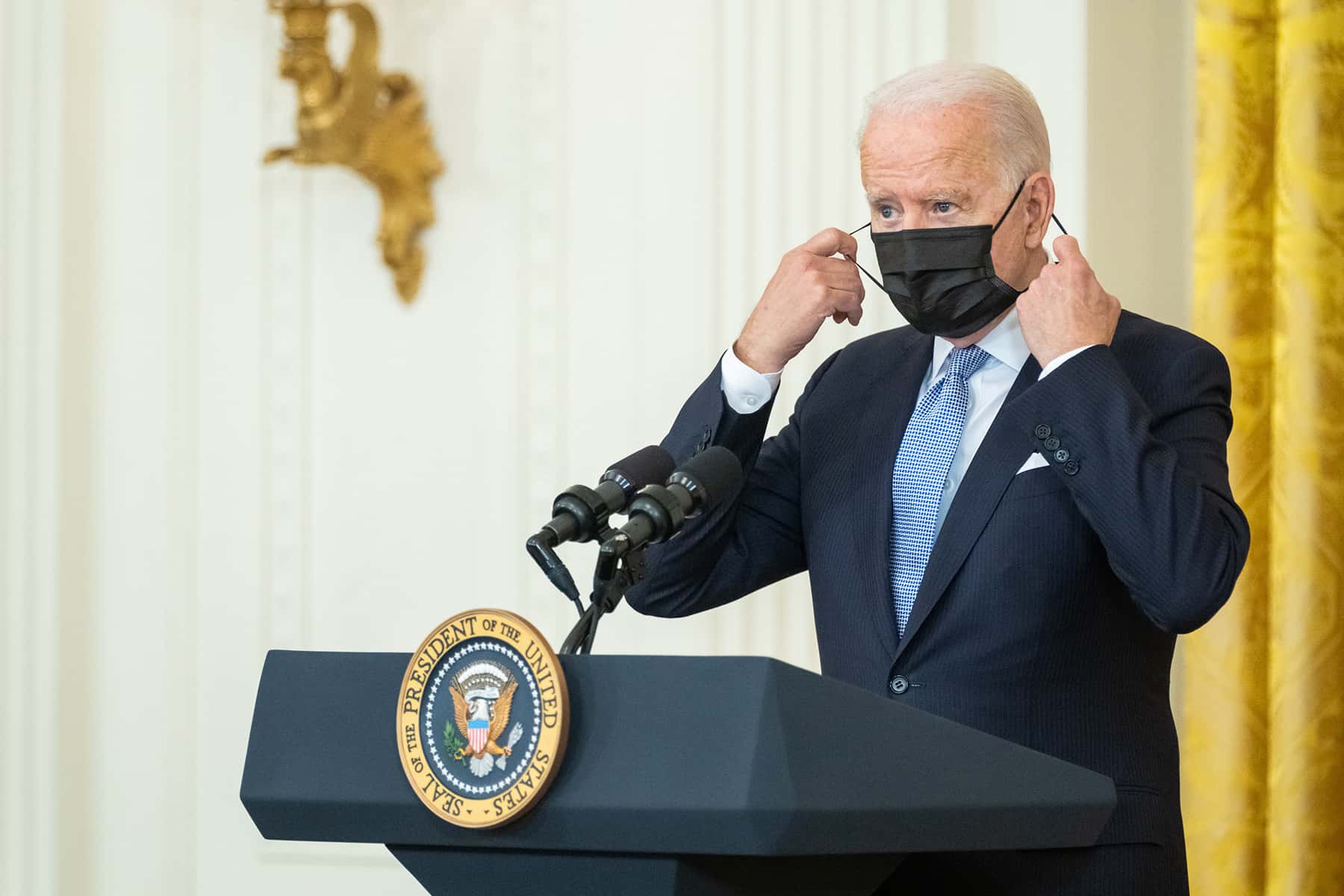 After weeks of pleading with Americans to get vaccinated as Republican governors opposed mask mandates, ICUs filled up, and people died, President Joe Biden finally went on the offensive.
Saying, "My job as President is to protect all Americans," he announced that he was imposing new vaccination or testing requirements on the unvaccinated. The U.S. government will require all federal employees, as well as any federal contractors, to be vaccinated. The government already requires that all nursing home workers who treat patients on Medicare and Medicaid have to be vaccinated; Biden is expanding that to cover hospital workers, home healthcare aides, and those who work in other medical facilities. "If you're seeking care at a health facility, you should be able to know that the people treating you are vaccinated."
Using the Department of Labor's Occupational Safety and Health Administration (OSHA), Biden said on September 9 that he would also make employers with 100 or more employees require that their employees either be vaccinated or show a negative coronavirus test at least once a week. He pointed out that big companies already are doing this, including United Airlines, Disney… and the Fox News Channel.
Together, the new vaccine requirements will affect about 100 million Americans, making up two thirds of all U.S. workers.
Biden also urged those who run large entertainment venues to require vaccines or show a recent negative test for entry. He has already required teachers at the schools run by the Defense Department to get vaccinated, and he announced that the government will require teachers in the Head Start program, which is federally funded, to be vaccinated. He called on governors to require that all teachers and staff be vaccinated for coronavirus, as their states already require a wide range of vaccinations for other diseases.
Calling out those like Florida governor Ron DeSantis, who has taken a stand against mask mandates and is threatening to withhold the salaries of school officials who defy him, Biden said that "if these governors won't help us beat the pandemic, I'll use my power as President to get them out of the way."
He is using the Defense Production Act to increase production of rapid tests and has worked with major retailers to sell those tests at cost for the next three months. The government has also expanded free testing at 10,000 pharmacies and will spend $2 billion to distribute nearly 300 million rapid tests to community health centers, food banks, and schools. He has ordered the Transportation Safety Administration to double the fines on travelers that refuse to mask.
After deploying nearly 1,000 healthcare workers to address this summer's surges in 18 states, the president is now sending in military health teams from the Defense Department. Meanwhile, he said, the U.S. continues to donate vaccines to the rest of the world, "nearly 140 million vaccines over 90 countries so far, more than all other countries combined, including Europe, China, and Russia…. That's American leadership on a global stage, and that's just the beginning." The U.S. is now shipping 500 million more Pfizer vaccines to 100 lower-income countries.
"Many of us are frustrated with the nearly 80 million Americans who are still not vaccinated, even though the vaccine is safe, effective, and free," Biden said. More than 175 million Americans are fully vaccinated, and for the past three months we have created 700,000 new jobs a month. But while nearly three quarters of those eligible have gotten at least one shot, the highly contagious Delta variant has ripped through the unvaccinated, who are overcrowding our hospitals, threatening the health of our children, and weakening our economic recovery.
"[D]espite America having an unprecedented and successful vaccination program, despite the fact that for almost five months free vaccines have been available in 80,000 different locations, we still have nearly 80 million Americans who have failed to get the shot…. And to make matters worse, there are elected officials actively working to undermine the fight against COVID-19," Biden said. "Instead of encouraging people to get vaccinated and mask up, they're ordering mobile morgues for the unvaccinated dying from COVID in their communities. This is totally unacceptable."
"[W]e have the tools to combat COVID-19, and a distinct minority of Americans—supported by a distinct minority of elected officials—are keeping us from turning the corner…. We cannot allow these actions to stand in the way of protecting the large majority of Americans who have done their part and want to get back to life as normal."
"We've been patient, but our patience is wearing thin. And your refusal has cost all of us," he said. "So, please, do the right thing."
The Biden administration is pushing back, too, on Texas's Senate Bill 8, which prohibits abortion after 6 weeks and thus outlaws 85% of abortions in the state. On September 9, the United States of America sued the state of Texas for acting "in open defiance of the Constitution" when it passed S.B.8 and deprived "individuals of their constitutional rights." The United States has a "profound sovereign interest" in making sure that individuals' constitutional rights can be protected by the federal government, the lawsuit declares. "The act is clearly unconstitutional under longstanding Supreme Court precedent," Attorney General Merrick Garland said.
What is at stake in this case is the ability of the federal government to defend Americans' constitutional rights against local vigilantes, a power Americans gave to the federal government in 1868 by ratifying the Fourteenth Amendment to the Constitution after white former Confederates in southern states refused to accept the idea that their Black neighbors should have rights.
Since the 1950s, the Supreme Court has used federal power to protect the rights of minorities and women when state laws discriminated against them. S.B.8 would strip the government of that power, leaving individuals at the mercy of their neighbors' prejudices. The government has asked the U.S. district court for the western district of Texas to declare the law "invalid, null, and void," and to stop the state from enforcing it.
This issue of federal supremacy is not limited to Texas. Glenn Thrush of the New York Times today called out that in June, Missouri governor Mike Parson signed the Second Amendment Preservation Act, which declares federal laws — including taxes — that govern the use of firearms "invalid in this state." Like the Texas abortion law, the Second Amendment Preservation Act allows individuals to sue state officials who work with federal officials to deprive Missourians of what they consider to be their Second Amendment rights. "Obviously, it's about far more than simply gun rights," one of the chief proponents of the bill, far-right activist Aaron Dorr, said to Thrush about his involvement.
There were other wins today for the Biden administration. Today was the deadline for federal agencies to produce a wide range of records surrounding the events of January 6 to the House Select Committee to Investigate the January 6th Attack on the United States Capitol, and according to the committee's Twitter feed, those records have, in fact, been forthcoming.
And Taliban officials did allow a plane carrying about 115 Americans and other nationals to leave Afghanistan.
Biden's new approach to the pandemic is, as Josh Marshall of Talking Points Memo points out, good politics as well as good for public health. About 65% of the voting age population is already vaccinated, and older people are both more likely to be vaccinated and more likely to vote. With most Americans vaccinated and increasingly frustrated with those who refuse, there is little political risk to requiring vaccines, while Republicans standing in the way of public health measures are increasingly unpopular. Florida, where deaths from coronavirus soared to more than 300 a day in late August, has begun to limit the information about deaths it releases.
If Biden's new vaccine requirements slow or halt the spread of the coronavirus, the economic recovery that had been taking off before the Delta variant hit will resume its speed, strengthening his popularity. Those Republican lawmakers furious at the new vaccine requirements are possibly less worried that they won't work than that they will.
Letters from an Аmerican is a daily email newsletter written by Heather Cox Richardson, about the history behind today's politics
The
Milwaukee Independent
began reporting on what was then referred to as the mysterious "Wuhan Virus" in January 2020. Other local media did not picked-up on the story until many weeks later. Our early features focused on the economic impact, social issues, and health concerns long before other Milwaukee news organizations even mentioned the coronavirus. Over the following year, we have published hundreds of articles about the pandemic and how it has affected the lives of Milwaukee residents. This extensive body of work can be found on our
COVID-19 Special Report
page, a chronological index of links by month. Our editorial voice remains dedicated to informing the public about this health crisis for as long as it persists.
For medical resources, please visit the
CDC's COVID-19 page
or the
Wisconsin Department of Health Services
. All editorial content published by
Milwaukee Independent
can be found at
mkeind.com/COVID19
. With a mission of transformative journalism, our staff is free from commercial bias and are not influenced by corporate interests, political affiliations, or a public preferences that rewards clicks with revenue. As an influential publication that provides Milwaukee with quality journalism, our award-winning photojournalism and features have helped to achieve a range of positive social impact that enriches our community. Please join our effort by entrusting us with your contribution. Your Support Matters -
Donate Now