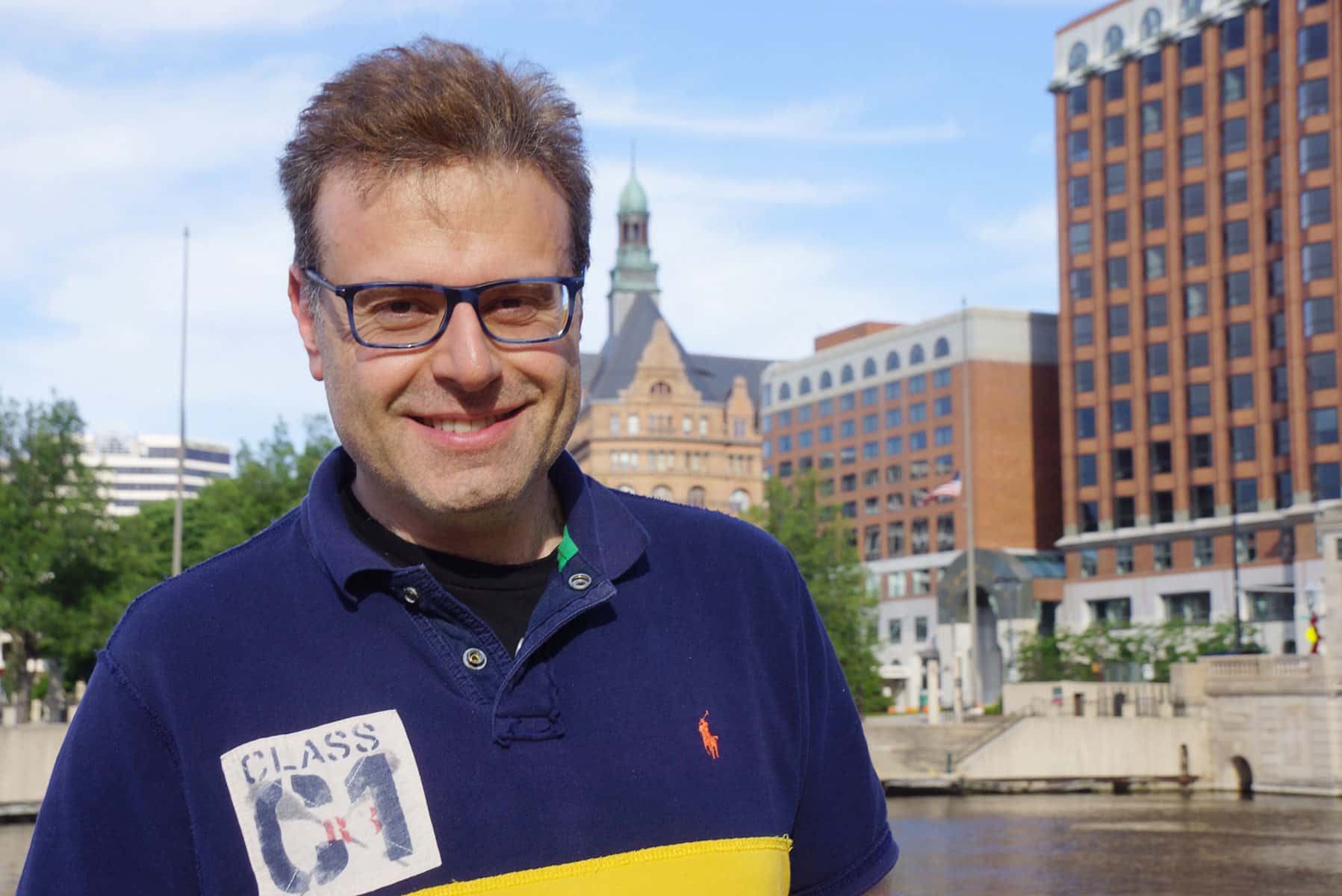 Milwaukee World Refugee Day highlighted the plight of displaced people around the world on June 20. A crowd of more than one hundred gathered at Pere Marquette Park to remember, honor, and bring attention to the suffering of 65.3 million people who have been forcibly driven from their homes, mostly due to war.
A recent Amnesty International report noted that more than 4.5 million refugees from Syria are distributed across the five countries of Turkey, Lebanon, Jordan, Iraq, and Egypt.
"Imagine that you have to leave your home right now. Pack a small bag if you have time for it. Avoid the bombing night and day, and run as fast as you can," said the keynote speaker Dr. Tarif Bakdash. "You've probably already lost a child by a bomb, thrown by the Russians or by the Syrian government, and you're running as fast as you can. That's what's going on Syria every day."
There are an estimated 13.5 million people who are in urgent need of humanitarian assistance inside Syria, a nation with a population of 17 million. Half of the country has been displaced from their homes due to the ongoing brutal war. Imagine if everyone in Wisconsin fled across the borders overnight to Minnesota, Iowa, and Illinois.
Yet a major city like Milwaukee that was built upon waves of immigrants, fleeing European revolutions, oppressive regimes, economic disparity, religious persecution, and freedom after emancipation, has shut its doors to the current Middle Eastern crisis. Zero Syrian refugee families have been placed in Milwaukee, according to Dr. Bakdash, as of World Refugee Day.
The United States, a nation of about 320 million people, has allowed less than 3,000 Syrians to enter the country since the crisis began. It is a stark commentary of our responsibility in the aftermath of war and the founding principle of liberty that is enshrined on a statue in Manhattan harbor.
"I came here in 1985. I landed in Minneapolis, and I remember the first thing that happened to me. My uncle took me Cub Foods and my jaw just dropped from seeing all the food, because I came from Syria where we had nothing," said Dr. Bakdash, who wrote about his struggles coming to America as a refugee in his book Inside Syria – A Physician's Memoir: My Life as a Child, a Student & an MD in an Era of War. "My mom was injured by an explosion one day when I was seven years old. We were living in Lebanon, Beirut at that time. So to me, violence and war should never be an option. We should always find ways around war. My mom suffered for 40 years, she had more than 50 surgeries because of that letter bomb."
Wisconsin Department of Children & Families sponsored the event, in partnership with Neighborhood House of Milwaukee, UMOS, International Institute of Wisconsin, Lutheran Social Services, and Catholic Charities. Additional speakers included Mayor Tom Barrett, Rep. Daniel Riemer, State Refugee Coordinator Mette Brogden, and Eileen Alvarado of UMOS. Performers from local refugee communities shared music, dance, and stories from Burma, Africa, and elsewhere.
The International Learning Center (ILC) in Milwaukee organizes a variety of activities each month to celebrate the diversity of culture and experiences they bring to our communities. The United Nations General Assembly established June 20 as World Refugee Day in 2000. Since then nations all over the world, from Australia to Kenya, have held events that honor the world's refugees population and raise awareness about their continued plight. Wisconsin has roughly 75,000 refugees living across the state, however, none from Syria reside with sponsor families in Milwaukee, the most populous city.
"Milwaukee has a rich history of welcoming newcomers, and Neighborhood House is proud to be part of that tradition by co-sponsoring an event that celebrates our common humanity," says Neighborhood House Executive Director Jeff Martinka. "World Refugee Day acknowledges the contributions and resilience of those among us who are rebuilding their lives here after fleeing violence in other countries.
The event was followed by the World Refugee Day Soccer Tournament's final championship match at South Stadium.
"I came here 30 years ago and I was treated so well by so many amazing Americans. I was helped by Jews, by Christians, by Hindus, by Buddhists, by atheists, they all helped me to become who I am right now," said Dr. Bakdash. "Thank God that they were there for me. But please help them as you helped me as a child. Help the kids in Syria."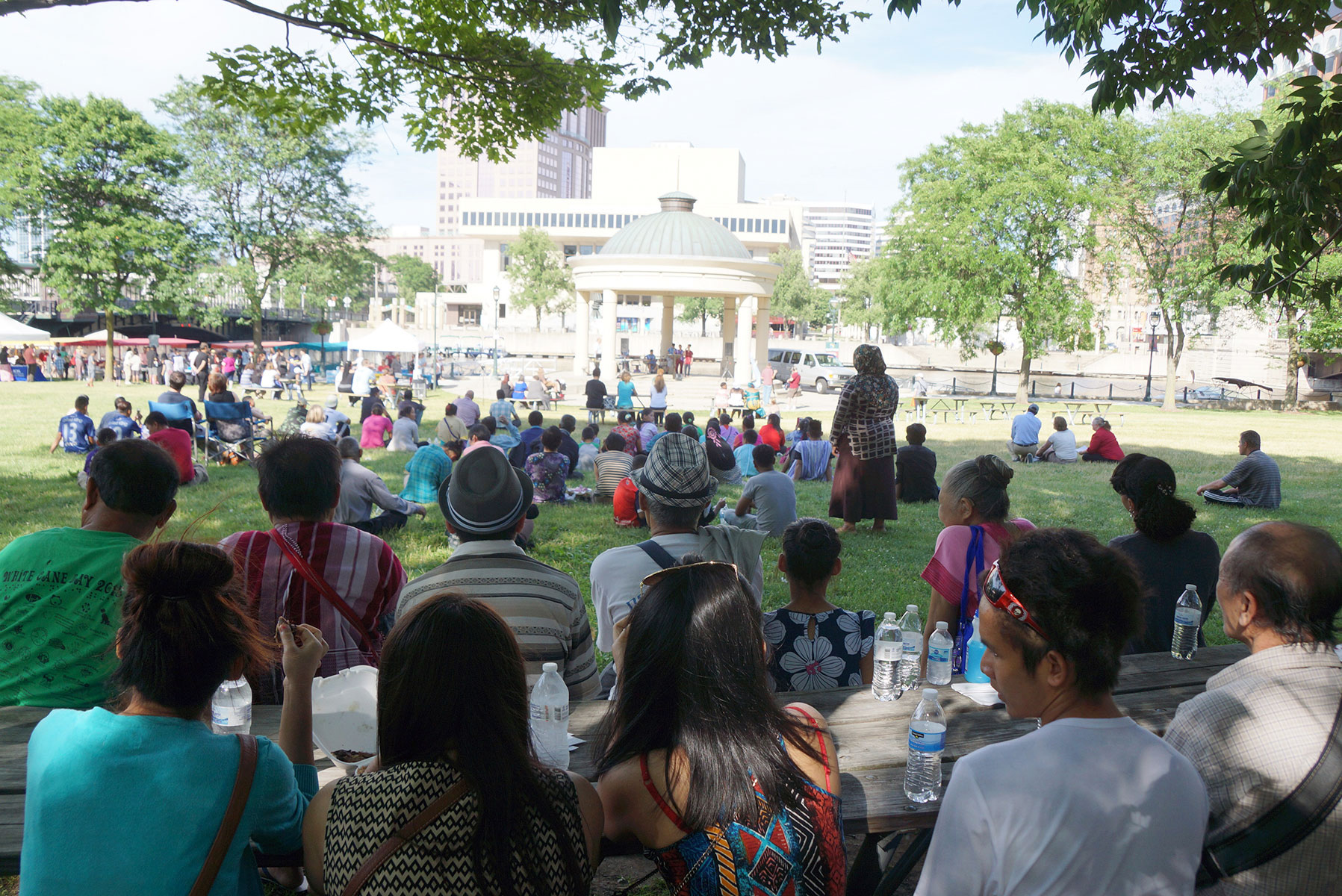 It is the mission of the International Learning Center (ILC), Milwaukee to enable refugees and immigrants to function effectively as parents, employees and citizens. Through learner-centered education, the ILC provides individuals with opportunities to develop intellectual, social and life skills in a secure, nurturing environment where all cultures are valued and respected by staff and participants.
The International Learning Center (formerly Indochinese Learning Center) has provided English as a Second Language instruction to over 5,000 African and Southeast Asian adult refugees in the Milwaukee area since 1981. We specialize in literacy and communication skills for refugees who have had little or no prior education in their own country.
ILC is a program of Neighborhood House of Milwaukee, Inc. and has been an outreach site of the Milwaukee Area Technical College (MATC) since 1989. To assist students in reaching their goals, the center offers support services such as translation, referrals, and a licensed on-site preschool.
Dr. Tarif Bakdash was born in 1965 in Damascus, Syria, where his father worked as an accountant. At age seven, he experienced personally the political and sectarian violence that has plagued the Middle East since 1948.
While attending the Damascus University Medical School, he became casual friends with fellow student and the future Syrian President, Bashar al-Assad.
Graduating from medical school in 1988, Dr. Bakdash left Syria for the United States, determined to make a successful medical career for himself in America.
In 2001, President Assad invited Dr. Bakdash back to Syria to teach at the University of Damascus. He worked closely with the First Lady of Syria, Asma al-Assad, which led to his government appointment as the first Secretary General for the Disabled in Syria.
Frustrated by the Ba'athist bureaucracy impeding his work with the disabled, Dr. Bakdash left Syria in 2010 and later became an Associate Professor at the Medical College of Wisconsin and the Children s Hospital of Wisconsin.
Dr. Bakdash hopes to use his memoir to begin an ethical discussion to help change the deadly cycle of dictatorship, religious intolerance, and war that have defined Syria and the Middle East during his lifetime. He hopes his memoir can help begin a discussion, anywhere in the world, that values tolerance over intolerance, democracy over abuse of power, and peace over war.
Inside Syria – A Physician's Memoir: My Life as a Child, a Student & an MD in an Era of War
Dr. Tarif Bakdash's memoir is a street level view of Syria from 1965 that is far more nuanced than most reports in the U.S. media. Dr. Bakdash was born and raised in Syria. He went to school with Bashar al-Assad, worked with Bashar's wife Asma, butted heads with Ba'ath Party bureaucrats, and lost friends to anti-Islamic purges.
Tarif Bakdash tells his story, a nurturing childhood in a warm family against fear of war, the maiming of his mother from a letter bomb, jailing of a schoolmate for no reason, the blood-soaked ground of Hama in 1982, omnipresent security services, Soviet-style thinking, old-fashioned graft, and official doubletalk.
Tarif Bakdash shows us history from the inside the life of a child, a student a young man struggling to create a life for himself. And then he presents it again, in the eyes of a middle-aged medical professional who, after many years in the United States, returns to the city of his birth as an impatient American intent on reforming the Syrian system from within.
Read the article and view the photo essay that was produced as companion features for this news report.