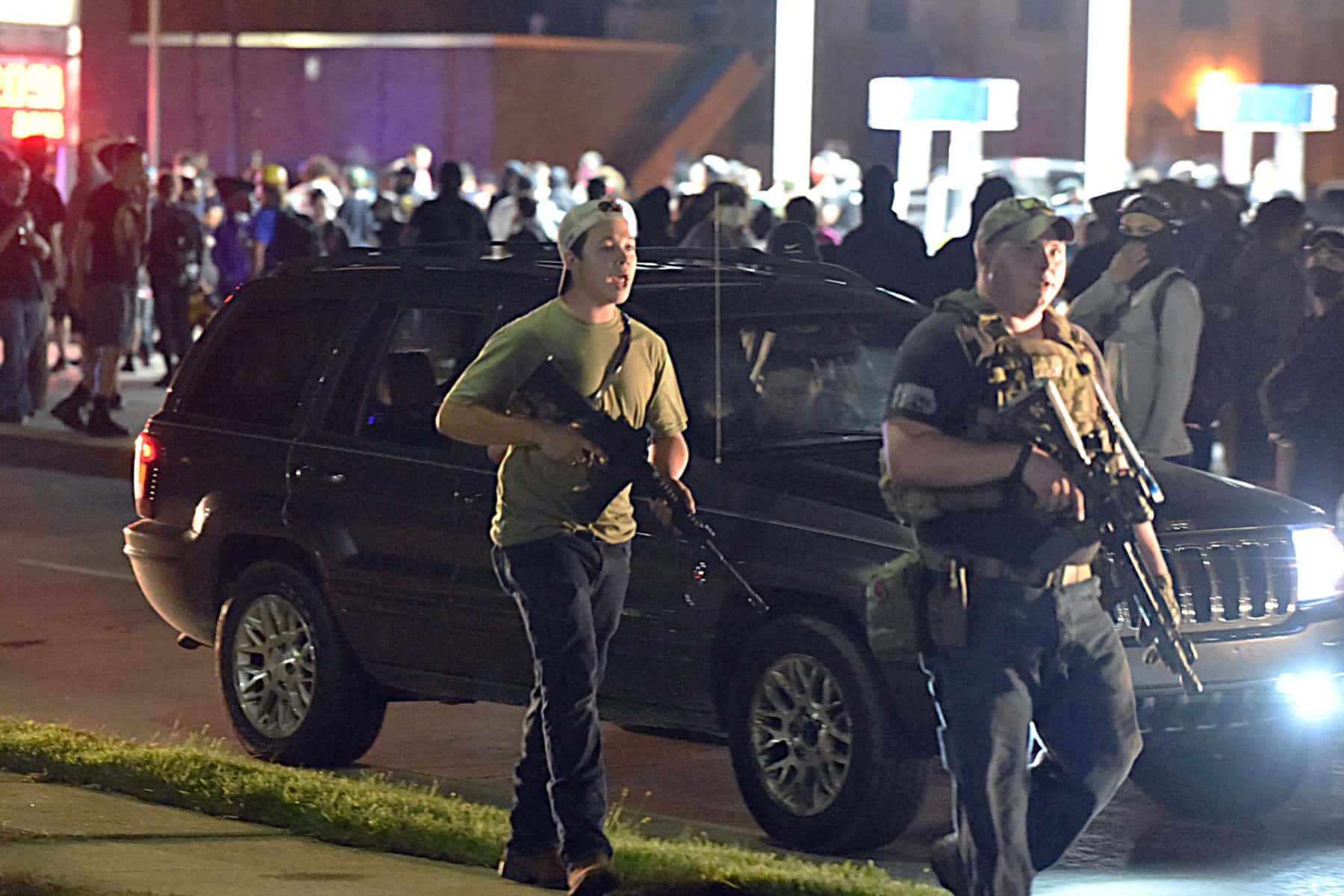 "Law enforcement is outnumbered and our Mayor has failed. "Take up arms and lets defend our CITY!" – Kenosha Guard, Social Media Post
Since the coronavirus pandemic hit this country we've seen images of angry White males brandishing weapons in front of police who stand idly by doing and saying nothing. They stormed the Michigan State Capitol and America shrugged it off.
Angry White males have driven cars into protestors across the country, shot pellet guns at Milwaukee activists marching to Washington DC, stood in front of their homes next to their wives threatening peaceful protestors with an assault rifle and then be given a national platform at the Republican National Convention and now one of them has murdered two people in Kenosha just two days after police shot Jacob Blake in the back seven times in front of three of his children.
After all of this, people are acting surprised that it's come to this. These actions are reminiscent of the "bad old days" when mobs of angry White men, women and children attacked Black communities in anti-Black riots which no one chooses to teach you about in school and lynched thousands of Black people in public displays of "vigilantism."
All the while, speaker after speaker at the Republican National Convention pontificate about so-called law and order. We are not fooled by this rhetoric. Despite how many Uncle Toms you find to say racism does not exist, we are not falling for it.
The history of this type of mindset among White males in this country is as old as the country itself. They are not alone though. Somewhere in the background are White women cheering them on. We've seen this all before. It's like watching reruns on television.
Dozens of these people descended on the city of Kenosha leading to bloodshed that has shocked the nation. Kyle Rittenhouse, 17, of Antioch, Ill. was captured on video running with an assault rifle near a Kenosha gas station prior to murdering two men and wounding another. I'm sure his name is trending on social media post among white supremacists and militia groups as a hero.
I'm reminded of Dylann Roof who was a hero of white supremacists after murdering nine members of Mother Emmanuel Church in Charleston, South Carolina on June 17, 2015. He was abandoned by his "brothers" when he went on trial. They did not care enough to show support for him other than hiding behind a fake profile on social media espousing their overwhelming support for the murders. Police treated Dylann Roof with kids gloves after he was captured, purchasing him a meal from Burger King.
Rittenhouse murdered two people, shot another, then walked up to police officers afterwards with his hands in the air but was not arrested. Kenosha County Sheriff David Beth according to CBS 2 Chicago, "declined to speculate on exactly why police might have let the shooter go when he approached them with his hands up, but said officers might have been focused on other matters, because of everything going on in the area at the time."
Are you kidding me? An unarmed Black man walking away from cops is shot in the back seven times but an armed White teenager who had just murdered two people walks up with his arms in the air, the universal sign that "I give up" and they walk right past him. One viral video shows him running away after the shooting saying "I just killed somebody."
Other videos from earlier that night show Rittenhouse talking with Kenosha County Sheriff's officers who say "we appreciate you guys" and then passing out bottled water to armed White men. CBS 2 Chicago reported "Someone in the crowd shouted to police that the gunman had just shot someone, but several police cars drove past him toward the people who had been shot. In the video, it does not appear any officers try to stop the man with the rifle."
These Militia-style groups had as much much air play this spring and summer as our professional athletes, they are on all the time leading what they call "protests." "When you have all these elements present — a fraught political moment, a lot of misinformation and heavily armed groups — it's just a question of time until something really dangerous happens," said Lindsay Schubiner, program director at the Western States Center, which tracks militias and other extremist groups according to the Washington Post. The Kenosha Guard has said they have no connection to Rittenhouse. There are multiple videos of law enforcement officers in Kenosha thanking these gun-toting thugs for helping them protect property. Yes I called them thugs. This is what they are. They can't take the law into their own hands. They have no right to act as if they are law enforcement. Hundreds of law enforcement officers and National Guard troops were already on the ground in Kenosha.
According to information attained by the Center on Extremism at the Anti-Defamation League Rittenhouse's social media posts showed he embraced the pro-police "Blue Lives Matter" political doctrine. These groups have merged with Militia groups to make their presence known as the Washington Post describes it. Many reports show that Rittenhouse was a Militia member even though some reports indicate the opposite.
"Often, there is a call to arms spread over social media, sometimes in response to Internet rumors or hoaxes that anti-fascist protesters were planning to loot or damage their communities. Then predominantly White and male civilians have convened at dozens of Black Lives Matter protests, lurking on the periphery, wearing military-style clothes, and carrying assault rifles and handguns."
I don't hear any of the law and order proponents criticizing these groups that prance around the country demanding their "rights." They are not confronted by armored personnel vehicles and police in riot gear every time they show up for a protest.
Back in 2006 the FBI issued a bulletin detailing the threat of white nationalists and skinheads infiltrating police in order to disrupt investigations against fellow members and recruit other supremacists. Back at that time the Los Angeles County Sheriff's Department had a group of deputies that had formed a neo-Nazi gang. U. S. District Judge Terry J. Hatter Jr. after a lengthly investigation concluded that many Los Angeles County sheriff's deputies at the Lynwood station routinely violate civil rights, are motivated by "racial hostility" and use "terrorist-type tactics" with the knowledge of their superiors.
"These deputies regularly disregard the civil rights of individuals they have sworn to protect. Many of the incidents which brought about this motion involved a group of Lynwood-area deputies who are members of a neo-Nazi, white supremacist gang–the Vikings–which exists with the knowledge of departmental policy makers…Many of the deputies and sergeants in Lynwood "intimidate and ridicule blacks and Hispanics."
Similarly in Texas, Ohio, Florida and Illinois, officers from several agencies were found to have ties to white supremacists groups. PBS reported "in 2014, two Florida officers — including a deputy police chief — were fired after an FBI informant outed them as members of the Ku Klux Klan. It marked the second time within five years that the agency uncovered an officer's membership in the KKK."
The FBI bulletin in 2006 identified "white supremacists in law enforcement as a concern, because of their access to both "restricted areas vulnerable to sabotage" and elected officials or people who could be seen as "potential targets for violence." The memo also warned of "ghost skins," hate group members who don't overtly display their beliefs in order to "blend into society and covertly advance white supremacist causes" as reported by PBS.
Samuel Jones, professor of law at the John Marshall School of Law in Chicago, stated "I cannot imagine that the FBI today could issue a report concerning any kind of threat without people being alarmed and wanting immediate action. But in this case there seems to be almost an acceptance of it. The thought is 'it's just ideology and they have a right to believe this.'"
Earlier this year "Congresswoman Norma J. Torres (CA-35) along with 27 lawmakers in California requested requested the Department of Justice (DOJ) to release the full contents of a 2006 Federal Bureau of Investigation (FBI) intelligence assessment entitled, "White Supremacist Infiltration of Law Enforcement," provide an updated status of such infiltration, and share how the DOJ and FBI have addressed the issue since the initial release of the assessment."
"[A]larm bells have spanned several years and we are concerned that DOJ and the FBI have not taken sufficient actions to prevent white supremacists from entering the ranks of law enforcement…Given the urgency of this moment, we cannot accept a lack of action on the part of the federal government to tackle white supremacy in our police departments…As we work to end systemic racism in law enforcement, we need to know how pervasive white supremacist ideology is among our officers. The FBI raised an alarm about this fourteen years ago – the public has yet to hear exactly what they found, and what, if anything, was done about it. We must ensure appropriate action was taken for any threats this report identified, and revisit the inquiry to bring its findings up to date immediately."
It's pretty clear that white supremacists have made inroads into police departments around the country intentionally over a number of years. It's no different than the Southern police departments being overrun with Ku Klux Klan members in the past. It's no different than the racist cops so prevalent in the Milwaukee police department under former chief Harold Brieir. Combine that with Militia members openly carrying assault weapons and even bazookas and you have a very combustible mixture.
Americans across the country have ignored this threat for years and we are now seeing the manifestation of that negligence. One organization that monitors hate groups is the Southern Poverty Law Center (SPLC). This past week the Republican National Convention adopted a resolution that they called "Refuting the Legitimacy of the Southern Poverty Law Center to Identify Hate Groups."
In this resolution they blamed the Obama administration for legitimating the efforts of the SPLC. They claimed "Legitimizing the SPLC puts conservative groups or voices at risk of attack." The SPLC responded by noting that:
"This attack on our work is an attempt to excuse the Trump administration's pattern and practice of working with individuals and organizations that malign entire groups of people…while promoting policies that undermine their very existence. It comes from the same vein as Trump's claim that there were "very fine people" on both sides of the 2017 Unite the Right rally in Charlottesville. Simply put, it's an audacious attempt by Trump and the GOP to paper over the bigotry and racism that has been allowed to infect their policies."
If you are still a person who believes this is a "post-racial America" and a "colorblind nation" it is time to wake up and smell the stench of the rise of white supremacy in the highest offices in this land. The SPLC has obtained 900 emails that Senior Policy Advisor to President Trump Stephen Miller "wrote to Breitbart editors in the runup to the 2016 election. These emails contain proof — in the form of links to white supremacist websites, recommendations for a racist novel beloved by white nationalists, and suggestions for how to frame anti-immigrant stories — of what we've always known: Stephen Miller clearly believes people of color are a danger to our country and should not be allowed in."
President Tump recently asked about the QAnon conspiracists said "I've heard these are people that love our country. So I don't know really anything about it other than they do supposedly like me." "The central premise of the QAnon theory — [is] a belief that President Trump is saving the world from a satanic cult made up of pedophiles and cannibals connected to Democratic Party figures, so-called deep-state actors and Hollywood celebrities" according to the Washington Post. Vice President Pence claimed to not know of QAnon at all during an interview with CNN's John Berman. "I called it a conspiracy theory, I said I don't have time for it, I don't know anything about it."
The President has repeatedly given the type of people in white supremacists groups and Militia movement tacit approval to do what they do. When these groups stormed the Capitol building in Michigan he tweeted "LIBERATE MICHIGAN!" and "LIBERATE MINNESOTA!""LIBERATE VIRGINIA, and save your great 2nd Amendment. It is under siege!"
When white supremacist James Alex Fields Jr. drove into a crowd in Charlottesville, Virginia on August 12, 2017 killing Heather Heyer and injuring many others Trump said "You also had some very fine people on both sides."
Are we surprised when the anger and frustration of seeing another unarmed Black man being shot by police leads to more destruction of property? Does this justify the presence of White vigilantes in Kenosha?
Who will be held accountable for this? Who will explain to the families of the murdered men why this killer was ignored by police on the scene?
This is the mess we are dealing with that won't go away.
© Photo
Аdam Rogаn / Lее Еntеrprisеs and Stеphеn Mаturеn
These headline links feature the daily news reports published by Milwaukee Independent about the George Floyd protests, the revival of the Black Lives Matter movement that followed, and their impact on the local community in for 8 months from May to December of 2020.