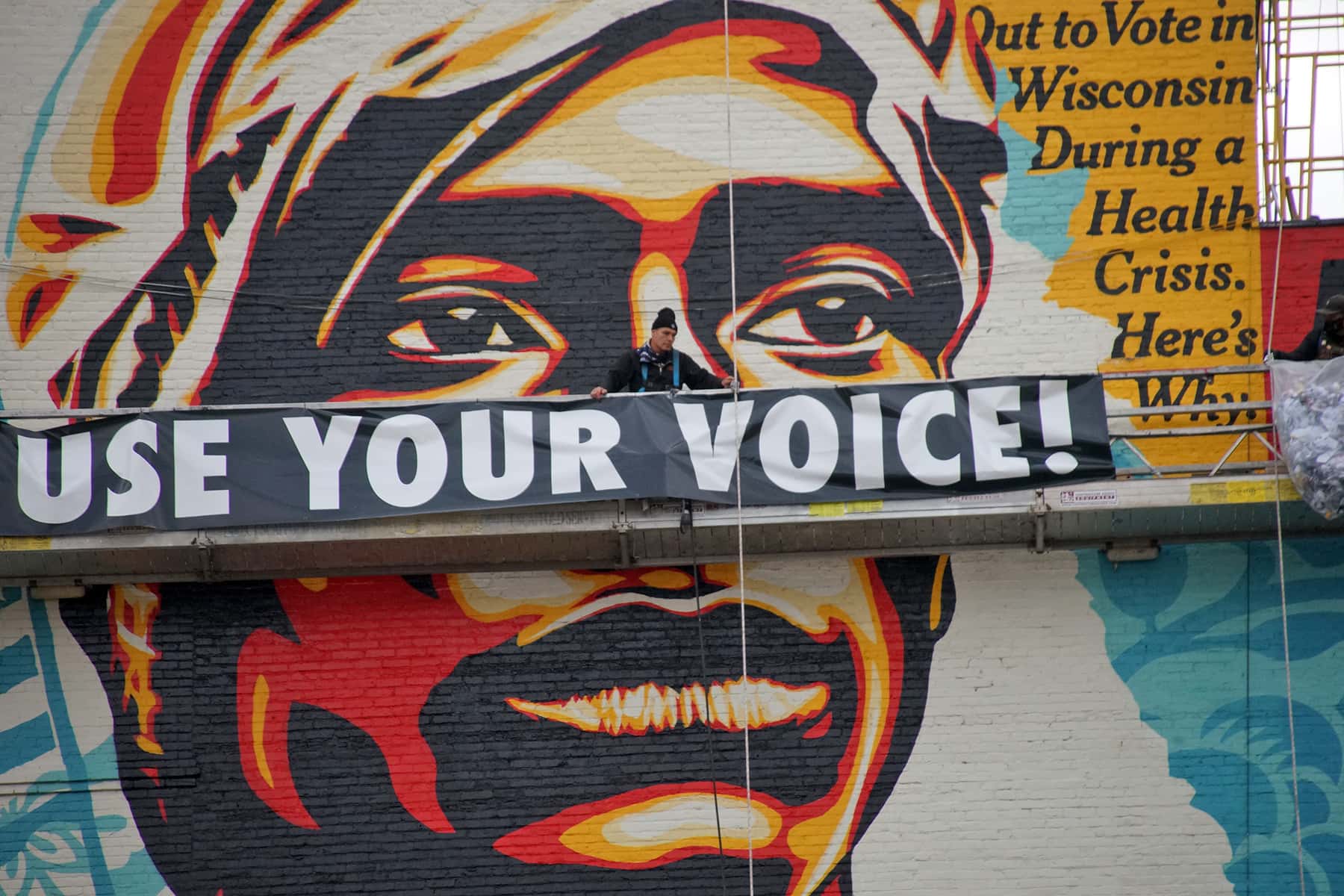 Internationally acclaimed artist Shepard Fairey and his Obey Giant team painted a visually stunning 7,400 square foot mural entitled "Voting Rights Are Human Rights" in Milwaukee from October 10 to October 13.
The main focus of the mural features a portrait of an African American man looking skyward, surrounded by artwork and imagery provided by five Wisconsin artists. The central portrait was based on a photograph captured during a Civil Rights march in the mid-1960s by photographer Steve Schapiro.
Fairey met Schapiro at the opening of "The Legacy Museum: From Enslavement to Mass Incarceration" in Montgomery, Alabama. The museum was created by the Equal Justice Initiative to display the history of slavery and racism in America, including lynchings and segregation.
"As I looked through his numerous beautiful and powerful photos, we discussed the possibility of collaborating on the spot," said Fairey.
Obey Giant, Fairey's studio, has sold artwork based on Schapiro's photo as a fundraiser for various nonprofits affiliated with getting out the vote, stopping voter suppression, and fighting against social injustice.
The "Voting Rights are Human Rights" mural was installed downtown on the north side of the Colby-Abbot building on Milwaukee Street, between Wells and Mason Streets. It extended across the entire length and vertically from the third to the sixth floors.
The mural was part of the building's renaissance, after it suffered a devastating fire earlier this year. The location is also several blocks north of the "The Unsung Hero" mural by German urban artist Andres Von Chrzanowski (a.k.a. CASE Maclaim) on the Dye House building in the Third Ward.
"We are facing voter suppression in many places in the nation, but I especially wanted to address that issue with my mural in Wisconsin since voter suppression has been such a problem in the state," said Fairey.
The mural was originally part of a national tour to support the 2020 election season, by creating public art with a theme and a mission towards getting out the vote. Then the financial impact from the COVID-19 pandemic caused the largest corporate sponsor to withdraw, which canceled the tour.
But Fairey remained committed to installing an artist-driven mural in Milwaukee, so the multi-city tour became a one city tour. Fairey donated his art, time, and pay to his art team and local collaborators to bring the work to life.
"The impetus for this project was rooted in activism and advocacy. Although the original pre-COVID funding of the project was stripped away due to the pandemic, it remains a goal of mine to work within the community of Milwaukee to lift up the urgent message of democracy and voting," said Fairey. "We were able to get commitments for funding to cover the costs of travel and materials needed."
Two different groups helped Fairey with the mural's design and production. There were the assistants, Fairey's own staff of artists from California who helped install the mural. And the collaborators, Wisconsin-affiliated creatives who included Tyanna Buie, Niki Johnson, Tom Jones, Claudio Martinez, and Dyani White Hawk. Through a process of conversation and sharing of design drafts, the hometown artists worked with Fairey to incorporate their creative ideas into a single cohesive mural.
"The issues of health and voting for people of color are synonymous," said Jones. "We must not be complacent in these matters. Going to the polls to have our voices heard enacts positive changes for each of our communities and ripples across the United States."
Serving as the glue that held the project together was Milwaukee-based Wallpapered City and its founder Stacey Williams-Ng. She and her team served Obey Giant as local liaisons to help them find a building, navigate local PR, and understand the context of the community.
"We found them a painting company to prep the wall. We set up a community dialogue to talk to local artists about how they would like to get involved, or concerns that they had when we had a controversy arise," said Williams-Ng. "We introduced them to Patti Keating Kahn. We were the ones who went to the HPC (Historic Preservation Commission) to fight for a certificate of appropriateness. So basically we were the on the ground logistics team."
Williams-Ng said that the Shepard Fairey project was different than any project Wallpapered City had done before, because usually their work involved procuring an artist for a client. In this case, it was artist-driven with Fairey picking Milwaukee and needing the support to pull everything together locally.
Fairey's collage art style incorporates a variety of elements in support of his overall visual message. He is also a very community focused artist, who likes to embed himself in the surroundings of where his art will be based. Restrictions from the pandemic created many difficulties for making personal relationships with young artists and nonprofits, but Fairey still managed to build Milwaukee connections.
It was critical to Fairey that local collaborators be involved, in order to help push the relevance of the Milwaukee. Wallpapered City sent his team a variety of samples from different artists with different styles to consider. What they all had in common was that they all did political art, or at least art for a cause or art with a voice.
"It was important to find local artists whose missions and his voice aligned," said Williams-Ng. "And from that list, he found about six or seven that really appealed to him. And then Shepard worked with the final group to collaborate on pieces that would fit into the overall composition, and they were paid accordingly."
Patti Keating Kahn and her husband Charles F. Kahn Jr. own two notable buildings in downtown Milwaukee. One is the Railway Exchange, and the other is the Colby-Abbot. The Railway Exchange has a beautiful and new blank brick wall on its historic structure, with no windows.
"Patti has been thinking for quite some time that she'd like to have a prominent mural there. She and I had already been in talks as of last year to try and find just the right muralist to go up on that space," said Williams-Ng. "So she had been a prime building owner for Wallpapered City to find a piece of art for. Then when this opportunity came up with Shepard Fairey, it seemed like an ideal canvas for what he was trying to do for his mission – to reach a lot of people with a voting message and a prominent mural."
Unfortunately, the project ran into issues with the City of Milwaukee's Historic Preservation Commission, who did not agree with the plans. The HPC did not want to see a mural on Milwaukee's oldest skyscraper and they stopped it from happening. But everyone involved with the mural project had a strong desire to work with Obey Giant on presenting Milwaukee with the important message, so Keating Kahn offered an alternative building.
"Art and the creative economy build a sense of community and togetherness that our society so deeply needs right now," said Sara Meaney, Secretary of Wisconsin Tourism. "We in Wisconsin already know Milwaukee is a gem, but Shepard Fairey's mural may very well transcend Milwaukee, putting us on the map right along with the Smithsonian, the Museum of Modern Art in New York and the National Portrait Gallery— prominent places that have already featured Mr. Fairey's work."
Fairey has been an American contemporary street artist, graphic designer, activist, and illustrator since he emerged from the skateboarding scene in the 1990s. He was just an art kid at the Rhode Island School of Design when he started doing some stickers. At the time, he achieved a little bit of fame with his Andre the Giant artwork, which is where the name of his company comes from – Obey Giant. His career took off after the "Obama Hope" poster. But all of his life – Fairey turned 50 in February – has been making public art as a way to fighting injustice, and speaking up for what he felt was right.
"He made some very prominent and beautiful posters for the Women's March in 2017, which I remember responding to and at the time, and they received a lot of positive attention," said Williams-Ng.
Sponsors of the project include the Black Box Fund and three local anonymous donors. Raised funds were used to rent access equipment, pay for wall preparation, cover the cost of materials, and provide accommodations for Fairey and his staff during their time in Milwaukee. Fairey paid his staff and the collaborating artists himself, and did not receive any payment for his work.
"We knew it was important to support a project like this, in this year, and at this time, because we appreciate the power of art, and how messages like this can inspire people to make a change and use their voice," added Williams-Ng.
ABOUT THE COLLABORATING ARTISTS
Tyanna Buie is an artist and educator who takes inspiration from the scant family photographs remaining from her youth and translates them into large-scale, print-based portraits and installations. Buie collages various elements into her prints, such as bits of clothing, jewelry, hair accessories, and other youthful adornments — adding layers and density that function as an artistic memoir on her family history. Buie's practice is intimately tied to her memories of growing up in Chicago and Milwaukee during the 1980s and 1990s.
Niki Johnson is an artist and activist living in Milwaukee. As a woman, Johnson is invested in creating artwork that addresses power structures, equality and identity. In the studio, she draws from a wide array of processes and materials, regularly scaffolding upon techniques when incorporating new materials into projects. Known for her political artworks and exhibitions addressing human rights, Johnson also writes and speaks on feminism's role in her studio practice.
Tom Jones is a photographer from the Ho-Chunk Nation of Wisconsin. Jones' photographs examine identity and geographic place with an emphasis on the experience of American Indian communities. Jones is interested in the way that American Indian material culture is represented through popular/commodity culture, e.g. architecture, advertising, and self-representation. Jones continues to work on an ongoing photographic essay on the contemporary life of his tribe.
Claudio Martinez is a full-time graphic designer in Milwaukee that dedicates much of his free-time creating artwork for Voces de los Artistas – the art affinity group for Voces de la Fronterra – the leading immigrant rights organization in Wisconsin. Over the years of working with corporate clients Martinez learned that being in the trenches with fellow artists working on political artwork and meeting like-minded misfits fulfills his soul immensely. Martinez is also a contributing photojournalist for Milwaukee Independent.
Dyani White Hawk is a woman of Sičáŋǧu Lakota and European ancestry; and was raised within Native and urban American communities. White Hawk strives to create honest, inclusive works that draw from the breadth of her life experiences, Native and non-Native, urban, academic and cultural education systems. This allows White Hawk to start from center, deepening her own understanding of the intricacies of self and culture, correlations between personal, and national history, and Indigenous and mainstream art histories.